Overweight Treatment Market Outlook (2022-2032)
Revenue from the global overweight treatment market was valued at US$ 32.8 Bn in 2021, with the market estimated to surge ahead at a CAGR of 7.9% to reach a valuation of US$ 75.1 Bn by the end of 2032.
According to Persistence Market Research, supplements are expected to hold a market value of US$ 68.7 Bn by 2032. Overweight treatment product sales account for approximately 12.9% revenue share in the global weight loss products and services market.
| Attribute | Key Insights |
| --- | --- |
| Overweight Treatment Market Size (2021) | US$ 32.8 Bn |
| Projected Market Value (2032) | US$ 75.1 Bn |
| Global Market Growth Rate (2022-2032) | 7.9% CAGR |
| Market Share of Top 5 Countries | 55.7% |
Overweight Treatment Demand Analysis from 2016 to 2020 Vs Market Outlook for 2021 to 2031
The global market for overweight treatment recorded a historic CAGR of 6% in the last 5 years from 2017 to 2021. Looking forward, stapling devices are expected to provide an incremental opportunity of US$ 1.2 Bn over the decade.
Obesity and overweight are described as the abnormal or excessive build-up of fat in the human body that poses a health risk. Obesity is always linked as a comorbidity companion, since it is stated to be an underlying driver for many chronic diseases such as ischemic heart disease, cardiovascular disease, diabetes and cerebrovascular disease.
Body image is a subjective, comprehensive, and evaluative idea of an individual's physical attributes. People's poor perceptions of their bodies are referred to as body image dissatisfaction, and it can have a detrimental impact on emotional health, causing unpleasant emotions and despair. As a result, there is increased focus on body toning and grooming, which is market growth.
Obesity has risen globally since 1975, according to WHO. Overweight adults aged 18 and up accounted for more than 1.9 billion persons in 2016. Over 650 million of these people were overweight or obese.
Many businesses have been exploring obesity medications in recent years because only a small percentage of marketed drugs are approved for the treatment of obesity. Many companies have their products in clinical trial phases and an extensive clinical trial pipeline, which is positively influencing the growth of the market.
Obesity has become a big concern around the world with pharmaceutical treatment emerging as an appealing choice. Researchers have been carrying out studies that show that targeted treatment with single-agent antibody drugs may show quicker results with better therapeutic efficacy.
One such drug is Liraglutide, which promises to suppress appetite and enhance metabolism.
Liraglutide dominated the global overweight market as a drug treatment segment in 2021, and held 65.2% of the global revenue share due to its bioavailability. Many such targeted drug therapies are already being approved as effective therapies for overweight treatment.
The global market for overweight treatment solutions is set to surge ahead at a CAGR of 7.9% and reach a market size of US$ 75.1 Bn by 2032.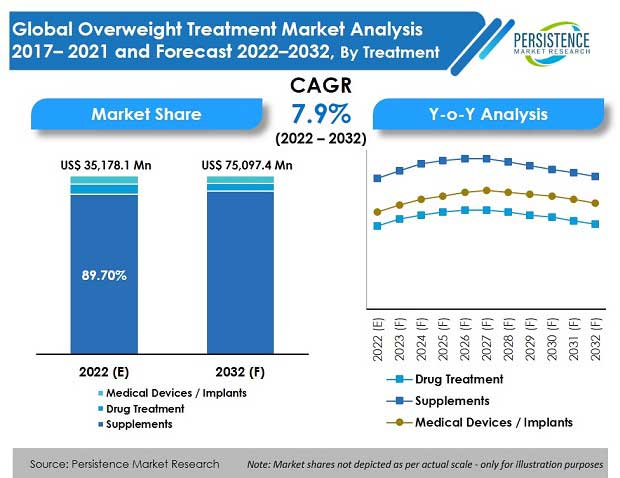 Why is Demand for Overweight Treatment Rising across the World?
"Growing Awareness among Morbidly Obese Population"
The advent of COVID-19 enforced the belief that the obese population is relatively more susceptible to disease morbidity associated with infections. In a statement by the American Heart Association in 2021, incident risk attributes associated with cardiovascular diseases, together with type II diabetes, dyslipidemia, sleep disorders, and hypertension, are some of the disease indications linked directly to obesity.
This has provided a push to the population under the obesity indication group for administering nutrition supplements, drug treatments, yoga, and exercise, in order to promote weight loss. Many people are also opting for surgeries such as liposuction to lose weight. These factors are collectively expected to boost demand growth of overweight treatment.
"Cooperation between FDA and Drug Manufacturers"
In 2012, U.S. Congress passed the USFDA Safety Innovations Act, which allows the approval of drugs for serious conditions that fill an unmet medical need. The Act encourages manufacturers to develop innovative products and also gives rights to developers to apply for a fast-track approval process, which saves time and effort for both, the FDA and drug developers. These opportunities will surely boost the growth of the obesity management market over the coming years.
This has also helped market players establish a strong presence across the globe, especially with the advent of COVID-19. It is expected that the global overweight treatment market will expand rapidly during the forecast period owing to the fact that weight gain has become one of the primary health concerns in developed countries due to sedentary lifestyles.
How is Demand for Overweight Treatment Products being Negatively Affected?
"High Cost of Drug Development"
High cost of drug development and surgery creates a barrier to the market value growth of overweight treatment products. Also, the extended inception period required for research and development operations as well as the inclusion of clinical studies required to evaluate pharmaceuticals add up to a large financial outlay.
High cost of surgical techniques such as gastric sleeve surgery and gastric bypass surgery can affect the progression of the global overweight treatment industry to some extent.
"Product Recalls/ Withdrawals Due to Safety Concerns"
Safety concerns associated with new drugs in clinical trials lead to only a few of them being approved for launch into the market. There have been many instances of the occurrence of cancer due to prolonged consumption of obesity management drugs, leading to product withdrawals or recalls.
For instance, the FDA has withdrawn Belviq (Lorcaserin) and Belviq XR from the market due to the risk of cancer.
Safety disputes related to the benefits and side effects of drugs may hamper the growth of the obesity management drugs and treatment market.
Country-wise Insights
Why is the U.S. a Huge Market for Overweight Treatment Solutions?
"Rising Incidence of Obesity Driving Consumption of Weight Management Solutions"
The U.S. accounted for an approximate value of 91.1% share in the North America overweight treatment market in 2021.
High prevalence of disease indications associated with morbid obesity, combined with rising awareness of health concerns regarding obesity and cardiovascular health, are a few key aspects driving demand for overweight treatment solutions in the country.
Weight loss can lessen indications in patients with obstructive sleep apnoea and prevent major comorbidities such as myocardial infarction, stroke, and diabetes, while possibly reducing the overall mortality rate.
With the adoption of physical exercise and methods of weight reduction, the U.S. market for overweight treatment is subjected to a push in terms of growth with respect to sales associated with weight management resources.
Moreover, because making dietary and lifestyle alterations can be challenging, a majority of the population in the U.S. resort to adopting dietary supplements for weight loss.
Will Germany Be a Lucrative Market for Overweight Treatment Solution Providers?
"Rising Prevalence of Type-1 Diabetes in the Country"
Germany is set to exhibit a CAGR of 8.3% in the European overweight treatment market over the forecasted years.
Statistics by the Robert Koch Institute show that 67% of adults in Germany are overweight. The COVID pandemic appears to have given plant-based nutrition a boost.
Germany suffers from high prevalence of cholesterol and types 1 diabetes.
The German Obesity Alliance (DAA) is a nationwide group dedicated to campaigning for improved obesity research, prevention, and treatment. This group has made collaborative efforts with a number of significant players in the country in order to improve obesity care, both, domestically and internationally.
As a consequence, the number of obesity treatment centers in the country has risen, thereby aiding market expansion.
Should Overweight Treatment Market Players Target China?
"Changes in Lifestyle Habits Increasing Obesity Incidence in China"
The China market for overweight treatment is projected to expand at a CAGR of 9.9% and account for more than 40% of the East Asian market share.
China has witnessed major economic growth in the last few decades, mainly due to changes in lifestyles, diets, and fitness regimes.
According to data by the National Health Commission published in 2020, more than half of the adults in the country were classified as overweight, and out of those, around 16% were obese.
Shift from the use of traditional Chinese herbal medicines to medications or surgery for weight management has provided a boost to the growth of the Chinese overweight treatment market.
Factors such as resource mobilisation, support from major stakeholders, education, and change in social norms among the general population will surely push the sales of overweight treatment devices and drugs.
How is the India Overweight Treatment Market Faring?
"Rising Consumption of High-density Food & Sedentary Lifestyle in Indian Youth Driving Market Expansion"
India accounted for around 31% share in the South Asia overweight treatment market in 2021, and is projected to expand at a CAGR value of 9.7% during the forecast period.
According to a 2018 study published in Lancet, 34% of the population in India is insufficiently active.
A large number of the population in the country reported the adoption of ketogenic diets (low-carbohydrate, high-fat) for weight reduction. The goal of a ketogenic diet is to keep the body in a state of ketosis, which means that simply ingesting carbs will cause the body's fat-burning mechanism to rely on fat for energy rather than sugar.
Due to India's growing obesity crisis, the government has launched some initiatives such as the Ayushman Bharat Scheme and the FitIndia Movement.
The Insurance Regulatory and Development Authority of India recently included bariatric surgery under insurance by standardising exclusions from October 2020.
Such government support is expected to propel sales of overweight treatment solutions in India.
Category-wise Insights
Which Drug Treatment Option is Popular in the Overweight Treatment Space?
"Liraglutide - Best Drug Candidate for Anti-obesity"
Liraglutide accounted for around 65.2% market share by drug treatment in 2021, and is expected to experience a CAGR of 5.2%.
This molecule is a glucagon-like peptide 1 (GLP-1) receptor and has an antagonistic activity that shows protracted drug to body interaction profiles, thus keeping its biological activity at pace by inducing glycemic control and regulation of body weight.
As such, liraglutide is a lucrative segment for overweight treatment market players.
Which Distribution Channel Accounts for Most Sales of Overweight Treatment Products?
"Anti-obesity Consultation Frequency Higher at Hospitals"
Institutional sales of overweight treatment solutions are a major driving segment linked to increasing the overall market growth trend, and are expected to increase a CAGR of 7.3% through the forecasted time frame and account for around 58.2% of the global market share in 2021.
Hospitals offer several advantages such as better quality consultations, skilled professionals for clinically vital procedures, and greater footfall for general consulting processes. Healthcare professionals are well-trained to perform basic physical assessments such as weight, waist circumference, blood glucose monitoring, pharmacotherapy counselling, dietary counselling, and behavioural counselling.
Presence of consultation services along with treatment measures have propelled the availability of anti-obesity medications within institutional settings, thus indicating a rise in the adoption of overweight treatment options.
Competitive Landscape
Key market players encounter a highly competitive space within the overweight treatment industry, and are constantly displaying strategic development activities such as new product launches, upgraded existent product portfolios, and clinical research activities for extensive product pipelines.
Such activities will enable market players to retain their stance within the global space. Also, consolidation activities such as collaborations and acquisitions have been undertaken by many key manufacturers of overweight treatment products. Consolidations in the market allow players to combine their liabilities, assets, and other financial items.
ReShape LifeSciences Inc. merged with Obalon Therapeutics in June 2021. The merger is set to promote physician-led offerings for weight loss and improved quality of life with safe and accessible medical treatment.
Currax released the "Why Weight: Communicate" initiative in June 2021. It is an educational campaign designed to inspire adults to take charge of their health by engaging in meaningful weight management talks with healthcare experts.
VIVUS launched "Qsymia" in the Republic of Korea in February 2020. It is a combination medicine that helps by suppressing the appetite. The aim of this launch in Korea was to establish a new royalty revenue system.
Overweight Treatment Industry Report Scope
Attribute
Details

Forecast Period

2022-2032

Historical Data Available for

2017-2021

Market Analysis

USD Million for Value

Key Countries Covered

U.S.
China
Germany
U.K
Benelux
India
France
Canada
Australia
Japan
Brazil
South Korea
Italy
Malaysia
GCC Countries
Spain
Mexico
Russia
South Africa
Turkey
Argentina
New Zealand
Thailand
Indonesia

Key Market Segments Covered

Treatment
Distribution Channel
Region

Key Companies Profiled

Novo Nordisk A/S
VIVUS LLC
AstraZeneca
Currax Pharmaceuticals LLC
Spansules Pharmatech Pvt Ltd
Atkins Nutritional Inc
Apollo Endosurgery, Inc
Herbalife Nutrition Ltd.
SMP Nutra
Allurion Technologies
ReShape Lifesciences, Inc
Bariatric Solutions GmbH
Silimed
ENDALIS
Districlass Medical
Medtronic.

Report Coverage

Market Forecast
Competition Intelligence
DROT Analysis
Market Dynamics and Challenges
Strategic Growth Initiatives

Customization & Pricing

Available upon Request
Key Segments Covered in Overweight Treatment Industry Research
Overweight Treatment Market by Treatment:
Drug Treatment

Bupropion and Naltrexone
Orlistat
Phentermine and Topiramate
Liraglutide

Others
Supplements
Medical Devices / Implants

Gastric Balloons
Gastric Bands
Stapling Devices
Overweight Treatment Market by Distribution Channel:
Institutional Sales

Hospitals
Specialty Clinics
Ambulatory Surgical Centers

Retail Sales

Retail Pharmacy
Drug Stores
Supermarkets / Hypermarkets
Health & Beauty Stores

Online Sales
Overweight Treatment Market by Region:
North America Overweight Treatment Market
Latin America Overweight Treatment Market
Europe Overweight Treatment Market
South Asia Overweight Treatment Market
East Asia Overweight Treatment Market
Oceania Overweight Treatment Market
Middle East & Africa Overweight Treatment Market