Outboard Engines Market
Global Market Study on Outboard Engines: Manufacturers Need to Go High on Power
Outboard Engines Market Segmented By Two Stroke Carbureted, Two Stroke Electronic Fuel Injection, Two Stroke Direct Injection System, Four Stroke Carbureted, Four Stroke Electronic Fuel Injection Technology Type with Electric, Manual Start Type in Fishing Vessels, Recreational Vessels, Special Purpose Boats
Introduction
In light of the profound transition expected in the maritime industry, emergence of fishing and shipping activities are likely to reshape and diversify associated businesses. Increasing marine activities are fueling the demand for highly efficient boats, motors, engines, and other essential marine equipment that help match the pace with the rapid marine industry expansion.
The blend of technology in marine systems has further enhanced the capabilities boats and other marine vessels. Outboard engines market builders are incorporating innovative technologies such as contra-rotating props, electric steering, and performance customization, which are finely tuned by robust, repetitive computer simulations.
Persistence Market Research (PMR) conducted a detailed assessment of the outboard engines market entailing a global market perspective on the popularity of outboard engines owing to the high horsepower, small size, and their efficacy in achieving top-speed. Additionally, the report also discusses the factors that support demand growth including the popularity of specialized boats needed for fishing tournaments that require multiple motors.
Find Out More about the Report Coverage
Companies
DEUTZ Aktiengesellschaft
Honda Motor Co., Ltd.
Brunswick Corporation
Suzuki Motor Corporation
BRP Inc.
Tohatsu Corporation
Yamaha Motor Co., Ltd.
LEHR, LLC
Kräutler Elektromaschinen Gmbh
Volvo Penta
Yongkang Longxiao Industry
Parsun Power Machine Co., Ltd
Evolution of Outboard Engines
From the introduction of outboard engines with 10 HP to the ones with over 100 HP, the outboard engines industry has marked the significant evolution of the product. Another aspect that showcased a rapid transformation throughout the period of evolution was the growth of electric power. Green machines began to gain momentum in the early '90s, though they were slow and heavy.
While their heavy four-stroke valve train was environmentally cleaner, boats failed to carry it with poise on their transom, kicking in evolution. Recognizing their benefits, boat owners began to build boats with deeper and wider transoms to carry them. By the time four-stroke upended two-stroke engines, motor-makers had trimmed their weight back to the slim numbers that were previously achievable only by two-stroke variants, resulting most boats today to have improved sea-keeping abilities.
The global volume sales of outboard engines stood at around ~745 thousand units in 2014, and reached ~803 thousand units in 2018. Modern outboards, both two- and four-stroke, have evolved considerably in the last decade, as a result of both advances in technology and stringent emission standards. Newer models that use lesser fuel, are substantially more reliable, are relatively quieter, and those that are more environment-friendly than older generations continue to enter the market.
In 2019, the outboard engines market is anticipated to be valued at ~ US$ 4 Bn. The shift towards outboard engines is linked to the kind of boats preferred by buyers. Outboard-powered deck boats are accountable for the demand growth for outboard engines.
Customize this Report
Explore Intelligence Tailored to Your Business Goals.
Impact of Undercurrents on Outboard Engines Market
Recreation Boating Trend to Spur Demand
Recreational boating continues to entice large volumes of participants, particularly in the US. According to a leading trade association the recreational boating industry enjoyed its seventh successive growth year in 2018, with yearly US sales of marine products and services, and boats recording a 5% growth over 2017. Growth in recreational boating over the past has been achieved in large portion owing to the corresponding advances in outboard power. The growing requirement of outboard engines in recreational boating activities offer profitable avenues for manufacturers.
Electric Propulsion to Gain Traction
Electric-drive boats have been presaged as the future of marine boats. A large number of boat owners favor electric propulsion to power fishing boats, recreational boats, cruisers, and pontoons, and tender boats. The growing preference for electric propulsion outboard is attributed to the ease of operations, absence of gas fumes, engine noise, and vibrations. With significantly lesser moving parts, there is minimal wear out or break down, making electric outboard engines a viable alternative for small boats.
Demand for Larger Boats Continues to Rise
The growing utilization of high-performance and high-speed boats in contemporary boating and fishing activities is becoming mainstream. There is a marked emergence of multi-engine pontoons from several different manufacturers. During the last decade, a number of anglers have moved into faster, larger, more agile outboard-powered center console fishing vessels, further driving the need for advanced outboard engines powering these revolutionary large boats.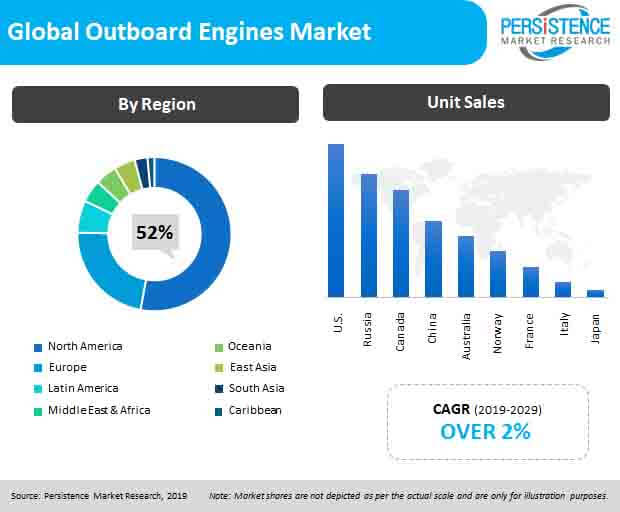 Market Research Methodology - Perfected through Years of Diligence
A key factor for our unrivaled market research accuracy is our expert- and data-driven research methodologies. We combine an eclectic mix of experience, analytics, machine learning, and data science to develop research methodologies that result in a multi-dimensional, yet realistic analysis of a market.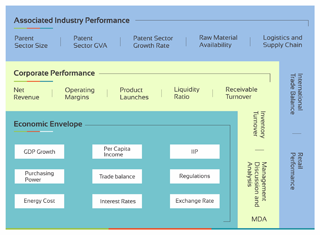 Success Strategies of Competitors
Leverage Opportunities in the US and Europe
Manufacturers of outboard engines are cited to the potential growth avenues held by the market in North America and Europe in wake of the growing boats sales to support the expanding recreation boating activities in these regions. US is considered to be the largest market for outboard engines in the world. As investment in production of boats has risen substantially in both the US and Europe, opportunities for expansion of outboard engines market continues to grow. Apart from this, the growing water sports activities is an essential factor garnering the attention of outboard engines market players.
Expand Portfolio to Include Alternative-fuel Engines
The need for speed has been at the core of professional boat operations ever since the introduction of powerboats. However, the outboard engine manufacturers need to recognize that the achieving high-performance needs to be balanced with the stringent fuel efficiency mandates and environmental compliance. As outboard engines designed for commercial operations have to stay in compliance with emission guidelines stated by regulatory bodies, it could impact the overall growth of the market negatively.
Having said that, outboard engine providers can offset the challenge by expanding portfolio to include alternative-fuel engines. An LPG outboard engine is one such innovation that quieter, quicker to start, and has minimal maintenance for fuel-related accessories. With relatively lesser CO2 emissions, the LPG gas is emerging as the choice of fuel for next-gen outboard engines.
Meet High-power Engine Requirements in Mega Industries
High power outboard engines are becoming a popular choice among end users as the boat makers are increasing the lengths of modern boats. As growing marine and boating activities generate the need for cutting-edge boats and vessels, high power engines to support their capability continues to gain traction. Companies contributing to the outboard engines market are emphasizing to meet the high-power engine requirements with future innovations centering this demand. Next revolution for center consoles could be a lightweight diesel outboard engine offering significant power.
Outboard Engines Market: Competitive Landscape
The outboard engines market is witnesses a high consolidation of leading players that for more than 80% of the total market share, where Yamaha Motor Co., Ltd.—one of the key players holds ~40% of the total market share. The most significant tactic that supports this market share is their continued emphasis on product diversification and portfolio expansion to support the market transformations which include the use of multiple engines, the production of larger boats, and the quest for environment-friendly fuels.
Companies dominating the outboard engines market are involved more in overseas sales in Europe, North America, followed by Asia Pacific.
In 2018, Suzuki Motor Corporation unveiled all-new large outboard motors DF150A and DF175A at the Genoa Boat Show held in Genoa, Italy. DF175A and DF150A have improved driving performance and fuel efficiency on account of the incorporation of advanced technologies including lean burn, high compression ratio, and semi-direct air intake.
Honda Marine recently debuted improved, redesigned BF225, BF200, and BF250 v6 outboard motors at the 2018 Miami International Boat Show. The flagship products were enhanced with a new design, ease of maintenance and manifold rigging options for more worry-free time on the water for boaters.
Brunswick Corporation recently completed the acquisition of Freedom Boat Club (FBC). The addition of FBC would allow Brunswick to leverage capabilities and resources to create additional value and growth and help the company provide exceptional on-water experience for members.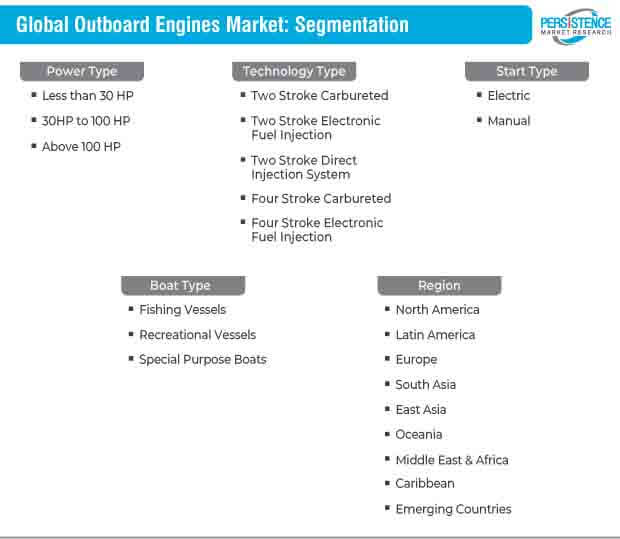 Explore Persistence Market Research's expertise in promulgation of the business !
Analyst Viewpoint of the Market
The PMR analysts have a positive outlook of the outboard engines market. As North America and Europe hold lucrative opportunities, analyst recommend vital business expansions in these geographies. With both new and pre-owned boat sales rising across the country, it is a good time for boat dealers to be target American consumers.
Moreover, widespread adoption of large outboards is majorly witnessed in the North America, in wake of the growth in maritime security tourism and fishing and recreational activities. New distribution centers and sales offices are being established in an attempt to expand their geographic presence and gain more number of customers.
Companies are entering the European market on account of the growing interest of European boat builders in outboards. This could create future business expansion opportunities for outboard engine providers.
New entrants have to face significant challenges in order to have a customer base to compete in the market dominance of global leading players. Although the cost of above 100 HP outboard engines is relatively higher, the demand for high power variants continues to grow.
Providing low-cost products without compromising on efficiency and quality of engines may help the market participants in gaining significant customer attraction. Demand for outboard engines over inboard engines is attributed to the emphasis on reducing the weight of center console of vessels, which will offer promising avenues for providers. In order to gain customer traction, the market participants may focus on new product launches and development activities.
Global Outboard Engines Market Taxonomy
Power Type

Less than 30 HP
30HP to 100 HP
Above 100 HP

Technology Type

Two Stroke Carbureted
Two Stroke Electronic Fuel Injection
Two Stroke Direct Injection System
Four Stroke Carbureted
Four Stroke Electronic Fuel Injection

Start Type
Boat Type

Fishing Vessels
Recreational Vessels
Special Purpose Boats

Region

North America
Latin America
Europe
South Asia
East Asia
Oceania
Middle East & Africa
Caribbean
Emerging Countries
Key Questions Answered in the Report on Outboard Engines Market
How is the outboard engines market expected to grow over the forecast period?
What will be the most popular technology type of outboard engines in the next five years?
What are the key factors which would impact the outboard engines market in the future?
What are the key market restraints in the outboard engines market?
Which regions showcase significant opportunities for the outboard engines market?
Which power type is likely to gain pace in the outboard engines market?
Our Clients