Introduction
PMR's research study covers insights about market trends, value (US$ Mn) projections, recent developments, and dynamics in the nanoscale 3D printing market for the forecast period of 2019-2029. The market is expected to expand at a CAGR of 19%. Among regions, North America is the most prominent in terms of value in the nanoscale 3D printing market, and accounted for a market share of 36% in 2018.
It is also expected to remain significant during the forecast period, owing to the presence of various key players and increasing penetration of smart solutions in the region. The global nanoscale 3D printing market is projected to create an incremental $ opportunity US$ 1.2 Bn during the forecast period.
Increasing Design Complexity and Demand for Personalized Products
Nanoscale 3D printing is perfectly suited for manufacturing personalized products owing to its flexibility and endless capabilities in manufacturing low and high volume products. As a result, it has been emerged as a perfect solution for developing patient-specific products using medical scanning and imaging data.
In addition, 3D printing can also be used to design products by consumers through web browsers or customized from online data repositories. Furthermore, rising demand for products with complex designs is bolstering the demand for 3D printing technologies.
Digital Culture and Technology Convergence
The trend of digitization is driven the production of new Internet of Things-enabled devices, along with breakthroughs in artificial intelligence, cloud-based services, and Web 3.0. Companies across the globe are focusing on finding ways to respond to changing data patterns using technologies such as 3D printing. Furthermore, the introduction of Industry 4.0 is also one of the key factors driving the growth of nanoscale 3D printing market.
Increasing Solution and Service Profiles of Vendors
3D printing technology helps in making manufacturing model to undergo profound changes, and is overcoming challenges of traditional technologies by offering less processing time, material saving, and increased efficiency of industrial production. Activities such as service differentiation and expansion by vendors to have a competitive edge and strengthen their market presence in specific vertical are also rising.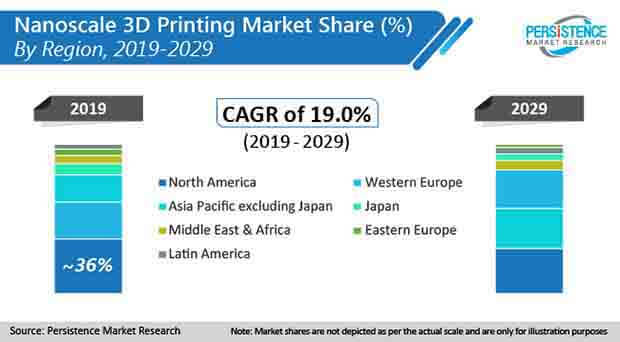 APEJ and Western Europe - Prominent Regions in Market
Continuous adoption of advanced solutions and development of new business models due to the advent of industry 4.0, countries in Asia Pacific Excluding Japan and Western Europe, such as India, China, France, and ASEAN, are expected to witness potential growth opportunities.
Also, these regions are witnessing rapid growth in IT infrastructure and production of smart devices such as sensors. Therefore, nanoscale 3D printing solution providers can focus on expanding their operations in countries of these regions to reach new growth avenues.
Nanoscale 3D Printing Market – Competition Landscape
New product launch and partnerships & collaborations are key strategies followed by top players in the market to increase business revenue, and drive new innovations in products/services, which enable nanoscale 3D printing providers to obtain new growth potential in the market, globally. Some prominent players in the nanoscale 3D printing market are 3D Systems, Inc., ExOne, Spok Inc., Stratasys Ltd., SLM Solutions, voxeljet AG, and Proto Labs.
Analyst's Viewpoint
Over the last few years, increasing adoption of 3D printing technologies and penetration of smart solutions are creating potential growth opportunities for the nanoscale 3D printing market.
Among various regions, North America is the most prominent region and currently, it holds market share of 36%. However, Asia Pacific Excluding Japan is expected to witness high growth and expand at a CAGR of 23.1% during the forecast period.
Nanoscale 3D Printing Market: Segmentation
PMR's research study on the global nanoscale 3D printing market offers a detailed market segmentation, wherein key segments have been discussed in detail. The report by PMR carefully examines the nanoscale 3d printing market at a global as well as regional level, through market segmentation on the basis of multiple parameters such as component, application, vertical, and prominent regions.
Every segment has been analyzed in detail, and data pertaining to the growth of each segment has been included in the study.
Component

Printer
Software
Services

Application

Prototyping
Tooling
Functional Part Manufacturing

Vertical

Healthcare
Aerospace & Defense
Automotive
Consumer Electronics
Energy & Power
Architecture & Construction

Region

North America
Latin America
Western Europe
Eastern Europe
Asia PacificExcluding Japan
Japan
Middle East & Africa

Nanoscale 3D Printing Market: Key Questions Answered in Report
How has the nanoscale 3D printing market progressed over the last four years?
What are some prominent dynamics in the nanoscale 3D printing market?
What are competitive trends and rescent developments in the nanoscale 3D printing market?
What are significant opportunities, challenges, and improvements for nanoscale 3D printing market players?
What are underlying macroeconomic factors impacting the growth of the nanoscale 3D printing market?
How has the market structure been developed over the last few years?