Meningococcal Vaccines Market
Global Market Study on Meningococcal Vaccines: Awareness and Accessibility Instrumenting Inroads into Untapped Markets
Meningococcal Vaccines Market is segmented by Polysaccharide Vaccine, Conjugate Vaccine, Serogroup B Vaccine, Mail Order Pharmacy, Public Health Agencies
introduction
Meningococcal meningitis is a rare but potentially devastating bacterial infection that targets the brain. Despite growing advances in medical care, the disease can kill the host within a relatively lesser timespan. One in 10 meningococcal meningitis patients die from the disease, and ~15% of the survivors suffer from deadly complications, which typically include brain damage, deafness, or/and amputation.
Growing prevalence of different types of bacteria that cause meningococcal meningitis, the most common being A, B, C, W, Y, and type X that was more recently spotted in Africa, continue to underscore the criticality of more effective meningococcal vaccines to be available in the near future. Highly unpredictable circulation of this bacteria, and varying occurrences over time and across diverse age groups and geographies, have led to a significant rise in the number of clinical programs for effective meningococcal vaccines development, worldwide.
There are currently ~30 ongoing clinical programs for meningococcal vaccines at different stages of development, at a global level.
In view of such growing government and private initiatives towards development of meningococcal vaccines, and gauging the potential demand for these vaccines, Persistence Market Research (PMR) decided to assess this market.
In its latest business intelligence, PMR has analyzed how growing shift towards a value-based healthcare model will shape the development of meningococcal vaccines, and thereby, push growth prospects of the market.
Find Out More about the Report Coverage
Companies
Company Profiles:
Sanofi Pasteur Inc.
GlaxoSmithKline
Wyeth Pharmaceuticals
Meningococcal Vaccine Market- Mapping the Evolution
Development of vaccines to prevent meningitis was first attempted in the early 1900s with variable degrees of success. It was in the 1930s when safe, stable and effective meningitis vaccines against pneumococcal meningitis were produced for the first time, and followed in the 1960s by vaccines against meningococcal meningitis.
Since then, research has been focused on creating more effective vaccines that can protect against the multiple bacterial causes of meningitis.
Though there is still no single vaccine that can fight against all forms of meningitis, development of high-potential vaccines has grown substantially in the recent years. The world is witnessing 25% decline in bacterial meningitis incidences, wherein 90%of the reduction is attributable to the growing use of vaccination.
This growing adoption of vaccination against meningococcal has been recognized by PMR, which estimated that revenues in meningococcal vaccine market reached ~US$ 2,228 Mn in 2018. PMR opines that meningococcal vaccine market is marching at a steady pace, and is envisaged to grow at 2.6X during 2019-2029.
Customize this Report
Explore Intelligence Tailored to Your Business Goals.
Key Growth Influencers – Meningococcal Vaccine Market
Significantly Growing Usage Outside of Routine Immunization
Meningococcal vaccines are witnessing a substantial demand in line with a notable rise in their use outside of routine immunization. Growing use of meningococcal vaccines for immunization of special risk groups, including travelers, or military personnel, and for recommended but not-reimbursed immunization, is fueling gains in the market.
Increasing Inclusion in NIPs Unlocking New Windows of Opportunities
Growing National Immunization Programs (NIPs) organized by several governments and supported by global organizations and private nonprofit organizations have been fueling the demand for effective vaccines for various diseases, which also includes meningococcal meningitis. Addition of meningococcal vaccines to NIPs with an aim to ensure vaccine supply sustainability and affordability in public and private sectors has been creating an ocean of opportunities for manufacturers.
For instance, in February 2018, Ministry of Health, Government of Australia upgraded NIP to add Nimenrix-quadrivalent ACWY vaccines to the national immunization program of Australia, and pushed the sales of the vaccine in the region.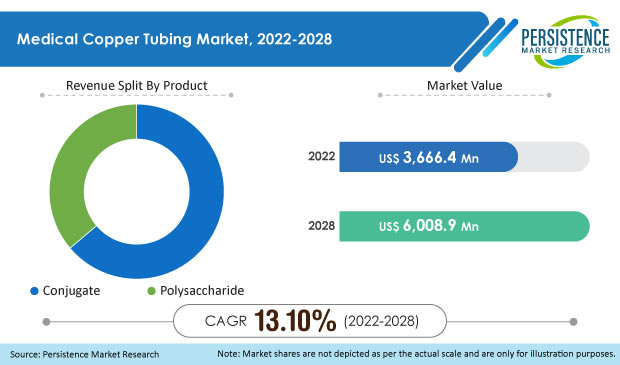 Market Research Methodology - Perfected through Years of Diligence
A key factor for our unrivaled market research accuracy is our expert- and data-driven research methodologies. We combine an eclectic mix of experience, analytics, machine learning, and data science to develop research methodologies that result in a multi-dimensional, yet realistic analysis of a market.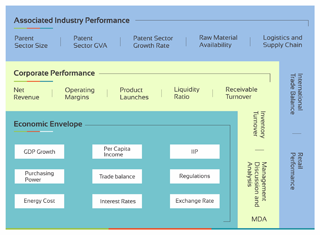 Enhanced Access to Meningococcal Vaccines in Underpenetrated Regions 
Growing access to meningococcal vaccines in developing regions, such as some African countries, through the support of global organizations, which have been assisting with vaccine prequalification, procurement, and funding is reinforcing the lucrativeness of the market. Manufacturers are eying these under-penetrated markets to accelerate their growth in the meningococcal market.
Explore Persistence Market Research's expertise in promulgation of the business !
Meningococcal Disease Treatment – Greater Awareness Translating into Higher Demand
Surging public health awareness initiatives to help prevent children, teens, and adolescents from getting infected by meningococcal disease points to an influx of opportunities for the market players.
With an increasing number of individuals becoming aware about the symptoms, and impact of meningococcal meningitis and subsequent treatment options, vaccines are garnering notable traction, especially from the worst-hit regions.
Unpredictable Threat of Pandemic Meningitis Outbreaks Triggers Investments
Growing emergence of addressing meningococcal outbreak as a major public health challenge that is associated with high rate of mortality and long-term neurological biomakers defects among infants and young children has been creating an increased demand for promising vaccines.
With several developing countries, including BRICS, taking significant steps to initiate the development and production of effective treatments, opportunities for manufacturers in these regions are likely to double in the near future. Potential partnerships between market players and leading companies in BRICS countries are highly likely to reshape the meningococcal vaccine market.
Meningococcal Vaccine Market: Winning Imperatives
Focusing on Expansion of Product Indication
Market forerunners have placed their focus on expansion of product indication to increase the potential pool of patients to be treated with a vaccine. Companies are evaluating potential of existing vaccines for use in expanded age indication, and seeking approval of the regulatory organizations to uplift product sales.
For instance, the U.S. Food and Drug Administration (FDA) has agreed to review Sanofi's meningococcal vaccine candidate, MenQuadfi, and will give the verdict on April 25, 2020. Previously, in April 2018, Pfizer's meningococcal vaccine TRUMENBA received the Breakthrough Therapy designation from U.S. FDA for use in children aged 1 to 9 years.
Leveraging Unique Marketing & Distribution Strategies
Leading players have shifted their focus on direct vaccine sale to healthcare professionals and tender-based sale to public health agencies to expand their growth horizons. Through tender-bases sales, companies are eying long-term stability of vaccine sales via formation of longstanding contracts with national vaccination programs and agencies that conduct mass vaccination campaigns. For an instance, Sanofi SA, a leading player in meningococcal vaccine market, provides vaccine products to WHO campaigns in case of emergency outbreaks of meningitis.
Penetrating Markets with High Unmet Needs
Meningococcal vaccines manufacturers are eying Asia Pacific to launch their products and capitalize on the widening treatment unmet needs that are driven by high incidence of meningococcal disease in the region.
As polysaccharide vaccines continue to witness high traction from developing countries due to limited supply by few vaccine manufacturers, market forerunners are collaborating with local distributers to expand their footprint. Moreover, market leaders, such as GlaxoSmithKline Plc., are investing efforts in broadening the range of age covered by meningococcal vaccines in matured markets, such as the U.S., by demonstrating impact in infants and meningococcal carriage in adolescents.
Meningococcal Vaccine Market - Competitive Landscape
The meningococcal vaccine market is highly consolidated with ~92% of revenue contributed by top 3 global players, including GlaxoSmithKline Plc., Sanofi SA, and Pfizer Inc. Market forerunners continue to place their focus on incorporating technical advances to develop and launch new and more effective vaccines. For instance, GlaxoSmithKline Plc. has been zooming in the focus on new formulations, such as a fully liquid presentation of tetravalent vaccine for MenACWY and Menveo.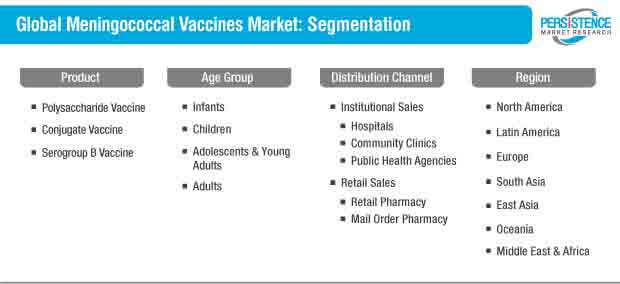 Analysts' Viewpoint
The research analysts at PMR who have prepared this report on the meningococcal vaccine opine that the growth of market will continue to be largely impacted by high adoption rate among young adults. In light of the growing awareness about new vaccines for treating meningococcal meningitis, the market is projected to grow at ~10 CAGR during 2019-2029.
Increasing number of ongoing clinical programs for meningococcal vaccines across the globe, at different stages of development holds significant gains for the market players. The companies focusing on evaluating potential of existing meningococcal vaccines for use in expanded age indication are envisaged to reinforce their foothold in the meningococcal vaccine market through 2029.
Meningococcal Vaccine Market - Segmentation
PMR's study examines the meningococcal vaccine market on the basis of product, age group, distribution channel, and region. The report presents the market dynamics and rapidly changing trends related to the various market segments and how they are impacting the growth of the meningococcal vaccine market.
Product

Polysaccharide Vaccine
Conjugate Vaccine
Serogroup B Vaccine

Age Group

Infants
Children
Adolescents & Young Adults
Adults

Distribution Channel

Institutional Sales

Hospitals
Community Clinics
Public Health Agencies

Retail Sales

Retail Pharmacy
Mail Order Pharmacy

Region

North America
Latin America
Europe
East Asia
South Asia
Oceania
Middle East & Africa
What are the Key Questions Answered in PMR's Report on Meningococcal Vaccine Market?
The report offers unique information about the meningococcal vaccine market on the basis of detailed research related to the macro and microeconomic factors that are instrumental in shaping the progress of the meningococcal vaccine market.
The information mentioned in the report answers to the salient queries for the operating market players and the companies that are eying entry in the meningococcal vaccine market, to assist them formulate winning strategies and make business-driving moves.
What are the key development strategies of goliaths in the meningococcal vaccine market?
Which meningococcal vaccines product will record highest market revenues in 2022?
How market big shots are turning the tables in terms of changing trends to unlock higher sales of meningococcal vaccines?
What will be the Y-o-Y growth of meningococcal vaccine market between 2019 and 2022?
Which age group created highest traction for meningococcal vaccines in 2018?
What ROI can meningococcal vaccine market expect through institutional sales in the next couple of years?
Our Clients