Lemon Bioflavonoids Market Outlook (2022-2032)
The global market for lemon bioflavonoids is expected to expand at a value-based CAGR of 8.1% and increase its revenue from US$ 258.9 Mn to US$ 562.9 Mn by 2032. Europe and North America are regions that will account for the highest consumption of lemon bioflavonoids over the next ten years.
The global lemon bioflavonoids market has witnessed significant growth during the historical period, registering a CAGR of 5.9%, and was valued at US$ 282.1 Mn in 2021. The market is expected to grow steadily with the increasing consumption and awareness of the benefits of lemon bioflavonoids.
Lemons are abundantly available throughout the year, as they are grown in the northern as well as southern hemispheres. Lemons are an important fruit in the world and are produced in a high number of countries, among which, India and China are some of the major producers. Global production of lemons was around 26 million tons for the fiscal year 2020, which are majorly used as fresh fruit and in juices, followed by essential oils and dehydrated peels.
Due to the abundance of lemons, manufacturers can seamlessly process the desired ingredients, additives, and active agents from the fruit. Moreover, the easy and convenient extraction process is benefiting lemon bioflavonoid manufacturers who are extensively focusing on expanding their production capacities through the application of cutting-edge technology. Thus, readily available raw materials, coupled with a convenient manufacturing process, are driving the growth of the lemon bioflavonoids market significantly.
The global citrus bioflavonoids market has experienced significant growth in recent years. The market has been majorly influenced by changing consumer preferences and the superior functionality traits of bioflavonoids. The use of citrus bioflavonoids in various sectors is expected to reach US$ 2.05 Bn by 2032, up from US$ 1.13 Bn in 2022. Citrus bioflavonoids, such as hesperidin, eriocitrin, naringin, and others, are used in the pharmaceutical industry to improve blood flow, reduce cholesterol levels, ease swelling in the body, and much more.
The market for citrus bioflavonoids is expected to witness promising growth of approximately 6% CAGR owing to their wide range of applications in the food & beverage, cosmetics & personal care, pharmaceutical, and dietary supplement industries. Lemon bioflavonoids are a type of citrus bioflavonoids found in high concentrations in the peels and seeds of lemons, which is anticipated to witness buoyant growth over the coming years.
| | |
| --- | --- |
| Lemon Bioflavonoids Market Size (2022E) | US$ 258.9 Mn |
| Projected Sales of Lemon Bioflavonoids (2032F) | US$ 562.9 Mn |
| Value CAGR (2022-2032) | 8.1% |
| Value Share of Top 5 Countries (2022E) | 40% |
What are the Key Trends in the Market for Lemon Bioflavonoids?
What are the Key Trends in the Market for Lemon Bioflavonoids?
"Growing Demand for Citrus Fruit Components for Prevention of Infectious Diseases"
The growing popularity of citrus fruits is attributable to their vitamin and bioflavonoid content. Among the citrus fruits, lemons have attracted the attention of researchers due to the presence of hesperidin, high amounts of eriocitrin, and other essential bioflavonoids. The key polyphenolic compounds in lemons are effective in building strong immunity and helping tackle several infectious diseases.
Citrus fruits such as lemons and oranges are rich in vitamins and minerals that are required by the human body to function effectively. Lemons have essential bioflavonoid components and ingredients, which have beneficial effects on capillary permeability, reduce cholesterol, and maintain glucose levels in the body. Moreover, they also protect the cells from the harmful effects of oxygen-free radicals produced by virus infection and inflammation.
Thus, growing demand for citrus fruit components will prove beneficial for lemon bioflavonoid suppliers.
"Rising Consumption of Functional Foods Augmenting Demand Growth for Lemon Bioflavonoids"
Growing emphasis on improving lifestyle habits has led to an inclination among consumers toward functional foods that support physical and mental health. Consumption of functional foods is showing exponential growth and has gained a lot of traction as they offer numerous health benefits that go beyond basic nutritional needs. Functional foods are a rich source of essential vitamins, minerals, fiber, antioxidants, pure extracts, prebiotics, probiotics, and bioactive compounds.
As a result, citrus bioflavonoids such as lemons or limes are seeing strong demand in functional foods and beverages, as they exhibit immune-boosting properties and antioxidant functions. Furthermore, lemon bioflavonoids also aid the prevention of lifestyle-related diseases, anti-aging, secretion of growth hormones, and recovery from fatigue. Manufacturers are taking advantage of this wholesome ingredient and are developing innovative products to benefit human health.
Zukan, a sweetener ingredient manufacturer, offers Erlim, a 100% natural lemon extract rich in a flavonoid known as eriocitrin, which can be utilized in functional foods since it supports the cognitive system and possesses immune-boosting properties.
"Rising Demand for Dietary Supplements"
Rapidly evolving health trends due to rising awareness about personal well-being and immunity taking center stage have moved consumers from reactive to proactive healthcare. The coronavirus pandemic, coupled with changing lifestyles, has shifted consumers toward dietary supplements, because of which, the supplement industry is expanding at an exponential rate. High sales of dietary supplements have positively affected the lemon bioflavonoids market as well, as flavonoids offer various essential properties that can be effectively utilized in several supplements in the form of ingredients, additives, and active agents.
Manufacturers of dietary supplements are intensively exploiting lemon bioflavonoids for various health supplement applications and are introducing innovative products in the market, which are available in various forms such as gummies, tablets, capsules, and drink mixes.
For instance, Nature's Life, a dietary supplement manufacturer, offers lemon bioflavonoids in tablet form, which contains essential flavonoids such as hesperidin and rutin.
"Lack of Awareness Regarding Benefits of Bioflavonoids among Consumers"
Consumers lack awareness about the potential benefits of bioflavonoids. This lack of awareness is one of the factors behind the increasing adoption of modern medicinal practices that have various side effects on the human body. Modern medicinal practices can cause headaches, constipation, rashes, dry mouth, and other side effects.
Although citrus flavonoids or lemon bioflavonoids have antioxidant, anti-inflammatory, anti-diarrheal, and anti-microbial properties that provide potential nutritional and health benefits to consumers, this is not widely known.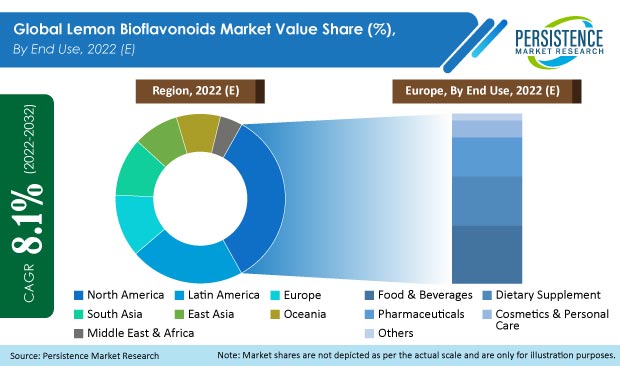 Country-wise Insights
Which Countries Lead the European Market for Lemon Bioflavonoids?
In the European market, Germany, the United Kingdom, Italy, and France account for a value of US$ 15.2 Mn, US$ 13.2 Mn, US$ 12.2 Mn, and US$ 11.6 Mn respectively.
There is rising demand from the cosmeceutical and personal care sector for phytochemicals such as hesperidin, which contains ellagic acid, curcumin, epicatechin, apigenin, and resveratrol, that are used in the production of cosmetic products and provide various benefits such as a reduction in the signs of aging, stimulation, and protection of matrix-associated proteins, maintaining water balance in the skin, and the absorption of UV rays. These factors make hesperidin a vital component in cosmetic and personal care products.
How is the North American Lemon Bioflavonoids Market Faring?
In the North American market, Canada is expected to experience the highest growth, followed by the U.S., at CAGRs of 9.3% and 7.4% respectively.
In the U.S., the fast food culture is highly prevalent. Lemon bioflavonoids are used extensively in packaged foods and beverages for flavor. The volume share occupied by the food and beverages sector is 35.4% in the North American market.
Category-wise Insights
Which Type of Lemon Bioflavonoid Accounts for High Revenue Generation?
Hesperidin is the bioflavonoid holding a major share of 35% in the market, generating revenue of US$ 90.5 Mn in 2022.
Hesperidin is utilized in the production of functional food & beverages as it has physiological functions such as prevention of lifestyle-related diseases, anti-aging, secretion of growth hormone, and recovery from fatigue.
Why are Conventional Lemon Bioflavonoids Still Leading the Race?
Based on nature, conventional lemon bioflavonoids account for a value of US$ 48.9 Mn in 2022. The market percentage held by conventional lemon bioflavonoids is 86.6%.
The cultivation of lemons via conventional sources is easier and requires fewer resources while giving optimum yield as compared to organic farming. However, higher expenditures and investments associated with organic farming might be responsible for the segment enjoying a smaller percentage of the market.
Competitive Dashboard
The global market is primarily characterized by a large number of regional players. Changes in the production line to optimize production and processing while delivering high-quality products to customers is a key strategy being followed across the landscape. Investment in capital resources to enhance production is increasing rapidly.
Ingredients by Nature, has an on-site laboratory for performing extensive research on the formulation of innovative ingredients. Through rigorous research and experiments, the company aims to broaden its portfolio and develop new products as per consumers' needs.
Morre-Tec Industries, Inc. expanded its business with the acquisition of a 20,000+ sq. ft facility in Parsippany, New Jersey. The new facility has given the company resources for business expansion. It has also facilitated storage and processing in according to food-grade product requirements.
Nans Products' research and development activities have enabled the company to cope with the rapidly evolving market conditions as far as productivity standards are concerned. Through its R&D efforts, the company seeks to add value to its existing portfolio and aims to meet its customers' requirements.
Zukan aims to strengthen business through its differentiated and broad portfolio, which aims to cater to the evolving demand from various end-use industries. Moreover, the company continuously puts efforts into developing new products and gaining the traction of new consumers, which in turn will drive business growth.
Lemon Bioflavonoids Industry Report Scope
Attribute

Details

Forecast period

2022-2032

Historical data available for

2017-2021

Market analysis

USD Million for Value

Key regions covered

North America
Latin America
Europe
South Asia
East Asia
Oceania
The Middle East & Africa

Key countries covered

U.S.
Canada
Germany
U.K.
France
Italy
Spain
Russia
China
Japan
South Korea
India
Thailand
Malaysia
Indonesia
Australia
New Zealand
GCC countries
Turkey
Northern Africa
South Africa

Key market segments covered

By Nature
By Type
By End Use
By Region

Key companies profiled

BOC Sciences
BORDAS S.A.
Healthcare
BioGin Biochemicals Co. Ltd.
BioCrick Co., Ltd.
Di'ao Pharma
Ingredients By Nature
Morre-Tec Industries, Inc.
Nans Products
SV Agrofood
Zukan

Report coverage

Market Forecast
Company Share Analysis
Competition Intelligence
DROT Analysis
Market Dynamics and Challenges
Strategic Growth Initiatives

Customization & pricing

Available upon request
Lemon Bioflavonoids Industry Research by Category
By Nature:
By Type:
Hesperidin
Eriocitrin
Naringin
Others
By End Use:
Dietary Supplements
Pharmaceuticals
Cosmetics & Personal Care
Food & Beverages
Others
By Region:
North America
Latin America
Europe
South Asia
East Asia
Oceania
Middle East & Africa