Introduction
Hydrocarbon resins are produced by polymerization and hydrogenation of pure monomer hydrocarbon feedstock. Hydrocarbon resins are seldom used alone, and have many applications.
C5 type hydrocarbon resins are mostly used to tackify aliphatic polymers, especially natural rubber, EVA, SIS, and APO. C9 type hydrocarbon resins are especially applied in flooring adhesives.
Whereas, C5/C9 aliphatic/aromatic resins are used in EVA, SBS, and natural rubber polymers. Also, significant growth in adhesives & sealants as well as the rubber industry, owing to special synthetic rubber demand, is anticipated to positively impact the expansion of the overall hydrocarbon resins market size over the coming years.
Hydrocarbon Resins Market Trends
Adhesives Industry Growth Directly Influences Hydrocarbon Resin Demand: Hydrocarbon resins, owing to their color and odor-free nature, without any adverse health impact, have witnessed increased demand over the years. Changing customer and regulatory requirements further bolsters the demand for hydrocarbon resins.
New requirements such as softening point, defined compatibility, and thermostability for specialized hot melt adhesives have added in to the growth in demand. Formulated resins are specifically designed for these and many other demanding applications and product requirements.
For pressure-sensitive adhesive formulations, fully hydrogenated resins are becoming increasingly popular. Food packaging, woodworking, PSAs, and diapers are some of the major end applications where hydrocarbon resin-made adhesives are used.
Hydrocarbon resins are suitable for every type of adhesive used in diaper production. Hydrocarbon resin-made adhesives also provide high desired process-ability and reliable quality required for woodworking adhesives.
Several Benefits over Other Resin Counterparts: For various industrial purposes, C5 aliphatic and C9 aromatic resins can be modified and used. This includes hydrogenation of all hydrocarbon resins to improve color, odor, and stability, as well as modifying compatibility.
Compared with rosin-based resins and polyterpene-based resins, hydrocarbon resins have benefits in high thermal stability, polymer compatibility, light color, low odor, direct food contact, and excellent cold resistance. These benefits provide hydrocarbon resin higher advantage over its counterparts, and hence, creates significant demand from applications.
Several benefits of hydrocarbon resins include low acid value and chemical resistance, good solubility in organic solvents, low molecular weight, Improving viscosity durability, and excellent compatibility with EVA, rubber, SIS, SEBS, SBS, SEPS and EVA, among others. All these benefits are projected to boost the growth of the global hydrocarbon resins market over the forecast period.
Manufacturers' Focus on Economic Range of Products: The global hydrocarbon resins market is a competitive market space, where end users demand economic range products for their end products. In order to meet this demand, manufacturers in the hydrocarbon resins market are developing high quality and affordable products.
This factor is also responsible for product innovation, which increases the demand for and sale of hydrocarbon resins. In addition, end users prefer products with low carbon emissions, so that overall spending on waste disposal is reduced, which simultaneously increases profit.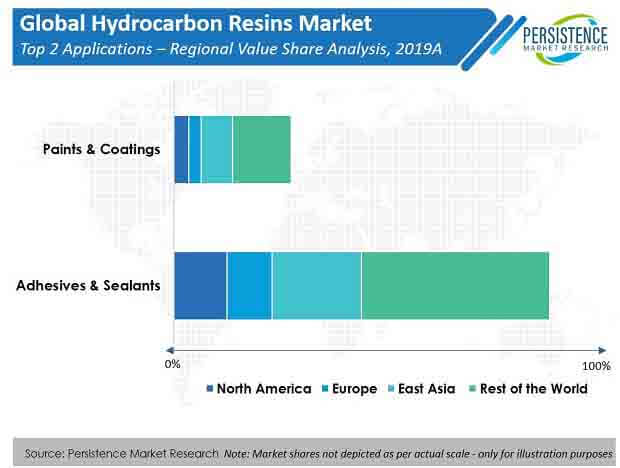 Regional Outlook of Hydrocarbon Resins Market
Globally, East Asia is significantly diverse in terms of customer base, geo-political conditions, and regulations as compared to other regions of the world. China is estimated to hold a major hydrocarbon resins market share, and is expected to account for more than one-third of the market share in terms of value and volume, followed by North America and Europe.
Competition Overview: Fairly Competitive Market
The global hydrocarbon resins market is a moderately fragmented space, with several global as well as medium- and small-scale players operating in the market. Owing to the presence of a number of regional and domestic players, the market is intensely competitive.
Some of the key players in the global hydrocarbon resins market are Eastman Chemical Company, Exxon Mobil Corporation, Total SA (Cray Valley), KOLON Industries Inc., Lesco Chemical Limited ZEON CORPORATION, and Arakawa Chemical Industries Ltd, among others.
COVID-19 Impact on Hydrocarbon Resins Market
The world has been thrown into chaos because of the COVID-19 pandemic. Most countries and industries have been hit as a result of trade restrictions, lockdowns, and reduced activity, all of which have been implemented to curb the spread of the virus.
The hydrocarbon resins market too has suffered due to reduced demand from end-use industries as a result of drastic decrease in manufacturing. Post pandemic, the global hydrocarbon resins market will pick up pace and go back to its normal growth rate of close to 7% annually.
Analysts' Viewpoint
Manufacturers are expected to strengthen their global supply systems and continue meeting robust demand from Asia Pacific. Significant demand from applications such as adhesives & sealants and paint & coatings will set the path for market growth in the coming years. The positive economic outlook of various countries, increasing investments, and availability of raw materials, i.e. petrochemical feedstock, are expected to create numerous opportunities for the growth of the hydrocarbon resins market through 2030.
Key Segments of Hydrocarbon Resins Market
PMR's study on the hydrocarbon resins market is divided into three significant segments - type, application, and region. This report offers comprehensive data and information about the important market dynamics and growth parameters related to these categories.
Attribute
Details

Type

C5 Resins
Hydrogenated
Non-hydrogenated
C9 Resins
Hydrogenated
Non-hydrogenated
Pure Monomers
C5/C9 Resins
DCPD
Others

Application

Adhesives & Sealants
Printing Inks
Paints & Coatings
Others

Region

North America
Latin America
Europe
East Asia
South Asia & Pacific
Middle East & Africa
Key Questions Answered in PMR's Hydrocarbon Resins Market Report
Which region is anticipated to hold a prominent market share over the forecast period?
What will be the key driving factors propelling the demand for hydrocarbon resins during the forecast period?
How will current trends impact the hydrocarbon resins market?
Who are the significant market participants in the hydrocarbon resins market?
What are the crucial strategies of prominent players in the hydrocarbon resins market to upscale their positions in this landscape?