Introduction
With an expanding geriatric population worldwide, the immunity level is observed to fall significantly. These two factors are believed to collectively fuel the need for hospital-acquired pneumonia prevention in next few years. Growing prevalence of chronic diseases coupled with lengthy hospital stay duration will also elevate the chances of acquiring infections such as pneumonia, eventually pushing the demand for prevention of hospital-acquired pneumonia.
Market Size Predicted to Surpass US$ 1 Bn in Terms of Value, over 2018-2026
Furthermore, promising trends in the industry such as medical tourism are considered responsible to create a heap of opportunities in the global hospital-acquired pneumonia prevention market in upcoming years. According to a recent research, the global market for hospital-acquired pneumonia prevention is expected to see moderate growth over a projection period of 2018-2026.
While the market is currently worth US$ 795 Mn and is apprehended to witness 4.7% CAGR and reach beyond US$ 1,100 Mn by the end of 2026.
Mandatory Implementation of Prevention Protocols for Pneumonia Slated to Drive Sales of Oral Care Kits Worldwide
The report predicts oral care products/kits intended for pneumonia acquired at hospital to hold significant growth potential, as a number of countries across the globe have already mandated the implementation of standard pneumonia prevention protocols in ICU and CCU sections, which include standardized oral care. This is observed to be a major booster to market growth over the past few years.
Broadening patient pool and increasing rate of acquiring pneumonia among admitted patients in developing countries are anticipated to escalate the number of pneumonia cases in near future, especially in the Southeast Asian Countries. Emerging economies are thus foreseen to offer a range of opportunities in near future.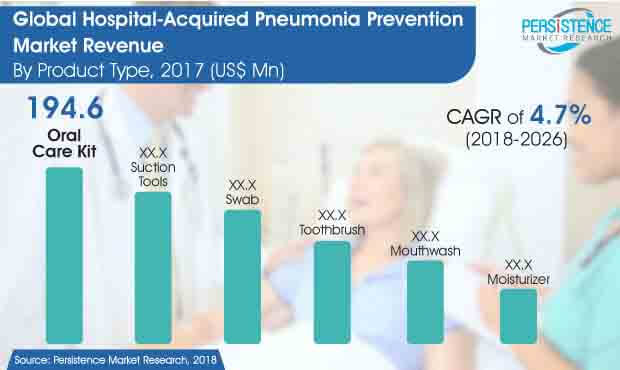 Oral Care Kits Foreseen to Lead, Suction Tools to Represent Most Opportunistic Product Type Segment
Among the six segments of the global market for hospital-acquired pneumonia prevention based on the product type, oral care kits segments currently accounts for more than 25% share of the total revenues. This segment is likely to retain a maximum value share of over 25% throughout the forecast period, followed by the suction tools segment.
The latter is expected to occupy a value share of around 23% from 2018 till 2026, whereas another lucrative segment, i.e. swab will reportedly hold a revenue share of over 20% during the entire assessment period. Toothbrush and mouthwash segments are presumed to occupy decent revenue shares of around 11% through to 2026, whereas suction tools are slated to represent the fastest growing segment with an estimated CAGR of over 5%.
Key Research Findings Regarding Oral Care Protocols Standardized for Hospital-acquired Pneumonia Patients
Care-dependent neurologically impaired patients typically have an increased risk of oral colonization owing to complete care dependency, reduced cognitive status, immobility, and impaired swallow and cough.
An enhanced oral care protocol is recommended for reducing the incidence of non-ventilator-associated hospital-acquired pneumonia.
Overall standardized oral care protocols involve proper teeth brushing and aseptic solutions for acutely ill and care-dependent patients, which has been advantageous for nosocomial pneumonia patients.
Global Hospital-acquired Pneumonia Prevention Market Taxonomy
Attribute
Details

Segmentation by Region

North America
Latin America
Europe
Asia Pacific excluding China (APEC)
China
Middle East & Africa (MEA)

Segmentation by Product Type

Oral Care Kit
Toothbrush
Swab
Moisturizer
Mouth Wash
Suction Tools

Segmentation by End-user

Hospitals
Rehabilitation Centers
Home Care Settings
- Companies Covered in This Report -
Sage Products LLC (Stryker Corporation)
Intersurgical Ltd.
Medline Industries, Inc.
Halyard Health, Inc.
Others.