Fall Detection System Market
Global Market Study on Fall Detection Systems: Sensory Devices Shaping the Future
Fall Detection System Market Segmentation By Automatic Fall and Manual Fall Detection Systems Product with GPS-based, Mobile Phone-based, Sensor-based Technology
Fall Detection System Market
Introduction
In recent years, risk of falling, especially among aging population, has been propelled by the rising prevalence of various chronic diseases such as Alzheimer's and Dementia along with increasing incidence of chronic disorders such as diabetes, chronic obstructive pulmonary disease (COPD), cardiovascular diseases, etc.
These factors are expected to trigger the growth of the fall detection systems market. Each year, almost 800,000 people in the U.S. suffer from a stroke. According to National Stroke Association, 40% of this population are likely to experience a serious fall within a year of the stroke. The global fall detection systems market is anticipated to be valued at US$ 600.0 Mn by the end of 2029, expanding at a CAGR of ~ 4% during the forecast period.
Implementation of fall detection systems is vital because falls are risky especially for individuals who live alone in their homes. According to the World Health Organization, about 28% - 35% of individuals over the age of 65 are projected to go through one fall at a minimum each year, and this danger rises to 42% for individuals over the age of 70. Such situation impels the necessity for fall detection systems.
Fall detection systems have the ability to mitigate some of the adverse consequences of a fall. One major outcome of a fall is bone fracture, for instance, fracture of hip, femur, forearm, leg or ankle bone.
Several techniques have been created and enhanced overtime to improve sensitivity and responsiveness in fall detection systems. Fall detection systems are based on global positioning systems (GPS) and sensors. These sensor devices are required to be worn on body. These sensors have the capability to identify where the person fell and can also sense both impact and angle of the fall.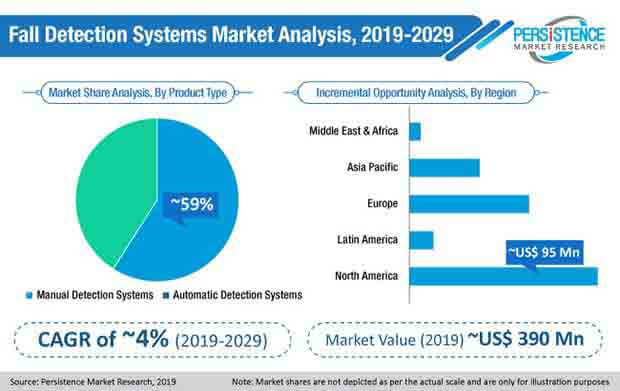 Find Out More about the Report Coverage
Companies
Company Profile
Koninklijke Philips N.V.
Tunstall
ADT Inc.
Medical Guardian LLC.
BioTelemetry, Inc.
Bay Alarm Company
MobileHelp
MariCare Oy
Technological Advancements in Sensing Devices Shape Fall Detection Systems Landscape
The technological advancement has already increased to a new stage that holds the ability to fully transform the industry for fall detection systems. Manufacturers of fall detection systems are incorporating cutting edge innovations, for instance, GPS and cell correspondence in their devices in order to advance in the market and to separate their product offerings from other competitors.
These devices are equipped with advanced features such as real-time alert notification about a fall to a pre-assigned number of a family person and senior care centers.
These are also capable of tracking the individual's location. Furthermore, sensory floors are benefiting a large number of elderly people. Innovation in such technology and lowering the cost of installation of these devices can pave way for the fall detection systems market towards a lucrative growth.
Customize this Report
Explore Intelligence Tailored to Your Business Goals.
Increasing Penetration of Smartphones Provide Traction to the Fall Detection Systems Implementation
Rising penetration of smartphones and other handheld gadgets provide a favorable environment for development of fall detection systems. Numerous software applications can be introduced in smartphones that empower these devices to function as an affordable fall detection systems.
It is a practical and easy-to-deploy way of executing fall detection systems by reusing sensing and computing capabilities of smartphones that are widely and generally used on a daily basis by a dominant part of the worldwide population. However, as smartphones are not originally meant for use as fall detection systems, they are not calibrated to fully function as such devices. As smartphone-based fall detection systems are gaining popularity amongst end users, researchers are trying to eliminate minor glitches that are hampering accuracy of these systems.
For example, placement of smartphone in pockets or handbags affects the sensing abilities, resulting in varied outcomes and low detection rate of fall detection systems. Thus, demand for better fall detection software which could be implanted successfully and effectively is rising.
Therefore, developing and connecting fall detection systems to software applications ready to work in sync with smartphones can provide a burgeoning opportunity for the fall detection systems market.
Market Research Methodology - Perfected through Years of Diligence
A key factor for our unrivaled market research accuracy is our expert- and data-driven research methodologies. We combine an eclectic mix of experience, analytics, machine learning, and data science to develop research methodologies that result in a multi-dimensional, yet realistic analysis of a market.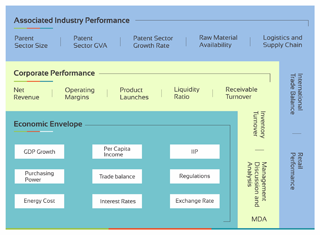 Growing Preference for Machine Learning Methods in Fall Detection Systems
In recent years, development in machine learning and artificial intelligence has increased exponentially. This has provided a plethora of avenues for fall detection systems manufacturers to add devices based on these technologies in their product portfolio.
Generally, fall detection systems are based on two techniques, namely thresholding techniques and machine learning methods. Researchers are focused on further development of machine learning methods, as it offers better fall detection rate and help to minimize false positives, since thresholding methods proved to be less effective in fall detection systems.
However, requirements such as intense computation and high mathematical skills for algorithm design is hampering development of an ideal system, as robust fall detection systems should comprise high sensitivity, specificity, and effective responsiveness as well.
Explore Persistence Market Research's expertise in promulgation of the business !
Development of Patient Oriented Fall Detection Systems
A majority of seniors encountering falls endure with different kinds of medical problems one after another. Therefore, it is essential to record patient's activity along with several physiological parameters.
Integration of physiological sensors with fall detection systems would provide better understanding between patient's activity and medical conditions thus making monitoring process more detailed. The development of patient oriented fall detection systems will help to initiate a step towards a full-scale remote monitoring framework in order to determine patient's well-being on a long-term basis.
Lack of Awareness about Fall Detection Systems Technology Hampering the Market Growth
Although number of falls across the globe is rising, lack of awareness about fall detection systems technology hampers its adoption especially in developing regions.
Major players operating in the fall detection systems market are mainly based in developed countries such as Canada and the U.S., where awareness about fall detection systems and its products is high due to various marketing and awareness campaigns by key market players. Ageing population in the aforementioned countries further drives the growth of the fall detection systems market.
Nevertheless, lack in availability of information and technology in some economically backward nations might witness least growth in the fall detection systems market.
North America Significant Market for Fall Detection Systems
The North American fall detection systems market is expected to grow at a CAGR of approximately 5.0% during the forecast period. This can largely be attributed to proliferating healthcare expenditure, increasing number of falls among geriatric population, increasing penetration of smartphones, increasing prevalence of chronic diseases, technological advancements, adoption of fall detection systems as supportive tool for independent living, and reducing immense economic burden are impelling the growth of the fall detection systems market.
Growing number of senior assisted living facilities in North America and introduction of advanced technologies in those facilities are also anticipated to drive the fall detection systems market even further.
Leading Players Bringing Momentum in the Fall Detection Systems Market
Some of the key players operating in the fall detection systems market are Koninklijke Philips N.V., Tunstall, ADT Inc., Medical Guardian LLC., BioTelemetry Inc., Bay Alarm Company, MobileHelp, MariCare Oy, ;and others.
Koninklijke Philips N.V. is the largest fall detection systems provider and medical alert system company in the U.S. with extensive brand name recognition. In Feb 2019, Koninklijke Philips N.V partnered with Dispatch Health, a mobile emergency care provider that provides affordable and convenient care at individual's home, to support seniors in Arizona, U.S. with on-demand care.
ADT Inc., BioTelemetry, Inc. and Tunstall are mid-level players in the market of fall detection systems provider. Their major focuses is on partnership and collaboration with companies based in different locations in order to expand their business and develop new solutions.
For instance, in October 2018, with the acquisition of EWII Telecare and Kanayo Software Inc., Tunstall Healthcare announced the development of its portfolio of connected health solutions, which will leverage its fall detection systems solutions.
MobileHelp and Medical Guardian LLC. are the emerging players in the fall detection systems market with their prime focus on establishing a strong foothold in North America medical alert system market and bridging the gap between doctors and home-based tele health solutions.
Analysts' Viewpoint
A comprehensive perspective of the fall detection systems market has led our analysts to infer that, the market is growing at a remarkable rate, with North America and Europe dominating the global demand for fall detection systems. The rising number of fall injuries could lead to increased penetration of fall detection systems as treating fall injuries imposes an immense economic burden on the society.
Also, the treatment cost of fatal and non-fatal falls also increases rapidly with age, which will also give impetus to the demand for fall detection systems. Fall detection systems deliver immediate access to elderly population and provides a potential solution for unreported falls among seniors thus improving outcomes and reducing the overall healthcare cost. These factors are anticipated to provide traction to the fall detection systems market.
Technological innovations, for instance, artificial intelligence and machine learning technology could give opportune benefit as a time saving, cost effective, and practical strategy thereby expanding profit margins for market players. Companies with research and development ability and technological excellence will accumulate traction and profitability in the fall detection systems market. Leading players who are utilizing their innovation resources will keep on developing exponentially and will harness a huge market revenue share.
Although medical alert devices are gaining traction for various applications, as fall detector systems offered by various market players are not entirely accurate. This is a major factor restraining the growth of the market. In addition to this, high costs of fall detection systems services adversely affects its adoption in emerging economies. Fall detection systems are subscription-based and high cost of these systems is expected to hamper the market growth to a certain extent.
Key Segments of the Fall Detection Systems Market
PMR's research on the fall detection systems market provides information organized into five important segments-product type, technology, sensing method, end user, and region. This study provides extensive market research information and data on the significant business dynamics and development parameters linked with these classifications.
Product Type

Automatic Fall Detection Systems
Manual Fall Detection Systems

Technology

GPS-based
Mobile Phone-based
Sensor-based

Sensing Method

Wearable

Watches
Necklaces
Clip-to-Garments

Non-Wearable

Floor Sensors
Wall Sensors

End User

Home Care Settings
Assisted Living Facilities

Region

North America
Latin America
Europe
Asia Pacific
Middle East & Africa
Key Questions Answered in PMR's Fall Detection Systems Market Report
Which regions will stay the most lucrative regional markets for market players in fall detection systems?
How businesses can seize the growth opportunities in the fall detection systems market in developed and emerging sectors?
Which variables will trigger alteration in the demand for fall detection systems during the evaluated and forecast period?
What are the restraints that companies need to be aware of and might tackle while investing in the fall detection systems market?
How will changing trends impact the fall detection systems market?
Which key players lead the fall detection systems market?
What are the winning business approaches of the fall detection systems market participants to flourish in this market?
Our Clients