Eyewear Market Outlook (2022-2032)
The global eyewear market is projected to expand at 5.9% CAGR and reach a market size of US$ 206.1 Bn by the end of 2032, up from US$ 115.2 Bn in 2022.
The Vision Council of America claims that around 75% of the adult population across the world uses vision correction products, and 64% of them women wear.
| Report Attribute | Details |
| --- | --- |
| Eyewear Market Size (2022) | US$ 115.2 Bn |
| Projected Sales of Eyewear (2032) | US$ 206.1 Bn |
| Market CAGR (2022 to 2032) | 5.9% |
| Market Share of Top 5 Eyewear Manufacturers | ~5% to 8% |
Demand Analysis of Eyewear (2017 to 2021) Vs. Market Projections (2022 to 2032)
Demand for eyewear products increased between 2017 and 2021 at a steady CAGR of 4.5%, particularly in Asia Pacific emerging markets such as India and China.
Key factors influencing the expansion of businesses that specialize in eyeglasses have been innovative technology advancements and greater spending on research and development by eyewear manufacturers. The development of glasses took centuries, but today's cutting-edge eyewear solutions are paving the way for perfect vision for people with impaired eyesight.
The eyewear market is growing as a result of new technology in eyewear products, such as ballistic eyewear, a type of goggles or glasses that shield the eyes from small projectiles and fragments. The U.S. army mostly employs them to safeguard the vision of their personnel.
The invention of such products aims to cater to a targeted audience and provides growth in the eyewear industry. Furthermore, customization facilities in eyeglasses, where users are given the chance to change each part according to their taste and preference, have further led to an increase in the demand for eyewear products.
Sustainable approaches and new technology advancements are expected to drive the market forward, such as smart eyewear and AI-assisted eyewear technology. Over the next ten years, global sales of eyewear are anticipated to surge faster than in the historic period at 5.9% CAGR.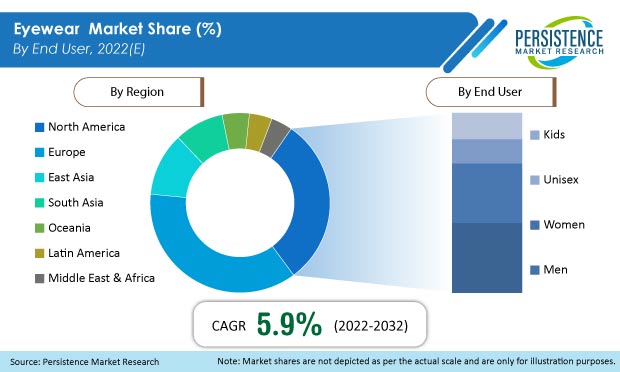 Which Market Factors are Aiding Demand Growth for Eyewear Products?
"Growing Visual Impairment & Requirement for Clear Eyesight"
Growing visual impairment and the requirement for clear eyesight has led to an increase in eyewear demand. The millennial generation is currently more reliant on and drawn toward digital gadgets such as laptops, video games, smartphones, etc. Long hours spent on these devices have led to an upsurge in eye diseases.
Furthermore, diseases such as diabetes affect human vision and can even cause blindness. As people get older, some organs of the body tend to have problems, and deteriorating eyesight is one of them. It is recommended that those who are older and suffer from diabetic conditions should check their eyes to avoid eye problems. As a result, increasing visual defects and vision impairment will have a positive impact on the worldwide eyewear market.
"e-Commerce Sales to Aid Market Expansion"
In addition to developing innovative products, manufacturers are increasingly successfully building sales and distribution networks for their goods. Consumers are increasingly focusing on Internet product research to gather knowledge about their purchases before making a final decision. As a result, eyewear manufacturers are expanding their online product accessibility and market presence.
A well-known eyewear maker, Lenskart, sells its products directly to customers through the usage of D2C (Direct-to-Consumer) e-Commerce. Customers can try all the eyewear frames of Lenskart through its application by adding their face in the app.
Companies are employing this tactic to improve customer service and sell their eyewear directly through digital platforms, including websites and mobile applications.
Country-wise Analysis
Will High Working Hours Drive Eyewear Sales in the U.S.?
With an anticipated CAGR of 7.3% during the projection period, demand for eyewear is anticipated to hit an all-time high in the U.S. market over the coming years.
Since the U.S. has a different workplace culture than other nations, there is a significant demand for smart gadgets such as laptops, desktop computers, mobile phones, and tablets. Due to the fact that wearing lenses is considered fashionable, there is a strong demand for lenses as opposed to spectacles.
The younger generation that needs prescription spectacles prefer contact lenses to look better. Hence, the demand for lenses is increasing rapidly in the country. Especially during Halloween parties, different colors of contact lenses according to the outfits are being made available online.
How is the Premiumization Trend Shaping Product Offerings in the U.K.?
The U.K. accounted for approximately 8.4% of all eyeglass users in 2021 and holds a dominant position in the European eyewear market. Market offerings have changed due to a number of important trends, including premiumization. The demand for high-end, good-quality eyewear and lenses in the U.K. is predicted to rise with an increase in consumer spending.
Eyewear producers in the country are eager to provide virtual trials to their customers before they purchase a product in light of the current market trends. This is the way regional players are being inspired to redesign their services by the current premium trend.
What are the Opportunities for Eyewear Manufacturers in Australia?
Australia is one of the profitable eyeglass markets in Oceania, and during the projected period, it is anticipated to evolve at a high growth rate of 8.8% in terms of value.
Prominent factors such as the continuously increasing middle-class population and growing awareness of the image and style of eyewear products in Australia are contributing to increased customer expenditure on fashionable eyewear, and will boost the demand for eyewear products in the country over the coming years.
Furthermore, expansion of the Australian eyewear market is likely to be aided by growing brand awareness and increasing quality of eyewear products offered by well-known brands.
Category-wise Insights
Will Increasing Use of Sunglasses Push Overall Market Growth?
Sunglasses currently hold a sizeable market share of 59.6% in terms of product type and value.
Sunglasses are essential for shielding the eyes from harmful rays that could seriously hurt them. Even the usage of sunglasses while driving two-wheelers has increased for protecting the eyes from dust. This is contributing to sunglasses being adopted more widely than other types of eyewear.
Which is the Most Prominent Sales Channel for Eyewear Products?
The eyeglasses market is categorized as a highly fragmented sector due to the significant number of local and regional companies operating across the world. In a sector where store-based commerce is still the norm, eyewear manufacturers are focusing their efforts on growing their online presence across the world.
Market players are highly investing in online retailing in reaction to changing consumer purchasing behavior. Even customers are enjoying the online purchase perks provided by numerous eyeglasses providers. As a result, online retail of eyewear is projected to register significant growth over the coming years.
Which Material is Most Widely Used to Manufacture Eyeglasses?
Under material type, plastic is the most commonly utilized material to manufacture eyeglasses. The advantages that plastic offers make it a material that eyewear experts highly recommend.
In addition, plastic is lighter than other substances and resistant to chemical erosion. Plastic is becoming a desirable material for eyewear goods because of all of these features.
The plastic material segment is set to post a strong CAGR of 5.9% through the 2022-2032 forecast period.
Competition Landscape
Eyewear suppliers are now discovering new methods to minimize expenses and enhance the quantity they generate. These solutions are being enacted as a result of rising input costs and a lack of market power.
Large establishments are evaluating their operational chains and operational performance from both of these perspectives. Accordingly, nurturing vital links with key stakeholders or suppliers to reach new levels of efficiency has become a market norm.
Eyewear Industry Report Scope
Attribute

Details

Forecast Period

2022-2032

Historical Data Available for

2017-2021

Market Analysis

US$ Mn for Value

Key Regions Covered

North America
Latin America
Europe
East Asia
South Asia
Oceania
MEA

Key Countries Covered

United States
Canada
Brazil
Mexico
Germany
U.K.
France
Spain
Italy
South Africa
Northern Africa
GCC Countries
China
Japan
South Korea
India
Thailand
Malaysia
Indonesia
Australia & New Zealand

Key Market Segments Covered

Product
Material
Price Range
End User
Sales Channel
Region

Key Companies Profiled

EssilorLuxottica
Zeiss International
HOYA Corporation
Johnson & Johnson Vision Care, Inc
Cooper Vision
Fielmann AG
Safilo Group S.p.A.
Marcolin SpA.
De Rigo Vision S.p.A
Alcon
Marchon Eyewear, Inc.
Charmant Inc.
MAUI JIM, INC.
Bausch & Lomb
Fittingbox
Others (on request)

Pricing

Available upon Request
Key Segments Covered in Eyewear Industry Research
Eyewear Market by Product:
Spectacles
Sunglasses
Contact Lenses
Sports Eyewear
Others
Eyewear Market by Material:
Metal Eyewear
Plastic Eyewear
Others
Eyewear Market by Price Range:
Below US$ 15
US$ 15-35
Above US$ 35
Eyewear Market by End User:
Eyewear Market by Sales Channel:
Clinics & Hospitals
Modern Trade
Multi-brand Stores
Optical Stores
Online Retailing
Others
Eyewear Market by Region:
North America Eyewear Market
Latin America Eyewear Market
Europe Eyewear Market
East Asia Eyewear Market
South Asia Eyewear Market
Oceania Eyewear Market
MEA Eyewear Market