Effervescent Products Market Outlook (2022 - 2029)
Pharmaceuticals can be administered orally, nasally, topically, or intravenously. Tablets are the most commonly used pharmaceutical types and seen as a problematic procedure by a large section of the population due to issues with swallowing. To solve this problem, pharma companies developed a variety of dose forms, such as effervescent pills.
These effervescent dosage forms not only improve acceptance and comfort but also assist pharma companies in expanding their product range. The increasing need for optimization of the dosage forms regarding difficulty in swallowing is the major factor driving the growth of the Effervescent Products Market. Apart from this, functional foods like dietary supplements, probiotics, vitamins, minerals, etc. are also fueling the market growth.
The Global Effervescent Products market is expected to have a CAGR of 6.50% from USD 41,217.9 Million in 2022 to USD 64,088.9 Million in 2029.
| Attribute | Key Insights |
| --- | --- |
| Effervescent Products Market Size (2022) | US$ 41,217.9 Mn |
| Projected Market Value (2029) | US$ 64,088.9 Mn |
| Global Market Growth Rate (2022 - 2029) | 6.50% CAGR |
Effervescent Products Market Demand Analysis (2014-2021) v/s Market Outlook (2022 - 2029)
The global market for Effervescent Products is expected to grow significantly in the upcoming period due to their increasing acceptance, ease in swallowing, increased health consciousness, rising technological developments, and the expanding scope for innovative dosage forms in the healthcare sector.
Key Drivers to the Effervescent Products Market
Increase in the Prevalence of Chronic Diseases
The increased prevalence of chronic diseases like Dysphagia, Esophageal Cancer, etc that cause difficulty in swallowing is a primary driver, contributing to an increase in the market's growth rate. Effervescent dosage forms are easy to use and simply need a drop of water to make a solution. These Effervescent dosages offer a considerable advantage as these are usually in the form of a solution, allowing ease of wallowing and faster absorption than standard tablets and faster relief.
Increased Health Consciousness
Rising health awareness and increased disposable income have influenced people to shift to healthy products, such as dietary supplements, probiotics, vitamins, minerals, etc. Market players are capitalizing on this trend by offering effervescent products such as dietary supplements to prevent diseases, address nutritional deficiencies, and improve consumers' overall health and lifestyle. Companies involved in functional foods are adding new products across many segments to incorporate shifting consumer preferences.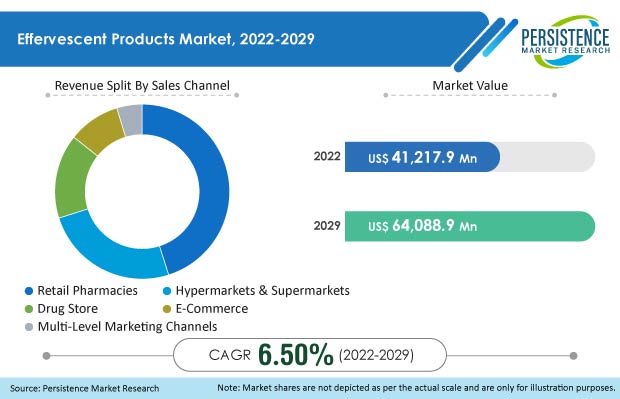 Increasing Investment for Healthcare Infrastructure
Another important factor driving the growth of the Effervescent Products Market is the rising healthcare expenditure that facilitates healthcare infrastructure improvement. Several government bodies around the world are strengthening their healthcare infrastructure by increasing their healthcare expenditure budget, which is likely to increase the demand for Effervescent Products for treating people suffering from chronic diseases.
Extensive Research and Development Initiatives
The growth of the effervescent products market is being fuelled by a rise in the number of R&D activities. Several pharmaceutical companies are working on developing novel medications that have measurable benefits on the health and lifestyle of patients. Developing effervescent products that can quickly transform into beverages benefits the environment by reducing the usage of plastics and the other materials and also help the patients to swallow medicines easily. Massive investments in developing innovative technologies and novel effervescent products are likely to create advantageous prospects for the expansion of the effervescent products market in the coming years.
What restraints is the Fall Detection Systems Market subject to?
"High Cost Associated with Drug Development"
Millions of dollars are required for drug development and research activities, which may impede the growth rate of the effervescent products market over the forecast period. Furthermore, a lack of healthcare infrastructure and the availability of effervescent products in under-developed countries will act as a restraint and further limit market growth throughout the forecast period.
"High Sodium Content in Effervescent Products"
Sodium bicarbonate is present in effervescent products, which aids in fizzing, bubbling, and dissolving a solution. Unfortunately, sodium bicarbonate has been linked to several health issues, including high blood pressure, which can lead to a higher risk of cardiovascular disorders such as heart strokes. Hence, the High Sodium Content in Effervescent Products is the key restraint to the growth of the Effervescent Products Market and is expected to have a negative impact on market growth.
Impact of COVID-19 on Effervescent Products Market
The COVID-19 outbreak had a significant impact on the market for Effervescent Products. During the pandemic, there was a considerable rise in the use of Effervescent Products, because of an increase in the people suffering from covid-19 and several drugs and supplements were offered in effervescent dosage forms for providing easy of use and swallowing. Apart from this, the demand for effervescent products like dietary supplements, vitamins, minerals, etc. also skyrocketed during the pandemic because people became more health conscious and understood the importance of strong immunity.
Competitive Landscape
The Effervescent Products Market is highly competitive with the presence of several big players. The major players in the Effervescent Products market are focusing on developing and launching user-friendly dosage forms such as effervescent tablets, powders, and granules to increase their product portfolio, revenue and extend the lifespan of their products.
Effervescent Products Market Industry Report Scope
Attribute
Details

Forecast Period

2022 - 2029

Historical Data Available for

2014-2021

Market Analysis

Key Regions Covered

North America
Latin America
Europe
Asia Pacific
Middle East & Africa

Key Countries Covered

U.S.
Canada
Germany
Italy
France
U.K.
Spain
Russia
India
China
Japan
UAE
Australia

Key Market Segments Covered

Key Companies Profiled

Reckitt Benckiser Group Plc
GlaxoSmithKline Plc.
Bayer AG
Nuun and Company Inc.
Bristol-Myers Squibb Co (UPSA Laboratories)
Herbalife International of America, Inc.
Prestige Brands, Inc.
DMK Group (Sanotact GmbH)
Hermes Arzneimittel GmbH
Pyramid Pharmaceuticals
Amerilab Technologies Inc.
US Pharma Lab Incorporated
Tower Laboratories, Ltd
Laboratoires SMB
Paragon Labs USA
Marlyn Nutraceuticals, Inc.
JW Nutritional, LLC
Nomax Inc.
Nutrilo GmbH

Customization & Pricing

Available upon Request
Effervescent Products Market Categorization
Effervescent Products Market by Product Form
Effervescent Tablets
Effervescent Powders
Effervescent Granules
Effervescent Products Market by Product Type
Pharmaceuticals
Functional Foods

Probiotics
Dietary Supplements
Electrolytes & Energy Boosting Supplements

Dental Products

Dental Cleaners
Teeth Whitening
Effervescent Products Market by Sales Channel
Pharmacies
Drug Stores
E-Commerce
Hypermarkets & Supermarkets
Multi-Level Marketing Channels
Effervescent Products Market by Region
North America
Latin America
Europe
Asia Pacific
Middle East & Africa (MEA)