Measures to Prevent Agricultural Crop Damage Benefits Dicamba Market
The global dicamba market has been witnessing moderate growth in the recent past. While dicamba is fairly old as far as modern herbicides are concerned, lately it has come under the scrutiny of the Environmental Protection Agency (EPA) in the U.S. In a list compiled by the EPA in 2012, dicamba ranked towards the bottom among commonly used pesticides mainly because of its tendency to drift onto other fields. Not only this, EPA recently entered into an agreement with leading dicamba manufacturers to minimize the potential of dicamba formulations to drift to damage neighboring crops.
In agricultural practices, dicamba is increasingly replacing glyphosate as crop resistance for the latter is increasing. This is leading farmers to switch to alternatives such as dicamba, thereby driving the dicamba market. In addition, arable land is shrinking due to climatic factors, uneven distribution of land between regions and countries, and rapid urban development.
This has necessitated use of genetically modified crops and herbicides to meet the increasing demand for food, thereby driving demand for dicamba. Being in use since the 1940s, dicamba is a common chemical used to control a broad range of crop-choking weeds.
Across the world, farmers are adopting modern agricultural practices that can increase production to feed the growing global population. Companies involved in the manufacture of agricultural chemicals are educating farmers to adopt economic and efficient crop protection measures through crop care programs. These crop care programs help train farmers in order to minimize crop damage, thereby maximizing output.
The availability of low-cost products from Asia is also a key factor acting in favor of the dicamba market. China has emerged as a hub for export of dicamba formulations due to high tax rebates between 9% and 13%.
This has attracted a large number of manufacturers to foray into the exports of dicamba in the global market. Exporters in China have reduced their export prices due to increased tax rebates, driving in flow of dicamba in the global market.
Considering a number of favorable factors, the global dicamba market is likely to clock a healthy CAGR of 7.9% between 2017 and 2021. At this pace, the market's valuation of US$ 337.8 Mn in 2017 is expected to increase to US$ 457.3 Mn by the end of 2021.
Initiatives to Develop New Product Formulations to Open a Vista of Opportunities in the Global Market
Providing headwinds to the dicamba market is the volatility of dicamba leading to drift damage. This involves movement of the herbicide from treated areas to neighboring farms causing damage to non-targeted plants and trees. The increasing use of dicamba is leading to increasing concerns regarding drift damage caused due to blanket spraying and vaporization of dicamba post application in the treated area. Moreover, pending regulatory approvals for new dicamba formulations are also slowing the growth of the global dicamba market.
For instance, Monsanto and BASF developed new dicamba mixtures Mon 1661 and Engenia respectively that are awaiting EPA approval – these can be used on dicamba-resistant soybean and cotton. Nevertheless, companies are entering into licensing agreements for enhanced market opportunities for dicamba and to enhance their presence in the global market. In addition, leading companies are focusing on product innovation for dicamba formulations and new product launches.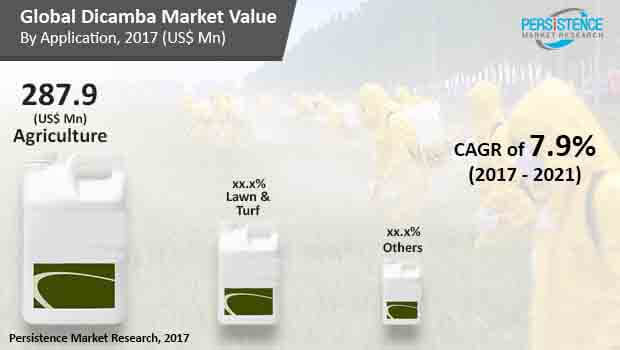 Widespread Adoption of Herbicides Makes North America the Leading Regional Market for Dicamba
Among the key application segments, agriculture holds dominance in the overall dicamba market. This is because dicamba is used to control the growth of weeds in agricultural farms to prevent loss of agricultural output. The lawn and turf application segment is anticipated to stoke significant demand for dicamba in the future.
North America is anticipated to emerge as the most attractive market for dicamba in the years ahead. This is because emergence of glyphosate-resistant weeds has prompted farmers to opt for alternative herbicides such as dicamba.
- Companies Covered in This Report -
BASF SE
Monsanto Company
EI du Pont de Nemours & Company
Bayer AG
The Dow Chemical Company
Syngenta AG
Nufarm Limited
Other.