Introduction
The global ceramides market was valued at around US$ 345.2 Mn in 2018, and is estimated to grow at a CAGR of over 6% over the forecast period 2019–2029.
In terms of consumption, East Asia and Europe are expected to emerge as prominent regions throughout the forecast period. Healthy growth of pharmaceuticals and healthcare, and cosmetics and personal care industries in China (East Asia) and Europe, is the key driving factor for the growth of the global ceramides market, as these industries are primarily the main consumers of ceramides. According to 'The Soil Association Limited', U.K.'s sales of health and beauty products was US$ 112.2 Mn in 2018, up by 14% from the previous year.
Other factors such as raw material availability, economical labor and production, and favorable government regulatory norms encourage pharmaceutical and personal care product manufacturers to invest in China for expanding their manufacturing capacities. This has created larger demand for ingredients, and thus, is driving the consumption of ceramides in the East Asia region.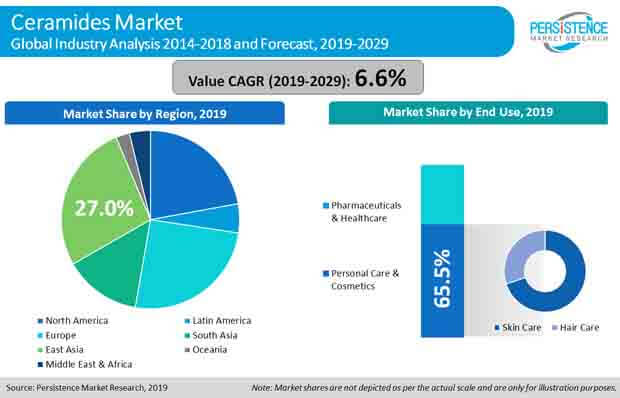 As a consequence of rising awareness towards skin aging, the sales of anti-aging products has hiked significantly. Ceramides are extensively used in the production of anti-aging products, as they can repair the functionality of the skin barrier system and retain skin moisture content. As such, the rising sales of anti-aging products is expected to increase the consumption of ceramides in skin care applications.
According to data provided by the UN Department of Economic and Social Affairs Data, the population size of people aged 60 or above is expected to increase by around 56% between the time period of 2015 to 2030.
By process, the plant-extract ceramides segment expected to witness comparatively high growth over the forecast period, because of the rising demand for plant-based ingredients as compared to ingredients derived from animal sources or other synthetic sources.
Key Driving Factors of the Ceramides Market
Demand for Natural Cosmetics and Personal Care Ingredients on the Rise

Consumers are looking for cosmetics and personal care products based on natural ingredients as compared to products from synthetic ingredients that can cause significant side effects. As a result, natural beauty products have been observed to outperform conventional products, and are expected to gain a high market share in the coming years.
In the year 2017, products made from natural ingredients collected a revenue of US$ 1.3 Bn, which was 5.6X the annual revenue in 2013. Ceramides are mostly derived from natural sources such as rice bran, corn, wheat, etc. Hence, they fall under the category of natural plant-based ingredients, and thus, are highly preferred by natural cosmetics and personal care product manufacturers.

Growing Awareness for Sophisticated and Science-Based Cosmetics and Personal Care Ingredients
Research on well-understood mechanisms, defined molecules, and truly science-based ingredients is expected to be a significant driving factor for the rising awareness of applications of ceramides and their mechanisms of skin care.
A recent study by Kuttuvan Valappil Sajna, et. al on 'White Biotechnology in Cosmetics', explained the key function of ceramides in skin water permeability preservation and structuring. Such research studies validate the function of ceramides with scientific facts and theories, and help in the easy acceptance of ceramides by their end-use manufacturers.
Ceramides Market Competition
Top companies such as Evonik Industries AG, Ashland Inc, Croda International Plc. Arkema S.A., and Shiseido Company are some of the major manufacturers of ceramides. These players operate on a global level with significantly wide product offerings.
These players are trying to grow in the ceramides market by collaborating and associating with research institutes or by simply investing in their own research centers for the development of optimized technologies and processes for ceramide production at an industrial level. They also actively participate in the in the research for new application areas of ceramides.
Besides these global players, there are several other ceramide market players that produce ceramides on a domestic level, and operate majorly by exporting to other regions.
Ceramides Market: Segmentation
By Process

Fermentation Ceramides
Plant-Extract Ceramides

By End Use

Personal Care Products & Cosmetics
Pharmaceuticals & Healthcare

By Region

North America
Latin America
Europe
East Asia
South Asia
Oceania
Middle East and Africa
- Companies Covered in This Report -
Evonik Industries AG
Avanti Polar Lipids
Matreya, LLC
Ashland Inc.
Croda International Plc.
Plamed Green Science Group
Cayman Chemical Company
Arkema S.A.
Toronto Research Chemicals
Jarchem Industries Inc.
Shiseido Company