Introduction
Anticancer, or antineoplastic drugs, are indicated in the treatment of malignancies. Cancer is characterized by the rapid explosion of abnormal cells beyond their boundaries, and invading adjoining organs resulting ultimately in death. According to the world health organization cancer is a leading cause of death worldwide, accounting for 8.8 million deaths in 2015.
The most common cancers were lung (1.69 million deaths), colorectal (774 000 deaths), and breast (571 000 deaths). Chemically anticancer drugs are classified as alkylating agents, antimetabolites, natural products, and hormones. Their therapeutic classification include cytotoxic, hormonal therapy, and targeted therapy. Anticancer targeted therapy is further classified into monoclonal antibodies and small molecule inhibitors.
The global anticancer drugs market report provides the market size and forecast for anticancer drugs. The global report on the anticancer drugs market provides market size (US$) and opportunity assessment for anticancer drugs for 2018–2026 by product type and end users.
The global anticancer drugs market report also provides qualitative analysis in terms of market dynamics and future growth opportunities for the manufacturers of anticancer drugs across the globe.
Market Value and Forecast
PMR estimates that the global market for anticancer drugs is expected to be valued at US$ 227,192.2 Mn by 2026 end, expanding at a CAGR of 7.4 % over 2018–2026. Targeted therapy is expected to be the leading revenue generating segment in the global anticancer drugs market with approximately 58.2% revenue share in 2018.
Monoclonal antibodies anticancer drugs revenues are expected to follow the similar trend over the forecast period. North America is the expected to be the dominant regional anticancer drugs market for anticancer drugs in terms of revenues as well as drug discoveries. North America regional anticancer drugs market revenues are expected to expand at a healthy CAGR of 7.6% over the forecast period of 2018–2026.
Market Dynamics
The global anticancer drugs market is expected to be driven by rise in incidence of cancer, growing healthcare expenditure and improved infrastructure for drug development. The increasing risk factors such as exposure to carcinogens, tobacco and alcohol use, sedentary lifestyles and infections is driving a large cancer burden.
The world health organization estimates that almost 15% of cancers worldwide are caused by carcinogenic infections by causative organisms such as Helicobacter pylori, Human papillomavirus (HPV), Hepatitis B virus, Hepatitis C virus, and Epstein-Barr virus.
Likewise, the increasing success of treatments exhibited by the increasing survival rates is the other factor expected to drive the growth of the anticancer drugs market. The advent of targeted therapy is increasing adoption of anticancer drugs owing to their reduced side effects.
Likewise, favorable reimbursements and the shift of cancer towards developing countries owing to rise in risk factors such as industrialization, sedentary lifestyles, exposure to carcinogens are some of the other key factors expected to propel the revenue growth of the anticancer drugs market.
Additionally, growing awareness regarding early diagnosis and treatment has directed the anticancer drugs market to grow at a significant rate. The developing healthcare infrastructure, government initiatives and healthcare investments are the other factors expected to contribute to the revenue growth of the anticancer drugs market.
Besides, increasing out-of-pocket healthcare expenditure in both developing and developed economies and the development of large cancer specialty hospitals are also expected to boost the growth of the market for anticancer drugs. The growing awareness of breast cancer, improvements in survival rise in women's income is another driver of the global anticancer drugs market.
However, high cost of anti-cancer drugs, serious side effects, poor quality of life after treatment, and low survival rate owing to difficult to treat cancers such as lung cancer are factors expected to restrict the growth of the global anticancer drugs market over the forecast period.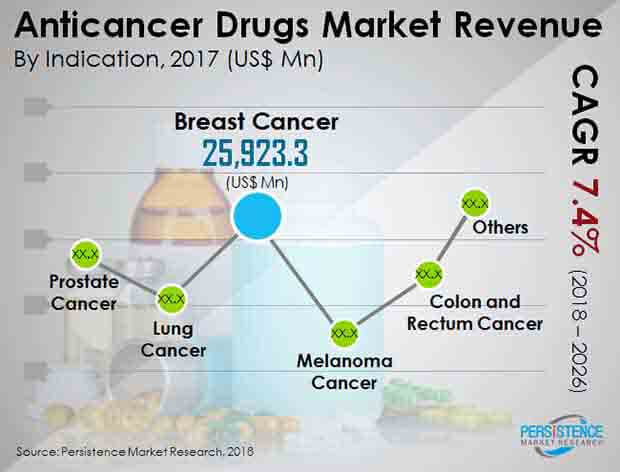 Key Regions
The global market for anticancer drugs is segmented in to five key regions viz. North America, Latin America, Europe, Asia Pacific excluding Japan, Japan and Middle East and Africa (MEA).
North America dominated the global anticancer drugs market accounting a leading share in 2017, and is expected to witness rapid growth over the forecast period. The North America market is dominated by the U.S. owing to its larger economy, attractive reimbursement and larger prevalence of cancers.
Europe, is expected to be led by Germany. The U.K., and France, are other prominent countries expected to witness significant growth in the global market owing to large presence of key players. There has been a definite shift of the diseases towards the Asia Pacific regions such as China, and India. Increase disease incidence in developing regions has increased the market attractiveness of the global market for anticancer drugs owing to higher demand. China and India are driving a large revenue market owing to unmet needs and the high mortality rates of cancer in the region.
Africa region have a lower incidence of cancers. The Middle East and Africa market is expected to be dominated by the gulf economies owing to their high income and growing expanse of healthcare.
Key Players
The global market for anticancer drugs is dominated by the a few key players, contributing more than 70% of the market share. The key players operating in the global anticancer drugs market are AbbVie Inc., Bayer, Pfizer Inc., Bristol-Myers Squibb, Roche Holding AG, Eli Lilly & Co, Novartis AG, Astra Zeneca, Johnson & Johnson, and Celgene, among others. Launching new products and acquisitions are the key strategies adopted by the key players in the anticancer drugs market. Research and development collaboration among players coupled with the FDA's fast track approval for life saving conditions is driving a large market enthusiasm.
Many players are investing in biologics research and development to overcome the drawbacks of traditional small molecule anticancer drugs such as side effects, lower selectivity for cancerous cells and their lower efficacy and effectiveness. Targeted drug therapy exploits the qualitative differences between cancer and normal cells resulting in lower side effects and greater efficacy and effectiveness.
Market Segmentation
Attribute
Details

Drug Class

Cytotoxic
Hormonal Therapy
Targeted Therapy

Monoclonal antibodies
Small molecule inhibitors

Distribution Channels

Hospital Pharmacies
Retail Pharmacies

Regions

North America
Latin America
Europe
Asia-Pacific Excluding Japan
Middle East & Africa
Japan