Acupuncture Treatment Market Outlook (2022-2032)
Worldwide revenue from the acupuncture treatment market reached US$ 27.1 Bn at the end of 2021, with the global market estimated to surge ahead at a high CAGR of 16.3% to reach a market valuation of US$ 143.6 Bn by the end of 2032.
As assessed by Persistence Market Research, acupuncture treatment of musculoskeletal conditions is expected to present a market value of US$ 58.9 Bn by the end of 2032.
Increasing adoption of acupuncture in pain management across the world has been leveraged through the associated ramifications with pharmaceutical drugs and medicinal APIs. Nausea, vomiting, dizziness, heartburn, dermal rashes, and constipation are some of the most prevalent side effects of medication-related pain management.
Adoption of alternative therapies such as acupuncture and physical therapy is thus gaining traction owing to the absence of the mentioned side effects with alternative, complementary treatment options. Thus, the presence of discomfort associated with regular medications has promoted the value of the acupuncture treatment market size.
Overall, acupuncture services account for approximately 32.6% revenue share of the global alternative medicine market, which was valued at around US$ 97.2 Bn at the end of 2021.
| | |
| --- | --- |
| Acupuncture Treatment Market Size (2022) | US$ 31.7 Bn |
| Projected Market Value (2032) | US$ 143.6 Bn |
| Global Market Growth Rate (2022-2032) | 16.3% CAGR |
| Market Share of Top 5 Countries | 65.3% |
Demand Analysis of Acupuncture Services (2014 to 2021) Vs. Market Outlook (2022 to 2032)
The global market for acupuncture treatment recorded a historic CAGR of 13.7% in the last 7 years (2014 to 2021).
Demand for acupuncture treatment services by patients in hospital settings was given a rise due to the presence of current ineffectiveness of available treatment options. Growing adoption of alternative complementary treatment options has promoted the need for superior patient outcomes.
With rising price variation related to pharmaceutical drugs and APIs, as well as patient dissatisfaction with the occurrence of the associated side-effects from modern pharmaceutical drugs, the proliferation of independent wellness centers and acupuncture clinics has displayed an expansive trend worldwide.
Moreover, the presence of government initiatives such as offering high-level education and training programs to non-medical professionals in acupuncture has led to an increase in private acupuncture practices.
Furthermore, the adoption of alternative advanced acupuncture techniques such as laser acupuncture, electro-acupuncture, and microwave acupuncture techniques is gaining traction over traditional manual needles used for therapy. Most developed economies have adopted these alternative advanced acupuncture techniques as the preferred choice of therapeutic approach as compared to manual acupuncture.
Additionally, extensive clinical research has revealed that acupuncture is a clinically-safe and effective therapy against depression, insomnia, stress, and chemotherapy-associated nausea & vomiting.
As such, the worldwide acupuncture treatment market is likely to experience very high growth over the coming years at 16.3% CAGR and reach a market size of US$ 143.6 Bn by the end of 2032.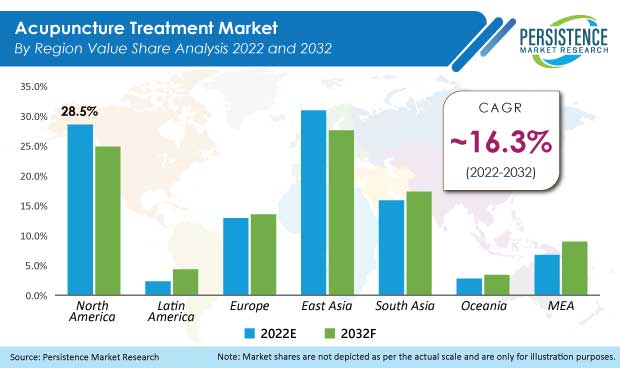 What Opportunities Await Acupuncture Service Providers?
"Rising Chronic Conditions and Increased Government Support for Acupuncture"
The present scenario for available treatment options for a range of indications is a wide availability of alternative therapies, which include physical therapy and complementary therapies. There is an associated array of side-effects associated with the adoption of medications for the treatment of certain disease conditions, such as for mental health indications or pain management in patients suffering from cancer.
Adverse effects related to medicinal drug intake pose serious concerns to patient safety and may present uncomfortable symptoms, ranging from sleepiness or dizziness to impaired coordination and balance, and low respiration rate indicating a potential overdose. Adoption of complementary medicines is thus expected to increase owing to the absence of associated complexities with drug interaction. Application of acupuncture therapy is hence considered to be relatively risk-free for pain management.
Furthermore, rising prevalence of musculoskeletal diseases has given rise to increased demand for the management of such conditions.
As per the WHO fact sheet published in the year 2021, the worldwide prevalence of musculoskeletal diseases approached 1.71 Bn affected people.
This factor is expected to drive demand growth for acupuncture treatment over the forecasted years. Along with this, local government bodies have promoted initiatives to support the adoption of alternative therapies for disease treatment. These government bodies display strategical positioning to access local needs and enable linkages, networking, and growth orientations for the acupuncture treatment market.
Furthermore, local governments have also procured significant resources to create socioeconomically-oriented development plans through the provision of training and educational courses for acupuncture therapy approaches.
With these significant growth factors, the market for acupuncture services is expected to display positive growth throughout the forecast period, owing to the rising need for therapeutic approaches devoid of complex and harmful physiological interactions, as well as the rising emergence of advanced acupuncture techniques and government resourcefulness to support educational growth for non-medical professionals in providing an alternative course of therapy.
"Need for Alternative Palliative Therapy"
Acupuncture is commonly utilized in supportive and palliative care to address cancer-related symptoms. Acupuncture may be regarded as an alternative type of palliative therapy for cancer, particularly in clinical conditions with limited conventional treatment choices.
Use of advanced acupuncture approaches, such as acupressure, magnetic acupuncture, and laser acupuncture, can be emerging extended services where patients may have better treatment compliance.
For example, Aculief is a wearable acupressure medical device that relieves headaches and tension by utilizing the body's natural endorphins.
Integrative medicine focuses on a collaborative approach to patient care, which associates traditional therapies with alternative methods in an organized manner. This collaboration between acupuncture treatment and different types of medical practices provides a huge potential for acupuncture service providers over the coming years.
Can Demand for Acupuncture Treatment Be Affected in Any Way?
"Out-of-Pocket Cost Associated with Acupuncture Treatment"
Demand for acupuncture treatment is being affected by several factors that collectively shift the market approach for the coming forecasted years. Some factors promote an opportunistic shift toward industry growth, while several factors may pose a restraint to the overall market growth of acupuncture treatment and its adoption.
While the application of acupuncture options has seen a surge, certain factors signify reduced adoption standards owing to the absence of beneficial reimbursement guidelines for patients undergoing treatment. Several major insurance policies, such as Medicare Advantage Health Plans and Medicaid, have been known to cover at most a third of all policies covering acupuncture.
This low availability of compensation guidelines for acupuncture has given rise to out-of-pocket expenditure by patients, thus limiting the demand for acupuncture treatment and restraining market growth to some extent.
Furthermore, when compared to physicians, licensed acupuncturists are less likely to be reimbursed or have been reimbursed at lower rates. There is a lack of an established regulatory framework that can be universally accepted, with many countries lacking a regulatory framework for acupuncture therapies.
Country-wise Insights
Why is the U.S. Acupuncture Treatment Market Thriving?
"Popularity of Alternative Palliative Care Options"
The U.S. accounted for around 87.5% of the North America acupuncture treatment market share in 2021 and is expected to continue this trend all through the forecast period.
With a large population base suffering from chronic conditions, there has been a rise in supportive and palliative care within the country. Rising scientific and clinical study outcomes supporting the efficacy of acupuncture treatment concerning pain relief and management have driven the adoption of acupuncture services in the U.S.
How Will Germany Benefit Acupuncture Treatment Providers?
"Recognition of Acupuncture Treatment as Additional Medical Qualification"
Germany held around 10.9% share of the Europe acupuncture treatment market in 2021.
While the country possesses a small share within the European region, it is expected to exhibit a lucrative CAGR of 17.6% over the next ten years. This high growth is because Germany is one of the 12 member states within the European Union to have acupuncture as a distinct therapeutic system, followed by Spain.
The European Medical Association has recognized acupuncture as an additional medical qualification, thus promoting the growth of the acupuncture treatment market across the region.
Why is China a Prominent Market for Acupuncture Service Providers?
"Established Traditional Chinese Medicine Market"
China held the largest market share of 50.1% of the East Asia acupuncture treatment market in 2021.
The dominant stance of the country within the East Asian region is supported by historically established traditional Chinese medicine techniques originating within the country. China is also experiencing a rise in the number of acupuncture and moxibustion practitioners; however, growth of the acupuncture treatment market will be gradual as acupuncture, as a profession, is still relatively a low-paying vocation as compared to modern medicinal practices in the country.
Category-wise Insights
Which Acupuncture Treatment Option is Most Popular across Region?
"Minimal to No Side-Effects of Needle Acupuncture"
Needle acupuncture services held around 46.2% share of the global acupuncture treatment market in 2021.
The high market value share of needle acupuncture services is associated with the high prevalence of the side effects and drug dependency associated with pharmaceutical drugs, pharmaceutical APIs, and medicines.
Where is Acupuncture Application Expected to Be the Highest?
"Clinically-Validated Approval on Musculoskeletal Pain"
Musculoskeletal conditions accounted for the largest market share of 48.6% in 2021.
This high share is associated with the proven clinical efficiency of the acupuncture process with pain relief, along with the reduction in several neurological symptoms associated with the disease.
Moreover, positive outcomes of acupuncture on pain related to osteoarthritis of the knee have been acknowledged by the National Institute for Health and Care Excellence (NICE).
Competitive Landscape
Since a majority of acupuncture treatment providers are relatively small market players, low-cost marketing methods are applied. Offering a free trial is one of the most popular methods of marketing to increase sales.
With COVID-19 adversely affecting the acupuncture treatment market, market players have now entered the telehealth domain. This not only helps organizations reach their customers but also aids them to stand out from the crowd in the market.
For instance,
The alumni of the American College of Traditional Chinese Medicine (ACTCM) is offering free acupuncture services in France as a promotional approach to increasing its patient base.
The New Zealand Chinese Medicine & Acupuncture Society (NZCMAS) has collaborated with the NZ College of Chinese Medicine (NZCCM) to increase the volume of skilled acupuncturists within the country.
Acupuncture Treatment Industry Report Scope
Attribute

Details

Forecast Period

2022-2032

Historical Data Available for

2014-2021

Market Analysis

USD Million for Value

Key Countries Covered

U.S.
Canada
Brazil
Mexico
Argentina
U. K.
Germany
France
Italy
Spain
Russia
India
Thailand
Indonesia
Malaysia
China
Japan
South Korea
Australia
New Zealand
South Africa
GCC Countries
Turkey

Key Market Segments Covered

Service Type
Application
End User
Region

Key Companies Profiled

TCM Australia.
ACTCM, U. S.
Jingshen TMC Clinic, U. K.
PRTCM, Ireland
ChinaMed Charlottesville
NZCMAS, New Zealand
ATCM, U. K.
ETCMA, U. K.
Beijing Acupuncture and Herbal Clinic
Flow Acupuncture & Osteopathy

Report Coverage

Market Forecast
Competition Intelligence
DROT Analysis
Market Dynamics and Challenges
Strategic Growth Initiatives

Customization & Pricing

Available upon Request
Key Segments Covered in Acupuncture Treatment Industry Research
Acupuncture Treatment Market by Service Type:
Needle Acupuncture
Electro Acupuncture
Auricular Acupuncture
Moxibustion
Cupping
Others
Acupuncture Treatment Market by Application:
Musculoskeletal Conditions
Fatigue and CNS Conditions
Respiratory Conditions
Digestive Conditions
Other Conditions
Acupuncture Treatment Market by End User:
Hospitals
Clinics
Wellness Centers
Acupuncture Treatment Market by Region:
North America Acupuncture Treatment Market
Latin America Acupuncture Treatment Market
Europe Acupuncture Treatment Market
South Asia Acupuncture Treatment Market
East Asia Acupuncture Treatment Market
Oceania Acupuncture Treatment Market
Middle East & Africa Acupuncture Treatment Market