introduction
The global demand for 2-ethylhexanol is directly correlated to its increasing application in chemical intermediates, coatings & paints industry among others. While 3/4th of the global 2-ethylhexanol consumption is accounted by chemical intermediates & solvents, 2-ethylhexanol is also widely used during the manufacturing process.
Moreover, rising demand from manufacturers of 2-ethyl hexyl acrylate, which is used in the manufacturing of emulsion paints and surface coatings, have propelled the market growth for 2-ethylhexanol.
Furthermore, developing regions, such as South Asia and Pacific and MEA, are estimated to witness a steady growth spurred by rapid economic development. These regions are estimated to hold a prominent share in the 2-ethylhexanol market during the forecast period. Moreover, the Asia Pacific region had substantially gained significant market share compared to North America & Europe.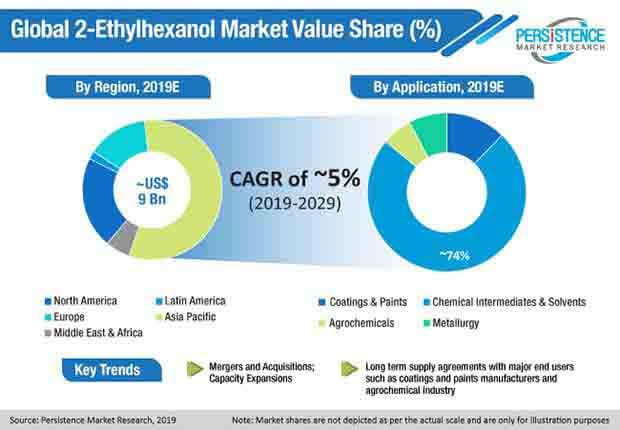 Safe 2-EH Characteristics Driving Applicability in Agrochemicals
2-ethylhexanol products have been listed as 'Inert Ingredients Permitted for Use in Non-food Use Pesticide Products, and in Food Use Pesticide Products with Limitations' under the Federal Insecticide, Fungicide, and Rodenticide Act (FIFRA) by regulatory bodies, such as the U.S. EPA. This has been translating into preferred applications of 2-ethylhexanol in agrochemicals, such as pesticides.
Upsurge in Extractive Metallurgy Operations Fueling Market Growth
Recently, there has been an impressive volume growth in the chemical intermediates & solvents segment of the 2-ethylhexanol market, which is directly contributing to the growth of 2-ethylhexanol market.
Furthermore, esters of 2-ethylhexanol have also been gaining increasing importance as a feedstock in the manufacturing of plasticizers and lubricants. These factors are expected to continue to drive this segment's growth in the global 2-ethylhexanol market in the near future.
Low Volume Delivery Requirements Pushing Consumption Volume
2-ethylhexanol delivery requirements for smaller quantities ranging from 1,000 to less than 10,000 liters entails the use of small drum volumes or intermediate bulk containers (IBCs) for delivery. Besides, IBCs are reusable, can be easily stacked, are easy to handle during transport, and have been proven to be a preferred choice in case of small deliveries over short distances.
As a result, distributors of relatively smaller volumes of 2-ethylhexanol have been preferring drums & IBCs as the mode of delivery to their clients, such as small-scale manufacturing plants that produce coatings, paints, plastics, agrochemicals, etc.
Local/Regional Distributors Playing a Vital Role in Efficient Sales Deliveries
Expansion of business by manufacturers of 2-ethylhexanol into new geographical locations has been translating into business opportunities for local & regional distributors to collaborate with manufacturers for more efficient and fast sales deliveries, thereby augmenting the market size. This is expected to positively impact the market in near future.
Advancing Technologies Penetrating the Field of 2-EH Manufacturing
LP Oxo (Low pressure oxo alcohols) technology is proving to be a leading technology for use in the manufacture of oxo alcohols, such as 2-Ethylhexanol, from olefins. In the near future, this is expected to contribute to the growth of 2-ethylhexanol in agrochemical applications as well.
Asia Pacific's Market Set to Witness Robust Growth
In terms of market attractiveness by CAGR index, the Asia Pacific region is expected to remain the most attractive, over the forecast period. A high growth rate due to considerable industrial activity in the region is expected to contribute to the rising demand. Massive demand for 2-ethylhexanol from countries such as China, India and the Rest of Asia Pacific are expected to contribute to the growth of the regional market.
The Asia Pacific region had substantially gained significant market share compared to North America & Europe historically as well.
Analyzing the Increasing Influence of Regional Players
The global 2-Ethylhexanol market is evenly balanced between large players, who hold ~40-50% share in the overall market, with presence through regional and local distributors. Key strategies are the expansion of production capacities and focus on mergers and acquisitions to increase their global and regional footprint in the 2-Ethylhexanol market.
The Analyst's Viewpoint
A widespread view of the 2-ethylhexanol market has led analysts to conclude that the market is growing at an impressive rate with Asia Pacific and North America holding a large share of the global 2-ethylhexanol market. The Asia Pacific 2-ethylhexanol market is expected to be an opportunistic market in terms of sales. Increasing demand from chemical manufacturing and agrochemical industry will positively impact the 2-ethylhexanol market.
The 2-ethylhexanol market is characterized by the presence of few big players from Europe and the Asia Pacific region. The flexitanks sector is expected to dominate the global 2-ethylhexanol market throughout the forecast period. However, the impact of unfavorable regulations encouraging the adoption of 2-ethylhexanol substitutes are likely to hinder the market growth globally.
Technological innovations by key market participants will also give impetus to the 2-ethylhexanol market. The scope of increasing applications related to the use of 2-ethylhexanol is estimated to bolster the growth of the market during the forecast period.
Key Segments of the 2-Ethylhexanol Market
PMR's study on the 2-ethylhexanol market is divided into three significant segments, such as delivery form, application and region. This report offers comprehensive data and information about the important market dynamics and growth parameters related to these categories.
Delivery Form

Bulk Containers
Flexitanks
Drums/IBC

Application

Coatings and Paints
Chemical Intermediates and Solvents
Agrochemicals
Metallurgy

Region

North America
Latin America
Europe
Asia Pacific
Middle East & Africa
Key Questions Answered in PMR's 2-Ethylhexanol Market Report
Which regions will continue to remain the most profitable regional markets for 2-ethylhexanol market players?
Which factors will induce a change in the demand for 2-Ethylhexanols during the assessment period?
How will changing trends impact the 2-Ethylhexanol market?
How can market players capture the low-hanging opportunities in the 2-Ethylhexanol market in developed regions?
Which companies are leading the 2-ethylhexanol market?
What are the winning strategies of stakeholders in the 2-ethylhexanol market to upscale their position in this landscape?