The Search for a Reliable Osteoarthritis Treatment Goes on
---
Date : May 23, 2018 Author : PMR Editorial Staff Category :
Willingness of Patients to Opt for Treatments in Developed Regions to Boost Revenue Growth of the Global Osteoarthritis Treatment Market
Quick Facts: Osteoarthritis
In an entire lifetime, nearly 45% of the global population is prone to osteoarthritis (mostly knee), according to a recent study.
Osteoarthritis (OA) is one of the top 12 contributors to health disabilities across the globe.
An average 10-15% of the population that ages over 60 already have osteoarthritis to a certain extent, states WHO. Higher prevalence among the female population prompts that women are more likely to develop OA than men.
The UN predicts that the people over an age of 60 will represent more than 20% population of the world by 2050 end. Of this 20%, the one-third portion will be disabled severely, whereas around 15% are estimated to have symptomatic osteoarthritis.
Around 130 million people worldwide are expected to be OA patients by the end of 2050.
One of the most common chronic diseases, osteoarthritis (OA) apparently has no complete cure so far. However, a range of treatments is available for OA symptoms management. Long-term management of osteoarthritis symptoms includes pain management, swelling and stiffness management, joint flexibility and mobility improvement, healthy weight maintenance, and regular exercise.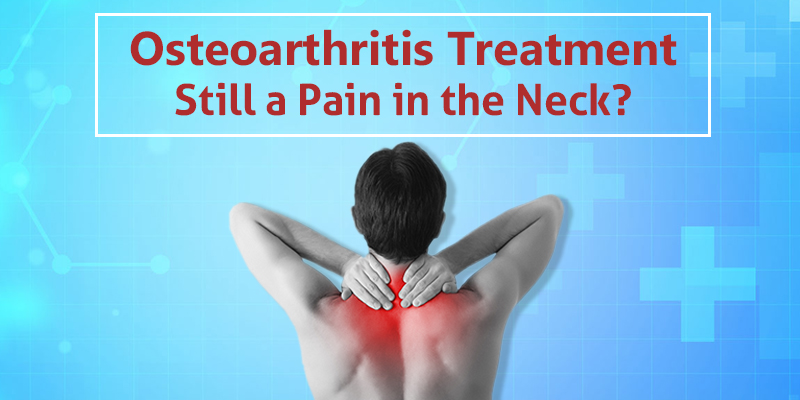 "Persistence Market Research projects the global market value for osteoarthritis treatment to reach beyond US$ 11.5 billion by the end of 2025. Over 2017-2025, this market is anticipated to exhibit stable growth prospects at a compound annual growth rate of 4.8%."
Pain Management Remains a Priority
Analgesics and NSAIDs (non-steroidal anti-inflammatory drugs) are usually injected into joints as pain relievers and anti-inflammatory agents. While NSAIDs are considered to constitute the most commonly sought OA treatment method, a recently published research article in the Journal of the American Academy of Orthopaedic Surgeons (JAAOS) indicates that naproxen is the top ranked, most effective NSAID used in knee OA treatment. Besides pain and function improvement, naproxen is safer and cheaper than its other counterparts.
Treatments for Function & Mobility Play a Key Role
Furthermore, occupational and physical therapies involve an extensive range of treatment options in order to manage pain. Exercises for flexibility and motion, and cold and heat therapies are the most commonly recommended physiotherapy and occupational therapy alternatives. Another treatment that uses assistive devices aims at improved function and mobility. A large chunk of OA patients prefer to enhance their overall wellbeing through natural or alternative therapies such as massage and relaxation, acupressure or acupuncture, nutritional supplements, and hydrotherapy.
Innovation to Peep in Surgical Treatment Options
When it comes to surgical intervention, a majority of OA-affected people still seem to be reluctant about opting for a surgery, as it does not assure complete cure. Moreover, not all patients are eligible for a surgery that potentially replaces an entire set of joints that has been severely damages. Cortisone shot injections, which failed to gain widespread approval over the past few years since its launch, has been innovated for better. Recently in 2017, The US FDA approved a new extended-release cortisone shot injection that can be administered for pain lasting pain relief with negligible side effects.
However, none of the aforementioned treatment methods promise to have meaningful impact on the osteoarthritis progression.
Can Stem Cell Therapy Prove to be an Effective Treatment Method for Osteoarthritis?
An increasing number of research efforts in discovering the regenerative powers of human body prompts at a possibility of steam cells providing an effective treatment against OA. To add to this, a recently conducted research study indicates that patients in an early stage of osteoarthritis may experience considerable benefits from the stem cell therapy. According to researchers, when placed near damaged cartilage, steam cells will be able to develop into cartilage cells. It is however an arguable treatment method so far.
---