Careers
Get into, and then master the "Alpha, Beta and Gamma" of Market Research @Persistence Market Research !

Casting a replenished Shadow on the Canvas of Market Intelligence
The Alpha Employee
Leading from the front even during hurly-burly situation. Making a difference to the company. Peacemaker. Well-aware of one's own plus and minus points.
Upbeat
Always willing to learn with a positive mindframe. Inquisitiveness and optimism fully loaded. Always conspired to inspire. There to extend support even at odd hours.
Autonomous
Productive sans micromanagement. Able to improvise along with grit and own decision-making instincts.
Research of the Future
An unquenched thirst for new piece of information. Analytics mindset with being adept at taking calculated risks. In line with industry standards.
Fast & Bold
Fast thinker with cohesive thinking percolated down under in the form of "strategic planning"
Small teams, Big Ideas
Broader area of research, Polycentric. Teamwork (TEAM – Together Everyone Achieves More). Fixated.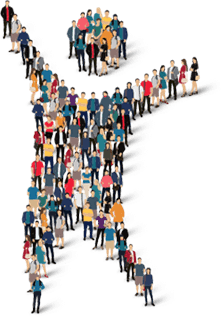 We Believe in Reciprocation
Our employees are our asset. We continuously strive for building an environment that accelerates innovation and creativity in our employees. We give employees their space with regards to growth and development and make sure that their career graph continues to be vertical. Our healthcare coverage ascertains employees' safety. Moreover, it's not just "Work, Work, and Work". We are committed to safeguard our culturally diverse workforce. The employees are being driven by recreational activities, festivities, and a supple vacation policy.
Persistence Market Research for Everyone
We are always on the lookout for diligent people to be a part of our team. Just glance through our current openings.