Market Overview
Today, individuals highly prefer doing home improvement jobs by themselves. In light of this, people are now keeping sets of tools such as electric drills handy, as they agree to the fact that quick repairs prevent the need for expensive fixes later on. With growing interest in DIY repair jobs, adoption of electric drills is growing at a rapid pace. This increase in adoption is positively impacting the expansion of the electric drill market size.
Besides improvement and repair tasks, electric drilling equipment is also popularly used for light-duty and all-purpose jobs at home, such as setting up furniture, wall décor, light repairs, etc. Thus, growing use of electric drills for domestic repair jobs is expected to positively impact demand for light-duty electric drills in the market. Light-duty electric drills use less than 20 volts, and are also known as less powerful drills. As such, the global electric drill market is anticipated to rise at a steady CAGR of more than 5% over the forecast period of 2020 to 2030.
Electric Drill Market Trends
Growing Popularity of Cordless Drills as Versatile Tool: Cordless electric drills operate on batteries, which is why, they are capable of facilitating instant drilling without the use of a power cord. These drills are popularly considered as a versatile tool, as these are flexible, portable, and can be used anywhere, as the user need does not require to be close to an electric outlet.
This is one of the major product-related features that is driving the adoption of cordless electric drills in the market. Preference for cordless electric drills is rising as power and mobility are two important aspects that are highly considered while selecting a drill, as such, surging the demand for power drills. This is further expected to reflect a positive growth trend in the electric drill market over the coming years.
Parallelly Growing Rental Business of Power Tools to Further Open New Demand Opportunities: Apart from demand from the household and construction sectors, increasing demand from third-party rental businesses is further expected to positively impact the growth of the electric drill market. The number of third-party suppliers providing power tools on a rental basis is increasing across the world. This growing parallel business category is further expected to fuel the growth of the electric drill market, and open up new opportunities for players in the global electric drill market space.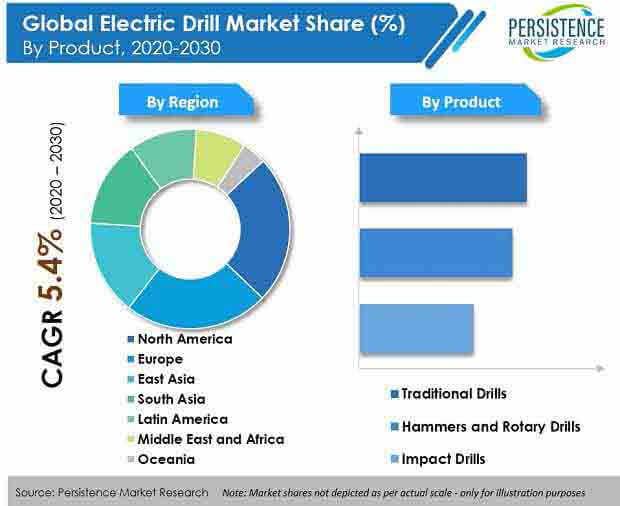 Regional Outlook of Electric Drill Market
Global sales of the electric drill market reached US$ 1.9 Bn in 2019. According to PMR's report, the electric drill market is estimated to register a CAGR of over 5% during the forecast period of 2020-2030. As per the regional analysis, North America and Europe together account for a noteworthy electric drill market share, as the adoption of products for DIY repairs is more in these regions. High penetration of large-scale and well-established brands is another factor that has driven regional growth in North America and Europe.
Besides this, other regions such as East Asia, South Asia, and the Middle East and Africa are expected to register decent growth due to increasing construction and development activities across these regions.
Electric Drill Market: Competition Analysis
The electric drill market is anticipated to be highly fragmented in nature, where a large number of local players are actively operating in the market. Players are extensively seeking new opportunities to enhance their business penetration and gain a competitive advantage over others in the market. They are actively seeking opportunities to develop new compact and innovative electric drill designs that are likely to facilitate more convenience related to performance and operations.
For instance, Bosch offers a cordless electric drill with a built-in LED light. This product is designed to facilitate convenience in completing a job even in the dark. Development of such products are likely to reshape consumer purchase preferences in the highly competitive electric drill market.
COVID-19 Impact on Electric Drill Market
As customers around the world have now resorted to avoiding human contact, retailers in the market are struggling to adapt to the new normal. The COVID-19 pandemic outbreak has resulted in certain operational changes in the market. Economic downswing caused by coronavirus has resulted in demand fluctuations in the electric drill market.
As construction and development activities have been interrupted during this phase, demand for power tools such as electric drills have experienced a temporary decline from commercial sectors. Apart from this, players in the market are also experiencing supply chain issues on the operational front. All these aspects are likely to impact the annual sales of electric drills in the market.
Analysts' Viewpoint
A brief overview of the changing landscape of the electric drill market has led our analysts to conclude that, new innovations and compact drill design developments are expected to positively impact growth over the coming few years. The market will register significant expansion and growth opportunities for players in low- and middle-income economies, as the concept of smart electric drills is gaining popularity across these regions.
The COVID-19 pandemic outbreak has resulted in a market slowdown. Commercial sectors such as construction and development were one of the hardest hit sectors, and hence, demand from these sectors experienced a temporary slowdown. However the market will register substantial growth as many economies are now entering a reviving phase.
Electric Drill Market: Segmentation
PMR's research study on the global electric drill market offers a detailed market taxonomy, wherein, key segments have been discussed in detail. The electric drill market is segmented on the basis of product, power, chuck size, price range, sales channel, and region. Every segment is analyzed in detail, and data pertaining to the growth of each segment has been included in the study.
Attribute
Details

Product

Traditional Drills
Impact Drills
Hammers and Rotary Drills

Power

Battery Drills
Corded Drills

Chuck Size

Price Range

Sales Channel

Supermarkets/Hypermarkets
Independent Departmental Stores
Multi-brand Stores
Specialty Stores
Online Retailers
Other Sales Channels

Region

North America
Latin America
Europe
South Asia
East Asia
Oceania
Middle East & Africa (MEA
The electric drill market research report includes a competitive landscape that provides a dashboard view of the key competitors operating in the market. Some of the market players included in this section are Stanley Black & Decker, Inc., Robert Bosch GmbH, Panasonic Corporation, Makita Corporation, Hilti Corporation, Apex Tool Group, Emerson Electric Company, Koki Holdings Company, Ingersoll-Rand Plc., Techtronic Industries Company, Ltd., Milwaukee Electric Tool Company, DeWalt Industrial Power Tool company, Ltd., Meterk, Inc., Ryobi Limited, and others.