Global Mobile Payment Technologies Market Outlook
The mobile payment technologies market is predicted to grow at a staggering CAGR of 25.6%. It is estimated to reach a value of nearly US$ 111.2 Tn by 2032, going up from US$ 9.5 Tn in 2021.
"As the market survey conducted by PMR, seven to eight customers out of ten expect that most of the transactions will get completely paperless within a few years. In view of this, the mobile payment technologies are getting highly adopted among the citizens turning it into a multi-trillion market."
| Attributes | Details |
| --- | --- |
| Mobile Payment Technologies Market Size (2021) | US$ 9.5 Tn |
| Mobile Payment Technologies Market Value (2022) | US$ 13 Tn |
| Mobile Payment Technologies Market Value (2032) | US$ 111.2 Tn |
| Mobile Payment Technologies Market Growth Rate (2022-2032) | 25.6% |
Over the past years, mobile pay technology has immensely benefited business entities by reducing client acquisition costs, improving customer lifetime value, and lower infrastructure and operating costs. The potential revenue and cost benefits of introducing near field communication or NFC and contactless payment has been substantially reaped by a variety of business in a variety of industries.
In the next couple of years, the increasing use of sophisticated technologies such as mobile point-of-sale (m-POS), wearable devices, or NFC credit card app is likely to drive demand for mobile payment solutions.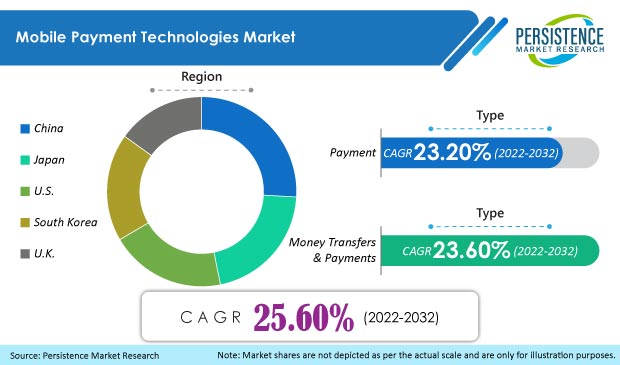 What is the Covid-19 Impact on Global Mobile Payment Technologies Market?
The pandemic followed by the outbreak of Covid-19 had a profound influence on the world economy along with human health. Interestingly, the global mobile payment technology market was observed to hit some major milestones during this period as it radically altered the routes and ways of consumer and merchant interactions all around the world.
Customers are getting increasingly careful these days about using physical cash or coins when shopping in public locations. Such a shift in the general behavior of citizens has resulted in an unexpected increase in demand for contactless payment systems, including NFC wallets, UPI addresses, QR codes, and others in the local market.
However, the overall growth has jolted a little owing to the overall slowdown of the global economy. The CAGR has dropped down from 27%, followed by the global mobile payment technologies market in the previous decade as per the market analysis report.
What are the Present Market Dynamics Creating Opportunities for the Global Mobile Payment Technologies Market?
"Consumers may use magnetic secure transmission phones to make rapid payments for goods and services at the local shops. Convenience obtained through established by such a suitable alternative against carrying actual wallet is regarded to be the major driving factor for the global mobile payment technologies market."
What are the Major Factors Driving the Global Mobile Payment Technologies Market?
Smartphones have turned out to be an indispensable product for the quickly expanding global economy. Likewise, for many individuals, the internet has become an integral part of their lives.
Such expansion and prevalence of smartphones with internet connectivity around the world are propelling the business in mobile payment technologies forward.
Also, due to the rapid expansion of the industrial economy, several corporations are spending heavily on the adoption of mobile payment technologies. Central Banks of many developing countries are also encouraging banks to extend infrastructure in rural areas to enable safe and secure NFC terminals presenting a huge opportunity for vendors.
Bridging the awareness and technological gap and the rising prevalence of smartphones and digital cards in low-income nations, the market for mobile payment technologies is now expanding at a faster rate.
What are the Factors Posing Challenge to the Growth of the Mobile Payment Technologies Market Players?
One of the reasons for the gap we experience in the consumer adoption of NFC digital wallets is that many companies are competing to "own the client" by offering their own stand-alone solutions Without partnership that can cut across e-commerce and other NFC phone payment platforms by engaging both consumers and merchants at scale it can be daunting to acquire mainstream market adoption in new regions.
It's worth emphasising that many participants (particularly retailers) are still skeptical of the utilities of these new mobile application methods and prefer to keep things as they are. Global mobile payment technologies market players must demonstrate their security features to the end-users to attain scale and stand benefitted.
In spite of the challenges that these dynamics provide to the broad adoption of NFC mobile wallets, many analysts feel that worldwide acceptance of mobile wallets requires sufficient opportunities, if not how to use them.
Comparative View of Adjacent Mobile Payment Technologies Market
Attributes
Mobile Payment Technologies Market

CAGR

(2022-2032)

25.6%

Market Value

(2027)

US$ 5 Tn

Growth Factor

Advancement in the retail financial payment by integrating digital technology.

Opportunity

Growing focus on establishing a cashless monetary system.

Key Trends

Integration of payment gateways over social networking platforms.
Comparative View of Adjacent Instant Payments  Market
Attributes
Instant Payments Market

CAGR

(2022-2032)

18.1%

Market Value

(2027)

US$ 50 Bn

Growth Factor

Innovations in the field of cashless transaction solutions by the banking sector.

Opportunity

Increasing popularity of e-commerce websites in emerging economies.

Key Trends

Preference by merchants for obtaining payments through online channels.
Comparative View of Adjacent Cryptocurrency Market
Attributes
Cryptocurrency Market

CAGR

(2022-2032)

31.3%

Market Value

(2027)

US$ 8 Bn

Growth Factor

Trending behavior among the youths to invest for bigger returns in later time.

Opportunity

Release of government recognized crypto coins to attract more investors.

Key Trends

Rise in volume of digital assets and its transaction over online platforms.
In March 2020, the World Health Organization (WHO) advised that people throughout the world must switch to contactless mobile payment modes in view of surging Covid-19 cases.
It aided in the growth of mobile payment transactions as well as the development of mobile payment methods and near field communication technologies by emerging market Players.
Following the epidemic, the use of mobile payment modes has increased dramatically as the customers are continuing with this payment method contributing to more traffic over digital payment apps and online platforms.
Collaboration among social media platforms and financial banks or institutions to launch UPI-based Android NFC wallet functionality is getting highly popular among the end users. It can be illustrated more evidently by citing the recent collaboration of the WhatsApp platform of Meta group with ICICI Bank of India to launch a WhatsApp payment interface for the Indian market.
Countries located in Asia pacific region hold very lucrative opportunities for the establishment and expansion of the NFC phone payment market. The population is very high in these countries, with insufficient banking and financial institutions to cater to the growing demand for money transfers. Furthermore, the fact that the majority of individuals in the region do not have direct access to authorized financial institutions is projected to create enormous prospects for mobile payment technologies and service providers.
What is the Performance of Different Segments of the Mobile Payment Technologies Market?
"Media & entertainment services have redirected over the video streaming or OTT platforms gathering consumers worldwide through content subscription. Repeated subscriptions for movies and original show collections is a booming segment for mobile payment technologies market these days."
What are the Different Segments of the Mobile Payment Technologies Market based on Purchase Type?
Though the online mobile payment methods are available in several modes in the present market, certain purchase types have turned out to be more popular than others. Money transfers & payments type is the top-performing segment for the global mobile payment technologies market with an estimated CAGR of 23.6% for the forecasted time period. It is predicted to reach a valuation of US$ 63.4 Tn in the year 2032.
What are the Different Types of Mobile Payment Services available in the Present Market?
The remote payment segment is the major shareholder of the global payment technologies market, growing at a rate of 23.2%. By the end of the predicted period, this segment is poised to be worth more than US$ 32 Tn as it facilitates contactless payment using a real-time web terminal, also preventing unfamiliar terminals.
The other segment is the 'proximity payment', which refers to in-store payment options by use of cell phones. QR code payment and near field communication (NFC) payment are the sub-segments of the proximity payment segment. Because of the simplicity of the payment procedure, the quick response (QR) code achieved instant appeal in the market upon its introduction.
Who are the Major End Users for the Application of Mobile Payment Technologies?
Over the forecast years, the banking, financial services, and insurance (BFSI) sector are predicted to have rapid growth and a maximum revenue share in the global market. Mobile payment technologies have opened up new prospects for this sector since it has reduced the time of transactions.
Online payment platforms and NFC credit card app providers are collaborating with banks and other financial institutions to implement their payment systems.
Retail businesses are also at the forefront of adopting digitization and technological innovations and have certainly influenced the adoption of Android NFC wallet and other mobile payment modes.
What is the Performance of Mobile Payment Technologies Market in Different Geographical Regions?
| Region | CAGR (2022 to 2032) |
| --- | --- |
| United States (US) | 19.9% |
| United Kingdom (UK) | 15.2% |
| China | 26.1% |
| Japan | 21.1% |
| South Korea | 18.5% |
By 2026, Asia Pacific is predicted to have a significant position, accounting for more than half of the worldwide mobile payment technologies market after North America. China accounts for a share of more than 60% in the and is estimated to be worth more than US$ 73.1 Tn by the end of the year 2032. The increasing usage of smart appliances is a significant driving element for the growth of mobile payment technology in the regional market.
The widespread use of smart devices, as well as the presence of major players in North America, dominates the mobile payment technologies market in the current time period. United States smartphone penetration surpassed a significant milestone in the recent past with the highest number of users.
The existing levels of mobile payment used for online purchases and transferring funds are anticipated to create a strong platform for future development. The USA market is predicted to be worth US$ 4.5 Tn by the end of the year 2032.
What is the Competition Analysis of the Mobile Payment Technologies Market?
Payment platform companies are employing innovative techniques to preserve and attract loyal users resulting in severe competition for customers in the global and regional markets. Rewards and Cash backs is the most widely used strategy my major key players to retain customers and increase the frequency of using their mobile payments and NFC credit card.
Most of the market players spending on developing tools specialised for a given application as a strategy to retain customers over the dedicated NFC terminals at the payment time.
What are the Recent Developments in the Field of Mobile Payment Technologies Market?
Orange Company is transforming the Africa and Middle East countries via digital transformation, and opened its first "Orange Digital Centre" in April 2019 at Tunisia.
Visa and Planeta released a new technology in Feb 2019, that would allow public transportation operators throughout the world to adopt NFC and contactless payment faster and more easily than ever before. This technology provided at a considerably lower cost is pre-empt to popularise the mobile payment technologies among the lower income groups.
Report Scope
Report Attribute
Details

Historical Data Available For

2014-2020

Forecast Period

2022-2032

Market Analysis

Revenue in USD Trillion
CAGR from 2022-2032

Report Coverage

Revenue Forecast
Volume Forecast
Company Ranking
Competitive Landscape
Growth Factors
Trends
Pricing Analysis

Segments Covered

Type
End Use
Purchase Type
Region

Regions Covered

North America
Latin America
Western Europe
Eastern Europe
APEJ
Japan
Middle East and Africa

Key Countries Profiled

U.S.
Canada
Brazil
Argentina
Germany
UK
France
Spain
Italy
Nordics
BENELUX
Australia & New Zealand
China
India
ASEAN
GCC
South Africa

Key Companies Profiled

Alphabet Inc.
Microsoft Corporation
Apple, Inc.
Boku, Inc.
Fortumo OÜ
PayPal, Inc.
AT&T, Inc.
Bharati Airtel Limited
MasterCard International, Inc.
American Express, Co.
Visa, Inc.
Vodafone Group PLC
Ant Financial Services Group
Tencent

Customization scope

Available Upon Request

Pricing and Purchase Option

Avail Customized purchase options to meet your exact research needs.
Key Segments
By Type
Proximity Payment

Near Field Communication
QR code Payment

Remote Payment

SMS based
USSD or STK
Direct Operator Billing
Digital Wallet
By End Use
Hospitality and Tourism Sector
BFSI
Media and Entertainment
Retail Sector
Health care
Education
IT & Telecommunication
Others
By Purchase Type
Airtime Transfers & Top-ups
Money Transfers & Payments
Merchandise & Coupons
Travel & Ticketing
Others
By Region
North America
Latin America
Europe
Asia Pacific
Middle East and Africa (MEA)