introduction
Over the past few years, the automotive parts and accessories manufacturing industry has gone through a comprehensive remodelling, which is leading to the advent of a highly competitive industry.
According to the market estimates, the global auto parts manufacturing market is projected to reach ~US$ 532 Bn by the end of the forecast period, registering a CAGR of ~3%. Rising disposable incomes in developing countries, especially in Asia, and approval of 100% FDI in countries such as India present the automotive sector lucrative growth opportunities in the region.
Government incentives, growing regional demand, and easy availability of raw materials are expected to be key drivers for the growth of light duty vehicles in the region, which in turn, is expected to drive the demand for auto parts manufacturing during the forecast period.
This report covers a complete study of the auto parts manufacturing market with an analysis of different types of components. The report summarizes the parent market for auto parts manufacturing, and markets, which are going to impact the growth of the auto parts manufacturing market. It provides a brief description about how the auto parts manufacturing market will perform in various regions around the world according to the previous performance and future potential in respective regions.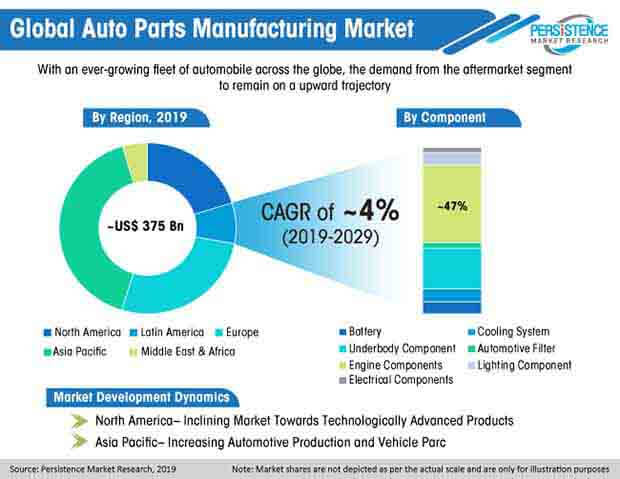 Technological Advancements Bolstering Auto Parts Manufacturing
The automotive industry has a dynamic business environment with latest technologies being introduced in the market almost every day. Hence, to sustain the competitiveness in such a dynamic environment, companies manufacturing auto parts are aligning their strategies with prevalent trends.
As an example, with the launch of the latest technologies in automotive engine radiators, the market for auto parts manufacturing is projected to gain momentum in the next few years. Leading companies are already gearing up for lightweight auto parts manufacturing in order to come up with parts that are much lighter than their predecessors, yet more fuel efficient. Such new designs would increase the floor space and reduce the overall weight of the vehicle.
Growing Demand for Innovative Auto Parts to Comply with Stringent Emission Norms
Increasing scrapping rates of motor vehicles and engines tend to propel the demand for original equipment engines. Scrap rates are higher in developed countries, owing to more stringent environmental regulations and thus, replacement of motor vehicles and their engines is more frequent compared to the developing world.
Similarly, the uptake of new technologies and innovations in engines such as hybrid engines is more prevalent in developed countries than the developing ones. The demand for production of new vehicles with less fuel consumption is spurred by increasing support from government with comparatively stricter emission norms resulting in increased demand for auto parts.
Auto Parts Manufacturing Market – Competitive Landscape
Spurring demand for SLI batteries owing to increasing focus on innovation in automotive parts as well as increasing demand for filters from diesel engine vehicles, continues to influence the sentiments of manufacturers.
In terms of market structure, the auto parts manufacturing market has been representing a dynamic competitive scenario, wherein the leading players majorly strategize on innovative product portfolios. Automobile manufacturers are also observed to be focusing on high performance vehicles, which can efficiently sustain in any terrain or climatic condition.
Over the past five years, a considerable increase in the number of consolidation and expansion activities has been witnessed in the auto parts manufacturing market. Post the global slowdown, Asia Pacific automotive sales have been gaining traction. OEM sales of radiators in the global automotive market have been positively influenced by the ever increasing demand for vehicles, prompting automobile manufacturers to improve production output to accommodate growth.
Prominent players covered in the auto parts manufacturing market report include Robert Bosch GmbH, Denso Corporation, Valeo SA, Continental AG, Delphi Automotive PLC, ZF Friedrichshafen AG., Magna International Inc., Faurecia SA, Magneti Marelli SpA, Aisin Seiki Co., Ltd., Brembo SpA, Akebono Brake Corporation, Hella KGaA Hueck & Co., ACDelco, and other regional players.
Analyst's Viewpoint
An extensive view of the auto parts manufacturing market has led our analysts to conclude that the market is growing at an impressive rate in Asia Pacific. The European auto parts manufacturing market is estimated to be an opportunistic market in terms of sales. The demand from end users has compelled traction battery manufacturers to focus more on increasing energy density, which can provide high travelling range.
The auto parts manufacturing market is characterized by the presence of few big players from North America, India, and China. Growing demand for passenger cars and commercial vehicles equipped with advanced brake technologies such as ABS, across the globe, is expected to fuel the demand for technologically-advanced products during the forecast period.
Technological innovations, along with collaborations and mergers & acquisitions by key market participants, will also give impetus to the auto parts manufacturing market.
Key Segments of the Auto Parts Manufacturing Market
PMR's study on the auto parts manufacturing market is divided into four significant segments- material type, application, end use, and region. This report offers comprehensive data and information about the important market dynamics and growth parameters related to these categories.
Attribute
Details

Material Type

Battery
Cooling System

Compressors
Radiators
Pumps
Thermostats

Underbody Component

Brake Components
Exhaust Components

Automotive Filter
Engine Component

Starters
Pumps
Engines
Alternators

Lighting Component
Electrical Component

Ignition Coils
Ignition Switches
Spark & Glow Plugs

Application
End Use

Passenger Cars (PC)
Light Commercial Vehicles (LCV)
Heavy Commercial Vehicles (HCV)

Region

North America
Latin America
Europe
Asia Pacific
MEA
Key Questions Answered in PMR's Auto Parts Manufacturing Market Report
Which region is anticipated to hold a prominent market share over the forecast period?
What will be the key driving factors prompting the demand for auto parts manufacturing during the forecast period?
How current trends will impact the auto parts manufacturing market?
Who are the significant market participants in the auto parts manufacturing market?
What are the crucial strategies of prominent players in the auto parts manufacturing market to upscale their positions in this landscape?