Introduction
The study on global aerospace coatings market provides in-depth information on the recent trends, volume ('000 Li) and value (US$ Mn), recent developments, dynamics, and competition in the global aerospace coatings market landscape, over the course of 2018–2028.
In 2018, the global aerospace coatings market recorded the revenue of over US$ 1.5 Bn. According to PMR's research, global demand for aerospace coatings will see healthy growth during the 10-year forecast period and increasing demand for efficient and lightweight aerospace coatings will be a prominent factor shaping the aerospace coatings landscape.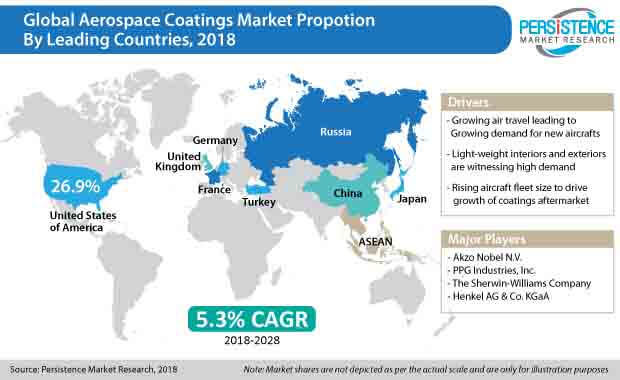 Increasing Aircraft Production and Expanding Fleet Size to Fuel Demand for Aerospace Coatings
Increasing global air passenger traffic has been spurring the demand for commercial aircraft, thereby boosting production levels of commercial aircraft. The significant growth of the aerospace coatings market is directly proportional to aircraft production scenario and the expanding fleet size.
Rising production and sales of aircraft, mainly in developing countries, is projected to create noteworthy opportunities for aerospace coatings manufacturers. Increasing aircraft deliveries by leading manufacturers such as Airbus and Boeing are also considerably adding to the global aircraft fleet size, in turn, pushing the revenue growth of aerospace coatings market.
With the increasing number of aircraft in service, the demand for MRO (maintenance, repair, and overhaul) of various components, parts, and systems is projected to witness substantial growth, which is expected to supplement the demand growth of aerospace coatings.
By 2017 end, global aircraft production was recorded at around 6,000 units, with Asia Pacific accounting for the major share. However, owing to the relatively large fleet size of aircraft in North America and Europe, the global aerospace coatings market is estimated to be dominated by these regions during the forecast period.
Growing Sales of Aircraft Due to Robust Economic Growth
As per International Monetary Fund data (2017), the world economy grew by 3.8% (real GDP). Economic growth of a nation improves the living standard, purchasing parity as well as the spending power of citizens. The global aerospace industry has been enjoying a duration of significant growth and profits, which has been driving the demand for aerospace coatings.
Rapid urbanization and improving economic conditions, particularly in developing countries, have led to a rise in aircraft production and sales strategically in emerging markets, including Russia, India, Sweden, and China. The rising demand and subsequent manufacturing of aircraft have thus led to towering consumption of aerospace coatings.
The MRO sales channel of commercial segment of global aerospace coatings market is estimated to grow at a 6.0% value CAGR over the forecast period. Increasing commercial as well as business aircraft fleet size, coupled with substantial demand for customized exteriors, are some of the other factors driving the growth of the aerospace coatings MRO sales channel.
China, India, and ASEAN to Remain High-growth Regions in Aerospace Coatings Market
Attributing to the positive outlook of the aerospace industry in India, ASEAN and China, production as well as sales of aerospace coatings in these regions are estimated to grow at a substantial pace during the forecast period.
Rapid urbanization in various countries has been leading to an increase in air passenger traffic, which in turn has been surging the demand for aircraft and subsequently, that for aerospace coatings.
Sweden is another prominent emerging country in the global aerospace coatings market. In terms of value, China, India and ASEAN are expected to grow 1.9X, 2.3X and 2.1X respectively during the forecast period.
Aerospace Coatings Market – Competition Landscape
The global aerospace coatings market is consolidated with the top two market players (AkzoNobel and PPG Industries Inc.) accounting for double-digit market shares. The top ten players in the global aerospace coatings market are projected to collectively account for between a 50% and 60% market share.
In the recent past, the aerospace coatings market has witnessed significant improvements from a competition perspective. Acquisitions, collaborations and expansion of production capacity are some of the key strategies being adopted by market players to expand and sustain in the global aerospace coatings market.
In December 2017, Praxair, Inc. and GE Aviation opened a new facility in the U.S. for their PG Technologies business that specializes in advanced coatings and enables jet engines to withstand high stress and temperatures
In February 2018, PG Technologies Ltd. announced that it intends to add new additional coating capacity in Singapore to meet ever-increasing demand from aviation industry.
In September 2017, Akzo Nobel opened a specialty coatings facility in Dongguan, China, primarily for the production of aerospace coatings for South and North Asia aviation markets
Key Questions Answered in the Aerospace Coatings Market Report
How has the aerospace coatings market evolved over the past four years?
What are some of the prevailing market dynamics in the aerospace coatings market?
What shape is the aerospace coatings market expected to take in terms of volume and value during the study period?
What are the competition developments and trends in the aerospace coatings market?
What are the important key challenges, opportunities and improvement factors for aerospace coatings market players?
What are some of the underlying macro-economic and industry factors impacting the growth of the aerospace coatings market?
What are some of the important market positioning and key strategies of key aerospace coatings manufacturers as per the market taxonomy?
How is the competition structured at present and how has it evolved in the aerospace coatings market over the past few years?
Aerospace Coatings Market: Segmentation
Attribute
Details
By Product Type

Primer

Epoxy
Polyurethane
Others

Topcoat

Epoxy
Polyurethane
Others

Solvent
Ceramic Coatings

By Application
By End Use

Commercial
General & Business
Military

By Region

North America
Latin America
Europe
South Asia
East Asia
Oceania
Middle East and Africa
In the next section, the report describes the aerospace coatings market structure, macro-economic factors such as economic growth by region, GDP outlook, population outlook, GDP per capita by country, aircraft production and aircraft fleet outlook, air transport MRO outlook forecast factors, value chain analysis overview along with profit margins, indicative list of the key stakeholders involved, such as raw material suppliers, manufacturers, distributors and end-users.
The next section of the report provides volume ('000 Liters) and value (US$ Mn) projections for the aerospace coatings market, pricing analysis and absolute $ opportunity analysis at a global level. The subsequent section highlights the market sizing by respective segments at a global level. The global aerospace coatings market values represented in the sections have been agglomerated by collecting the information and data at a regional level.
Aerospace coatings market information covers unique analysis frameworks such as absolute $ opportunity analysis, year-on-year growth trend comparison, market share and attractiveness analysis for each of the sub-types of the segments.
The subsequent section of the report presents a summarized view of the global aerospace coatings market based on seven prominent regions considered in the study. The market analysis section of the report covers market projections, weighted average pricing analysis, market share analysis, market attractiveness analysis, Y-o-Y growth trends and incremental $ opportunity assessment.
All the above sections evaluate the present market scenario and growth prospects in the global aerospace coatings market.
Market numbers, on a regional as well as country level, for various segments have been estimated through a combination of secondary and primary research among target countries. Key sources referred to arrive at the global aerospace coatings market size include aerospace coatings manufacturers, distributors, end-user, industry association and experts, along with the documents available through public domain, paid database and PMR's in-house data repository.
In order to offer an unbiased market forecast, PMR's proprietary regression analysis forecast model was then utilized to derive the market estimation for forecast years, which takes into account the effects of certain macro-economic factors and direct factors on the global and regional target (aerospace coatings) market.
Opinions of market participants about various geographies and segments were also taken into account while forecasting the aerospace coatings market size.
In the final section of the report, a competition landscape of the aerospace coatings market has been included to provide report audiences with a dashboard view categorized on the basis of providers in the value chain, their aerospace coatings market presence and key strategies adopted related to aerospace coatings in the market. Detailed profiles of the manufacturers of aerospace coatings have also been included in the scope of the report to evaluate recent developments and key offerings in the aerospace coatings market.