U.S. Cereal Grain & Pulse Derivatives Market Outlook (2022-2032)
The U.S. cereal grain & pulse derivatives market is currently valued at US$ 5.14 Bn and is predicted to expand at a CAGR of 6.9% to top a market valuation of US$ 10 Bn by end of 2032.
The whole/intact form of cereals grain & pulse derivatives are widely utilized in several applications and the segment is expected to reach a volume of 2,611,953 tons in 2022.
| Attribute | Key Insights |
| --- | --- |
| U.S. Cereals Grain & Pulse Derivatives Market Size (2022E) | US$ 5.14 Bn |
| Projected U.S. Sales of Cereal Grain & Pulse Derivatives (2032F) | US$ 10.05 Bn |
| Value CAGR (2022-2032) | 6.9% |
U.S. Demand Analysis of Cereals Grain & Pulse Derivatives (2017-2021) Vs. Market Estimations (2022-2032)
The U.S. cereal grain & pulse derivatives market was valued at US$ 4.8 Bn at the end of 2021. The market witnessed steady growth and registered a value CAGR of 5% during the historical period (2017-2021).
Ancient grains such as quinoa, millets, and sorghum are becoming mainstream due to their nutritional profiles. These grains are naturally gluten-free, and rich in fiber, protein, and essential amino acids that food manufacturers find favorable. These attributes help processed food manufacturers in attracting health-conscious consumers. Processed food manufacturers are adding a variety of label claims such as high-protein, high-fiber, and gluten-free to their offerings.
For millennia, cereal grains have been an important part of diets across the world. The natural food movement has reintroduced these grains in present times. To suit their specific health and wellness goals, consumers are requesting these types of strong grains in their food items.
The U.S. market for cereal grain & pulse derivatives is set to offer an incremental opportunity of US$ 4.9 Bn by 2032 and be valued at US$ 10.05 Bn by the end of 2032.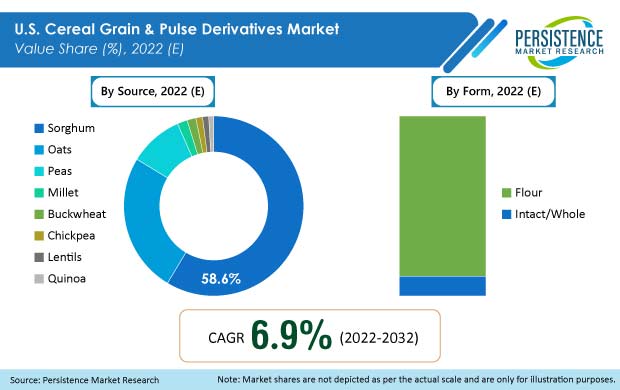 Why is Demand for Cereal Grain & Pulse Derivatives Rising across the U.S.?
"Surging Demand for Gluten-free Products Benefitting Target Market"
Rising demand for gluten-free products is expected to facilitate the growth of the grain & pulse derivatives market in the United States. Gluten content leads to adverse effects on human health, causing intestinal damage, indigestion, and chronic diarrhoea. Health-consciousness among consumers, coupled with rising awareness about gluten-free products, are driving the market in the U.S. Consumers are increasingly avoiding gluten-based products and opting for gluten-free products.
This rising health awareness has consequently augmented the consumption of gluten-free varieties of flour, such as sorghum flour, buckwheat flour, and pea & chickpea flour. Gluten-free flour is a fast expanding food category, representing that this market exhibits enormous growth possibilities over the forecast period.
"Increasing Consumer Preference for Nutritional and Sustainable Food Products"
Nutritional and sustainable diets are being gradually adopted by consumers. This is due to growing consumer awareness about what a healthy lifestyle entails. Consumers are opting for nutritional food products over conventional ones and are also prioritizing sustainable diets on account of the growing negative effects on the environment caused due to animal-based and dairy-based ingredients.
Cereal grains have high health beneficial properties, such as their role in reducing the risk of diabetes, obesity, and cancer. They are also regarded as environment-friendly alternatives. Grain ingredients are used in the food and beverages industry as they improve the nutritional profile of the product when used as a natural ingredient.
"'Made from Ancient Grains' Claim Influencing Sales of Food Products"
Ancient grains were vital for feeding early civilizations, a predilection for a few staple grains-wheat, rice, and corn-evolved over time. Unlike current crops, which have been selectively bred for generations, ancient grains have remained largely unmodified. Their rediscovery is providing customers with new whole grain and seed options, with a variety of flavors, textures, and visual appeal.
Manufacturers who can develop unique methods to use ancient grains in their offerings will be ready to fulfil this expanding demand as consumers learn more about the benefits of ancient grains, from their healthy nutrition profiles to their unique flavors and textures. Increasing food product launches that are made from these grains are offering growth opportunities to their producers.
Which Factors are Limiting Market Growth of Cereal Grain & Pulse Derivatives in the U.S.?
"Availability of Low-priced Gluten-free Alternatives to Cereal Grains"
One of the major challenges for the cereal grain & pulse derivatives market is the price instability of grains due to several factors such as seasonal & climatic variations, and the negative impact of uneven cultivation and harvesting practices on crops.
Reduction in rainfall or uneven rainfall patterns also have an adverse effect on the yield of crops, which leads to high fluctuation in the prices of crops/grains. There have been pricing variations in chemicals & fertilizers and energy, which has led to a variation in the final prices of grains & pulses.
The availability of low-priced gluten-free alternatives to cereal grains may restrict market growth to some extent. Corn is one of the staple crops in the U.S. and holds a significant share in the overall flour market. Corn is largely produced in the U.S. and is also a major export commodity.
Corn is usually priced lower than other cereal grains and pulses. Lower price range and easy availability make it attractive for manufacturers of various processed food products.
However, increasing awareness about the benefits of food products made from cereal grains and pulses is outpacing the demand for corn and its derivatives.
Category-wise Insights
Why Does the Flour Form of Cereal Grain & Pulse Derivatives Have High Growth Potential in the U.S. Market?
In the food processing industry, cereal grain & pulse flour are utilized to impart taste, texture, and aroma to finished products. Cereal grains & pulses are considered as a one of the major sources of plant-based nutrition, which makes them a natural and healthy food ingredient that can be used in various segments of the food and beverage industry.
The market for cereal grain & pulse flour is set to exhibit high growth and register a value CAGR of 7% during the forecast period.
Which Source of Cereal Grain & Pulse Derivatives is Majorly Demanded in U.S.?
Based on source, sorghum is majorly demanded and holds a majority stake in the cereal grain & pulse derivatives market in the U.S. Sorghum is a versatile, drought-resistant cereal grain that can be used in sweeteners. It is also used as animal feed as well as ethanol production.
Sales of sorghum derivatives are projected to expand at a significant growth rate and reach a market valuation of close to US$ 6 Bn by the end of 2032.
Competitive Landscape
Key manufacturers of cereal grain & pulse derivatives are focused on the expansion of their business through strategic partnerships, acquisitions, and mergers to increase their production capacity and global footprint.
Market players are strategically investing in mills and other small players operating the cereal grain & pulses market to gain a strong foothold in the market.
In March 2022, Ardent Mills announced the opening of its state-of-the-art milling facility in Gibonston, Florida. The opening of this mill is in line with the company's vision to achieve strategic growth by strengthening the supply chain and increasing efficiency and product consistency.
In January 2020, J.R. Simplot Co. acquired Pinnacle Agriculture. With this acquisition, the company began distributing agricultural crop inputs and related services. The company currently offers its products and services to over 40,000 farmers in North America.
In 2020, Batory Foods and Ingredion Incorporated, a global provider of ingredient solutions, signed a new strategic ingredient distribution agreement for the Southern California region. This allowed the company to support Southern California customers with easy access to ingredient solutions and systems.
U.S. Cereal Grain & Pulse Derivatives Industry Report Scope
Attribute
Details

Forecast period

2022-2032

Historical data available for

2017-2021

Market analysis

USD Million for Value
Tons for Volume

Key market segments covered

Form
Source
Application
Distribution Channel

Key companies profiled

AGT Food and Ingredients
Anchor Ingredients Co., LLC
Archer Daniels Midland Company
Ardent Mills
Batory Foods
Bob's Red Mill Natural Foods
Bunge Limited
Grain Millers, Inc.
Healthy Food Ingredients, LLC
Hometown Food Company
Ingredion
Inland Empire Foods, Inc.
J.R. Simplot Co.
Natural Way Mills
Richardson International Limited
SHILOH Farms
The Scoular company
TruRoots, LLC.

Report coverage

Market Forecasts
Company Share Analysis
Competition Intelligence
DROT Analysis
Market Dynamics and Challenges
Strategic Growth Initiatives

Customization & pricing

Available upon request
U.S. Cereal Grain & Pulse Derivatives Industry Research by Category
By Form:
Intact/Whole Grain & Pulse Derivatives
Flour Grain & Pulse Derivatives
By Source:
Millets
Sorghum
Buckwheat
Oats
Quinoa
Lentils
Peas
Chickpeas
By Application:
Food & Beverage Industry

Meat Analogues
Bakery & Confectionery
RTE Products & Convenience Foods
Beverages
Other Processed Food

Foodservice
Retail/Household
By Distribution Channel:
Business to Business
Business to Consumer

Hypermarkets/Supermarkets
Convenience Stores
Specialty Stores
Online Retail