Pharmaceutical Isolators Market Outlook (2022-2032)
The global pharmaceutical isolators market has reached US$ 593.3 Mn in value and is predicted to evolve at a CAGR rate of 4.7% to end up at US$ 943 Mn by the end of 2032. Open pharmaceutical isolators lead the market and enjoyed a share of 62.2% in 2021.
The market value for pharmaceutical isolators was 4.7% of the global aseptic pharma processing equipment market at the end of 2021.
| Report Attribute | Details |
| --- | --- |
| Pharmaceutical Isolators Market Size (2021) | US$ 568.8 Mn |
| Estimated Market Value (2022) | US$ 593.3 Mn |
| Projected Market Value (2032) | US$ 943 Mn |
| Global Market Growth Rate (2022-2032) | 4.7% CAGR |
| Market Share of Top 5 Countries | 46.4% |
Demand Analysis of Pharmaceutical Isolators (2015-2021) VS. Market Estimations (2022-2032)
Worldwide sales of pharmaceutical isolators increased at a CAGR of 3.8% from 2015 to 2021.
Pharmaceutical isolators are widely used in a variety of settings, including R&D centers, hospital pharmacies, cosmetics & food industries, and pharmaceutical & medical device industries. Maintaining the utmost vigilance during the product manufacturing process is crucial in the pharmaceutical isolators business. An optimal level of sterility is provided during the product manufacturing process by several types of isolators available in the market.
In recent years, the desire to increase process integrity has been the main industry driver creating interest in isolators. As part of this, operators must be shielded from dangerous substances, and, in the case of manufacturing sterile products, there needs to be less chance that a particular operation will result in the production of contaminated non-sterile units.
Only substances and materials in direct contact with the production processing system are permitted in the bio-decontaminated environment provided by the isolators in the pharmaceutical isolators sector. Pharmaceutical isolators, thus, make it possible to protect the user from medication exposure, eliminate cross-contamination risks, and maintain drug quality standards.
Due to the global health crisis, there was a significant increase in the creation of new medicines and the number of drugs needed to treat illnesses, which increased the demand for pharma isolators in the healthcare industry. Furthermore, expanding pharmaceutical industry, rising research & development costs, and strict government laws & regulations aimed at ensuring the safety and efficacy of drugs have supported market growth.
Isolators are utilized for aseptic production processes (weighing, filling, formulation, bulking, etc.), and for microbiological tests (sterility testing, worker protection).
The use of pharmaceutical isolators across the healthcare sector is estimated to grow strongly over the forecast duration owing to the positive outcomes associated with their use and minimal drawbacks. The development of novel technologies to cater to the demand for high-quality isolators will drive the overall pharmaceutical isolators market at a CAGR of 4.7% through 2032.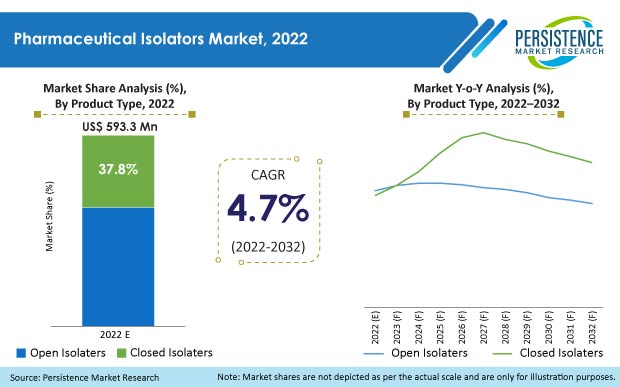 What Opportunities Await Pharmaceutical Isolators' Suppliers?
"Low Operating Cost of Pharmaceutical Isolators & Growing Demand in Biopharma Industry"
Most pharmaceutical isolators are created to meet the requirements of manufacturing or research facilities. Increased collaborative relationships and a thorough product approval process drive market expansion. Another important factor influencing market growth is the low operating expenses of pharmaceutical isolators. Pharmaceutical businesses can purchase isolators for a small portion of the price of typical clean rooms from reliable suppliers.
An operator can contaminate a spot that has been thoroughly cleaned and disinfected. Contrarily, pharmaceutical isolators reduce contamination so that only production materials and medicines are in contact with the full management system in a bio-decontaminated environment.
Moreover, the expansion of the biotechnology industry has been driving the demand for pharmaceutical isolators. The biotechnology sector has advanced significantly and is currently one of the biggest in the world. Both large biotech organizations such as Pfizer, Novartis, Abbott, Biogen Inc., etc., as well as smaller biotech firms, are scattered across the medical industry in areas covering medication development, genomics, biofuels, and food products. With time, biotechnology has also entered the biopharmaceutical industry, aiding these businesses in their R&D efforts.
Furthermore, important developments in pharmaceutical isolators such as improved mobility, improved coherence with active pharmaceutical ingredients or APIs, and a large sterility guarantee will boost the market in the future. These elements have worked together to accelerate the market for pharmaceutical isolators.
What's Restraining Demand for Pharmaceutical Isolators?
"High Cost of Installation & Limited Adoption of RABS"
Pharmaceutical isolators play an important role in healthcare facilities delivering safety and efficiency in pharma-biotech companies. Pharmaceutical isolators have superior qualities, yet come with a few drawbacks.
In future years, the pharmaceutical isolators sector will undoubtedly grow rapidly. However, several obstacles may prevent the market from reaching its full potential. Because pharmaceutical isolators are expensive to install and maintain, the market may not expand as quickly as it might have otherwise.
Another obstacle to the expansion of pharmaceutical isolator technology is the limited adoption of restricted access barrier systems (RABS) in healthcare manufacturing systems, preventing contamination of sterile products through minimal contact with the operating personnel since these systems require larger operation areas.
Thus, higher installation costs and requirements for appropriate space will be restrictive factors for the growth of the market, posing additional infrastructural and operational overhead expenses.
Country-wise Insights
What Makes the U.S. the Largest Market for Pharmaceutical Isolators?
"Large-scale Pharma & Biologic Manufacturing Facilities in the U.S."
The U.S. dominates the North American pharmaceutical isolators market with a market share of 89.7% in 2021 and is expected to continue to experience the same growth pace throughout the forecast period.
The U.S. market for pharmaceutical isolators holds a high-value share due to robust development and research in the field of novel gene therapies and vaccine development. This development has been brought upon by the recent surge in global chronic and infectious disease burden.
With developed industrial units for pharmaceutical manufacturing, as well as emerging guidelines for infection control and proliferation management during the production of pharmaceuticals, the U.S. is expected to hold a dominant position in the overall market, leading to the increasing adoption of pharmaceutical isolators
How is Germany Emerging as a Prominent Market for Pharmaceutical Isolators?
"Increasing Adoption of Pharmaceutical Isolators in Pharma Manufacturing Units"
The Germany pharmaceutical isolators market is set to exhibit a CAGR of 3.2% over the decade.
Germany is set to establish itself as a prominent player in pharmaceutical isolators with the presence of a large number of established players in the country, being a prominent producer of novel aseptic processing equipment.
Moreover, with growing pharmaceutical manufacturing in the country, increasing adoption and installation of pharmaceutical isolators will further aid the overall growth of the market in the country.
What is the Japan Pharmaceutical Isolators Market Outlook?
"Revised Proposal to Operate Isolator Systems Flexibly Improving Productivity, a Project to Develop Guidelines for Medical Devices"
Japan held 27.6% share in the East Asia pharmaceutical isolators market in 2021 and is projected to exhibit growth at a CAGR of 4.5% during the forecast period.
Japan's revenue is generated by improvements in productivity; this, in turn, is linked to the population of Japan and its workforce.
An international standard for "Aseptic processing of health care goods — Isolator systems" that was updated as a result of a suggestion from Japan was published by the International Organization for Standardization (ISO).
This international standard covers the fundamental concepts, design, validation, and operation of the "aseptic connection" for the isolator systems required for aseptic pharmaceutical manufacturing. The application of the worldwide standard is anticipated in the production and management of pharmaceutical manufacturing facilities, which will considerably enhance the environment for producing pharmaceuticals and supply stable, high-quality pharmaceutical goods.
Category-wise Insights
Which Product is Driving High Growth of the Pharmaceutical Isolators Market?
"Easy Operability of Open Isolators in Aseptic Products Transfer"
Demand for open pharma isolators is expected to increase at a CAGR of 4.4% through 2032, after having a market share of 62.2% in 2021.
The continuous or semi-continuous entrance and/or egress of materials is permitted by open isolators used in aseptic pharmaceutical filling while retaining a level of environmental protection. Due to their ability to protect products while enabling vials to enter and depart the work area, open isolators are becoming more and more common in fill areas.
Which End User Benefits the Most from Adoption of Pharmaceutical Isolators?
"Growing Applications in Aseptic Handling of Drugs and Solutions within Biotech & Pharmaceutical Industry"
Biotech & pharmaceutical companies accounted for the highest market share of 31.3% at the end of 2021.
The use of pharmaceutical isolators in biotech & pharmaceutical companies is mostly for manufacturing and control. They are applied for handling drugs that are solid or in powder form, or while filling infusions and solutions in an aseptic environment.
Further uses of pharmaceutical isolators include the aseptic handling of tissues, infectious samples, and biological production systems, among others. With several applications, this segment enjoys the highest market share by value, as an end user.
Competitive Landscape
With several competitors in the pharmaceutical isolator production sphere, the market is highly fragmented. To meet consumer demand and expand their customer base, companies are implementing various strategic methods, of which, collaborations, manufacturing expansion, and participation in conferences and events to showcase new developments are the leading strategies.
Instances of key developmental strategies by industry players in the pharmaceutical isolators market are:
In July 2022, Getinge collaborated with the International Finance Corporation's (IFC) in an initiative to support East and West Africa-based healthcare providers to get better access to life-saving equipment.
In December 2021, Comecer announced an expansion in North America with a new facility in Chicago. Furthermore, the company participated in INTERPHEX 2021 to display a containment isolator.
Similarly, the team at Persistence Market Research has tracked recent developments related to companies manufacturing pharmaceutical isolators, which are available in the full report.
Pharmaceutical Isolators Industry Report Scope
Attribute

Details

Forecast Period

2022-2032

Historical Data Available for

2015-2021

Market Analysis

USD Million for Value

Key Regions Covered

North America
Latin America
Europe
South Asia
East Asia
Oceania
The Middle East & Africa

Key Countries Covered

U.S.
Canada
Brazil
Mexico
Argentina
U.K.
Germany
Italy
Russia
Spain
France
BENELUX
India
Thailand
Indonesia
Malaysia
Japan
China
South Korea
Australia
New Zealand
Turkey
GCC
Israel
Northern Africa
South Africa

Key Market Segments Covered

Key Companies Profiled

Skan AG
COMECER S.p.A
Hosokawa Micron Ltd
Getinge AB,
Azbil Telstar
Robert Bosch GmbH
Klenzaids
Nuaire
Iso Tech Design
M. BRAUN INERTGAS-SYSTEME GMBH
I.M.A. SpA
Syntegon Technologies GmbH
Esco Micro Pte. Ltd.

Report Coverage

Market Forecast
Competition Intelligence
DROT Analysis
Market Dynamics and Challenges
Strategic Growth Initiatives
Key Regulations
Key Strategies Adopted by Manufacturer
PESTLE Analysis
Porter's Analysis
Value Chain Analysis

Customization & Pricing

Available upon Request
Key Segments of Pharmaceutical Isolators Industry Research
Pharmaceutical Isolators Market by Product:
Open Isolators
Closed Isolators
Pharmaceutical Isolators Market by End-User:
Biotech & Pharmaceutical Companies
Academic & Research Institutes
Hospitals
Contract Research Organizations
Pharmaceutical Isolators Market by Region:
North America Pharmaceutical Isolators Market
Latin America Pharmaceutical Isolators Market
Europe Pharmaceutical Isolators Market
East Asia Pharmaceutical Isolators Market
South Asia Pharmaceutical Isolators Market
Oceania Pharmaceutical Isolators Market
Middle East and Africa (MEA) Pharmaceutical Isolators Market