Introduction
The rapidly growing animal health market is a primary driver of growth for animal health active pharmaceutical ingredient (API) market. Factors such as growing focus on animal well being, a surge in the number of animal healthcare NGOs, and unmet medical needs act as other major growth drivers in the market.
There has been a significant growth of the antiparasitic API landscape owing to the abundance of pharmaceutical companies in the Asia Pacific region which are involved in the development of antiparasitic API. Anti-infestives is the other segment in the market that is growing rapidly, contributing significant revenue in the market.
The Asia Pacific is known to generate a plethora of opportunities for the manufacturers in the market for manufacturing facilities owing to relaxed government regulations regarding investments. The pharmaceutical API industry is flourishing in regions such as Russia and Brazil with government support for the establishment of new manufacturing facilities. Middle East & Africa are also gaining prominence in the market with the growth in animal health pharmaceuticals landscape.
Market players are collaborating to form alliances and joint ventures to gain an edge in market competition. Western animal health players are exploring opportunities in developing economies to strengthen their regional presence. Prominent players in the animal health active pharmaceutical ingredient market are Lonza Group AG, Shanghai Pharmtech Co. Ltd., Glenmark Pharmaceutical Ltd., and Eli Lilly & Co.
Animal health API outsourcing is a valuable component of the animal health pharmaceutical business
Shifting the pharmaceutical manufacturing base to developing countries provides a huge opportunity for earning profits because of the lower cost of manufacturing, increasing FDI & government support. Asia Pacific region has a huge opportunity for facility upgradations and less regulatory permissions provide potential for investment. Great potential in the Brazil and Russian markets because of government support in boosting the pharmaceutical sector provides a good opportunity for new manufacturing facilities.
Increasing infrastructure and healthcare facilities for animal healthcare are aiding the growth of the global animal health active pharmaceutical ingredient market. For instance, improvement in infrastructure and health facilities in the Middle East & African continent favors the growth of animal health pharmaceuticals demand and thus supports the global animal health API industry.
A number of growing mergers & acquisitions, partnerships, joint ventures, strategic alliances and various other business deals are further strengthening the market and supporting growth. High experience of API manufacturing in developing markets encourages Western animal health market players to collaborate in the Eastern countries, thus increasing the growth opportunities in this sector. Along with internal capacity expansion, external manufacturing or outsourcing is an important component of the animal health active pharmaceutical ingredient market.
Furthermore, despite consolidation efforts in the CMO industry, the industry remains fragmented with few major players, thus boosting the outsourcing market. This provides an opportunity for investment in contract manufacturing.
A fast growing animal health market has a positive impact on the overall animal health API market. Global animal population growth and focus on the well-being of animals support market demand. Increase in animal healthcare NGOs, rising pet adoption, productivity improvements, unmet medical needs etc. are some of the factors creating growth opportunities in this sector. Increase in the livestock animal population because of huge demand is associated with the rise in a number of animal diseases and thus the medication demand rises.
Antiparasitic animal health API has the highest market share and growth rate in the overall global market
Antiparasitic API growth in the global animal health API market is owing to a large number of pharmaceutical industries in the Asia Pacific region especially focusing on antiparasitic APIs. This segment is anticipated to dominate the global animal health active pharmaceutical ingredient market in revenue terms in 2017, and the trend is projected to continue throughout the forecast period.
Antiparasitic API is expected to be the most lucrative segment, with a market attractiveness index of 2.1. Persistence Market Research forecasts the antiparasitics API type segment to grow from more than US$ 2,500 Mn in 2017 to over US$ 4,600 Mn by 2025 end. Anti-infectives is expected to be the second largest market for animal health active pharmaceutical ingredients, with a market attractiveness index of 1.3.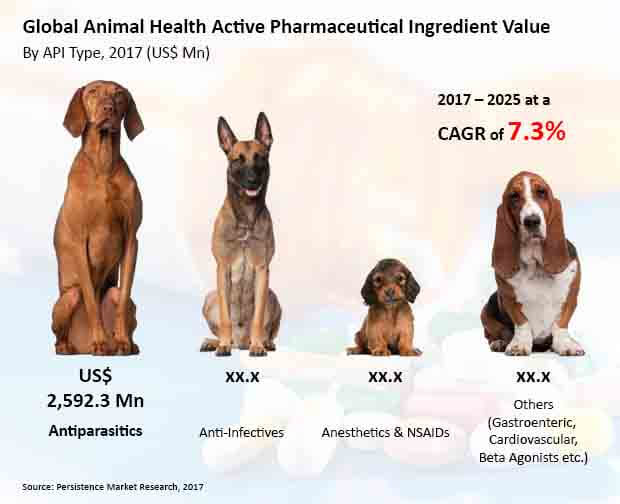 Various risk factors associated with animal health APIs restricts market growth
A wide range of human drugs continues to be applied in the veterinary space due to a lack of approved animal therapies, convenience and the rising costs of veterinary research. This is a huge threat to the overall animal healthcare pharmaceutical business.
The animal health API market is highly fragmented, greatly affecting the overall business as in pricing regulations, stringency in rules and regulations, monitoring difficulties etc. Further, illegal market threats such as selling of APIs directly to animal owners for use as drugs affects the whole value chain and the B2B API business.
Market Segmentation
Attribute
Details

By Region

North America
Latin America
Europe
Asia Pacific
MEA

By API Type

Antiparasitics
Anti-infectives
NSAIDs & Anesthetics
Others (Gastroenteric, Cardiovascular, Beta Agonists etc.)