Introduction
Syringes are expected to be the most attractive product type for incremental opportunities in the global pharmaceutical glass packaging market over the forecast period. Syringes are expected to witness an increase in market share in 2027 over 2017 by a herculean 670 basis points. Ampoules & vials are expected to create an incremental opportunity of over US$ 800.0 Mn expanding at a CAGR of 2.8% by the end of the forecast period.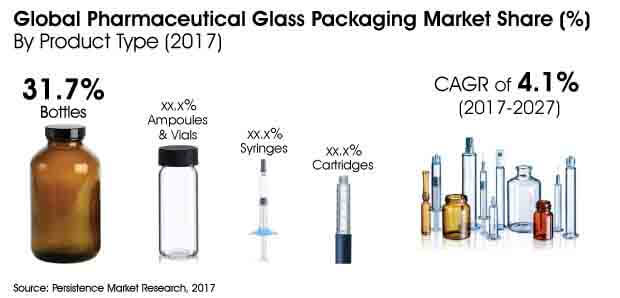 Product Recalls in North America to Create Unstable Scenario
There have been product recalls recorded in North America for many glass ampoules, vials, and syringes due to glass breakages. Recalls were also because of several other syringe related causes. There was a recall of EPREX prefillable syringes because of leachable from the prefilled syringe rubber plunger.
The leachable caused pure red cell aplasia in patients using the EPREX prefilled syringes. A syringe product recall was also due to the unequal silicone oil coating on the syringe barrel causing partial injection of the drug. Amgen recalled five lots of Enbrel pre-fillable syringes in October 2010. Johnson & Johnson recalled 70,000 antipsychotic drug prefilled syringes in February, 2011 owing to glass breakage.
Ampoules and Vials to be in High Demand in Latin America
Ampoules and vials are predominantly used in most of the countries in Latin America for packaging applications. Brazil and Mexico lead the Latin America market in terms of consumption. The pharmaceutical market in Brazil is growing at a higher rate which will boost the demand for pharmaceutical glass packaging products in the next few years.
However, glass delamination is expected to act as a roadblock in the deployment of several products in the region. Glass delamination occurs from subsequent glass chipping and surface degradation which is observed visually as flakes within the drug product or solution.
Delamination is a prominent restraint observed in the pharmaceutical glass packaging market which needs to be addressed for long-term sustainability of the glass packaging products in the pharmaceutical industry.
Products such as COC/COP based ampoules, vials, and syringes are expected to outgrow other pharmaceutical glass packaging products. This is primarily because polymer based packaging products offer high delamination resistance, longer shelf life, and good chemical resistance. Moreover, the polymer based products are cheaper in comparison to their glass counterparts.
New Ampoules and Syringes to be Introduced in Asia Pacific
New therapeutic drugs are being approved in the Asia Pacific region in order to be administered in ampoules and prefilled syringes. With rapid advancements in the biologics and biosimilars market, the demand for ampoules, vials, and prefilled syringes is expected to spur in the coming years. More novel therapeutic drugs are being approved to be administered in ampoules and prefilled syringes as companies in the region are focusing on enhancing product development.
Currently, over 60 types of parenteral drugs and vaccines are being sold in the form of prefilled syringes. Common drug classes which are injectable and are available in prefilled syringes include insulin, interferon, mono clonal antibodies, G-CSFs, erythropoietin, blood stimulants and other vaccines.
Other additional new therapeutic drugs are being approved to be administered in the prefilled syringes form. Patent expirations of several biologics has led to the introduction of biosimilars in the market. This is likely to boost the adoption of ampoules, vials and prefilled syringes in the Asia Pacific region.
Pharmaceutical Glass Packaging Market: Segment Overview

Pharmaceutical Glass Packaging Market: Segment Overview

Bottles
Syringes
Ampoules and Vials
Cartridges

Application

Oral
Injectable
Nasal
Others (Topical, etc.)

Region

North America
Latin America
Asia Pacific
Europe
MEA

Material Type
- Companies Covered in This Report -
Schott AG
Gerresheimer AG
Becton, Dickinson and Company
Owens-Illinois, Inc.
Ardagh Group S.A.
Nipro Corporation
West Pharmaceutical Services, Inc.
Stevanato Group (Ompi)
O.Berk Company, LLC
?i?ecam Group
DWK Life Sciences GmbH
Beatson Clark Ltd.
Piramal Glass Limited
Acme Vial and Glass Company, LLC
Amposan S.A.
SGD Pharma
Hindusthan National Glass & Industries Limited
Shandong Pharmaceutical Glass Co., Ltd.
Bormioli Pharma Srl
Agrado S.A.
Others.