North America Thermostatic Mixing Valves Market Outlook (2022-2032)
The North America thermostatic mixing valves market is currently valued at around US$ 451.1 Mn. Sales are projected to increase steadily at a CAGR of 4.2% to reach a market valuation of US$ 682.1 Mn by the end of 2032.
The United States thermostatic mixing valves market leads the way and accounts for three-fourths market share in North America.
| Attribute | Key Insights |
| --- | --- |
| North America Thermostatic Mixing Valves Market Size (2021A) | US$ 434.2 Mn |
| Estimated Market Value (2022E) | US$ 451.1 Mn |
| Projected Market Value (2032F) | US$ 682.1 Mn |
| Market Growth Rate (2022-2032) | 4.2% CAGR |
| Collective Value Share: Top 5 Players (2022E) | 45.8% |
Demand Analysis of Thermostatic Mixing Valves in North America (2017-2021) Compared to Market Forecasts (2022-2032)
The thermostatic mixing valves market in North America saw sluggish growth over the past few years at 0.77% CAGR, mainly due to the onset of COVID-19. However, the market is expected to grow at a faster rate of 4.2% CAGR through 2032, backed by steadily rising demand from various end-use industries such as residential, commercial, and industrial.
According to the research, year-on-year change in the growth of the North American market for thermostatic mixing valves in 2021 was 3.6%, reason being increased population and rising urbanization in the United States and Canada, which will have a substantial influence on the expansion of numerous end-use sectors, and consequently on thermostatic mixing valve installations over the forecast period.
Leading manufacturers of thermostatic mixing valves are focusing on launching innovative solutions to provide better quality solutions to end customers, with consumer appreciation of environmental health and safety issues on the rise. Companies are developing and launching lead-free thermostatic mixing valves to drive more sales in North America.
For instance, in October 2020 RWC launched its new range of valves by combining the technologies of RWC and John Guest (JG) Speed fit. The new range of valves is available with push-fit connections from JG Speed fit, a manufacturing company.
Such initiatives are laying the way for additional thermostatic mixing valve sales prospects over the coming years.
Lead content in plumbing fixtures, valves, and pipe fittings needs to be minimized owing to increasing severity of the dangers it poses on the health of people of all ages. The U.S. government has put in place regulations to maintain lead levels within acceptable limits, mandating the maximum allowable concentration in thermostatic mixing valves.
This encourages manufacturers to offer products that are free of lead, which is a key winning strategy adopted by prominent manufacturers present in the market.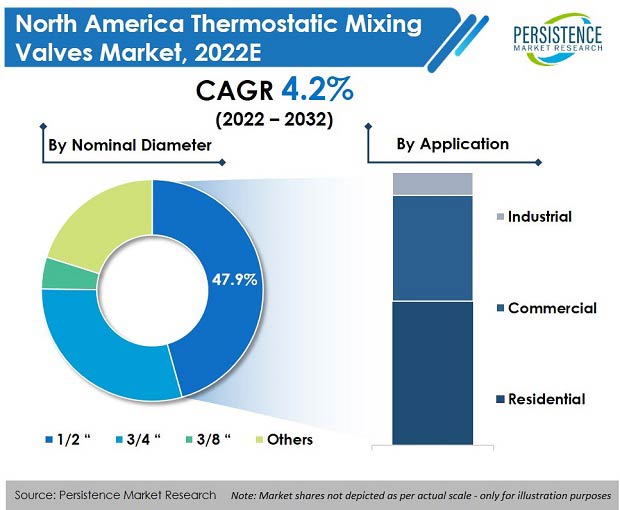 The above chart signifies market share based on end-use industry, in which, the residential sector holds a major share of around 50% in North America. The market is projected to expand at 4.2% CAGR in terms of value through 2032.
Market Overview
Thermostatic mixing valve systems are largely used in the healthcare, institutional, and residential sectors. Safe warehousing and distribution of residential warm water are critical in any application, as rising scalding incidents have resulted in significant demand for advanced plumbing solutions for hot water supply in both, residential and commercial applications, thus creating an enormous market opportunity for thermostatic mixing valve manufacturers.
Scalding can be just as bad as fire burns, regardless of whether it's triggered in water or not, prompting construction developers to utilize the integration of temperature sensors for hot water in residences and offices and devise smart plumbing solutions for water supply.
In the North American real estate industry, incorporating smart plumbing solutions is becoming more and more common. Sophisticated building designs and stringent safety regulations are making it necessary for developers to find new ways to optimize their properties. One way they're doing this is by implementing smart plumbing solutions that can help save on water and energy costs.
How is Growth of the Thermostatic Mixing Valves Market in North America Being Driven?
"Rising Smart Home Trend Driving Installation of Thermostatic Mixing Valves"
Increased number of smart homes in North America is a major factor driving market growth of thermostatic mixing valves. Smart home penetration in the United States reached 69 percent in 2019, or 22 million households, according to the Consumer Technology Association (CTA). Consumption of thermostatic mixing valves in North America is growing as smart shower systems become more popular in the region.
Rising hotel industry in the scope of renovations of old hotels and the construction of new hotels with modern amenities will create demand for thermostatic mixing valve units. Robust growth in this industry is likely to bode well for building thermostatic mixing valve suppliers. The hospitality industry remains a leading end-use industry for thermostatic mixing valves.
Country-wise Insights
Which is the Most Attractive Market for Thermostatic Mixing Valves in North America?
"U.S. Residential Sector Driving Demand for Thermostatic Mixing Valves"
The U.S government is looking to diversify its economy by driving growth in the residential sector. The residential sector is one of the key growing segments driving demand for thermostatic mixing valves, and is estimated to hold around 50% of market value share.
The residential sector is projected to expand steadily at a 3.4% CAGR over the forecast period. The U.S. is expected to see high demand for thermostatic mixing valves owing to the growing infrastructure projects in the residential as well as the construction sectors.
The desire for energy-efficient, environmentally friendly, and low-maintenance goods is driving demand for thermostatic mixing valves in the U.S.
The U.S. thermostatic mixing valves market is projected to expand steadily at 3.6% CAGR through 2032.
Should Thermostatic Mixing Valve Producers Concentrate on Canada?
"Canada Thermostatic Mixing Valves Market to See Higher Growth in North America"
Canada has high growth in the HVAC sector and space heating equipment, which is expected to drive building thermostatic mixing valve demand. Due to expanding residential demand and better living conditions, Canada will be the fastest-growing market for thermostatic and digital mixing valves throughout the projection period.
Furthermore, the country's economy is likely to be aided by a fast-developing real estate industry and an increase in the number of residential building projects. In Canada, demand for thermostatic mixing valves is projected to increase 4% in 2022.
Category-wise Insights
Which Thermostatic Mixing Valve Type is Most Demanded?
"High Usage of Point-of-use Thermostatic Mixing Valves"
The U.S. market for point-of-use thermostatic mixing valves is estimated to grow at 3.3% CAGR over the next five years. The will provide more than one-third of market share in terms of value. This valve type is frequently used in plumbing systems in situations where water flow is constant.
Standard thermostatic mixing valves are also expected to be one of the most important segments over the forecast period, expanding at a CAGR of around 4.2%.
Which Application Drives Most Revenue Generation of Thermostatic Mixing Valve Manufacturers?
As per Persistence Market Research analysis, government initiatives have assisted in the development of the residential construction industry, thereby driving thermostatic mixing valve usage. Continuous developments within the commercial industry have resulted in increased demand for TMV-licensed valves, especially in Canada.
Growth of the residential sector is expected to be one of the primary factors responsible for the rise in the demand for thermostats and other valves. Thus, the residential sector is forecasted to expand steadily at 3.4% CAGR.
Ongoing growth in the North American industrial and commercial sectors has increased employment opportunities in the region; employment ratio decreased in 2020 due to the global COVID-19 pandemic, but this effect is not expected to last for long period.
Increased government investments have boosted employment opportunities and supported the growth of new commercial and industrial facilities. This growth factor is expected to have a positive impact on thermostatic mixing valve consumption in North America.
COVID-19 Impact
The COVID-19 outbreak in the United States had an extraordinary impact on the whole industrial sector, including project cancellations, supply chain, logistics disruptions, and so on, all of which influenced demand for thermostatic mixing valves. The pandemic had a severe impact on the economy at various levels, and the impact was seen in the HVAC and construction sectors as well.
However, in the recovery phase of COVID-19, the rising economic conflict between Russia and Ukraine will impact market growth due to increase in raw material prices, rising energy rates, and disturbance in the supply chain.
Competitive Landscape
Over the past few years, acquisition and expansion activities have increased to improve the supply chain of thermostatic mixing valves.
Several key manufacturers of thermostatic mixing valves are developing new technology-driven systems. Emergence of several manufacturers has also been seen in this market space.
In Feb 2020, Bradley Corporation introduced a new thermostatic mixing valve for commercial applications. The new navigator TMV saves installation time and conserves space.
In November 2021, ESBE Group expanded its production unit to increase the production capacity of valves and actuators.
In June 2018, RWC acquired John Guest Holdings Ltd. The strategic acquisition was made to add complementary products to its portfolio and provide a broader range of solutions to its customers.
North America Thermostatic Mixing Valves Industry Report Scope
Attribute
Details

Forecast Period

2022-2032

Historical Data Available for

2017-2021

Market Analysis

USD Million for Value
000' Units for Volume

Key Countries Covered

Key Market Segments Covered

Capacity
Nominal Diameter
Valve Type
Application
Country

Key Companies Profiled

Misumi Group Inc.
Reliance Worldwide Corporation
Watts Water Technologies Company
Danfoss A/S
Bradley Corporation
Armstrong International Inc.
Caleffi S.P.A
Pegler Yorkshire
ESBE Group
Leonard Valve Company
Zurn Water Solutions
Allied Motion Technologies ( AMOT)
IMI PLC
Apollo Valves

Report Coverage

Market Forecast
Company Share Analysis
Competition Intelligence
DROT Analysis
Market Dynamics and Challenges
Strategic Growth Initiatives

Customization & Pricing

Available upon Request
North America Thermostatic Mixing Valves Industry Research by Category
By Capacity:
Up to 5 GPM Thermostatic Mixing Valves
5-10 GPM Thermostatic Mixing Valves
10-15 GPM Thermostatic Mixing Valves
By Nominal Diameter:
3/8" Thermostatic Mixing Valves
1/2" Thermostatic Mixing Valves
3/4" Thermostatic Mixing Valves
1" Thermostatic Mixing Valves
1 ¼" Thermostatic Mixing Valves
Up to 2" Thermostatic Mixing Valves
By Valves Type:
Emergency Thermostatic Mixing Valves
High/Low Thermostatic Mixing Valves
Point-of-use Thermostatic Mixing Valves
Standard Thermostatic Mixing Valves
By Application:
Residential
Commercial
Industrial
By Country:
U.S. Thermostatic Mixing Valves Market
Canada Thermostatic Mixing Valves Market