Americas Pipe Fittings Market Outlook (2022-2032)
The Americas pipe fittings market is currently valued at around US$ 18.8 Bn, and is projected to expand steadily at a CAGR of 4.1% to reach a market valuation of US$ 27.9 Bn by the end of 2032.
| Attribute | Key Insights |
| --- | --- |
| Americas Pipe Fittings Market Size (2022E) | US$ 18.8 Bn |
| Projected Year Value (2032F) | US$ 27.9 Bn |
| Value CAGR (2022-2032) | 4.1% |
| Collective Value Share: Top 3 Countries (2022E) | 85.2% |
Growing expenditure on commercial and infrastructural activities across the Americas is driving demand for pipe fittings. North America is one of the regions that is experiencing high growth in the commercial and infrastructure space. Pipe fittings find varied application in water pipelines, wastewater drainage systems, oil & gas pipelines, and related needs.
Demand Analysis of Pipe Fittings in the Americas (2017-2021) Compared to Market Forecasts (2022-2032)
In American countries, the growing population and economic growth have directly impacted the growth of the manufacturing, energy, and commercial sectors. These are predominant end-use sectors with a market share of almost 31% during 2017-2021, with year-on-year growth in 2019 being 3.1%.
During the forecast period of 2022-2032, year-on-year growth is expected to be 3.9%, which is due to the ongoing 523 oil and gas projects that are planned to commence operations between 2022 and 2026 in North America; over 56% of the oil & gas projects are midstream projects.
By comparison, the industry expects to have 120 petrochemicals and 22 refinery projects start operations in the period of consideration. Among the Americas countries, Peru has the highest projected year-on-year growth rate of 7.5% through 2026.
These factors are estimated to create huge opportunities for pipe fitting manufacturers across the region over the coming years, with the Americas market for pipe fittings projected to expand at 4.1% CAGR through 2032.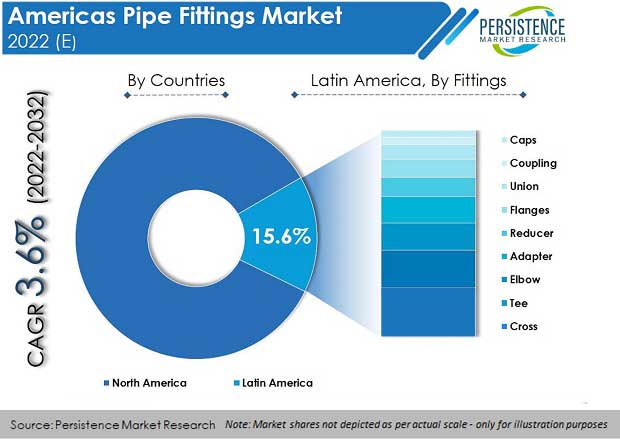 How is Pipe Fittings Market Growth in the Americas Being Influenced?
"Ongoing Construction & Infrastructure Development Aiding Market Growth"
Increase in investments in the construction and infrastructure sector has raised demand for pipe fittings in the region. Rising expenditure for developing utilities, i.e., supply of water, electricity, and natural gas in public areas, positively impacts demand for plastic and metal pipe fittings.
Also, development of rural America in terms of water, environmental, electric, and telecommunication programs will boost the sales of pipe fittings during the assessment period.
Over the past few years, there has been considerable increase in the demand for pipes and their fittings for municipal drainage systems due to development in these water drainage systems and employment of innovative systems, which is primarily driving demand for plastic pipe fittings, composite pipe fittings, and metal pipe fittings.
Which Factors are Creating Opportunities for Pipe Fitting Manufacturers?
"Stricter Regulations in the Region Bodes Well for Pipe Fitting Producers"
Countries in the Americas are the fastest growing regional markets for pipe fittings and are expected to generate significant opportunities over the coming years.
Rapid industrialization and infrastructure development, coupled with high disposable income of consumers, create demand in the oil & gas, chemical, and water & wastewater treatment industries, which, in turn, boosts consumption of pipes and pipe fittings. Robust demand from end-use industries is anticipated to continue over the forecast period.
Unchecked damage in aged fittings can lead to leakages, corrosion, frictions, loss of material, and added pollution to the environment. The replacement of such aged fittings in industrial applications such as oil & gas, chemicals & pharma, power generation, and water and wastewater has been made mandatory. This is expected to create plenty of opportunities for suppliers of pipe fittings over the coming years.
Country-wise Insights
Which is the Most Prominent Market for Pipe Fittings in the Americas?
"Pipe Fitting Suppliers to Gain High Profits in the U.S. Market"
The United States pipe fittings market is projected to expand steadily at 3.9% CAGR during the forecasted period and is set to contribute major volume and value share to the Americas pipe fittings industry.
Over the coming years, it is expected that the U.S. will remain the leading country in the commercial and infrastructure sectors with new investments and developments.
As of February 2019, The U.S. Government released its infrastructure initiative to modernize the infrastructure in the Americas; some of them are Marlin Re-Development, Kings Quay, Anchor, Hokchi, Amoca, Lxachi, and Parque das Baleeias, which will boost demand growth of pipe fitting products.
What is the Potential in Canada for Pipe Fitting Suppliers?
"Canada's Construction Industry Driving High Demand for Pipe Fittings"
Construction is a dynamic industry that contributes significantly to Canada's economic growth. It is an investment-managed sector and involves the assurance of governments and businesses, both, domestic and international, to succeed.
Construction creates development, trade, and infrastructure. These aspects make Canada one of the prominent countries in the pipe fittings market in the Americas.
Which is the Dominant End-use Sector Driving the Mexico Pipe Fittings Market?
"Industrial Sector to Account for High Pipe Fitting Consumption"
According to the study, Mexico's construction, food processing, mining, and automobile manufacturing industries are projected to recover after a significant drop of 17% in 2020.
Persistence Market Research estimates the construction and manufacturing industry will develop by 12% in 2021 as the Mexican economy improves from the COVID-19 crisis, with average annual growth of 3.1% between 2022 and 2025.
Mexico is more dominant in the industrial sector and it contributes around 33% to the pipe fittings market.
Category wise Insights
Which Pipe Fitting Type is Most Preferred in the Market?
"Elbow Pipe Fittings Usage Highest across the Region"
Pipe fittings are categorized into nine fittings types, out of which, elbow pipe fittings are most used and their market share is estimated to be 18.4% among the countries in the Americas.
The elbow pipe fittings segment is expected to expand at a CAGR of around 4.4% and top a market valuation of US$ 5.4 Bn by 2032. As such, sales of elbow pipe fittings are estimated to drive substantial market growth throughout the forecast period.
Which End-use Sector Sees Highest Pipe Fitting Usage?
"Market Growth Mostly Driven by Commercial & Infrastructure Sectors"
Historically, several end-use sectors have been recognized for the high demand growth of pipe fittings in the Americas.
As per this analysis, it has come to be known that the commercial and infrastructure sectors hold around 60% share in the market. These two sectors will continue to account for most of the demand for pipe fittings over the forecasted period as well.
Which Pipe Fitting Function is Most Popular in the Americas?
"Push-fit Pipe Fittings Enjoy Highest Application"
Based on function, push-fit pipe fittings is the most commonly used fitting type across end-use sectors, and the segment is set to hold around 55% of the total pipe fittings industry share throughout the forecast period of 2022-2032.
In most metals pipes, weld pipe fittings are considerably more popular than threaded pipe fittings since most applications call for completely ticking off a line and eliminating all chances of leakage in the system.
Competitive Landscape
Prominent pipe fitting manufacturers are focusing on expanding and are planning to establish new and innovative production facilities across the region.
For example, Future Pipe Industries is focusing on new product development and acquisitions to expand in untapped regions. It is trying to expand its footprint in adjacent markets by enhancing its international sales and service infrastructure.
In May 2019, Saint Gobain PAM started strengthening and expanding its core businesses with targeted acquisitions and product development.
Aliaxis SA is increasing its product and service portfolio through collaborations and new product launches. Moreover, the company has established significant connections with distributors to increase its sales.
The latest study conducted by Persistence Market Research covers all the strategies and success factors of key pipe fitting manufacturers in the market.
Americas Pipe Fittings Industry Report Scope
Attribute
Details

Forecast Period

2022-2032

Historical Data Available for

2017-2021

Market Analysis

USD Million for Value
000' Units for Volume

Key Countries Covered

U.S
Canada
Brazil
Mexico
Peru
Argentina
Chile
Colombia
Rest of Latin America

Key Market Segments Covered

Fitting Type
Material
Function
End Use
Country

Key Companies Profiled

Future Pipe Industries
Saint-Gobain PAM
Aliaxis SA
JM Eagle
United States Fittings
Nakshatra Steel & Alloys
Skipper Limited
LASCO Fittings
Wavin Asia
Victaulic

Report Coverage

Market Forecast
Company Share Analysis
Competition Intelligence
DROT Analysis
Market Dynamics and Challenges
Strategic Growth Initiatives

Customization & Pricing

Available upon Request
Americas Pipe Fittings Industry Research by Category
Americas Pipe Fittings Market by Material:
Steel & Steel Alloys
Copper
Brass
Aluminium
Plastic
Composite
Americas Pipe Fittings Market by Function:
Push-fit Pipe Fittings
Press-fit Pipe Fittings
Others
Americas Pipe Fittings Market by Fittings Type:
Elbow Pipe Fittings
Tee Pipe Fittings
Reducer Pipe Fittings
Union Pipe Fittings
Coupling Pipe Fittings
Adapter Pipe Fittings
Cross Pipe Fittings
Pipe Fitting Caps
Pipe Fitting Flanges
Americas Pipe Fittings Market by End Use:
Pipe Fittings for Residential Use
Pipe Fittings for Industrial Use
Pipe Fittings for Commercial Use
Pipe Fittings for Infrastructure Use
Americas Pipe Fittings Market by Country:
North America Pipe Fittings Market

U.S. Pipe Fittings Market
Canada Pipe Fittings Market

Latin America Pipe Fittings Market

Brazil Pipe Fittings Market
Mexico Pipe Fittings Market
Peru Pipe Fittings Market
Argentina Pipe Fittings Market
Chile Pipe Fittings Market
Colombia Pipe Fittings Market
Rest of Latin America Pipe Fittings Market