North America Quadriplegia Care Devices Market Outlook (2021-2031)
The North American quadriplegia care devices market was valued at US$ 414.5 Mn in 2021, with an estimated growth rate of 5.4% CAGR for the next ten years. As such, revenue from the sales of quadriplegia care devices in the region is predicted to reach US$ 741 Mn by 2031.
| Attribute | Key Insights |
| --- | --- |
| North America Quadriplegia Care Devices Market Size (2020) | US$ 414.5 Mn |
| Estimated Market Value (2021) | US$ 436.2 Mn |
| Projected Market Value (2031) | US$ 741 Mn |
| Market Growth Rate (2021-2031) | 5.4% CAGR |
As projected by Persistence Market Research, hospital beds accounted for more than 27% market share in the North America quadriplegia care equipment market in the year 2020.
Overall demand for quadriplegia care devices in North America accounted for 15.9% share of the spinal cord trauma market, which was valued at US$ 2.7 Bn in 2020.
Sales Analysis of Quadriplegia Care Devices in North America from 2016 to 2020 Vs Market Outlook for 2021 to 2031
The North American market for quadriplegia care devices expanded at a CAGR of 4.8% over the last five years (2016-2020).
Rising prevalence of spinal cord injury necessitates medical items such as robotic arm systems, prosthetics and services based on usability.
According to the data published by the National Spinal Cord Injury Statistical Center at UAB, every year, nearly 17,730 new spinal cord injury cases are recorded in the United States, and between 249,000 and 363,000 people live with an injury.
Moreover, increasing number of trauma cases is another key factors promoting the growth of the North American quadriplegia treatment devices market.
Continuous innovations and technological advancements that address the needs of patients and users are expected to drive the quadriplegia care devices market in terms of sales revenue going forward.
For example, conventional braces and support systems, and also beds, lack some of the techniques, which have been currently fixed accordingly for patients' needs and benefits. Hot and cold therapies provided by new braces continue to dominate conventional braces systems. This dual feature in orthopaedic braces is further expected to favour market expansion over the coming years.
The North America quadriplegia care systems market is expected to expand at a CAGR of 5.4% and record sales worth US$ 741 Mn by the end of 2031.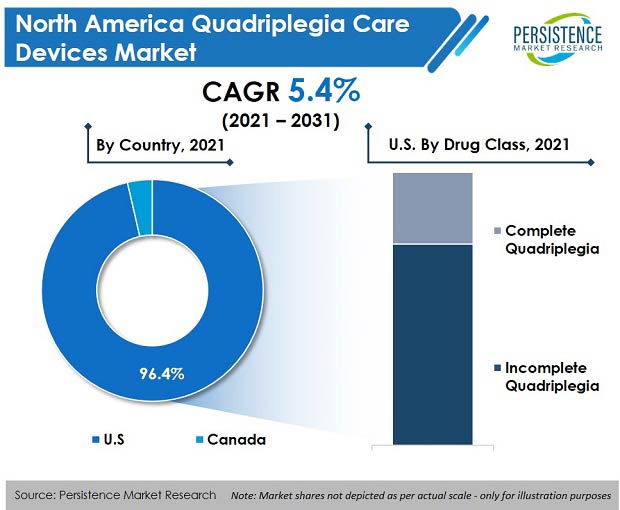 What are the Key Opportunities for Quadriplegia Care Device Manufacturers?
"Increasing Prevalence of Spinal Cord Injuries & Technological Advancements in Products"
Recent developments in research areas such as computer science, robotics, artificial intelligence, and sensor technology have broadened the range of possible applications that support disabled people. Powered wheelchairs have extended the capabilities of standard wheelchairs by introducing control and navigational intelligence.
Advanced quadriplegia devices are specifically intended to improve mobility with high efficiency, and limit stress-strain with flexibility in height. The quadriplegia care devices market in North America is creating huge opportunities for key players owing to the widespread acceptance and adoption of technologically-advanced devices driven by rigorous innovative research practices and earlier launches of products.
In June 2020, Össur launched several innovations such as Balance™ Foot S, Balance™ Foot S Torsion, and Iceross Seal-In® X Locking, specifically designed to aid less-active people suffering from lower-limb loss maintain a balance of safety, comfort, and mobility.
Additionally, there is lack of awareness of osteoporosis among. Few NGOs are working toward spreading awareness about osteoporosis and its diagnosis through quadriplegia care solutions.
The Public Health Foundation Enterprises (PHFE) is working toward imparting awareness regarding osteoporosis among the people in the U.S.
This attempt by NGOs to raise awareness about osteoporosis can create huge demand for quadriplegia care devices in the market of North America.
What is Restraining Demand for Quadriplegia Care Devices in North America?
"Regulations, High Cost of Material-based Braces, and Use of Second Hand Quadriplegia Devices"
Spinal braces used for supporting body weight are well-known for their durability and strength, and are designed using soft materials such as cotton/elastic blends, canvas, and neoprene. Back braces typically range from US$ 40 to US$ 1,000, depending on material type.
For example, the Aspen QuikDraw, a device that allows patients to control and adjust compression, costs US$ 250, while a simple Criss Cross Lumbosacral Supports elastic device costs around US$ 38.
Material cost is an important factor for braces, but the high cost associated with braces might dent market growth in the future.
The FDA has a strong regulatory framework that needs to be followed by companies operating the market. Most new companies face quality and compliance failure issues with established regulatory guidelines. Any failure in GMP compliance leads to obstacles in market authorization. Hence, regulatory agencies are the major barriers to the entry of new comers into the quadriplegia care devices market.
Additionally, a number of quadriplegia care products are left behind each year by deceased patients. These products are often donated to hospitals and other charities or recycling groups. Used quadriplegia care devices can be resold in garage sales or refurbished goods stores. Hence, use of second hand quadriplegia care devices hampers the growth of the North American quadriplegia care devices market to some extent.
Country-wise Insights
Why Do Quadriplegia Care Device Suppliers Need to Focus on the U.S.?
"High Incidence of Quadriplegia in the U.S."
The U.S. quadriplegia care devices market dominated the North American region with a market share of more than 90% in 2020, and is projected to continue experiencing high growth throughout the forecast period.
The country's large share is due to factors such as growing consolidation among healthcare providers, widespread adoption of quadriplegia care devices to reduce rising healthcare costs, and stringent regulations and guidelines imposed by government and non-government authorities.
According to data published by the National Spinal Cord Injury Statistical Center in 2020, 17,500 new spinal cord injuries occur in the United States each year, equating to 54 persons per million in the country.
Furthermore, the presence of a large number of competitors in the market is a major factor in the U.S.'s large share of the quadriplegia care devices market in North America.
What is the Outlook for the Canada Quadriplegia Care Devices Market?
"Increasing Incidence of Spinal Cord Injuries in Canada"
Canada accounted for 3.6% market share by value of the total North American quadriplegia care devices market, and was valued at US$ 15.6 Mn in 2020.
Spinal Cord Injury BC reports that 85,556 people in Canada have spinal cord injuries and 4,529 new cases occur each year.
High prevalence of spinal cord injuries will drive consumption of quadriplegia treatment devices in the country.
Category-wise Insights
Which Quadriplegia Care Product is High in Demand?
"High Demand for Hospital Beds across the Continent"
Hospital beds are driving the growth of the North American market for quadriplegia treatment devices, wherein, they accounted for 27.7 market share in the year 2020.
Growth of this segment is primarily attributed to the availability of technologically-advanced beds such as computer-controlled beds and self-rotating beds designed specifically for paraplegic and quadriplegic care.
Unique hospital beds for spinal cord injuries provide natural nocturnal motion of the body, improved quality of sleep, and reduce many health risks associated with spinal cord injuries.
Which Indication is Most Common in Quadriplegia Care?
"Sports Injuries & Car Accidents Most Common Cause of Incomplete Quadriplegia"
Incomplete quadriplegia accounted for 73.8% market share in the year 2020, and the segment is expected to expand at a CAGR of 5.1% over the forecast period.
Sports injuries and car accidents are the most common causes of incomplete quadriplegia, which can manifest themselves differently in each person. Some have mild lesions and are able to move and feel areas below their injury, while others suffer from more severe cases.
The Miller School of Medicine reported that car accidents accounted for 38.6% of injury cases, followed by falls and acts of violence. Incomplete quadriplegia is the most frequent and accounts for 47.2% of cases stated by Miller.
Competitive Landscape
Strategic acquisition and agreement activities are being seen among key quadriplegia care device manufacturers. These collaborative activities incorporate companies allowing technology transfer and exchange of rights of sale, installation, training, servicing, and repairing services to regional players and third-party service vendors.
The market is dominated by players who have a strong product portfolio and patented technologies dedicated to the development of quadriplegia care devices, along with regional service and support facilities.
Some of the instances are:
In November 2020, Medtronic plc completed the acquisition of Medicrea to provide a comprehensive spine solution that includes AI-driven surgical planning, personalised spinal implants, and robotic surgery.
In February 2021, Hillrom announced the acquisition of EarlySense's contact-free continuous monitoring technology.
In October 20219, Invacare Corporation signed a multi-year agreement with Birlasoft. Birlasoft will help Invacare speed its business transformation by upgrading technology and taking over service desk management.
In June 2021, Össur introduced Balance™ foot prostheses specifically for less-active people with limb loss and limb difference.
Key players operating the North American quadriplegia care devices market are working toward partnerships to build on a leadership position in acute patient services with the addition of innovative devices.
In May 2021, Ekso Bionics® announced an expanded partnership with Kindred Healthcare for Multi-unit Eksonr Order to empower patients recovering from acquired brain, stroke, and spinal cord injuries to learn to walk again with a more natural gait.
North America Quadriplegia Care Devices Industry Report Scope
Attribute
Details

Forecast Period

2021-2031

Historical Data Available for

2016-2020

Market Analysis

US$ Million for Value

Key Countries Covered

Key Market Segments Covered

Product
Indication
End User
Country

Key Companies Profiled

ReWalk Robotics
Ekso Bionics
Indego (Parker Hannifin Corporation)
Rex Bionics Ltd.
Caltech
Össur
Steeper Inc
Boston Scientific Corporation
Medtronic Plc
Ottobock
RGK Wheelchair

Report Coverage

Market Forecast
Competition Intelligence
DROT Analysis
Market Dynamics and Challenges
Strategic Growth Initiatives

Customization & Pricing

Available upon Request
Key Segments in North America Quadriplegia Care Devices Industry Survey
North America Quadriplegia Care Devices Market by Product:
Stimulation Devices

Spinal Cord Stimulators
Functional Electrical Stimulation (FES) Systems

Assistive Devices

Exoskeletons
Robotic Arm Systems
Prosthetics

Upper Limb Prosthetics
Lower Limb Prosthetics

Mobility Devices

Wheelchairs
Crutches & Walkers
Gait Trainers

Hospital Beds
Transfer Bench and Boards
Braces & Supports
Orthopaedic Splints
Others Supportive Devices
North America Quadriplegia Care Devices Market by Indication:
Incomplete Quadriplegia
Complete Quadriplegia
North America Quadriplegia Care Devices Market by End User:
Rehabilitation Centres
Assistive Living Facilities
Long-term Care Centers
Home Care Settings
North America Quadriplegia Care Devices Market by Country:
U.S Quadriplegia Care Devices Market
Canada Quadriplegia Care Devices Market