North America Fire Pump Market Outlook (2022-2032)
Sales of fire pumps across North America are predicted to increase at a CAGR of 3.8% through 2032. As such, by that time, the North America fire pump market is expected to reach a valuation of US$ 768.5 Mn.
The U.S. fire pump market is estimated to account for more than 78% of the North American market share. Overall, fire pump sales revenue in North America accounts for 16%-22% share in the global fire pump market.
| Attribute | Key Insights |
| --- | --- |
| North America Fire Pump Market Size (2021A) | US$ 514.5 Mn |
| Estimated Market Size (2022E) | US$ 528.7 Mn |
| Projected Market Value (2032F) | US$ 768.5 Mn |
| Value CAGR (2022-2032) | 3.8% |
| Collective Value Share: Top 3 Countries (2022) | 42.3% |
Sales Analysis of Fire Pumps from 2017 to 2021 Vs Market Projections for 2022 to 2032
From 2017 to 2021, the market for fire pumps in North America decreased at -0.3% CAGR, and is estimated to experience Y-O-Y growth of 2.7% in 2022. Economic slowdown in 2019 and the COVID-19-induced economic slump resulted in the historic period (2017-2021) witnessing a negative growth rate.
A fire pumps is a type of special motor-driven application that is an essential component of building safety systems. They are required to be installed by both, the U.S. (NSPA 20) and Canadian (National Building code, Section 32) building regulations. During a fire, fire pumps are used to keep the water pressure in the sprinklers and standpipes at the required level. Building codes also specify where fire pump engines and fire pump controllers are required to be set up.
Building codes are becoming stricter with rising urbanization and infrastructure progress. Growing population concentration has also forced governments to focus more on human safety, thereby driving consumption of fire pumps in North America.
Macro-economic factors such as strengthening U.S. dollar and North America home sales reaching record highs have positively impacted fire pump sales in the region.
Global warehouse inventory is rising in across industries and production locations, spurring the construction of new warehouse facilities and increasing the sales of fire safety equipment. As a result, fire pump installations are also increasing.
The fire pump market in the region benefits from key drivers of economic activity, including consumption, e-Commerce, supply chain modernization, and urbanization. As a result, consumption of fire pump engines in North America is set to increase at 3.8% CAGR over the next 10 years.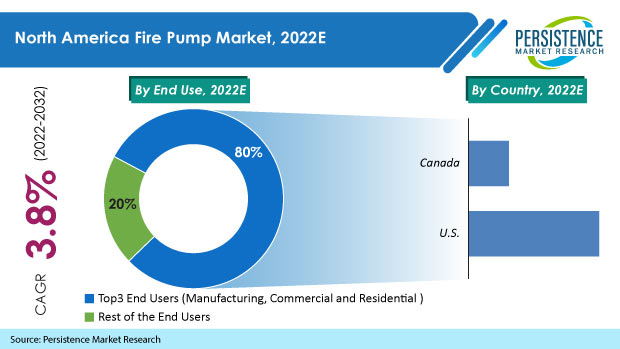 Which Trends Will Play a Pivotal Role in Boosting Fire Pump Sales in North America?
"Rising Use of IoT-enabled & Cloud-based Fire Monitoring Solutions"
Digitalization and the Internet of Things will become the heart of industrial automation over the coming years. Demand for more sustainable choices from both, the demand and supply sides, will drive considerable growth of IoT-enabled fire pumps.
Cloud-based fire pump monitoring solutions have already been implemented by leading firms such as Peerless. This allows businesses to monitor and get fault notices for their fire pumps' operational characteristics and service requirements from anywhere over the Internet through fire pump controllers.
What Challenges are Being Faced by Fire Pump End Users in the Region?
"High Maintenance Cost of Fire Pumps Denting Market Progress"
No-flow/churn testing is required by NFPA 25 for most electric fire pumps and weekly for diesel fire pumps. Technicians record pressure gauge readings, check packing glands for discharge, tighten gland nuts, listen for strange noises, and carry out other tasks to ensure that the fire pumps are working properly.
On an average, fire pump churn testing costs US$ 1,200 for electric fire pumps and US$ 7,800 for diesel fire pumps, every year. This high cost of maintenance, particularly for diesel fire pump systems, has been a constant issue faced by users, which is negatively impacting fire pump demand in the North American region.
Country-wise Insights
Where Does the U.S. Stand in the North American Market for Fire Pumps?
"United States Holds Over Two-thirds Market Share in the Region"
The United States accounted for around 78.3% of the North American fire pump market share in 2022. The market is estimated to create an absolute dollar opportunity worth US$ 180.5 Mn by the end of the forecast period.
In 2020, the U.S. witnessed 1,388.5 thousand fire incidents and property loss of an estimated US$ 21.9 Bn. The U.S. government has prioritized its focus on saving human life. NFPA (National Fire Protection Association) has rolled out certain standards and building codes for fire pump usage on any property, which has been driving the market in the country.
The U.S. dollar has continually strengthened over the last 12 months straight, and this has reduced the price of imports in the country. However, it has negatively impacted exports, and U.S. products exported might struggle to hold on to their market share with the strengthening of the dollar.
What is the Outlook for Fire Pump Manufacturers in Canada?
"Sales of Fire Fighting Water Pumps in Canada Higher Than Region Average"
The Canada fire pump market is expected to expand at a higher CAGR of 4.3% and gain a 100 BPS through the forecast period.
According to most recent statistics on fire incidents, structural fires are the most prevalent type of fire, accounting for an average of 60% of all fires. Commercial and residential fires are the most common types of structural fire incidents in Canada.
Manufacturing, metals and mining, and real estate (commercial and residential) are estimated to witness significant growth over the forecast years, owing to the growing population and rising disposable income in the country, which will create lucrative opportunities for fire pump suppliers in the country.
Category-wise Insights
Which Fire Pump Type Will Dominate the Market Over the Forecast Period?
"Higher Demand for Horizontal Split Case Fire Pumps"
By pump type, horizontal split case will dominate the market through the forecast period. The horizontal split case segment is set to account for around 69% share on a value basis by 2032.
Horizontal split case pumps are used extensively in both, industrial as well as real estate applications.
High efficiency, low maintenance (top of the casing can be removed so internal components are exposed without disturbing the suction or discharge piping, or moving the motor), long operation life, among others, are factors driving horizontal split case fire pump demand.
Which End Use Will Remain Most Profitable for Fire Pump Suppliers?
"Higher Demand for Horizontal Split Case Fire Pumps"
According to the research, the commercial sector remains the top consumer of fire pumps in North America. The segment is anticipated to remain dominant throughout the forecast period as well.
Commercial segments include educational institutions, corporate offices, lodging, multiplexes, amusement parks, airports, rail, and metro stations, among others, which are prominent locations for the installation of fire pumps. As such, commercial use of fire pumps and fire fighting water pumps accounts for the largest share in the North American market.
The commercial segment is set to expand at a CAGR of 4.1% and create an absolute dollar opportunity worth US$ 96.1 Mn by 2032.
Impact of COVID-19 Crisis
The fire pump market supply chain was severely impacted in North America by the pandemic as well as larger global market supply and demand dynamics, and is projected to continue to be negatively impacted.
The COVID-19 pandemic's intensity, magnitude, and length, as well as its economic repercussions, are unknown, and the pandemic's current and future impacts on the fire fighting water pump market, financial situation, operating performance, and stock price are also unknown and difficult to predict.
Companies engaged in restructuring actions throughout their businesses during the second quarter of 2020 in response to changes in business and economic conditions resulting from the COVID-19 pandemic.
The last few quarters of 2021 witnessed a slight recovery, but uncertainty regarding the supply chain and market growth remains, which is negatively impacting market progress.
Competitive Landscape
The North America fire pump industry is gaining momentum with the presence of several big, medium, and small-scale system developers, manufacturers, and service providers. Prominent fire water pump manufacturers are collaborating and partnering with service providers and regional dealers for better market opportunities.
North America Fire Pump Industry Report Scope
Attribute
Details

Forecast Period

2022-2032

Historical Data Available for

2017-2021

Market Analysis

US$ Million for Value

Key Region Covered

North America

Key Countries Covered

Key Regions in the U.S.

Western
North West
South West
South East
Mid-West
Mid Atlantic
North East

Key Market Segments Covered

Type
Rating
Power Source
Product Type
End Use
Country

Key Companies Profiled

Xylem Inc.
Pentair Ltd.
Cummins Fire Power
Armstrong Fluid Company
Peerless Pump Company
W.S. Darley & Co.
Wilo SE
Ruhrpumpen Group
SPP Pumps

Report Coverage

Market Forecasts
Brand Share Analysis
Competition Intelligence
DROT Analysis
Market Dynamics and Challenges
Strategic Growth Initiatives

Customization & Pricing

Available upon Request
Key Segments Covered in North America Fire Pump Industry Survey
North America Fire Pump Market by Type:
Horizontal Split Case
Vertical Split Case
Vertical In-Line
Vertical Turbine
End-Suction
North America Fire Pump Market by Rating:
Up to 500 gpm
500 to 1,000 gpm
1000 to 1,500 gpm
Above 1,500 gpm
North America Fire Pump Market by Power Source:
Fuel Powered Fire Pumps
Electric Powered Fire Pumps
North America Fire Pump Market by Product Type:
Portable Fire Pumps
Fixed Fire Pumps
Skid Fire Pumps
North America Fire Pump Market by End Use:
Manufacturing

Automotive and Transportation
Chemicals
Pulp and Paper
Electrical and Electronics
Pharmaceuticals
Others

Petroleum Refining
Metals and Mining
Commercial

Educational Institutions
Corporate Offices
Lodging, Multiplex and Amusement Park
Airport, Rail, and Metro Stations
Others

Residential
North America Fire Pump Market by Country:
U.S. Fire Pump Market
Canada Fire Pump Market