North America Dry Mix Mortar Market Outlook (2021-2031)
Dry mix mortar sales in North America were valued at around US$ 34.8 Bn at the end of 2021. The market is projected to register 4.7% CAGR and top a valuation of US$ 55 Bn by 2031.
| | |
| --- | --- |
| Dry Mix Mortar Market Size (2020A) | US$ 33.45 Bn |
| Projected Year Value (2031F) | US$ 55 Bn |
| Value CAGR (2021-2031) | 4.7% |
| Collective Share of Key Market Participants | 63% |
Consumption Analysis of Dry Mix Mortar from 2016 to 2020 Vs Market Outlook for 2021 to 2031
Revenue from dry mix mortar sales in North America increased at 0.8% CAGR over the past 5 years to reach US$ 33.45 Mn in 2020. Growing construction and infrastructure industry is a key factor responsible for premixed dry mortar market growth.
The COVID-19 pandemic had an impact on market growth in 2020, resulting in a fall in CAGR. Owing to significant impact of the pandemic on the construction sector, demand for dry mix mortar technology and products was registered to be low during 2016 and 2020.
Demand for living spaces has been spurred by high population growth, which has boosted the construction of residential and commercial structures. Expansion of the construction industry has driven demand for ornamental materials all around the world.
Green construction approaches are increasingly being used by building construction businesses to create energy-efficient structures at lower construction costs. Green construction is the technique of creating energy-efficient structures with low environmental impact by employing sustainable building materials and construction procedures.
Overall, the North America market for dry mix mortar is set to expand at 4.7% CAGR through 2031.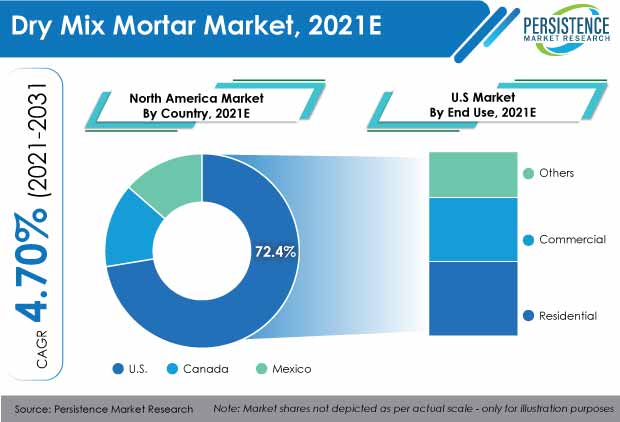 What are the Key Opportunities for Dry Mix Concrete Manufacturers in North America?
Large public infrastructure programs are expected to increase in North America, providing greater opportunity for public-private partnerships to fund new projects. Developing areas might focus their efforts on boosting intra-regional commerce. This is likely to boost the region's building industry even more, as well as provide increased prospects for dry mix mortar suppliers.
Mexico and Canada are adopting numerous measures and reforms in order to strengthen their infrastructure sector. Some of the prominent measures in line with this strategy involve those focused toward the improvement of roadways, bridges, airports, etc. They are focusing on implementing measures to liberalize regulations in order to attract new investors in the dry sand and cement mix industry.
Apart from the above, government initiatives and rising demand for the render in dry mix mortar is expected to drive growth opportunities over the forecast period. Rendering is used in building to generate deliberately smooth and textured surfaces, and the use of dry mix mortar for rendering is expanding.
Furthermore, use of dry mix mortar products is cost-effective since they decrease potential building concerns with long-term structural integrity through a simple material approach. Thus, emerging applications of dry mix mortar are also anticipated to boost consumption rate over the coming years.
What is Hindering Market Growth of Premixed Dry Mortar to Some Extent?
The cyclic nature of the construction industry along with stringent regulatory processes are hampering the growth of new construction projects to a certain extent. This is expected to result in relatively lower demand for dry mix mortar for construction purposes, which, in turn, is likely to affect the growth of the U.S. and Mexico construction industry, thereby affecting the market for dry mix mortar in these countries.
Several contractors are proposing construction projects near forest areas resulting in animal and plant destruction, which is resulting into controversies. These are expected to hamper market expansion in the near future. The process of obtaining approvals for construction projects involves a relatively longer timeline, spanning to a few months or years, as it has to go through around 34 regulatory processes.
These factors are estimated to impact the dry mix concrete market growth to a certain extent during the forecast period.
How are New Manufacturing Trends Impacting Dry Mix Mortar Consumption?
The key to success for dry mix mortar manufacturers is predicted to be strategic positioning in regional and national markets and business lines. By developing a strong position in regional markets and businesses, major market players are concentrating on expanding their business portfolios by establishing new plants in foreign markets and acquiring other manufacturers to expand their market presence. Partnerships & collaborations are also being prioritized by key players, which is projected to boost their market stance.
To meet growing market demand, key dry mix mortar suppliers are investing a substantial share of their revenue in R&D. Majority of well-known firms devote 3% to 5% of their yearly revenue to research & development in order to create new and creative products, technologies, solutions, and processes. Key firms also invest in the development and establishment of technical centres to work on research & development and solve the growing issues that end users confront.
Country-wise Analysis
Why are Dry Mix Mortar Manufactures Thriving in the U.S.?
"Surging Infrastructure in U.S. Driving Consumption of Ready Mix Concrete"
The U.S. is anticipated to remain a prominent market in North America. The U.S. contributed around 72.4% to the total revenue generated from the sales of dry mix mortar across North America in 2021. Strong growth of the manufacturing sector in the country has boosted the production volume of fillers, binders, chemical additives, and pigments.
An increase in the number of housing and infrastructure projects, enhancement of public transportation facilities such as roads and railways, as well as the construction of airports are expected to result in significant investments in tunnelling and road development, among other projects, across the country. Increased building of ports, bridges, flyovers, dams, and other infrastructure will also support market growth.
Why Does Mexico Account for a Significant Market Share?
"Green Building Movement Augmenting Dry Mix Mortar Sales in Mexico"
In 2021, dry mix mortar demand in the Mexico increased 4.2% year-on-year, bucking initial scepticism about how the market would perform during a global pandemic crisis. Significant growth in the construction of residential, institutional and commercial buildings had boosted the consumption rate of premixed dry mortar. Mexico, like other growing and developing economies, is moving toward greener and more environmentally friendly building activities.
The green building movement has been adopted by the construction sector. Green building materials are becoming more popular in the construction industry as a solution to environmental issues such as climate change, natural resource depletion, increased atmospheric pollution, contamination of freshwater resources, and biodiversity loss.
Category-wise Insights
Which End-use Industry is Driving Premixed Dry Mortar Demand Growth?
"Construction & Infra Sector – Leader in Demand for Dry Mix Mortar"
Ready mix concrete is widely used in the construction & infrastructure industry. In terms of end-use industry, residential is expected to witness highest growth owing to rising population, growing per capita income, and rapid urbanization.
Dry mix mortar is used as plasters, joint mortars, floor screeds, tile adhesives, and other uses in the construction of residential buildings. Binders, fillers, pigments, and additives are also employed on a large scale.
Dry mix concrete is expected to witness growing demand as the construction industry and infrastructure sector expand to accommodate the increasing urban population, since these materials are used in various parts of a residential, commercial, and institutional buildings, and industrial and infrastructure projects.
Overall, demand for dry mix concrete from the residential sector is expected to reach 230 Mn tons by 2031 in North America.
Which Application of Dry Mix Mortar Will Remain Significant?
"Plaster to Account for Major Market Share in Dry Ready Mix Mortar"
Dry mix mortar is most widely used in commercial, residential, and institutional buildings. The plaster segment accounted for around 29.3% of the demand in North America in the year 2021.
Plaster is estimated to remain a key application of dry mix mortar. It is used to protect coatings as well as decorate interior and exterior walls and ceilings. The raw materials for these plasters are dry mix mortar. Plaster is made up of a mixture of lime, gypsum, or cement, as well as sand and water.
With the growth of the construction and infrastructure industry, plaster manufacturers are also expected to witness significant growth opportunities in the forecast period.
Did COVID-19 Dent the Sales Prospects of Dry Ready Mix Mortar?
Worldwide demand for construction materials, such as ready mix concrete, experienced a decline in 2020, but is expected to rebound quickly following the pandemic, owing to increased demand for residential and commercial building development, as well as from the infrastructure industry.
Competitive Landscape
Key dry ready mix mortar providers are focusing on strategic expansions to increase their geographical presence through acquisitions, mergers, and collaborations. Moreover, some manufacturers are engaged in the development of new and innovative products through research & development activities to introduce new products.
Some of the key developments are:
In 2021, Laticrete merged with Supercap and formed Laticrete Supercap, focusing on bringing in more technology in the building industry by introducing self-leveling underlayment cement-based products designed for capping new and existing interior concrete surfaces.
North America Dry Mix Mortar Industry Report Scope
Attribute

Details

Forecast Period

2021-2031

Historical Data Available for

2016-2020

Market Analysis

US$ Mn for Value
Kilo Tons for Volume

Key Regions Covered

North America

Key Countries Covered

Key Market Segments Covered

Raw Material
Application
End Use
Country

Key Companies Profiled

Laticrete International Inc.
Dow Inc.
Normet
Minerals Tech Inc.
Wacker
Ardex Group
BASF SE
Knauf Gips KG
Nordkalk GmbH
Kourasanit
WAMGroup S.p.A
Colmef Monelli
MAPEI SpA
Laviosa
Cimprogetti
Colacem Spa
HeidelbergCement
LafargeHolcim Ltd.
Ash Grove North
Lehigh
Graymont
Milman Industries
Votorantimcimentos
CRH
Holcim
Cemolins
LKAB Minerals
Ciaries

Pricing

Available upon Request
Key Segments Covered in Dry Mix Mortar Industry Research
North America Dry Mix Mortar Market by Raw Material:
Binders

Cement
Slag
Pulverised Fuel Ash
Gypsum & Anhydrite
Hydrated Lime
Polymer

Fillers

Silica/Quartz Sand
Limestone Powder
Silica Powder
Bentonite
Perlite
Others

Chemical Additives

Cellulose Ester
Superplasticizer
Thickening Agents
Accelerating Agents
Retarding Agents

Pigments
North America Dry Mix Mortar Market by Application:
Plaster
Thin Joint Mortar
Floor Scurred
Stuccos
Cement Grout
Tile Adhesives
Water Proofing Slurry
Crack Fillers
North America Dry Mix Mortar Market by End Use:
Dry Mix Mortar for Residential Use
Dry Mix Mortar for Industrial Use
Dry Mix Mortar for Commercial Use

Educational & Institutional
Medical & Healthcare
Others

Dry Mix Mortar for Infrastructure
North America Dry Mix Mortar Market by Country:
U.S. Dry Mix Mortar Market
Canada Dry Mix Mortar Market
Mexico Dry Mix Mortar Market