Automotive Cyber Security Market
Global Market Study on Automotive Cyber Security: Rising Use of Electronic Control Units Driving Market Growth
Automotive Cyber Security Market Segmented Hardware Security Modules, Secure Vehicle Network Gateways, Trusted Platform Modules as Hardware and Embedded Firewalls, Encryption & Cryptography, Biometrics & Authentication as Software and Professional Services, Managed Security Services
Automotive Cyber Security Market
About the Report
Rising demand for enhanced security and safety features in connected cars is expected to increase the adoption of automotive cyber security solutions over the coming years. Global sales of electronic vehicle (EVs) have grown more than 2 million units globally in 2018, which is expected to increase further over the coming years. Constant rise in EV production across the world will leading to surging demand for automotive cyber security solutions across geographies, with use in infotainment systems leading the way.
In its new study, Persistence Market Research offers insights about key factors driving demand for automotive cyber security solutions. The report tracks global sales of automotive cyber security products in 20+ high-growth markets, along with analyzing the impact of COVID-19 on this space, with a pre-COVID and post-COVID market growth analysis.
Find Out More about the Report Coverage
Companies
Continental (Argus Cyber Security)
Guardknox Cyber Technologies Ltd.
Vector Informatik GmbH
Karamba Security
Synopsys
Upstream Security
Sectigo Limited
ESCRYPT
RunSafe Security, Inc.
Trend Micro
Harman International
Trillium Secure Inc.
STMicroelectronics
Infineon Technologies AG
NXP Semiconductors
Bosch Mobility Solutions
Microchip Technology
Aptiv
Irdeto
Historical Trends Vs Future Projections
From 2016 to 2020, the global automotive cyber security market registered a CAGR of 8.9%. Rise in the adoption of connected vehicles has fueled demand for automotive cyber security solutions.
Over the past few years, the automotive industry has become more advanced, and the amount of information autonomous vehicles generate, analyze, and process is much higher, and will continue to grow over the coming years. Alongside this growth, evolving cyber-risks are a significant problem, and to deal with highly sophisticated attacks, automotive companies and cyber security tech players are continuously collaborating with each other to develop advanced automotive cyber security solutions to ensure the highest level of security in connected vehicles.
For instance, in June 2020, Kaspersky collaborated with AVL Software and Functions GmbH (AVL SFR) to integrate KasperskyOS (Kaspersky's operating system) into an Electronic Control Unit (ECU) of an Advanced Driver-Assistance System (ADAS).
Owing to rise in cyber-attacks in the automotive sector, automotive cyber security solution demand is likely to increase rapidly over the coming years.
Customize this Report
Explore Intelligence Tailored to Your Business Goals.
How Will Adoption of ADAS Technology Impact Demand for Automotive Cyber Security?
Automated Driver Assistance System (ADAS) technology is the next big transformation that the global automotive industry is going to see, apart from electric mobility. ADAS is a technology that enables vehicles to be automated, safer, and enhanced with safe driving. Sensors, processors, actuators, mapping systems, and various software systems come together to make this possible. One of the reasons for increasing demand for ADAS is rising interest in road and traffic safety, both, at the level of governments and individuals.
However, ADAS exposes a large attack surface, and cybersecurity weaknesses could have devastating consequences. It is paramount that, in this technological sector, as in all others, security is a priority. Automotive cybersecurity is not only a key requirement but a crucial pre-requisite for safe ADAS and future self-driving cars. There will be no safety without cybersecurity. Thus, several OEMs are collaborating with cybersecurity companies to develop advanced ADAS vehicles to ensure the highest level of safety and security.
For instance, in 2018, BMW raised its R&D spending in electric and autonomous vehicles to around US$ 8 billion.
Market Research Methodology - Perfected through Years of Diligence
A key factor for our unrivaled market research accuracy is our expert- and data-driven research methodologies. We combine an eclectic mix of experience, analytics, machine learning, and data science to develop research methodologies that result in a multi-dimensional, yet realistic analysis of a market.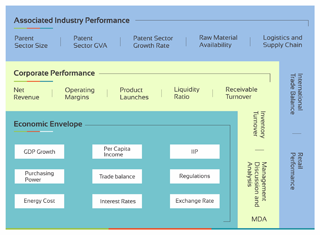 What are the Technological Development by OEMs?
Connectivity is emerging as a key competitive differentiator in today's automotive market. The automotive industry is moving toward connected vehicle technologies such as V2I (vehicle-to infrastructure), V2V (vehicle-to-vehicle), V2P (vehicle-to-pedestrian), and V2D (vehicle-to-device). To implement these next-generation technologies in vehicles, automotive OEMs, telecom service providers, and IT service providers are coming together. Moreover, it has been observed that, many automotive brands are adopting more collaborative ways of working toward innovations in connected car technology. These advancements in the automotive industry are projected to fuel demand for automotive cyber security solutions across the globe.
For instance, BMW, one of the leading brands in the connected car market, has made BMW ConnectedDrive an open-source platform, enabling businesses to develop apps and services.
In April 2014, Google launched the 'Open Automotive Alliance', a global alliance of technology and automotive companies, including Audi, GM, Honda, and Hyundai.
Explore Persistence Market Research's expertise in promulgation of the business !
How are Stringent Data Privacy Regulations Boosting Market Growth?
Connected vehicles have created a new ecosystem within the automotive industry. Although adding connectivity to vehicles has its benefits, it also has its set of challenges. By adding connectivity, there can be issues with security, privacy, and data analytics and aggregation due to the large volumes of information being accessed and shared. Cyber-attacks and data breach incidents will pose severe risks to the automotive industry, as they directly impact driver safety, data privacy, and service continuity. Hence, proper guidelines and regulatory mandates will be critical to ensuring the safety and security of automotive customers in the near- to long-term future. Unfortunately, there has been lack of clear and enforceable standards in the automobile industry.
However, over the past few years, several agencies such as the National Highway Traffic Safety Administration, European Union Agency for Network and Information Security, and European Automobile and Manufacturer's Association have introduced various regulations related to automotive cybersecurity, including ISO/SAE 21434 and WP.29 regulations. There are many cybersecurity players present in the market to help OEMs secure their vehicles at the design/development phase. OEMs are also continuously adopting advanced cyber security solutions to become compliant with all automotive security regulations.
What Factors are Adversely Affecting Demand for Automotive Cyber Security?
One of the major factors hampering growth and adoption of automotive cyber security is the lack of experienced & skilled cybersecurity professionals.
Talent shortage is one of the main reasons behind the growth of cybersecurity incidents in the automotive industry. The current cybersecurity workforce shortage and cybersecurity skill gap continues to widen. Automobile manufacturing companies suffer from a severe shortage of skilled cybersecurity professionals. According to German automotive engineering company ESG, nearly half of the organizations polled in 2016 claimed that they have a "problematic shortage" of cybersecurity skills, a sharp rise from 28% in 2015. Moreover, according to a survey conducted by Capgemini, cybersecurity tops the list of technical skills in high demand.
Vehicle manufacturers are not making enough investments in cybersecurity training, partly because they believe trained professionals will leave for better job prospects. The ability to prevent cyber-attacks depends on the availability of a highly skilled cybersecurity workforce; therefore, it is highly essential to include cybersecurity in all education systems to meet emerging demands in the automotive sector.
Multi-Layered Security for Defence from Data Thefts
According to Proofpoint, around 146 million connected vehicles are projected to take to the roads by 2030, making automotive security more important than ever. Also, as connected vehicles are continuously evolving and becoming more technologically advanced—requiring hundreds of millions of lines of software code to operate and power advanced features—the number of potential cyber security threats will grow as well.
Overall automotive cyber security is derived into three areas that include authentication and access control; protection from external attacks; and detection & incident response. Thus, to ensure security across all these areas, having a multi-layer security approach is becoming more important. This approach includes secure internal and external communications, use of embedded intrusion detection and prevention systems, facilitate authentication, secure system updates, and secure operating systems. This multi-layered security strategy allows car manufacturers to identify weak links and block any attack, thus providing a safe and reliable driving experience for consumers.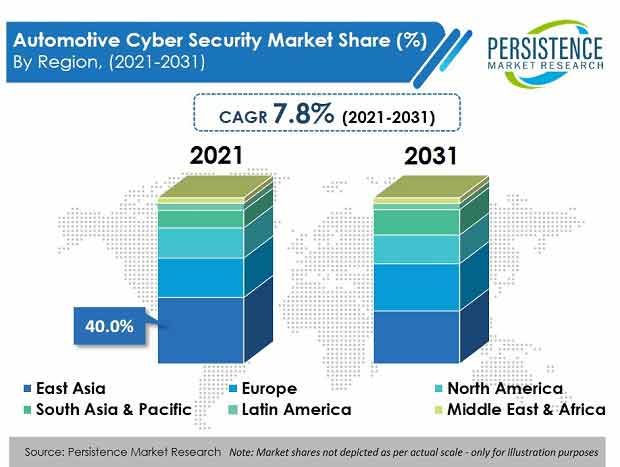 Country-wise Analysis
What Makes the U.S. a Huge Market for Automotive Cyber Security Solutions?
Until 2020, automotive cyber security value across the United States experienced a Y-o-Y growth of 9.6% to cross US$ 1.5 Bn. The market is set to further debase at a CAGR of 6.7% through 2031. Persistence Market Research has projected the U.S. to remain one of the most lucrative markets in North America throughout the course of the forecast period, as the U.S. has one of the largest automotive markets in the world.
Historically, the U.S. automotive industry has contributed 3 – 3.5 percent its overall GDP. The industry directly employs over 1.7 million people engaged in designing, engineering, manufacturing, and supplying parts and components to assemble, sell, and service new motor vehicles. Thus, higher production of automobiles in the country is expected to increase the adoption of cyber security solutions.
What are the Automotive Production and Cyber Security Trends in the U.K.?
The UK automotive sector has enjoyed unprecedented success in the recent years. The industry puts significant emphasis on digitalization. There is a diverse range of vehicle manufacturers in the U.K. including– Nissan, Toyota, Honda, BMW, and Vauxhall, along with local premium manufacturers such as Jaguar, Land Rover, Aston Martin, Bentley, McLaren, and Rolls Royce, amongst others.
Digitalization has been adopted by several automotive companies in the U.K. to enhance competitiveness through productivity gains and enhanced customer service. Moreover, stringent U.K. government regulations for data privacy have made all manufacturers in the country offering connected cars put greater emphasis on ensuring that the systems used in their vehicles are secure and well-updated with the latest standards. Thus, several car manufactures are focusing on the adoption of several cyber security technologies, which would drive the automotive cyber security market in the country, which is estimated to reach a valuation of over 330 Mn by the end of 2031, registering a CAGR of around 8%.
Why are Automotive Cyber Security Providers Eyeing China?
China is estimated to record an incremental opportunity worth more than US$ 920 Mn over the forecast period, as the country has been the world's largest automotive manufacturing country and automotive market since 2009. China's automotive industry has been growing rapidly, and the country is playing an important role in the global automotive market. According to the Ministry of Industry and Information Technology (MIIT), China's countrywide automotive sales have broken through the benchmark of 28 million in 2016, globally ranking first for eight consecutive years.
China's automobile market has attracted many well-established foreign brands to invest in their automobile production in China. However, most foreign brands are only allowed to produce their vehicles in China by establishing joint ventures with domestic automobile manufacturers.
Thus, continues rise in automobile production in China has created huge opportunity for cyber tech players to enter into China's automotive market. China's government is continuously focusing on developing new regulations in the automotive security sector, which would drive demand for automotive cyber security systems in the country.
Will Increasing Connected Vehicles in India Surge Demand for Cyber Security Solutions?
India is estimated to register high growth at a CAGR of more than 13% during the forecast period, owing to rise in domestic automobile production across the country. The automobile industry in India is the world's fourth-largest. India was the world's fourth-largest manufacturer of cars and seventh-largest manufacturer of commercial vehicles in 2019.
The automotive sector in India is considered as the backbone of the Indian manufacturing industry, contributing 7.5% of the GDP. Deloitte's Global Automotive Customer Research for 2020 shows that, two out of three Indians are likely to be willing to pay up to INR 50,000 (close to US$ 700) for connected technologies.
Growing importance of seamless online and offline vehicle experience brings a huge opportunity for connected vehicles to grow in India. Thus, with increasing number of connected vehicles in the country, demand for automotive cyber security solutions is also expected to increase over the coming years.
Category-wise Insights
What is the Share for Infotainment Systems in Automotive Cyber Security?
By application, infotainment systems held the largest market share of 35.4% in 2020, owing to growing advancements in these systems. Use of smartphones and aggrandized use of cloud technology is significantly boosting the growth of the global in-car infotainment market. It has improved system response times, when interacting with infotainment systems.
Shift from simple audio systems to touchscreen infotainment systems that support multiple features such as navigation, Apple CarPlay, Android Auto, Telematics, etc., is driving demand for infotainment systems across geographies.
Market Share Analysis of Automotive Cyber Security Vendors
The automotive cyber security market is highly concentrated in nature, and this can be attributed to the majority share held by local and emerging automotive cyber security solution and service providers. Companies that hold a market share of 5% to 10% are tier-1 companies, and this group includes players such as Continental, STMicroelectronics, Vector Informatik GmbH, Infineon Technologies, and Trend Micro.
Companies with a market share of above 3% and below 5% are promising players. These companies are likely to showcase a quick growth trend and harness the opportunities that the global market has to offer to accommodate business expansion and revenue generation. This group includes Synopsys, Upstream Security, Aptiv, and ESCRYPT.
Companies that have a relatively lower size with a market share worth less than 3% are strategizing to attract new clientele in foreign markets. Companies in this group are Guardknox Cyber Technologies Ltd, Karamba Security, and Sectigo Limited, among others.
Competition Landscape
Persistence Market Research has profiled the following prominent automotive cyber security providers in its report:
Continental (Argus Cyber Security)
Guardknox Cyber Technologies Ltd.
Vector Informatik GmbH
Karamba Security
Synopsys
Upstream Security
Sectigo Limited
ESCRYPT
RunSafe Security, Inc.
Trend Micro
Harman International
Trillium Secure Inc.
STMicroelectronics
Infineon Technologies AG
NXP Semiconductors
Bosch Mobility Solutions
Microchip Technology
Aptiv
Irdeto
These aforementioned players rely on multiple expansion strategies to deepen penetration across lucrative markets. These strategies include product launches, collaborations with key players, partnerships, acquisitions, and strengthening of regional and global distribution networks.
In December 2020, Karamba Security unveiled its XGuard Monitor platform for fleet-wide security management. The company also announced that XGuard Monitor will be integrated with Micro Focus ArcSight Intelligence cloud analytics to offer comprehensive protection for IoT devices on a large scale.
In November 2020, GuardKnox partnered with NXP Semiconductors, the number one provider of secure vehicle network processors, and Green Hills Software, a worldwide leader in high-assurance real-time operating systems, to develop a secure automotive platform targeting next-generation zonal E/E architecture, enabling commercial deployment for software-defined and service-oriented vehicles.
In November 2017, Continental announced the acquisition of Argus Cyber Security, an Israeli-based cyber security player, to offer multi-layered, end-to-end security solutions and services so as to protect vehicles over their entire lifespan.
Report Scope
Attribute

Details

Forecast Period

2021-2031

Historical Data Available for

2016-2020

Market Analysis

US$ Mn for Value & Mn Units for Volume

Key Regions Covered

North America
Latin America
Europe
East Asia
South Asia & Pacific
Middle East & Africa

Key Countries Covered

U.S.
Canada
Germany
Italy
France
U.K.
Spain
GCC
South Africa

Key Segments Covered

Component
Application
Vehicle
Region

Key Companies Profiled

Continental (Argus Cyber Security)
Guardknox Cyber Technologies Ltd.
Vector Informatik GmbH
Karamba Security
Synopsys
Upstream Security
Sectigo Limited
ESCRYPT
RunSafe Security, Inc.
Trend Micro
Harman International
Trillium Secure Inc.
STMicroelectronics
Infineon Technologies AG
NXP Semiconductors
Bosch Mobility Solutions
Microchip Technology
Aptiv
Irdeto

Customization & Pricing

Available upon Request
Key Questions Answered in Report
How will the automotive cyber security market expand until 2031?
Persistence Market Research projects the global market to register a CAGR close to 8% across the 2021-2031 assessment period. Advent of connected and autonomous vehicles is expected to drive growth in a positive direction.
Which is the most lucrative region for automotive cyber security solutions?
North America is the most lucrative region for automotive cyber security, and the trend is likely to continue in the near future. This region is growing due to continuous developments in automotive cyber security solutions and presence of prominent cyber security tech players in this region.
Who are the leading providers of automotive cyber security solutions?
Prominent players providing automotive cyber security solutions include Continental (Argus Cyber Security), Guardknox Cyber Technologies Ltd., STMicroelectronics, Infineon Technologies AG, NXP Semiconductors, Bosch Mobility Solutions, and Microchip Technology, among others.
Enquiry before Buying
Is the market research conducted by Persistence Market Research?
Yes, the report has been compiled by expert analysts of Persistence Market Research, through a combination of primary and secondary research. To know more about how the research was conducted, you can speak to a research analyst.
What research methodology is followed by Persistence Market Research?
Persistence Market Research follows a methodology that encompasses the demand-side assessment of the market, and triangulates the same through a supply-side analysis. This methodology is based on the use of standard market structure, methods, and definitions.
Who are the respondents for primary research?
Persistence Market Research speaks to stakeholders across the spectrum, including C-level executives, distributors, product manufacturers, and industry experts. For a full list of primary respondents, please reach out to us.
What are the sources of secondary research?
Persistence Market Research conducts extensive secondary research through proprietary databases, paid databases, and information available in the public domain. We refer to industry associations, company press releases, annual reports, investor presentations, and research papers. More information about desk research is available upon request.
Is a sample of this report available for evaluation?
Yes, you can request a sample, and it will be sent to you through an email.
How can I buy this report?
Persistence Market Research provides a secure online payment system to buy reports seamlessly. You can buy the report securely and safely.
Key Segments Covered
Component
Hardware

Hardware Security Modules (HSMs)
Secure Vehicle Network Gateways
Trusted Platform Modules (TPM)
Others

Software

Embedded Firewalls
Encryption & Cryptography
Biometrics & Authentication
Others

Services

Professional Services

Security Consulting & Risk Assessment
Integration & Deployment
Support & Maintenance

Managed Security Services
Application
Telematics
Infotainment Systems
Powertrain Systems
ADAS & Safety Systems
Body Control Systems
Others
Vehicle
Fuel-based Vehicles

Passenger Cars
Commercial Vehicles

Electric Vehicles

Passenger Cars
Commercial Vehicles
Region
North America
Latin America
Europe
East Asia
South Asia & Pacific
Middle East & Africa (MEA)
Our Clients