U.S. Iodopropynyl Butylcarbamate Market Outlook (2022-2032)
The U.S. iodopropynyl butylcarbamate market is expected to reach around US$ 46,645.5 Th in 2022, and is projected to register 5.4% CAGR to climb to a valuation of US$ 78,742.8 Th by the end of 2032.
| | |
| --- | --- |
| U.S. Iodopropynyl Butylcarbamate Market Size (2021A) | US$ 44,462.3 Th |
| Estimated Year Value (2022E) | US$ 46,645.5 Th |
| Projected Year Value (2032F) | US$ 78,742.8 Th |
| Value CAGR (2022-2032) | 5.4% |
| Collective Value Share: Top 5 Countries (2022E) | 57% |
As per detailed industry research, Persistence Market Research has anticipated that iodopropynyl butylcarbamate (IPBC) consumption will remain highest in the southeast U.S. over the coming years.
Consumption Analysis of Iodopropynyl Butylcarbamate from 2017 to 2021 Vs Market Outlook for 2022 to 2032
Revenue from iodopropynyl butylcarbamate sales totaled around US$ 44,462.3 Th in 2021. Substantial growth in end-use industries, including high-growth sectors such as personal care & cosmetics and paints & coatings has elevated the consumption of iodopropynyl butylcarbamate in the U.S.
On the basis of volume growth, demand for iodopropynyl butylcarbamate has seen a significant growth phase in the past few years. However, demand growth of IPBC decreased substantially in the year 2020 owing to the COVID-19 pandemic.
Overall, iodopropynyl butylcarbamate consumption in the U.S. is expected to increase at a steady CAGR of 5.4% over the next ten years.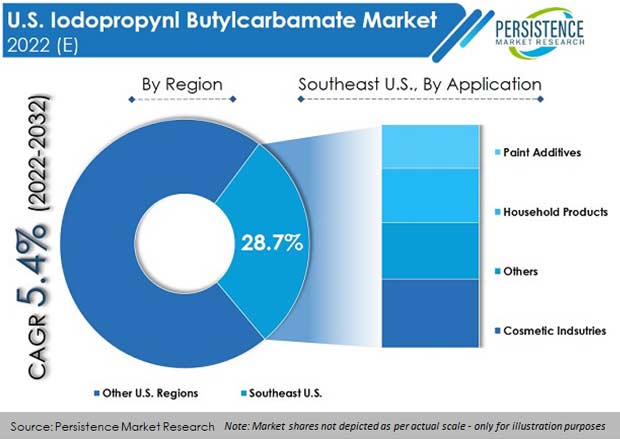 What Does the U.S. Offer for Iodopropynyl Butylcarbamate Manufacturers?
"Steady Demand for IPBC from Personal Care & Cosmetics Industry"
The personal care & cosmetics end-use sector is a dominating industry among others for iodopropynyl butylcarbamate sales. It is used as a preservative to prevent products from bacterial spoilage. It prevents the final product from deterioration and maintains product quality for a long time. Robust demand for beauty care products due to increasing awareness about health & well-being is driving market growth of IPBC.
"IPBC Usage Prominent in Wastewater and Water Treatment"
In addition, water treatment is extremely important because global water demand is constantly increasing as the world population and standard of living rise. Such demands are centered on the quantity and quality of water. Because drinking water sources are prone to pollution, proper methods for removing disease-causing agents are required.
Water is subjected to impurities that come from various industries, contaminating the quality of the water. Water treatment is required to address this issue. IPBC is a highly effective anti-bacterial and anti-fungal agent used in water treatment. IPBC is an antibacterial agent that kills pathogenic bacteria by interfering with their metabolic activities. It inhibits microbe growth in the water by disrupting their metabolic cycles.
As such, demand for iodopropynyl butylcarbamate is high from the wastewater and water treatment industry in the U.S.
"Rising Awareness toward Fungicides and Biocides Propelling Consumption of IPBC in Construction Industry"
Iodopropynyl butylcarbamate is used as a biostatic and fungicidal agent in a variety of industries, including food, paint, and medical industries, as well as agriculture. In the same vein, it has a broad antimicrobial effect due to its various properties, including highly pure liquid, soft preservative, and others. Expansion of the iodopropynyl butylcarbamate market is expected to be boosted due to increased developments in these industries.
IPBC is an iodinated broad spectrum biocide that is used as a preservative, fungicide, and algaecide, worldwide. It can be found in a variety of products, including paints, coatings, metalworking fluids, and wood protection and preservation. IPBC is a biocide that is commonly used as a preservative, fungicide, and algae proliferation inhibitor in industrial preparations such as paints, coatings, and wood preservative compositions.
Increasing demand for antifungal indoor & outdoor paints and adhesive coatings is anticipated to propel demand for IPBC, parallel to the growth of the construction industry in the United States.
What's Stunting Demand Growth of Iodopropynyl Butylcarbamate to Some Extent?
"Strict Regulations Regarding IPBC Usage in Personal Care Products"
IPBC is a bactericide and fungicide that is extremely effective. IPBC is safe for cosmetic ingredients when used in concentrations less than or equal to 0.1 percent, according to the Cosmetic Review Expert Panel. Because it might cause serious health problems, the substance should not be used in inhaling products.
Although it is found in a wide range of products, most notably cosmetics and personal care items, it has been connected to a number of health issues. Allergies are the source of these health issues. IPBC has been subjected to regulatory standards in a number of nations throughout the world, which regulate the limitations, requirements, and concentrations for employing preservatives in cosmetic items.
In New Zealand, for example, cosmetic standards state that IPBC should not be used in lip care products or oral hygiene, should not be used on children under the age of three, and that it should not be used in body lotions or body creams. Use of preservatives in cosmetics goods might cause common allergies such as dermatitis.
All of these issues have the potential to generate an imbalance in supply in order to satisfy customer demand, limiting the growth of the iodopropynyl butylcarbamate market.
Country-wise Analysis
Why is the Southeast U.S. Key for Iodopropynyl Butylcarbamate Suppliers?
The Southeast U.S. is expected to remain a prominent market for iodopropynyl butylcarbamate. The region is expected to reach US$ 24,062.1 Th by the end of the forecast period rising at a CAGR of 6%. Key market players are expected to witness significant amount of incremental dollar opportunity over the coming years.
The Southeast U.S. has the headquarters of many International companies consisting a vast array of end-use industries, and the region accounts for a significant amount of value share for in the U.S. iodopropynyl butylcarbamate market.
By application, cosmetic ingredient & household product applications are expected to dominate the IPBC market in the Southeast U.S. region.
What Is the IPBC Market Outlook for the Midwest U.S.?
The Midwest U.S. IPBC market is expected to reach US$ 16,726.1 Th in valuation by the end of 2032, expanding at a significant CAGR during the period.
For the Midwest U.S. region, IPBC application in cosmetics is expected to account for 31.9% market share in 2022. The paints & coatings industry is set to bolster IPBC demand growth as it is used as a biostatic and fungicidal agent.
Category-wise Insights
Why is IPBC Consumption High in the Personal Care & Beauty Products Industry?
IPBC is a white or slightly off-white crystalline powder that contains iodine, and is widely used in cosmetics and personal beauty care products. At the same time, IPBC retards bacterial growth and prevents beauty care products from getting spoiled.
Iodopropynyl butylcarbamate is an effective bacterial preservative that is used in a variety of end-use industries. It helps prevent bacteria, mold, and other germs from spreading in lotions, creams, and other products. It helps in maintaining performance and product quality over time.
IPBC can be found in cosmetic products such as foundations, bronzers, eye shadows, mascaras, makeup removers, shampoos, conditioners, rash creams, and others, and is also used in wet wipes.
Which is the Largest Consuming Application of IPBC?
Iodopropynyl butylcarbamate is an extremely effective fungicidal agent. It's frequently used in skincare preservation in conjunction with other antibacterial to round out the antimicrobial spectrum. The synergistic effects of such blends allow for the use of lower levels of single preservatives.
IPBC was approved for use in cosmetic products in Japan, giving it the status of being a globally approved preservative. IPBC is an alternative to parabens for products that are susceptible to fungal contamination. It is effective at very low concentrations. Personal care wipes contain a lot of it. With changing lifestyles in the U.S., consumers' preferences for organic-based products are on the rise.
Over the forecast period, rising consumer spending on beauty products such as hair dyes, lotions, foundations, and others is expected to drive demand for iodopropynyl butylcarbamate in the U.S. It is also used in a variety of skincare products, owing to growing demand for these products in the personal care industry, which is one of the world's fastest growing industries, driven in part by cosmetics and skincare products.
Competitive Landscape
Key manufacturers of iodopropynyl butylcarbamate are expanding their production capacities, investments in R&D, and entering emerging markets in order to increase their share in the CIS market. Regional market players, on the other hand, are focusing on establishing long-term relationships with direct end users in order to maintain consistent revenue flow.
Some key developments are:
In May 2021, Troy Corporation announced that the company initiated a cobranding partnership with Town & Country Living, a recognized leader in home textiles specializing in table linens, kitchen textiles, and innovative solution-based products. As a part of this partnership, Troy awarded Town & Country Living the right to brand its kitchen mats with the Micropel® antimicrobial protection logo.
Similarly, other key developments related to companies manufacturing iodopropynyl butylcarbamate have been tracked by the team at Persistence Market Research, which are available in the full report.
Iodopropynyl Butylcarbamate Industry Report Scope
Attribute

Details

Forecast Period

2022-2032

Historical Data Available for

2017-2021

Market Analysis

US$ Mn for Value
Tons for Volume

Key Regions Covered

Northeast U.S.
Southwest U.S.
West U.S.
Southeast U.S.
Midwest U.S.

Key Market Segments Covered

Application
End-use Industry
Region

Key Companies Profiled

Fengchen Group Company Limited
Lonza
Troy Corporation
Ashland specialty chemicals
Thor Personal Care
Vortex Products Limited

Pricing

Available upon Request
Key Segments Covered in Iodopropynyl Butylcarbamate Industry Research
IPBC Market by Application:
Wood Preservatives
Paints Additives
Household Products
Moistened Toilet Tissues
Cosmetic Ingredients
Adhesives
Metalworking Fluids
IPBC Market by End-use Industry:
Personal Care & Cosmetics
Pulp & Paper
Paints & Coatings
Adhesives & Sealants
Water Treatment
Others
IPBC Market by Region:
Northeast U.S. IPBC Market
Southwest U.S. IPBC Market
West U.S. IPBC Market
Southeast U.S. IPBC Market
Midwest U.S. IPBC Market