U.S. & Canada Residential Ceiling Fan Market Outlook (2022-2032)
The U.S. & Canada residential ceiling fan market is projected to expand at 5.9% CAGR and reach US$ 7.7 Bn by the end of 2032, up from its current market size of US$ 4.33 Bn.
Sales of residential ceiling fans in the U.S. & Canada currently account for 10%-15% share of the global residential fan market.
| Report Attribute | Details |
| --- | --- |
| U.S. & Canada Residential Ceiling Fan Market Size (2022) | US$ 4.33 Bn |
| Y-o-Y Market Growth (2021-2022) | 5.2% |
| Projected Market Value (2032) | US$ 7.7 Bn |
| Market CAGR (2022 to 2032) | 5.9% |
| Market Share of Top 5 Manufacturers | 24% to 28% |
U.S. & Canada Demand Analysis of Residential Ceiling Fans (2017 to 2021) Vs. Market Projections (2022 to 2032)
From 2017 to 2021, the U.S. & Canada market for residential ceiling fans increased at a CAGR of 4.2%, with the United States holding a significant share in the market.
The residential ceiling fan market in the U.S. & Canada is gaining traction due to erratic weather conditions in the region, and these fans are not only used during the summers but also winters for ventilation and air flow circulation in homes. As such, market players have invested in manufacturing fans that can produce warm air in the room. They have also focused on designing fans with technological improvements such as smart sensors, Wi-Fi, remote technology, etc.
Various leading manufacturers have focused on redesigning fans for better efficiency and less energy consumption. They are trying to provide economical products with the best quality due to the high prices of other ventilation devices in the U.S. and Canada.
Moreover, key market players are trying to expand their product lines and footprint through partnerships, mergers, and acquisitions. Over the next ten years, sales of residential ceiling fans in the United States and Canada are anticipated to increase at 5.9% CAGR.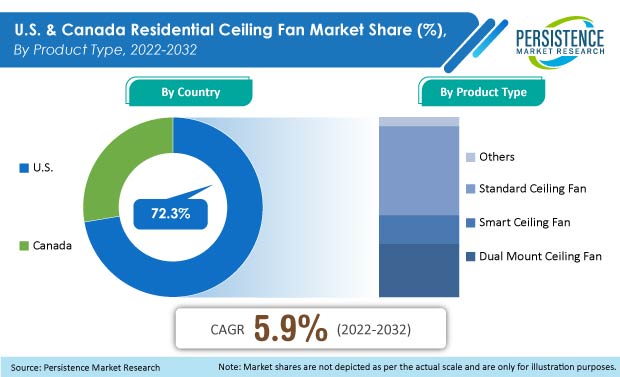 Why are Residential Ceiling Fan Sales Brisk in the U.S. and Canada?
"Growing Disposable Income & Rising Aspiration of Better Lifestyle"
Growing disposable income of the middle-class urban population and rising aspirations toward better lifestyles are major factors estimated to drive the demand growth for residential ceiling fans in the region.
On the other hand, growing demand for energy-efficient products has opened up opportunities for manufacturers to venture into energy-saving electronic goods, which is anticipated to further drive market expansion.
Significant contribution to environmental pollution due to carbon emissions caused by the use of air conditioners has led people to think about the products that they are utilizing. In response to this, numerous environment-conscious people are switching to sustainable ceiling fans that are being offered in the market.
"Initiatives by Manufacturers to Develop Multifunctional Residential Ceiling Fans"
Although there has been a high demand for smart innovations in residential ceiling fans, consumers are also searching for more innovative product designs along with smart technology. Therefore, various companies are focusing on the development of advanced multifunctional products to cater to these needs of buyers.
Manufacturers have combined fan technology with light to make multifunctional products. The attractive oriented look of fans not only showcases an outstanding look but also caters to the dual functionality of providing air as well as light. Similar to this, manufacturers have combined various other technologies such as sound, sensors, etc., to develop multifunctional products and generate more demand for residential ceiling fans.
Country-wise Insights
How is the Residential Ceiling Fan Market Progressing in Canada?
"Cost Efficiency Feature to Drive Sales of Residential Ceiling Fan Units"
The residential ceiling fan market in Canada is expected to progress rapidly at a CAGR of 9% during the forecast period.
According to this analysis, there is a huge population of the middle class in Canada. The average income generation of this population is leading them to choose economically viable options, such as ceiling fans that are economical as compared to other cooling equipment.
On average, a ceiling fan can cost around one cent per hour to operate, which is a fraction of the cost of running an air conditioner. As a result, due to affordability and low energy consumption, there is high demand for residential ceiling fans in Canada.
What's Benefitting Residential Ceiling Fan Manufacturers in the U.S.?
"U.S. Department of Energy's Updated Energy Efficiency Standards for Ceiling Fans"
The U.S. is one of the key markets for residential ceiling fans in the North American region and accounts for a market share of 72.3%. The market in the U.S. is expected to progress steadily at a CAGR of 4.5% through 2032.
According to the Natural Resource Defense Council (NRDC), the U.S. Department of Energy has finalized an updated standard of energy efficiency for ceiling fans that will help consumers in saving energy, reduce their energy bills, and help reduce global warming without compromising.
This will help generate huge demand for residential ceiling fans as they are available at an economical price as compared to other appliances, and also save money on energy bills in the country.
Category-wise Insights
Which Type of Ceiling Fans Rule the Market in the U.S. & Canada?
"Standard Ceiling Fans Account for Major Market Share"
According to the analysis under product type, standard ceiling fans are estimated to hold a major share of 48.9% in the market in 2022, and this segment is estimated to continue exhibiting steady growth at a CAGR of 3.1% over the decade.
Standard ceiling fans range from 40 cm to 140 cm with a high level of customization in types, specifications, designs, and various other aspects. These fans are usually manufactured with 50", 52", 54", or 56" blade sizes that allow the fan to operate at high efficiency and deliver better air flow.
Besides, standard ceiling fans are easily available in stores at very economical prices, which helps generate high demand for them in the market.
Which Mounting Type Will Continue Accounting for High Sales?
"Ceiling-Mounted Fans to Remain Most Popular"
According to the analysis, the ceiling mount segment is estimated to account for a value share of 78.6% in 2022 and remain prominent and expand at a CAGR of 5.6% during the estimated tenure.
Ceiling-mounted fans have been on the market for years, and therefore, there have been various developments that have taken place in them over time. The basic motive of a traditional fan is to provide air circulation with minimal energy consumption, which has attracted a high number of customers toward product adoption.
Which Sales Channel Will Drive the Market Stance of Ceiling Fan Manufacturers?
"Specialty Stores to Benefit from High Sales of Residential Ceiling Fans"
Specialty stores are estimated to account for 53.1% market share in 2022. Residential ceiling fan sales through specialty stores are expected to increase at a CAGR of 4.5% between 2022 and 2032.
Specialty stores are dealers authorized by companies to sell and promote their products. Moreover, they operate on company guidelines. Hence, customers enjoy easy accessibility to repairs and replacements due to any defect in the product.
Apart from this, consumers prefer a wide range of selections based on their requirements. Specialty stores offer a wide range of fans with multiple options related to size, design, specifications, etc.
Meanwhile, the online retail segment is one of the fast-growing sales channels and is expected to surge ahead at a CAGR of 9.7% during the forecast period.
Competition Landscape
Residential ceiling fan manufacturers in the U.S. & Canada are strategizing and implementing a variety of strategies to increase their presence in lucrative market pockets. Their strategies include product launches, collaborations with key players, partnerships, acquisitions, and strengthening of regional distribution networks.
For Instance:
In 2018, Fanimation announced the expansion of its Dallas showroom to display the company's most popular models as well as the large assortment of new releases. This expansion is delivering both new products and invaluable enhancements to existing products.
U.S. & Canada Residential Ceiling Fan Industry Report Scope
Attribute

Details

Forecast Period

2022-2032

Historical Data Available for

2017-2021

Market Analysis

US$ Mn for Value
Units for Volume

Key Regions Covered

Key Countries Covered

Key Market Segments Covered

Product Type
Usage
Mounting Type
Sales Channel
Country

Key Companies Profiled

Minka Group
Kichler Lighting LLC
Progress Lighting (Hubbell Inc.)
HINKLEY, INC
Quorum International Inc
Big Ass Fans
Craftmade International Inc
Fanimation
Generation Brands
LG Electronics, Inc
Honeywell International
Others (on request)

Pricing

Available upon Request
U.S. & Canada Residential Ceiling Fan Industry Research Segmentation
By Product Type:
Smart Ceiling Fans
Dual Mount Ceiling Fans
Standard Ceiling Fans
Others
By Usage:
Indoor Ceiling Fans
Outdoor Ceiling Fans
By Mounting Type:
Ceiling Mounts
Wall Mounts
Protruding
By Sales Channel:
Wholesalers/Distributors
Direct Sales
Specialty Stores
Online Retailers
Other Sales Channels
By Country: