North America Medical Hygiene Devices Market Outlook (2022-2032)
The North America medical hygiene devices market was valued at US$ 670.6 Mn at the end of 2021 and is projected to progress at a CAGR of 4.2% over the next ten years (2022-2032). Detailed industry analysis reveals that revenue from the sales of medical hygiene devices in the region will climb to US$ 1.05 Bn by the end of 2032.
According to Persistence Market Research, human waste management, as a product segment, enjoyed a market value of US$ 290.2 Mn in 2021, accounting for nearly two-fourths of the global market share.
Revenue from the sales of medical hygiene devices in North America accounted for 2.5% share of the global elderly and disabled assistive devices market at the end of 2021.
| Attribute | Key Insights |
| --- | --- |
| North America Medical Hygiene Devices Market Size (2021) | US$ 670.6 Mn |
| Projected Market Value (2032) | US$ 1.05 Bn |
| North America Market Growth Rate (2022-2032) | 4.2% CAGR |
| Market Share of Top 5 Manufacturers (2021) | 20% |
Sales Analysis of Medical Hygiene Devices in North America (2017 to 2021) Vs. Market Outlook (2022 to 2032)
The North America market for medical hygiene devices expanded at a value CAGR of 3.7% over the last four years (2017-2021).
Medical hygiene is the process of providing medical care to individuals that are at a high risk of getting infected with a virus or disease. There are several types of devices such as bathtubs, bath lifts, shower chairs, and lift chairs, which are used in long-term care facilities, acute care centers, and assisted living facilities to provide medical care to these patients.
One of the crucial things observed during the pandemic was that the population across the world became more concerned about hygiene. To reduce the spread of any kind of infection, special precautions are being adopted by everyone. The adoption of medical hygiene devices has also increased because priority is being given to hygiene practices to prevent further the spread of secondary infection.
People confined to the bed due to a prolonged illness or weakness experience pressure ulcers.
In a report published by the Agency for Healthcare Research and Quality, it was observed that each year, more than 2.5 million people in the United States are affected by pressure ulcers.
With this high prevalence of pressure ulcers, there is a greater patient preference for medical hygiene products. Moreover, due to their ease of use, these devices allow a reduction in the workforce required to manage patients.
Key players in the market are currently focusing on developing next-generation products, such as power-assisted products, which will bring traction to the market and assist with improving their sales.
In August 2021, Invacare Corporation introduced a next-generation rear-wheel drive power wheelchair that helps with the lifting and mobility of patients.
The North America medical hygiene devices market is predicted to move ahead at a CAGR of 4.2% and record sales worth US$ 1.05 Bn by the end of 2032.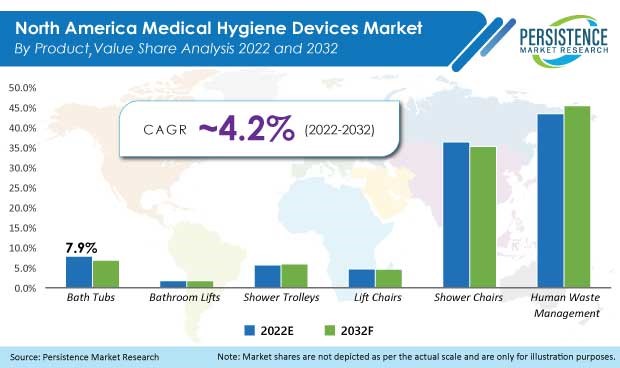 What Opportunities Await Manufacturers of Medical Hygiene Devices in North America?
"Increasing Availability of Assistive Technology and Rising Product Awareness"
There is always a scope to improve technology and focus more on meeting the needs of the target population. The population is more attracted to quality, so it is necessary to understand the quality aspect when launching a product. It should also be technologically driven so that it is advanced as compared to existing products in the market.
Manufacturers of medical hygiene devices gain a competitive advantage through novel products with integrated digital technology. This is an opportunity for market players to expand in the market and focus on providing optimum quality.
For example, the use of AI to focus more on automation rather than manual tasks has a great impact on the market. The idea behind this approach is to focus more on digitalization rather than manual handling. It becomes easier for the caregiver as well as the patient.
It is generally seen that most of these technologies have an impact in developed countries. The population in developing economies displays a lower rate of adoption of medical hygiene devices owing to the low awareness of product availability and less product adoption within medical settings.
What Can Slow Down Demand for Medical Hygiene Devices in North America to Some Extent?
"High Cost of Products and Increasing Environmental Concerns Regarding Medical Waste Disposal"
With the increased use of medical devices to promote healthcare, there is also an increase in the amount of medical waste generated, which is a huge concern for the environment.
The overall waste generated can be hazardous to the environment if not recycled. Moreover, disposable waste such as disposable liners can contaminate the air as well as groundwater. Improper waste segregation is also one of the major causes that impact the environment.
The lack of proper knowledge regarding the health hazards related to healthcare waste and adequate waste management is the leading cause of this problem. This could hamper overall market growth. Proper disposal of medical waste should be taken into account to overcome this limitation.
Products in the market are technically advanced but also cost more, due to which, many products do not fit in the budget range for some organizations or individuals, and this can restrain the growth of the medical hygiene equipment market in the region.
Country-wise Insights
Why are Medical Hygiene Device Providers Targeting the U.S. Market?
"Rapidly Rising Geriatric Population in the U.S."
In 2021, the U.S. medical hygiene devices market was valued at US$ 629.7 Mn and held a market share of 93.9% in North America.
As per the Administration of Community Living, in 2019, the population of people aged 65 and up in the United States reached 54.1 million. They accounted for 16% of the whole Americas population.
Since 2009, the number of senior Americans has increased by 14.4 million (or 36%), compared to a 3% increase in the population under 65 years.
As the population of older people grows, along with their lifespan, the need for social activities and engagements as well as assistance for daily activities is also increasing. As such, demand for long-term care centers as well as assisted living facilities are also increasing, thereby driving high requirements for medical hygiene devices in the country.
How is the Medical Hygiene Equipment Market Shaping Up in Canada?
"Ontario on Track to Build 30,000 New Long-term Care Beds"
In 2021, the Canada medical hygiene devices market was valued at US$ 40.8 Mn and held a market share of 6.1% in North America.
According to the Queen's Printer for Ontario (2022), the Government of Ontario is set to build 30,000 new long-term care beds by the end of 2028.
This one is one of the largest long-term care building programs in Canada. The government is investing in developing a long-term care system that will provide all citizens with the highest possible quality of life while also increasing the capacity of beds.
This expansion plan will create opportunities for medical hygiene device manufacturers in Canada.
Category-wise Insights
Which Product Drives High Sales Within the Medical Hygiene Devices Market Sphere?
"High Demand for Human Waste Management Products"
The human waste management segment accounted for the highest market share of 43.3% by revenue in 2021.
There are three types of products included in the human waste management segment - bedpan washers, macerators, and disposable liners.
Increasing awareness about medical hygiene, control of infection proliferation or contamination, product applicability for patients with severe bowel or urinary incontinence, and the availability of reusable products that are cost-efficient are factors driving the demand for human waste management products.
Competitive Landscape
Key suppliers of medical hygiene devices in North America are concentrating their approach on product cost reduction to gain a dominant market position. To enhance this approach, market players are entering into collaborative activities such as mergers & acquisitions to reduce production and manufacturing costs and deliver novel products.
On May 26, 2021, BEKA Hospitec GmbH added modern lifting tubs to its AVERO VIVA plus product range.
In June 2017, Miele and Steelco Groups agreed to join forces by combining their skills in medical technology.
North America Medical Hygiene Devices Industry Report Scope
Attribute
Details

Forecast Period

2022-2032

Historical Data Available for

2017-2021

Market Analysis

US$ Million for Value

Key Countries Covered

U.S. & Canada

Key Market Segments Covered

Key Companies Profiled

Arjo
AT-OS
Invacare Corporation
BEKA Hospitec
DEKOMED (KWC DEKO)
DeVilbiss Healthcare
DGM Pharma
GF HEALTH PRODUCTS, INC.
K Care Healthcare Equipment
KEN HYGIENE SYSTEMS A/S
MATACHANA Group
MEIKO Maschinenbau GmbH & Co. KG
Miele (Steelco S.p.A.)
Sunrise Medical (US) LLC.

Report Coverage

Market Forecast
Competition Intelligence
DROT Analysis
Market Dynamics and Challenges
Strategic Growth Initiatives

Customization & Pricing

Available upon Request
Key Segments Covered in North America Medical Hygiene Devices Industry Survey
By Product:
Bathtubs
Bathroom Lifts
Shower Trolleys
Lift Chairs
Shower Chairs
Human Waste Management

Bedpan Washers
Macerators
Disposable Liners
By End User:
Long Term Care (LTC) Centers
Acute Care Centers
Assisted Living Facility
By Country:
U.S. Medical Hygiene Devices Market
Canada Medical Hygiene Devices Market