Fruit Infused Water Market
Global Market Study on Fruit Infused Water: More Flavors, Lesser Calories - Translating into Fruitful Opportunities
Fruit Infused Water Market Segmented By Infused Water, Infuser Water Bottle, Fruit Water, Herb Infused Water
Fruit Infused Water Market
Introduction
Recent times have spectated the shifting paradigms of consumers' predilection for functional beverages, away from carbonated and soda-immersed drinks, leading to the popularity of the niche innovations, such as 'fruit-infused water'. Since the trends of fruit-infused water are found to resonate well with the millennial populace, producers focus on the millennials' favorite while introducing new line-ups, combining two or more fruits such as apple, mango, orange, pineapple, strawberry, watermelon, berry, and citrus.
As these flavors are labelled as 'organic', fruit-infused water has been marked safe for consumption by regulatory authorities, such as United States Department of Agriculture (USDA) Organic, which is likely to drive high penetration in consumers' space. In addition, the low-calorie consumption trend penetrating deeper in the beverages sector, in addition to detox drinks meant for weight loss and cleansing, are likely to upkeep the sales of fruit-infused water in the future.
While still young, the fruit-infused water market possesses enormous potential, the key trends to which have been recorded and analyzed in an exclusive study published by Persistence Market Research (PMR). The study is intended at enabling stakeholders to make well-informed decisions and scramble towards a higher market share.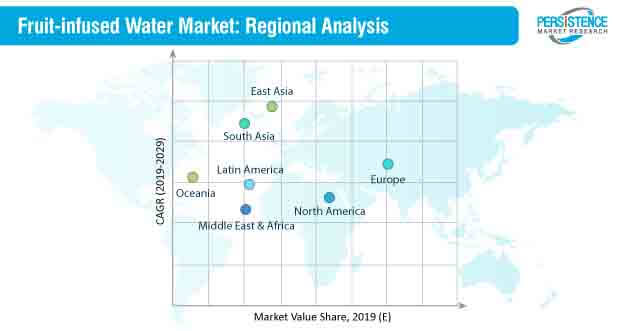 Find Out More about the Report Coverage
Companies
Nestle Group
PepsiCo, Inc.
The Coco Cola Company
Treo Brands LLC.
Dr. Pepper Snapple Group
Eslena LLC
Hint Inc.
Just Good, Inc.
Core Nutrition, LLC
Propel Water
Dash-Water
Spindrift
Gloe Water
Perrier
Ocean Spray
Charting the Evolution of the Fruit-infused Water Market
The image of healthy and flavorful water has been breaking grounds in the consumers' space; however, the popularity gained by the packaged drinking water in 1977, in the U.S., inspired producers to capitalize on the evolving preferences of consumers and introduce fruit-infused water. In 2018, ~2 billion liters of fruit-infused water was sold, which corresponds to a value of US$ 10 billion.
In recent times, functional properties of fruit-infused water have positioned it as a favorable choice among the lactose-intolerant and GMO-allergic population, which widens the consumer base for the product. With the increasing cross-border trade activities, exotic as well as seasonal fruits are available round the year, which upholds the streamlined supply of raw materials required for the production of fruit-infused water.
However, the simplicity of infusion process has been instigating consumers to prepare fruit-infused water at home, which is likely to pose a challenge to the sales. In addition, concerns apropos of the carbon footprints are likely to lead vendors to rethink the packaging of fruit-infused water.
Customize this Report
Explore Intelligence Tailored to Your Business Goals.
Revenue Shares of Still Flavored Water to Sparkle
Once found only on the shelves of health food stores, organic food and beverages are now a routine feature in supermarkets and hypermarkets, and are fast-replacing the ones developed using conventional farming practices. However, the high price point of organic fruit-infused water is likely to benefit conventionally produced flavored water.
With the tangy flavor and abundant health benefits, sales of citrus fruits are likely to remain high for the preparation of low-calorie fruit-infused water; however, strawberry-flavored water has been increasingly becoming popular, which will lead to the introduction of new products.
In terms of products, still water is anticipated to contribute significantly to the growing market size, as consumers evince a liking for non-carbonated beverages; however, sparkling flavored water has been frequently chosen over still flavored water in HoReCa (Hotels, Restaurants, and Cafes) segment, as these distribution channels intend to distinguish their offerings.
Compared to other regions, the food and beverages consumption pattern observed among the European population has been on a healthier side. In addition, vendors of the fruit-infused water market scramble towards the East Asian market, which holds significant revenue shares in the global food and beverages market.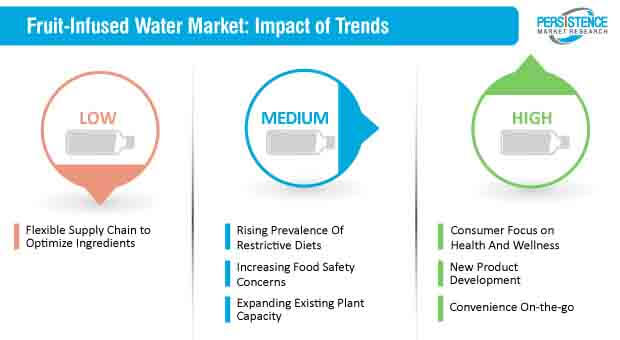 Market Research Methodology - Perfected through Years of Diligence
A key factor for our unrivaled market research accuracy is our expert- and data-driven research methodologies. We combine an eclectic mix of experience, analytics, machine learning, and data science to develop research methodologies that result in a multi-dimensional, yet realistic analysis of a market.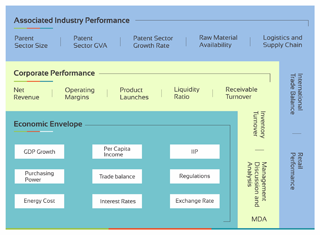 Key Strategies to Squeeze More Profit out of the Fruit-infused Water Market
Capitalize on Seasonal Demand
While fruit-infused water can witness year-round sales, springs and summers record the highest consumption rate, owing to the need of consumers to stay hydrated. This surfaces a profitable opportunity for market vendors to prepare their inventories right before the onset of summer to capitalize on the seasonal demand.
Replace Plastic Bottles with Metal Cans
As the stringency of environmental regulation turns up by a notch on a frequent basis, plastic as a packaging material is likely to be replaced by environmentally-benign materials. Foreseeing the future, vendors can shift their packaging processes away from plastic materials to metallic cans as a measure towards sustaining the environment and, in turn, their businesses in the long run.
Introduce New 'Combinational' Flavors
Since fruit-infused water landscape continues to be operated by numerous players, product differentiation can turn out to be a key strategy can bring brand loyalty without the threats of substitutes. On similar lines, vendors of fruit-infused water market can introduce new flavors by combining two or more fruits to position their brand at a distinguished position. Vendors can zoom in their focus on consumers to comprehend their needs and develop flavors by keeping consumers at the center of the flavor innovation.
Explore Persistence Market Research's expertise in promulgation of the business !
Fruit-infused Water Market Amidst Intense Competition
The fruit-infused water market spectates intense competition with numerous players at play. Collectively, the leading players functioning in the fruit-infused water market secures ~40-50% of the market share with product differentiating being their key strategy. These players include:
Nestle Group
PepsiCo Inc.
The Coca Cola Company
Pepper Snapple Group
Treo Brands LLC
With the landscape being strictly scrutinized for environmental sustainability by the government bodies, this batch of players zero in their focus on the packaging materials and make as minimal use of plastic as possible. For instance, in February 2018, Nestle Group announced the launch of new packaging for its six brands under the bottled water segment. In addition, in February 2019, the company introduced new flavors - Lemon, Lemon Lime, and Zesty Lemon - to its portfolio of Poland Spring Sparkling range.
The regional players; however, hold ~20-35% of the market share, which include
Hint Inc.
Core Nutrition, LLC
JUST Goods, Inc.
Eslena LLC
Propel Water
The focus of regional players is more intense at the production-side and develops products by prioritizing the evolving preferences of consumers. For instance, Hint Inc. invests in the development of fruit-infused kosher certified, vegan, gluten-free and non-GMO products. In addition, the company boasts its digital presence on the popular social media channels, where it directly establishes communication with its consumer to create awareness apropos of its portfolio.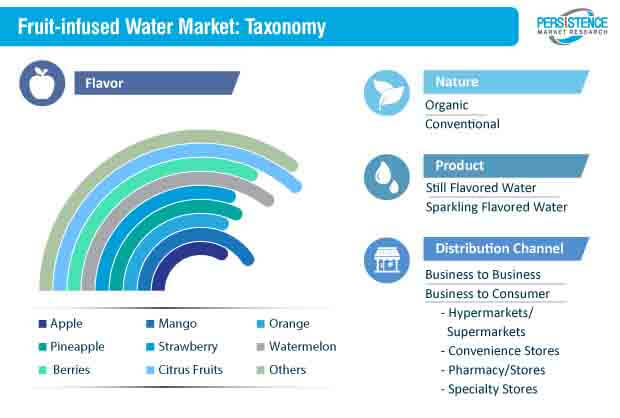 Analysts' Inference of the Fruit-infused Water Market
The author(s) of the report maintain a propitious outlook on the growth of the fruit-infused water market during the forecast period 2019-2029 with a CAGR of ~6%. Demand for fruit-infused water will remain high with growing quest of consumers for functional beverages. Millennial population will continue to remain the target consumers, in light of their marked predilection for nuanced flavors.
Vendors functioning in the fruit-infused water market will have to pass their products through two strict filters of quality and packaging. An investment in the introduction of new flavors will resonate well with innovation-seeking consumers; however, experiments done with citrus fruits and strawberry will remain fruitful. Use of glass and metal as a packaging material will turn out to be a strategic move for vendors functioning in the fruit-infused water market.
Though Europe holds a dominant status in the fruit-infused water market, exponential improvements in the market share of East Asia is likely to offer high returns on investment.
free analysis 2
The food & beverages market is influenced by consumers demanding tasty food as well as beverages. Innovations in the food & beverages industry have led to the development of products that are healthy as well as tasty, and one such example is fruit-infused water.
Fruit-infused water is water that has been infused with fresh fruits, and sometimes is referred to as fruit flavored water. As it is made by infusing flavor, rather than juicing or blending, this water contains fewer calories. This makes it a popular drink for detox regimes. Fruit-infused water is often recommended for weight loss and acts as a replacement for high sugar drinks such as sugary soda and fruit juices.
Fruit-infused water contains significant amount of antioxidants, which are beneficial to the human body. Organic fruits are mostly preferred by manufacturers of fruit-infused water owing to their antioxidant properties. Fruit-infused water also comes in combinations of various flavors and ingredients, which ensure novelty in the taste and nutritional profile of flavored water.
Functional Properties of Fruit-infused Water Making It a Favorable Choice
Fruit-infused water is often made by infusing flavors and colors of organic fruits in water, making it a completely organic product. Fruit-infused water does not contain any genetically-modified ingredients. It is also free from lactose, which makes it a favorable drink for lactose-intolerant population. Thus, fruit-infused water is a non-GMO and lactose-free product ideal for health-conscious consumers. These functional properties of fruit-infused water are expected to boost the growth of the market.
Refreshing Taste of Fruit-infused Water Encourages Consumers to Drink More Water
Fruit-infused water has a different taste than normal drinking water. The taste of infused fruit gives a unique characteristic and refreshing taste to the water. Dietitians consider infused water very healthy, as its unique taste encourages consumers to drink more water. Water is the most important element when it comes to weight loss.
The diverse flavors of infused water help consumers to drink more water. This factor is expected to boost the demand for fruit-infused water significantly in the market.
Usage of Eco-friendly Packaging for Infused Water
Manufacturers of fruit-infused water are focusing on the ill effects of plastic bottles on the environment. Manufacturers are finding alternatives to plastic as a packaging material. Metallic cans are the next option available for them, but increase the pricing of the product. Hence, manufacturers are implementing new packaging materials, which are environment-friendly.
The usage of ecofriendly and affordable packaging materials is expected to create more opportunities for the manufacturers of fruit-infused water.
Preference for Organic Flavored Drinks over Conventional Flavored Drinks
Conventional flavored drinks contain additives and preservatives, which are likely to harm the human body. Manufacturers have started using organic ingredients without any additives and preservatives, and introduced 100% organic flavored drinks for diet-conscious consumers.
The consumption of organic fruit-infused water is the emerging trend as lifestyles of consumers are also changing. This emerging trend of consumption of organic flavored water over conventional flavored water is expected to drive the market growth in the forecast period.
New and Trendy Packaging Styles, the Emerging Supply-Side Trend
Manufacturers of fruit-infused water are focusing on new packaging materials and trending designs to attract more consumers. Attractive and innovate packaging styles without the use of plastic, are trending in the market. Such eco-friendly and trendy packaging options are expected to further boost the market demand for fruit-infused water.
Use of Homemade Infused Water Hindering the Market from Reaching Its Full Potential
When any fruit is kept in water for more than three hours, then the flavor and color of the fruit starts to get infused in it. This is the process of making fruit-infused water and is simple enough to be carried out at home.
Consumers who consume fruit-infused water in limited quantities but on a regular basis, prefer to prepare it at home. Ingredients needed for the production are also available at home, and the cost incurred is very less. Hence, the preference for homemade-infused water is expected to hinder the market from reaching its full potential.
Fruit-infused Water Market - Segmentation
This comprehensive study on the fruit-infused water market offers a detailed analysis of the market attractiveness by assessing the key market segments. The global study also combines a country-wise assessment for understanding the demand and supply ratio of the fruit-infused water market.
The global study provides an assessment on the basis of nature, product, flavor, distribution channel, and region. Each of these segments is included and studied in this detailed research report, in order to obtain actionable intelligence regarding the fruit-infused water market.
The detailed study on the fruit-infused water market offers historical, current, and futuristic trends influencing the growth of these segment, in particular, and the market, in general. In addition to this, it covers value chain analysis, Y-o-Y growth analysis, and supply chain analysis of the fruit-infused water market.
Nature
Product

Still Flavored Water
Sparkling Flavored Water

Flavor

Apple
Mango
Orange
Pineapple
Strawberry
Watermelon
Citrus Fruits
Others

Distribution Channel

Business to Business
Business to Consumer

Hypermarkets/Supermarkets
Convenience Stores
Pharmacy/Stores
Specialty Stores

Region

North America
Latin America
Europe
South Asia
East Asia
Oceania
Middle East & Asia
Fruit-infused Water Market - Key Questions Answered
This comprehensive research report on the fruit-infused water market identifies a comprehensive overview that offers rare insights into the growth prospects during the forecast period. This global study address key concerns of stakeholders functioning in the fruit-infused water market. Some of the key questions addressed in the report include:
What is the fruit-infused water demand scenario in terms of value and volume?
What are the relevant drivers shaping the growth of the fruit-infused water market?
How will the fruit-infused water market evolve during the forecast period?
What are the key challenges and threats restraining the growth of the fruit-infused water market?
What are the macroeconomic and microeconomic factors that are impacting the growth of the fruit-infused water market?
Which flavor segment will remain a key contributor in terms of value and volume?
Our Clients