Candied & Semi-candied Fruits Market Outlook (2022-2032)
The global candied & semi-candied fruits market is projected at US$ 638.5 Mn in 2022 and is expected to exhibit a value-based growth rate of 2.2% to reach US$ 794.6 Mn by the end of 2032. North America and Europe account for a major share of the global market.
Consumption of candied & semi-candied fruits registered an annual growth rate of 1.5% during the historical period of 2017 to 2021. The market is expected to grow steadily in the near future due to the growing sales of these products in the bakery industry, increasing demand for chemical-free and label-friendly ingredients, and efforts made by manufacturers to meet the criteria of consumers of fruit-based baked products.
Fruits are a traditional addition to bakery items and are still utilized in some of the most popular confections. Bakers are working to come up with a new variety of ingenious ways that use a wide range of fruits to bring novelty and create an artisan and primitive image. Artisanal bakers utilize specialty ingredients such as candied fruits, toppings, glazes, frostings, and others to increase the attractiveness of their final baked products.
The established and expanding bakery industry sector across North America and Europe is creating high-potential opportunities for candied & semi-candied fruit manufacturers in these regions.
Manufacturers involved in the candied & semi-candied fruits business will continue expanding their production capacities and improve their capabilities by incorporating modern technologies. Key players in this market are also emphasizing strengthening their product portfolios and expanding their business footprint into new geographical territories. Consumers in established markets are more likely to purchase value-added items, preferably with natural ingredients, fruit-based, and other alternatives that are increasingly forming a part of their daily and nutritional diet.
| Attributes | Key Insights |
| --- | --- |
| Candied & Semi-candied Fruits Market Size (2022E) | US$ 638.5 Mn |
| Projected Market Value (2032F) | US$ 794.6 Mn |
| Value CAGR (2022-2032) | 2.2% |
| Value Share of Top 5 Countries (2022E) | 54.9% |
What are the Key Trends Impacting the Market for Candied & Semi-candied Fruits?
"Rising Demand for Candied & Semi-candied Fruits in Foodservice Sector"
There are numerous advantages that are offered by candied fruits for hotels, restaurants, and catering businesses (Horeca). Nowadays, candied and semi-candied fruits have become indispensable in foodservice businesses worldwide, and thus, they always have these fruits in stock. Candied and semi-candied fruits add value to culinary elaborations.
Lately, these fruits are also being used in sauces and fillings, meats, dough and puff pastries, cocktails, snacks, and other new preparations, although these types of usages are still in the nascent stage of development. Candied fruits help in making desserts and other sweet preparations appealing and tasty. These fruits are also utilized in fruit salads, which combine fresh fruits, fruit in syrup, and candied fruits, making it a very attractive dessert.
Thus, the rising popularity of candied and semi-candied fruits in the foodservice industry is set to drive market growth steadily over the coming years.
"Easy-to-Preserve Functionality Boosting Candied & Semi-candied Fruit Demand"
Candied and semi-candied fruits are products that are easy to preserve, and being in the category of preserved fruits, they can be stored under optimal conditions without the need of being refrigerated. Candied fruits also help in keeping intact organoleptic characteristics, which implies that the fruits maintain their flavors, colors, textures, and scents for a long time. Even some qualities of fresh fruits are preserved in candied and semi-candied fruit products.
The easy-to-preserve functionality enables foodservice players to use candied fruits any time of the year without waiting for any perfect season for the fruits to ripen. Candied and semi-candied fruits also allow the creation of more appealing presentations of cakes, pastries, and other baked products. The longevity of candied and semi-candied fruits generally comes from the layer of sugar that surrounds the fruit that comes from the syrup. Candied fruits help in maintaining the juiciness and aroma, although with a greater amount of sugar than the original fruit.
"Growing Popularity of Fruit Snacks among Children"
Increasing consumer awareness is a crucial determinant in augmenting healthy food and fruit snack sales across geographies. Consumers are becoming more focused on diets and nutritional information owing to increasing penetration of the Internet and growing acceptance of healthy lifestyles. Fruit snacks are popular among the younger generation and adolescents due to their ease of consumption, paired with better flavor and texture.
Parents are also being conscious nowadays of the snacks they provide to their children. This trend is being fueled by the easy availability of numerous healthy food options on retail shelves. Fruit snacks are also popular among children in developed countries such as North America and Europe, and this trend is gathering momentum in underdeveloped countries as well.
Growing consumer knowledge of healthy snack alternatives is fueled by the need for transparency. Consumers with young children are more conscientious, and they are more likely to flip the packet to inspect the contents and nutritional details before adding it to their shopping basket.
"Manufacturers' Efforts to Develop New & Innovative Flavors"
With the growing preference for candied and semi-candied fruits, manufacturers are experimenting unique tastes while introducing innovative candied solutions for customers. The emergence of innovative flavors with different combinations such as blueberry with butterscotch, pineapple, and pomegranate, and the presence of fruit content offered by manufacturers have led more customers toward baked food products with these fillings.
Bakery ingredients such as candied and semi-candied fruits have been in use across the world for developing and manufacturing sustainable bakery products. Nut-based bakery products give a crunchy texture, thus providing a relishing experience to consumers, along with health benefits. Thus, manufacturers are pushing these nut-based flavors toward customers. To satisfy this growing consumer demand, manufacturers are coming up with new and innovative flavors to increase their brand presence.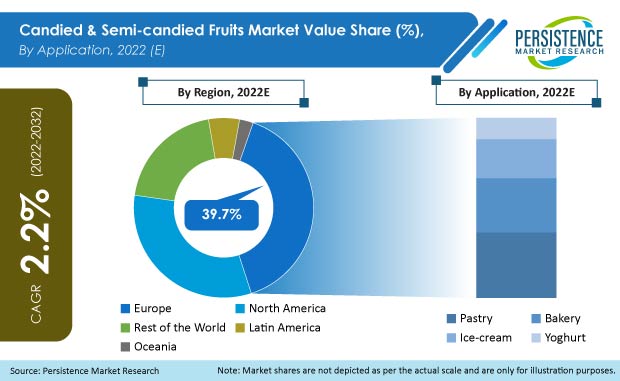 Country-wise Insights
Which Countries are Exhibiting Prominent Market Growth in the European Region?
Italy, France, and Spain are markets that are anticipated to expand at CAGRs of 4.8%, 4.4%, and 3.9%, respectively, during the forecast period (2022-2032).
Demand for candied & semi-candied fruits is increasing progressively in the European market due to their wide utilization in numerous baked goods and frozen desserts, which also makes them an ideal ingredient in the artisanal bakery sector in the region.
How is the Australian Market for Candied Fruits Shaping Up?
In the Oceania market, Australia accounts for the largest market share of 72.4% and is projected to register a CAGR of 2.7% through 2032. The market valuation of Australia in the Oceania market is US$ 11.4 Mn, which is anticipated to reach US$ 14.8 Mn by the end of 2032.
The market share of Australia is relatively higher as compared to New Zealand because Australia has a higher concentration of manufacturers, distributors, and suppliers, owing to the high demand for candied & semi-candied fruits for functionality benefits such as easy-to-preserve and long shelf life. The utilization of these products in pastries and ice cream is also a triggering factor that is surging the demand for the product in the Oceania market.
Category-wise Insights
Which Application of Candied & Semi-candied Fruits Accounts for the Highest Revenue Generation?
Based on application, the market for candied & semi-candied fruits is segmented into bakery, pastries, ice cream, and yogurt, among which, candied & semi-candied fruits are majorly utilized in pastries.
The market value share of pastries is around 37%, which is expected to reach US$ 291.7 Mn by the end of 2032, expanding at an annual growth rate of 2%.
Why is Traditional Trade Still Ruling This Market Space?
The distribution channels considered in the report scope include the traditional trade, modern trade, industrial, and foodservice categories. Traditional trade of candied & semi-candied fruits has the highest market potential growth of 2.7% during the forecasted period. The traditional trade segment is anticipated to reach around US$ 496.5 Mn by the end of 2032.
Competitive Dashboard
Prominent producers of candied and semi-candied fruits are making strategic investments to increase their output and strengthen their market position. Manufacturers are prioritizing obtaining certifications to guarantee the quality and safety of their products to attract more customers.
Andros Chef is focused on expanding its geographical footprint. The company has 10 primary processing plants worldwide, which allows it to cater to the growing demands of consumers. At present, the company primarily targets South America, Central & Eastern Europe, and India.
F.Moreno Candied Fruits S.L. focuses on utilizing the latest technology to enhance its production and operational efficiency. Through modern and advanced technology, the company strives to drive its business and optimize its manufacturing units to produce high-quality and safe products.
Candied & Semi-candied Fruits Industry Report Scope
Attribute
Details

Forecast period

2022-2032

Historical data available for

2017-2021

Market analysis

USD Million for Value

Key regions covered

North America
Latin America
Europe
Oceania
The Rest of the World

Key countries covered

U.S.
Canada
Brazil
Mexico
Argentina
Germany
U.K.
France
Spain
Italy
Russia
Poland
Australia
New Zealand

Key market segments covered

Application
Form
Distribution Channel
Region

Key companies profiled

Andros Chef
AZIENDA AGRIMONTANA S.P.A.
Cesarin S.p.A.
Cruzilles
F.Moreno Candied Fruits S.L.
FRUITS ROUGES & Co.
Gelpass Group
Giuso Guido Spa
Italcanditi S.p.A
ITALPROD SRL
José María Lázaro S.A.
Kandy
Lazaya
Leelanau Fruit Company
Markidis & Co.
Pacific Coast Producers
Panici DOO
Paradise, Inc.
SALGAR S.r.l.
SAS SICA SICODIS

Report coverage

Market Forecast
Company Share Analysis
Competition Intelligence
DROT Analysis
Market Dynamics and Challenges
Strategic Growth Initiatives

Customization & pricing

Available upon request
Candied & Semi-candied Fruits Industry Research by Category
By Form:
Whole/Intact
Chopped/Diced/Fruit Peels
By Application:
Bakery
Pastries
Ice Cream
Yogurt
By Distribution Channel:
Traditional Trade
Modern Trade
Industrial
Foodservice
By Region:
North America
Latin America
Europe
Oceania
Rest of the World