Food Enzymes Market
Global Market Study on Food Enzymes: Revolving around the 'Health & Wellness' Trend
Food Enzymes Market Segmented By Amylases Carbohydrase, Cellulase Carbohydrase, Lactases Carbohydrase, Pectinase Carbohydrase, Protease, Lipase Type, Sourced From Microorganisms, Plant and Animal And Applied in Bakery, Beverages, Dairy, Starch Modification, Meat Processing
Introduction
Enzymes have been playing a pivotal role in different aspects of life sciences. Growing recognition of food enzymes as an integral part of the food and beverages industry has triggered innovations, in line with the dire need for enhancing their properties related to taste and texture.
As food enzymes are increasingly becoming the crucial part of the production process of a wide range of food and beverage products, including bakery, beverages, and dairy, the market is witnessing an upswing.
Gauging the future opportunistic value of food enzymes market, Persistence Market Research (PMR), in its latest business intelligence, evaluates how growing adoption of food enzymes as viable substitutes for emulsifiers in the food industry are creating lucrative avenues for stakeholders.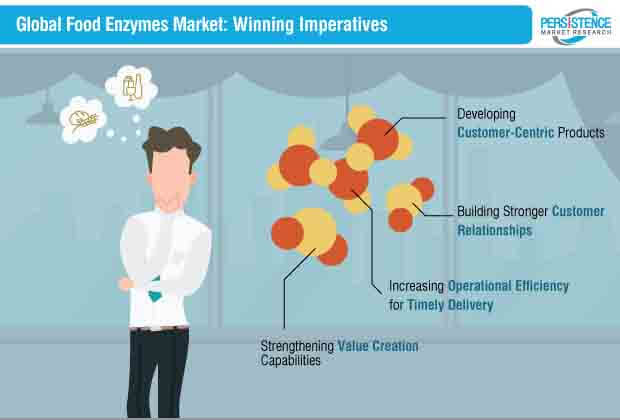 Find Out More about the Report Coverage
Companies
Company Profile
Novozymes
DuPont.
Kerry Inc.
DSM
BASF SE
Chr. Hansen Holding A/S
Advanced Enzyme Technologies.
AB Enzymes
Biocatalysts
Infinita Biotech Private Limited
Amano Enzyme Inc.
Creative Enzymes.
Bioseutica
Aumgene Biosciences
STERNENZYM GMBH & CO. KG
Sunson
ENMEX
Sequence Biotech.
Aum Enzymes
Ultra Bio-Logics Inc.
Food Enzymes Market – Mapping the Evolution
Enzymes have been inadvertently used in foods since ancient times, for preparing cheese, cooking wine, leavened bread, and beer. In fact, rennet has been witnessing adoption for manufacturing cheese since biblical times. Food enzymes' preparations have a far-reaching history of being used in the production of foods, including dairy, wine, starch, and in baking industries.
However, rapid technological developments in the last century paved way for a plethora of new applications, as manufacturers' understanding of microbiology as well as enzyme-producing microorganisms and genetic engineering took a leap of growth. As per the PMR analysis, the food enzymes market valued at ~US$ 2,320 Mn in 2018, and is highly likely to pick pace in the forthcoming years.
Fast forwarding to the present day, food enzymes have taken over most of the enzyme market, with biochemists further exploring the science of food enzymes to carve opportunities out of the increased traction for all-natural edible products. Food enzymes market is estimated to witness a 5% Y-o-Y growth in 2019 over 2018, with demand mainly accountable to the tie-in of chemicals in food with diseases.
Several chemical solutions that were used for dough conditioning earlier have been prohibited in various countries. Previously, enzymes were considered to be non-toxic and safe for consumers since they are naturally present in ingredients used in food production.
However, food enzymes that are produced industrially by fermentation of microorganisms, or by extraction from plant and animal tissues started getting assessed for safety over time.
Customize this Report
Explore Intelligence Tailored to Your Business Goals.
Compelling Trends in Food Enzymes Landscape
Health & Wellness Trend – Long Term Opportunity
Extensive applications of food enzymes in the food processing industry, and their growing adoption in highly consumed foods, such as dairy, bakery, beverages, and others are the key determinants shaping growth of the market.
Moreover, shifting consumer preference for food products with more nutritional content and health benefits are fueling adoption of food enzymes in growing number of food processing products. For instance, food enzymes such as amylases and proteases have witnessed a significant rise in demand in recent years, owing to their vital role in improving digestion, providing more energy, and rich antioxidant profile.
Awareness Leading to Demand
Rising consumer awareness about nutritional profile of enzymes has led to an augmented product demand, which in turn is uplifting the lucrative value to the food enzymes market. The robust application perspective of food enzymes in the food and beverages industry for enhancing product quality, coupled with the growing acceptance for bakery applications will drive demand.
Traction for Clean Label Ingredients – A Prominent Trend
Shifting consumer preference for natural, chemical-free, and organic food has alleviated the adoption of food additives, such as emulsifiers, creating a lucrative opportunity for food enzymes producers. With the clean label trend influencing the adoption of emulsifiers, food enzymes are emerging as a viable replacement for them in the proliferating food industry, owing to their equivalent benefits and clean label nature.
In the bakery industry, manufacturers are increasingly adopting food enzymes over emulsifiers, such as Diacetyl tartaric acid ester of monoglycerides to enhance the quality of baked goods.
Escalating Demand for High Quality Food- Promising Higher Gains
Food enzymes, such as amylase, protease, lipase and others showcase the capability of improving quality of various food products. For instance, they are witnessing traction for manufacturing alcoholic beverages, as they improve the fermentation process of malts and provide the smoothness to the end products.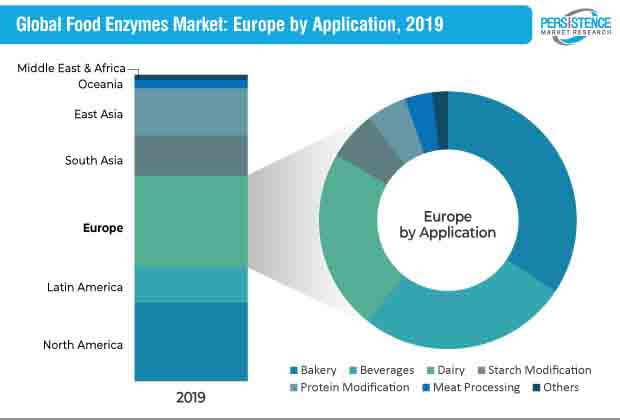 Market Research Methodology - Perfected through Years of Diligence
A key factor for our unrivaled market research accuracy is our expert- and data-driven research methodologies. We combine an eclectic mix of experience, analytics, machine learning, and data science to develop research methodologies that result in a multi-dimensional, yet realistic analysis of a market.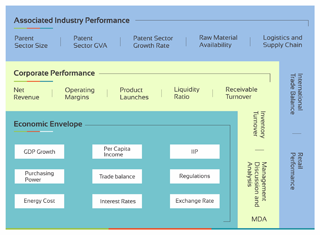 Winning Strategies to Break Down the Barriers to Success
Eying Customer Collaborations to Increase Sales
Strengthening customer collaborations continues to be the best foot forward for market partakers to retain growth in food enzymes market. As the revenues of companies rely on delivery of consumer centric products, it has become imperative for food enzymes producers to form robust collaborations with customers to deliver desired offerings.
Several companies have shifted their focus on rapidly changing consumer trends to grow through development of in demand food enzymes.
Concentrating R&D Efforts on Developing the Customer Appeal
Though food enzymes adoption is growing at a steady pace in bakery products to be particular, which accounted for sales worth ~US $ 54,488 Mn in 2018, brands continue to battle barriers pertaining to high cost. This has led to a growing drive for food enzymes reformulation aimed at expanding their applications as per the needs of consumers, while overshadowing their high cost factor.
Leveraging Lucrativeness of Europe
Stakeholders are increasingly focusing on leveraging the opportunistic potential of Europe, owing to the sprawling bakery industry in United Kingdom which has been creating wide demand for food enzymes. The Europe Food Enzymes market is estimated to be valued at ~US$ 728.5 Mn by 2019 end, and register ~4.6% CAGR over the foreseeable period.
Favorable regulations in Europe, which don't recognize an enzyme as a food additive, has been fueling the adoption of food enzymes as a replacement for emulsifiers. Moreover, established and steadily growing end user industries in Europe continue to strengthen the adoption prospects of food enzymes.
New Product Launches – Robust Building Block
New product launch is increasingly garnering attention as a key strategy to march forward in the food enzymes market. Leading players in the food enzymes market are increasingly launching novel and demand-driven variants to appeal to a wide pool of customers.
For instance, in March 2018, DSM launched Maxilact® Smart, a lactase enzyme that enables notable increase in production efficiency and capacity, while allowing dairy producers to meet growing demand for lactose-free dairy products.
Explore Persistence Market Research's expertise in promulgation of the business !
Competition Landscape
In March 2019, DuPont Nutrition & Health introduced PowerFresh 9705 enzyme systems that address freshness and resilience across the shelf life of bakery products. This leading market player has been strategizing on offering innovative solutions to customers through leveraging R&D activities in the food and beverages industry. Back in July 2018, the company announced the opening of its novel innovation and application center in Kanagawa, Japan to offer solutions to Japan and Korea-based consumers from beverage, bakery, and dairy industries.
In July 2018, Amano Enzyme USA started an entire line of non-GMO food enzymes at IFT18. The new non-GMO line deals in enzymes, such as lipases and proteases with wide applications in food processing industry.
The food enzymes market can be characterized by the presence of large number of companies that are vying to gain a robust position in the industry. Market goliaths, such as DuPont, Kerry Inc., DSM, Novozymes, BASF SE, Chr. Hansen Holding A/S, collectively hold over half of the market share.
Increased focus of market forerunners on expanding their product portfolio, customer centricity, production expansion and operational efficiency continues to accelerate growth of the food enzymes market.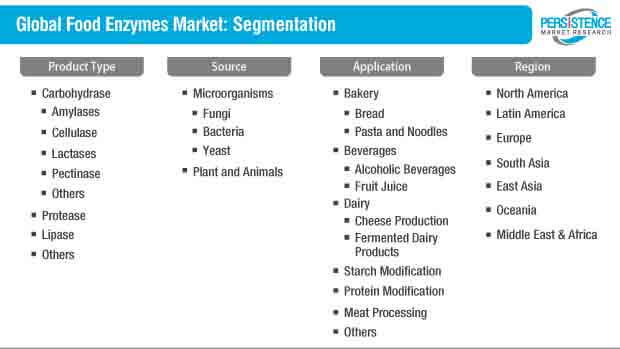 Analyst's Viewpoint
Escalating demand for processed food & beverages coupled with diversification in extraction process of food enzymes will continue to fuel growth of food enzymes market, which is envisaged to register a CAGR of ~5.5% during 2019-2029.
In addition, introduction of cold-adapted enzymes is also emerging as a significant factor that will augment the growth prospects of food enzymes market. Thus, food enzymes are poised to witness notable adoption in the years to come, on the back of wide range of applicability and high production efficiency.
Companies that are focusing on leveraging innovation to produce low-cost food enzymes are highly likely to witness increased sales through 2029.
About Enzymes
Enzymes are proteins produced by all living organisms, including plants, animals, bacteria, fungi, as well as humans. Enzymes act as catalysts in different applications and increase the rate of biochemical reactions. Enzymes fasten biological and chemical reactions, making them suitable for use in the food processing industry. Food enzymes are widely used in different food and beverage applications including bakery, dairy, brewery, meat processing, starch modification, and others.
Enzymes have been used in food since a long time for making cheese and other products. As research and development took place, food enzymes became an essential part of the food and beverages industry. At present, there are a variety of food enzymes used in the food industry, from which, some of the prominent examples are amylase, protease, and lipase.
Food enzymes are primarily derived from microorganisms, plants, and animals. Traditionally, enzymes were obtained from animal and plant sources, for use in different food products. For example, rennet, a food enzyme derived from the stomach lining of calves, is used for making cheese.
Nowadays, most food enzymes are sourced from microorganisms such as fungi, bacteria, and yeast. The most used application for enzyme is in bakeries. Food enzymes such as amylase and lipase, play a significant role in the manufacturing process of bread, pasta, noodles, and other bakery products.
Usage of Food Enzymes as Substitutes for Emulsifiers
Food enzymes have varied functional properties and are capable of providing emulsification to different food products. Emulsifiers are used increase kinetic stability of food, and food enzymes provide similar benefits to food products. The major advantage of food enzymes over emulsifiers is that they are identified as clean label ingredients.
As the regulation towards the use of labeled ingredients is becoming stricter, the demand for food enzymes is growing across the globe. Lipase, a food enzyme, is presumed to be the perfect replacement for emulsifiers. Lipase also displays the properties of emulsifiers, as it breakdowns fats into glycerol and fatty acids, which further reduce the fat level in bread and cake products.
Food enzymes can be utilized as replacements for emulsifiers in bakery, dairy, confectionary, and other industries, which are providing potential growth to the food enzymes market.
Growing Consumption of Fermented Food and Beverages
Consumption of fermented food and beverages is drastically increasing due to their various health and nutritional benefits. Consumers are becoming aware of the health benefits of fermented food products and the demand for these is also increasing.
Food enzymes are mostly used during the fermentation process to accelerate the production process and provide nutritional benefits. Some fermented food products such as kombucha, sauerkraut, kimchi, kefir, and others are popular food products among consumers. Food enzymes further improve the product quality of various fermented food products.
Kombucha, a fermented beverage, contains vinegar, enzymes, vitamins, probiotics, and high concentration of acids. Consumer preference for fermented food and beverage products will remain strong in the future, which will positively impact the global food enzymes market.
Food Enzymes Reduce Levels of Acrylamide, a Carcinogenic Substance
Acrylamide is naturally present in some food products such as corn flakes, biscuits, french fries, and others. When these food products are processed at a high-temperature, acrylamide is formed naturally. When certain foods are cooked at a temperature above 120 degree Celsius, acrylamide is naturally formed in food items.
It is also formed in those foods, which are high in carbohydrates such as potatoes and others. Acrylamide is a carcinogenic substance and linked to the neurological damages. Food enzymes used in bakery, dairy, and other products are capable of reducing acrylamide levels in food.
Food enzymes can reduce acrylamide levels up to 90% and reduce the risk of any damages. As the awareness regarding the effects of acrylamide on the human body grows, the demand for food enzymes may also grow. This may provide better opportunities for growth to the food enzymes market.
Food Enzymes Market - Segmentation
PMR's study analyses the food enzymes market based on source, application, product type, and region. The report offers detailed insights and rapidly changing trends associated with each segment, and how each one of them are shaping the growth of the food enzymes market.
Product Type

Carbohydrase

Amylases
Cellulase
Lactases
Pectinase
Others

Protease
Lipase
Others

Source

Microorganisms

Plant and

Animals

Application

Bakery
Beverages

Alcoholic Beverages
Fruit Juice

Dairy

Cheese Production
Fermented Dairy

Products

Starch Modification
Protein Modification
Meat Processing
Others

Region

North America
Latin America
Europe
South Asia
East Asia
Oceania
Middle East and Africa
What are the Key Questions Answered in PMR's Report on Food Enzymes Market?
Which source of food enzymes will bring maximum gains for market in 2022?
How market goliaths are successfully cashing in on the attributes of food enzymes?
What will be Y-o-Y growth of food enzymes market between 2019 and 2020?
What ROI can food enzymes' manufacturers expect from its applications in bakery industry in a couple of years?
What are the unique strategies of big shots in Food enzymes Market?
Which product type of food enzymes witnessed highest adoption in 2018?
Our Clients