Flu Vaccines Market
Global Market Study on Flu Vaccines: Alleviating the Stress on Healthcare Systems amid COVID-19 Pandemic
Flu Vaccines Market Segmented by product types such as Influenza Vaccines ,Trivalent Flu Vaccine, Quadrivalent Flu Vaccine having dosage form such as Nasal Spray, Intramuscular Injection, Intradermal Shot
Introduction
Flu vaccines are gaining popularity as a method of prevention and mitigation of influenza virus. Its continued infection rate over the years has prompted the adoption of these vaccines. With the growth in the new target population across the underdeveloped and developing economies, the market is expanding at a significant rate.
The growth in awareness campaigns regarding control of the infectious diseases is impacting growth in the market. Different biotech companies are continuously improving the current vaccines by enhancing their protection rate, introducing advancements in the market.
A surge in the number of health centers such as hospitals and clinics is projected to have a positive influence on the market. The robust growth in the healthcare infrastructure across the scaling economies is generating lucrative growth opportunities in the market.
The growing prominence of retail pharmacies coupled with the growing popularity of mail-order pharmacies is escalating the sales in the market. Major market players are investing in R&D activities to boost their manufacturing capacity and product offerings.
They are establishing new manufacturing facilities to enhance their production capacity. Vendors in the market are hosting awareness campaigns and free vaccine drive in low-income countries. Leading players in the market ate GlaxoSmithKline Plc., Sanofi Pasteur Inc. (Sanofi S/A), Abbott, AstraZeneca, and Serum Institute of India Pvt. Ltd.
As an increasing number of countries in the southern hemisphere are moving closer to winter, the upcoming influenza season is anticipated to worsen the already debilitating coronavirus (COVID-19) pandemic. This may lead to an increased demand for influenza vaccine.
As most healthcare facilities are already compromised due to surging COVID-19 patients, there is a growing demand for flu vaccines to combat the onset of influenza.
Just like Coronavirus, influenza is potentially fatal for individuals, especially in their old age, since influenza causes respiratory tract diseases. Hence, companies in the flu vaccines market are increasing their efforts to be prepared for emergency situations arising from the influenza outbreak for countries falling under the southern hemisphere.
Companies in the flu vaccines market are increasing their R&D activities to innovate in vaccines that treat Coronavirus. They are helping individuals to abstain from visiting the doctors amidst ongoing lockdown situations. Increased availability of flu vaccines will help to reduce the stress on healthcare systems and minimize the exposure to Coronavirus.
Find Out More about the Report Coverage
Companies
Sanofi Pasteur Inc. (Sanofi S/A)
AstraZeneca
CSL Ltd. (Seqirus)
Abbott
GlaxoSmithKline Plc.
Serum Institute of India Pvt. Ltd.
Is Flu Vaccine Effective in Combating Coronavirus?
U.S. president Donald Trump is addressing questions pertaining flu vaccine and its efficacy for Coronavirus treatment during a recent White house roundtable discussion with its COVID-19 task force and pharmaceutical company executives.
It has been found that flu vaccines are not entirely effective for prevention of getting Coronavirus but can help keep other diseases like influenza in control. On the other hand, it has been found that children who receive three-strain flu vaccine had higher susceptibility toward acquiring Coronavirus.
The ever-evolving nature of viruses has forced researchers to update the flu vaccines to protect individuals from various strains of life-threatening infections. As such, there is an unprecedented demand for flu vaccine that could prevent individuals from acquiring the novel Coronavirus.
This demand for flu vaccines is predicted to grow since the global pandemic has the potential to cause other severe illnesses involving symptoms of fever, shortness of breath and coughing.
Customize this Report
Explore Intelligence Tailored to Your Business Goals.
Nasal Drop Vaccines for Coronavirus Hold Promising Potential for Human Trials in 2020
Growing demand for flu vaccines owing to high mortality rates of Coronavirus has triggered innovations in flu shots. For instance, Bharat Biotech — a biotechnology company in India, announced to team up with University of Wisconsin Madison and US-based biotechnology company FluGen to experiment with flu vaccines that fight off Coronavirus.
Companies in the flu vaccines market are increasing their efforts in several clinical trials that hold promising potentials of producing millions of doses to deploy global distribution. Inorganic strategies in the flu vaccines market are allowing companies to transfer is state-of-the-art manufacturing processes to other manufacturers to accelerate flu vaccine production.
Innovative nasal drop vaccine candidates are catching the attention of healthcare systems in India. As such, novel intranasal flu vaccines are in the works to combat COVID-19. Thus, companies experimenting with vaccines are keen on beginning human trails early this year amidst the COVID-19 outbreak. They are collaborating with top virologists from renowned universities to develop well-tolerated nasal drop vaccines.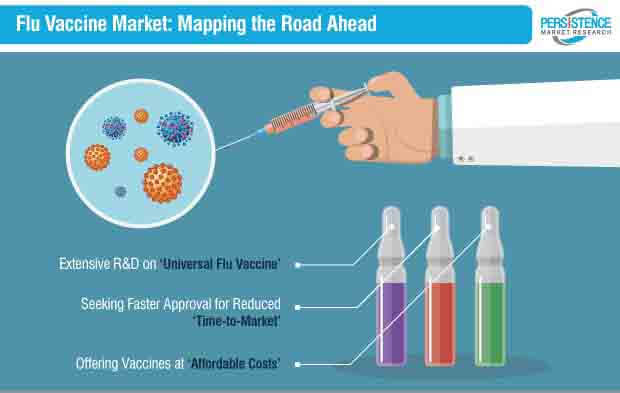 Market Research Methodology - Perfected through Years of Diligence
A key factor for our unrivaled market research accuracy is our expert- and data-driven research methodologies. We combine an eclectic mix of experience, analytics, machine learning, and data science to develop research methodologies that result in a multi-dimensional, yet realistic analysis of a market.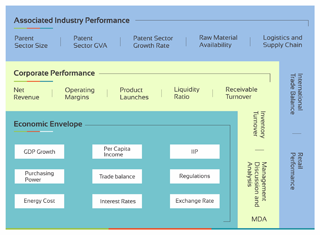 Sustained Investments Help to Scale up Production of Tailor-made Flu Vaccines
The demand for universal flu vaccines fuels the need to innovative science and financing to join forces to help capitalize on untapped opportunities. As such, influenza is infamous for extracting a heavy economic toll on healthcare systems in the U.S. along with increased mortality rates.
Rapid onset of influenza is anticipated to outpace the existing flu vaccine production technologies, thus resulting in increased costs of flu shots which is relatively discouraging for individuals. Hence, there is a need for sustained investments in both financial and technical domains to innovate in universal flu vaccines.
Companies in the flu vaccines market are focusing on modernizing the flu vaccine manufacturing processes to scale up the production of tailor-made vaccines. With the onset of the winter season in countries of the southern hemisphere, the demand for universal influenza vaccines is estimated to climb high market growth in the coming months.
Explore Persistence Market Research's expertise in promulgation of the business !
Oral Vaccines Eliminates Phobia Associated with Needles for Flu Vaccines
To gain a competitive edge in the global flu vaccines market, companies are evaluating predictions slated by scientists about the potential new strains of viruses that could infect individuals during the upcoming years.
However, the virus strains are anticipated to evolve in unforeseen ways, which is likely to hamper market growth and this creates a need for improved production techniques.
Hence, Janssen Pharmaceutical - a pharmaceutical company headquartered in Belgium, announced to collaborate with Vaxart, Inc. - a clinical stage biotechnology company, to innovate in oral flu vaccines in the form of a pill. This presents as a good news for individuals who dread needles while taking vaccine jabs.
Universal Flu Vaccines: A Cost-efficient Way to Combat Multiple Viral Strains
Single vaccine that protects against all flu types is another innovative concept gaining the attention of companies in the flu vaccines market. Manufacturers are increasing their focus in mini-HA (Hemagglutinin) antigens that contain parts of the flu virus that are found in several other viruses.
They are re-thinking vaccinations containing antigens that hold promising potentials to fight off multiple virus strains. This trend has led to the concept of universal flu vaccines that is anticipated to create value-grab opportunities for companies in the coming years.
Universal flu vaccines will help to reduce the burden of yearly updates in flu shots, thus saving on costs for researchers and healthcare companies. Single vaccines are predicted to make healthcare systems to be better prepared during the influenza pandemic that costs several lives worldwide.
Moreover, as many antiviral drugs have limited power in fighting off viruses, companies can capitalize on incremental opportunities by experimenting with universal flu vaccines.
Analyst's Viewpoint
Currently companies are in their early stages of developing universal nasal flu vaccines that are relatively more effective than traditional nasal vaccines existing in the market. They are increasing their R&D activities to investigate multiple preventive and treatment approaches that fall in bracket of combating various strains of flu by increasing focus in the oral approach.
Flu Vaccine Market – Segmentation
Key information featured in the flu vaccine market report has been segmented into four broader categories – type, dosage form, distribution channel, and region. The report includes different dynamics and trends related to individual segments, and assesses their impact on the overall growth of the flu vaccine market. Market value share analysis and market attractiveness assessment of the segments have also been provided in this section of the report.
Product

Trivalent Vaccine
Quadrivalent Vaccine

Dosage Form

Nasal Spray
Intramuscular Injection
Intradermal

Distribution Channel

Institutional
Hospitals
Community Clinics
Public Health Agencies
Workplaces
Retail
Retail Pharmacy
Mail Order Pharmacy

Region

North America
Latin America
Europe
East Asia
South Asia
Oceania
Middle East & Africa
Key Questions Answered in the Report
How much is the flu vaccines market worth?

The global flu vaccines market is estimated to be worth US$ 4.7 Bn in the year 2021.

What will be the demand outlook?

The global flu vaccines market is expected to witness a CAGR of 7.4% between 2021 and 2031.

What was the last 5 year market CAGR?

The flu vaccines market witnessed a CAGR of 5.8% between 2015 and 2020.

What are the key trends of flu vaccines market?

The latest trend implies strong pipeline candidates for flu vaccines.

What is driving demand for flu vaccines?

Schemes like NIP (National Immunization Program) and immunization programs conducted by the WHO all over are driving the demand for flu vaccines.

What is the market share of top 5 players?

The top 5 players such as GlaxoSmithKline plc, Sanofi S.A., AstraZeneca, Seqirus, and BioDiem hold more than 30% of the market share.

What are the top 5 countries driving demand?

The top 5 countries driving demand include UK, France, Australia, the US, and Switzerland.

What is North America's market Outlook?

North America holds more than 25% of the overall market share with the US contributing towards it.

At what percentage flu vaccines market is going to register growth in Europe?

Europe is expected to register growth at the rate of 6% in the flu vaccines market between 2021 and 2031.

Which are the key exporters of flu vaccines?

The US, UK and Australia are the key exporters of flu vaccines.
Our Clients