Facial Aesthetics Market Outlook (2022-2032)
The global facial aesthetics market is expected to hold a market value of US$ 12.3 Bn in 2022 and expand at a high-value CAGR of 10.1% to US$ 32.2 Bn by the end of 2032.
As evaluated by Persistence Market Research, facial aesthetic product sales accounted for 21.6% revenue share of the global non-invasive aesthetic treatment market in 2021. The global market recorded a historic CAGR of 6.9% in the last 9 years from 2012 to 2021.
A rapidly aging population and the current middle-aged group population are further driving the demand for facial aesthetics.
As per the United Nations, 34% of Europe's population is projected to be over 60 years old by 2050. In Latin America, the Caribbean, and Asia, the current population over 60 years is 11% to 12% and is expected to be more than 25% by 2050.
Products such as chemical peels and equipment with micro-abrasion techniques polish the outermost layer of the skin, revealing fresh and healthy skin, which makes consumers opt for these skin treatments. Additionally, demand for fast and less time-consuming treatments with quicker results is expected to drive the demand growth for facial aesthetics. Dermal fillers show an instant effect after injecting and they also take time to settle, enhancing the duration of the therapeutic effect.
Increasing demand for clinically-evidenced ingredients is boosting the number of least or non-invasive cosmetic procedures. Cosmetics do not require approval from any regulatory authority, which affects the reliability of patients on these products; however, clinically proven records coupled with approvals by respective authorities help gain patients' reliance to treat facial problems.
Compared to the 1990s, demand for clinically advanced and proven ingredients has been boosting demand for reconstructive, minimally invasive, and non-invasive procedures. A wider array of cosmetic treatment options provided by various manufacturers is expected to fuel the market for facial aesthetics globally.
| Attribute | Details |
| --- | --- |
| Facial Aesthetics Market Size (2022) | US$ 12.3 Bn |
| Projected Market Value (2032) | US$ 32.2 Bn |
| Global Market Growth Rate (2022-2032) | 10.1% CAGR |
| Market Share of Top 5 Countries | 50.3% |
How Can Facial Aesthetic Product Manufacturers Grow in the Years Ahead?
"Increasing Demand for Clinically Proven & Prescription Products"
Consumers are opting for treatments with clinically proven records and mostly prefer visiting a dermatologist for the desired facial treatment rather than going to beauty spa centers. They are also increasingly opting for prescribed products as compared to over-the-counter drugs and traditional topical treatment products. Thus, an increase in the production of clinically proven products coupled with prescription-based products is expected to generate significant demand for facial aesthetic formulations over the forecast period.
Consumers are looking for skin condition-specific products, i.e., they are rejecting the 'one size for all approach, and hence, products with a successful clinical record for a specific skin condition create will lucrative opportunities for manufacturers.
Moreover, botulinum toxin, which is used as a facial injectable, is actively being studied and used along with dermal fillers for more defined and long-lasting effects in procedures such as the reduction of crow's feet and forehead lines. Also, the use of botulinum toxin in combination with dermal fillers gives a smoother appearance and long-lasting effect in cosmetic procedures.
Can Demand for Facial Aesthetics Be Restricted in Any Way?
"Challenging Counterfeit Products and Post Procedure Complications"
Facial injectables available are absorbable/biodegradable, except for polymethylmethacrylate (PMMA) dermal fillers. These biodegradable dermal fillers last for 3 to 24 months only. PMMA dermal fillers are also expected to last for 4 to 5 years. This makes the procedure repetitive after a certain time. Due to this, there is a preference for surgical facial rejuvenation over dermal fillers as their results are long-lasting.
There are reported adverse effects of dermal fillers post-procedure, such as redness, bruising, unevenness or migration of filler, discomfort, and in moderate cases, granulation or lumpiness. There are many cases reported of allergic reactions to collagen fillers, and hence, sometimes, pre-testing for reactions is recommended before a dermal filler procedure. These factors are set to affect market growth to some extent.
Since botulinum toxins are manufactured using microbes that are easily accessible, several counterfeit products are available in the market. These products are not approved by any regulatory body and are easily available online. Counterfeit facial aesthetic products are a major challenge, especially in the Asian region. Most approved products encounter trouble sustaining in the Chinese market. These all have the potential to hinder market growth over the coming years.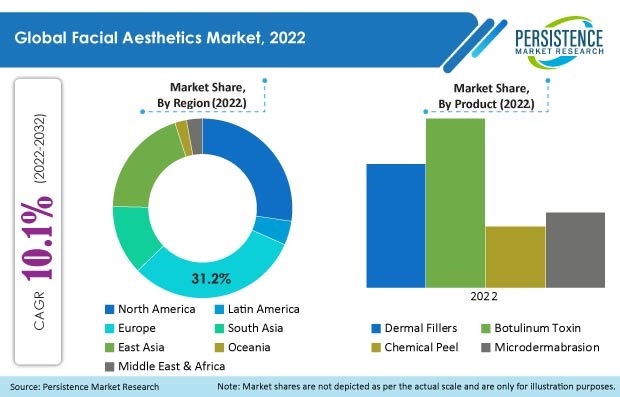 Country-wise Insights
Why is the U.S. Facial Aesthetics Market Booming?
"Increasing Preference for Non-Surgical Procedures in the U.S."
Facial aesthetic treatments accounted for the largest share by market volume. The U.S. held 84.1% revenue share of the North American facial aesthetics market in 2021 due to increased preference for non-surgical procedures in the country and rising information for dissemination and increased awareness toward measurable improvements in the procedures undertaken. The market is expected to expand at a CAGR of 8.1% over the forecast duration.
Combination therapies of botulinum neurotoxin and hyaluronic acid-based dermal fillers are the most preferred therapeutic choices in the U.S. and they tend to drive the adoption of these therapies among patients. Thus, the demand for facial aesthetics has increased in the U.S. due to innovative products, thereby promoting the value of the market.
Will Germany Be a Lucrative Market for Facial Aesthetic Product Manufacturers?
"Easily Availability of Botulinum Toxin Products in the Country"
Germany held around 18.5% share of the European facial aesthetics market in 2021.
Economically affluent European countries such as Germany promote the use of approved neurotoxins (botulinum type-A) and have close to 50% of procedures done through botulinum type-A injections. Thus, easy availability of products and affordability are expected to increase the demand for facial aesthetic products in this region.
Moreover, companies in the sector are focused on marketing, and more budget for sales and advertisements, apart from R&D initiatives, to seize a greater market share.
Why is Japan Emerging as a Huge Market for Facial Aesthetic Products?
"Rising Aging Population & Growing Medical Tourism"
Japan held the largest market share of 39.6% of the East Asia market in 2021 and this market is set to grow at 7.8% CAGR during the forecast period.
An increasing number of people in their 60s and older, as well as their greater susceptibility to age-related conditions such as acne, wrinkles, and scars, is driving market expansion. The demand for facial aesthetics in Japan has been continuously rising because of the vast patient pool using facial dermal fillers and Botox.
Also, facial aesthetics is expected to experience strong demand due to the increasing trend of medical tourism in the country.
How is India Emerging as a Prominent Market for Facial Aesthetic Product Suppliers?
"High Penetration of Local Manufacturers in India"
India held the largest market share of 26% of the South Asia market in 2021 and is expected to lead during the forecast period as well.
Low-income countries such as India have deep penetration of dermatology service providers who tend to provide various creams, lotions, and chemical peels as the best options for facial treatment.
Furthermore, there are several products that are available from local and unauthorized manufacturers, which indicates the increasing demand for botulinum toxin and will drive overall demand for facial aesthetics.
Category-wise Insights
Which Facial Aesthetic Product is in High Demand?
"High Demand for Affordable Botulinum Toxin Products across Regions"
The botulinum toxin segment held 39.3% market share in 2021.
Demand for botulinum toxin products is being driven because Botox comprises decontaminated bacteria that is injected in a purified form for therapeutic and cosmetic purposes and helps freeze the muscles and minimize the appearance of lines and wrinkles caused by facial expression, thus accelerating segment growth.
Which Facial Aesthetic Treatment is Majorly Driving Industry Growth?
"Facial Restorative Treatment to Boost Market Value"
Restorative treatment held the largest market share of 32.2% in 2021, holding the greatest proportion of the market among all treatments.
Restorative treatment for volume applications includes smile lift, square jaw masseter, dimpled chin, and others, and it restores volume to give natural, youthful contours to an aging face. This treatment is used not only for the restoration of facial balance but also for dental esthetics and oral function. Since oral diseases alter dentofacial form, this treatment is widely accepted across regions.
Competitive Landscape
Increasing demand for facial aesthetics, favorable support from governments in terms of approvals for new entities, and new applications of novel solutions are factors boosting acquisition and partnership agreements between manufacturers. Companies are continuously focusing on increasing their product reach in the market.
In January 2022, Galderma acquired ALASTIN Skincare®, Inc., a facial aesthetic product manufacturer solely dedicated to developing innovative skincare products to enhance its dermatology platform with different skincare regimens.
In December 2021, Allergan Aesthetics acquired Soliton, Inc. to add its technology complements to Allergan Aesthetics' portfolio of non-invasive treatments, especially for cellulite.
Facial Aesthetics Industry Report Scope
Attribute
Details

Forecast Period

2022-2032

Historical Data Available for

2012-2021

Market Analysis

USD Million for Value

Key Countries Covered

U.S.
Canada
Brazil
Argentina
Mexico
Germany
France
U.K.
Italy
Spain
Russia
BENELUX
Nordic Countries
India
Thailand
Malaysia
Indonesia
China
Japan
South Korea
Australia
New Zealand
Turkey
GCC Countries
Northern Africa
South Africa

Key Market Segments Covered

Product
Treatment
End User
Region

Key Companies Profiled

Allergan
Galderma laboratories
Teoxane
Laboratories Vivacy
Prollenium Medical Technologies
Laboratories Orgev
MD Skin Solutions
Revitacare
Suneva Medical
SciVision Biotech Inc.
Merz Pharmaceuticals
Bausch Health Companies Inc.
Mentor Worldwide LLC
Anika Therapeutics, Inc.
Adoderm GmbH
Johnson & Johnson

Report Coverage

Market Forecast
Competition Intelligence
DROT Analysis
Market Dynamics and Challenges
Strategic Growth Initiatives

Customization & Pricing

Available upon Request
Key Segments Covered in Facial Aesthetics Industry Research
By Product:
Dermal Fillers
Botulinum Toxin
Chemical Peels
Microdermabrasion
By Treatment:
Facial Line Correction Treatment
Scar Treatment
Lip Treatment
Restorative Treatment
Others
By End User:
Hospitals
Dermatology Clinics
Aesthetic Clinics
Beauty Salon
By Region:
North America
Latin America
Europe
South Asia
East Asia
Oceania
Middle East & Africa