Market Snapshot
Newly released industry analysis on medical tourism by Persistence Market Research reveals that global demand enjoyed year-on-year (YoY) growth of 10.2% in 2021. Overall market value of US$ 441 Bn by 2031 that will rise at a CAGR of 10.2% has been predicted for the global medical tourism market.
Key Insights Covered in Medical Tourism Industry Survey:
Market Estimates and Forecasts (2016-2031)
Key Drivers and Restraints Shaping Market Growth
Segment-wise, Country-wise, and Region-wise Analysis
Competition Mapping and Benchmarking
Market Share Analysis By Key Players
Key Product Innovations and Regulatory Climate
COVID-19 Impact on Demand for Medical Tourism and How to Navigate
Recommendation on Key Winning Strategies
Sales Analysis of Medical Tourism Services from 2016 to 2020 Vs Market Outlook for 2021 to 2031
The global medical tourism market expanded at 8.8% CAGR over the past 5 years.
Most medical travellers go abroad for elective procedures such as cosmetic surgery, which are not covered under regular policies. Healthcare insurance also does not cover several non-elective procedures performed abroad.
In the Southeast Asian region, Singapore, Thailand, Malaysia, India, and South Korea have become preferred healthcare destinations for millions of Americans seeking quality and affordable cosmetic surgeries, dental care, elective orthopaedic procedures, and bariatric surgeries.
More affordable international travel, rising advertising of medical tourism, and growing medical travel for elective procedures are some of the key trends influencing the medical tourism industry.
The global market is expected to expand at a considerable growth rate over the next ten years at a CAGR of 10.2% and offer an incremental $ opportunity of US$ 273.6 Bn.
What are the Key Opportunities on Offer for Medical Tourism Providers?
Tourism is a significant contributor toward sustainable economic development in various countries. Medical therapeutics is emerging as an offshoot of tourism and creates various revenue opportunities across destinations.
Governments across most such countries are focusing on this lucrative industry by implementing favourable regulations and encouraging public & private investments in strengthening healthcare facilities. Companies can enter into tie-ups with various government agencies to capitalise on such opportunities and increase the influx of medical wellness services to such destinations.
The growing market of outbound medical travel also increases patient need for continuous follow-up after availing treatment cross border. According to an article published in the journal of Medical Internet Research 2016, usage of teleconsulting and telemedicine helps cross border patients with faster recovery at a low cost.
Thus, increasing government initiatives and teleconsulting/ telemedicine care for follow-up care would provide key opportunities for the growth of medical tourism providers.
What are the Factors Restraining Demand for Medical Tourism?
Lack of effective follow-up care remains one of the prime factors restraining the growth of the industry. Patients face difficulty in getting follow-up treatment in their home country after receiving medical care abroad.
One of the major issues patients deal with is the management of postoperative complications that occur after returning to their home country. Also, domestic healthcare providers are often hesitant to take on complicated cases, especially those performed by unknown professionals in other medical tourism destinations.
Language barriers, low training standards of doctors, privacy concerns, and low pay or coverage are some other factors that are also restraining the growth of the market. However, as a solution, various hospitals have started nonmedical services such as hospitality services, logistic arrangements, and multilingual staff.
Also, patients are concerned regarding their privacy and confidentiality of medical data in foreign countries. Laws need to be formulated to gain the confidence of foreign medical tourists.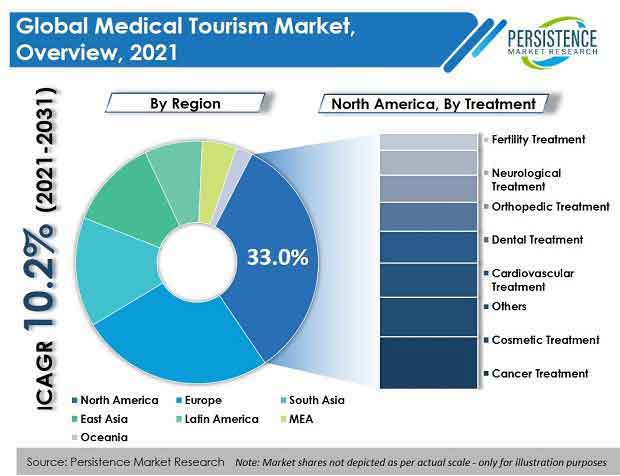 Country-wise Insights
Why is the U.S. an Important Destination for Medical Tourism?
The U.S. dominates the North American region with a total market share of 62% in 2021, and is projected to continue experiencing high growth throughout the forecast period.
The U.S. market dominated the North American region in 2020 due to the availability of advanced neurological, cancer, and cardio treatments in the country. While a growing number of Americans are travelling abroad for medical treatment, there has been significant rise in inbound medical tourism of the country as well.
According the American Society of Plastic Surgeons report, nearly 5.9 million reconstructive procedures and 18.1 million cosmetic procedures were conducted in the U.S. in 2018. Medical and healthcare facilities are highly advanced and best-in-class in the U.S.
Why is Germany Considered an Emerging Market for Medical Tourism in Europe?
Germany's per capita healthcare spending is around 11.2% of its GDP, which is higher as compared to other European countries, offering diverse benefit packages, high-quality service delivery, and easy access to care. Germany is a powerful global business force, and has an innovative, tech-heavy wellness industry.
Germany is a progressively famous destination for travellers who are interested in medical tourism. Its advanced healthcare facilities, strict ethical standards, and rapid access to experts make it an attractive destination for outbound medical tourism. Medical tourism in Germany also has an excellent cost-to-quality ratio.
Germany is the second most lucrative market in Europe with a market share of 18%.
What Makes the U.K. a Lucrative Market for Medical Tourism?
The U.K. dominates the European market with a 25% share, and is projected to expand at a CAGR of over 8%.
Convergence of reasonable air travel and Internet-based marketing operations undertaken by healthcare facility providers are leading to the expansion of medical tourism in the country. Against this backdrop, the U.K. National Health Service (NHS) has suggested that an increasing number of patients might consider travelling for treatment.
The U.K. NHS has witnessed that the degree of inward travel of international patients to the country has remained relatively stable in comparison to considerable surge in the number of U.K. population travelling overseas for medical treatment and wellness services. However, medical tourism in the U.K. is gaining from the presence of world-class private medical facilities, some of which are considered to be the best around the world.
Many of U.K.'s specialist clinics are flaunted to be at top of their field of practice, including the BMI Healthcare Center, Royal Berkshire NHS Foundation Trust, London Fertility Center, among others. Presence of some of the most renowned medical facility providers is aiding the development of medical tourism in the U.K.
How is South Korea Influencing Medical Tourism Market Growth?
South Korea holds 40.9% revenue share in the East Asia medical tourism industry, and is expected to expand at a CAGR of over 9%. Development of direct operations by key players is the most common factor credited to the evolution of the market in the country.
South Korea has designed the Korean New Deal, which fosters partnerships and investments across all facets of the economy, including its medical travel industry. As part of the project, the Korea Tourism Organization, partnered with the Medical Tourism Association to expand healthcare contributions to a broader international patient base.
To promote its medical travel to a wider patient base and establish it as a leading medical tourism brand, the Korean government leveraged advanced policies to enlarge its niche to other areas of medical expertise.
What is the Outlook for China Regarding Medical Tourism?
In 2020, China dominated the East Asia market with 35% share, and is expected to expand at a CAGR of 10.6% from 2021 to 2031. Integration of traditional Chinese medicine and sophisticated Western medicine by some leading hospitals poses great attraction for foreign travellers.
Several private and public clinics with state-of-the-art facilities are handling a good number of foreign patients. Availability of ground-breaking stem cell treatments that are still at the experimental stage or awaiting approval in developed Western countries are creating huge opportunities in China for medical tourism.
Category-wise Insights
Which Medical Tourism Service is Driving Market Growth?
Cancer treatment is expected to lead the market with a share of 18.6% over the forecast period. Rising prevalence of cancer is one of the leading causes enabling growth of the segment.
According to the World Health Organization (WHO), cancer is the second-leading cause of death worldwide, and was responsible for approximately 10 million deaths globally in 2020. Growing preference for affordable cancer treatment is anticipated to drive demand for medical tourism.
Which Application Has Gained Popularity Medical Tourism?
Therapeutic services gained popularity and witnessed a highest share of 54% in 2021. Therapeutic services have been more preferred and witnessed a high market share over other applications due to the rising prevalence of chronic disease across the globe.
Which Type of Travellers Hold the Highest Share in the Medical Tourism Industry?
Group travellers hold the highest share of medical tourism services with more than 55% market share. This is due to the preference of people to travel in a group, since it is cheaper as compared to traveling independently. This is mostly seen for wellness services, as people travel to foreign countries for wellness services such as spas, massages, and others.
What is the Impact of COVID-19 on Medical Tourism?
The medical tourism space is one of the most impacted industries by the COVID-19 outbreak across the globe. Major medical tourism destinations such as China, Singapore, Thailand, India, and other emerging countries have observed adverse impacts due to COVID 19 pandemic.
Moreover, owing to the global pandemic, significant travel restrictions, including suspension of cross-border travel, were implemented, which brought cross-country travel to a standstill, thus unfavorably impacting medical tourism demand.
Competitive Landscape
Key players have strong focus on patient safety, continual improvements, and best clinical outcomes. Companies aim to deliver consistently high-quality care that is appropriate and accessible to patients
For instance, in October 2020, Philips and Singapore General Hospital (SGH) decided to establish the Digital and Computational Pathology Centre of Excellence.
Similarly, recent developments related to companies offering medical tourism services have been tracked by the team at Persistence Market Research through analysing spending, which are available in the full report.
Report Scope as per Medical Tourism Industry Analysis
Attribute

Details

Forecast Period

2021-2031

Historical Data Available for

2016-2020

Market Analysis

US$ Bn for Value

Key Regions Covered

North America
Latin America
Europe
South Asia
East Asia
Oceania
Middle East & Africa

Key Countries Covered

U.S.
Canada
Brazil
Mexico
Germany
U.K.
France
Italy
Spain
Russia
China
Japan
South Korea
Thailand
Singapore
India
Malaysia
Philippines
Vietnam
Indonesia
Australia
New Zealand
GCC Countries
South Africa

Key Market Segments Covered

Treatment
Age Group
Application
Traveller
Region

Key Companies Profiled

Penang Adventist Hospital
Twin Towers Medical Center
Institute Jantung Negara National Heart Institute
Max Superspeciality Hospital
Fortis Healthcare
Apollo Hospital
Morula IVF
Mother & Child Hospital
Bundamedik Healthcare System
Bali Mandara Hospital
Bali Royal Hospital
BIMC Siloam Nusa
Love the Mother of Kedonganan Hospital
Love Tabanan Hospital Mo
Singapore General Hospital
Changi General Hospital
Johns Hopkins Singapore International Medical Centre
Tan Tock Seng Hospital

Pricing

Available upon Request
Key Segments Covered in Medical Tourism Industry Research
By Treatment
Dental Treatment
Cosmetic Treatment
Cardiovascular Treatment
Orthopaedic Treatment
Neurological Treatment
Cancer Treatment
Fertility Treatment
Others
By Age group
Medical Tourism for Children
Medical Tourism for Adolescents
Medical Tourism for Adults
Medical Tourism for Geriatric Population
By Application
Wellness Services
Therapeutic Services
By Traveller
Independent Travelers
Group Travelers