Cosmetic CDMO Market Outlook (2022-2032)
Worldwide revenue from the cosmetic CDMO market is estimated at US$ 21.2 Bn in 2022, with the global market predicted to surge ahead at a CAGR of 6% to reach a valuation of US$ 37.9 Bn by the end of 2032.
As assessed by Persistence Market Research, contract manufacturing is expected to hold a market value of around US$ 25.8 Bn by the end of 2032. Overall, cosmetic CDMO sales account for approximately 11.7% revenue share of the global contract development and manufacturing organization (CDMO) market, which was valued at US$ 171.1 Bn in 2021.
The global market for cosmetic CDMOs recorded a historic CAGR of 4.9% in the last 5 years from 2016 to 2021. The purchasing preferences of consumers nowadays have significantly changed. Mass-produced personal care and beauty products are less popular; instead, people are more inclined to choose specialized products and distinctive brands that complement their lifestyles. Customers also have serious reservations regarding the products' components, manufacturing process, and packaging.
Because they can heighten production costs, developing products using these kinds of values and components may be difficult for an in-house production team. To satisfy consumer demand and manage costs, outsourcing to a cosmetic contract manufacturer is becoming increasingly popular.
The COVID-19 pandemic increased public awareness about the need to exercise strict health precautions and use safe, hygienic products. Since the personal care and beauty sectors are not exempt from this problem, producers are being encouraged to focus more on healthy products.
Furthermore, the relevance of makeup and fragrance has declined as a result of working from home, physical & social distance, and the use of masks. However, sanitizers, skincare, hair care, and bath and body products appear to be the most popular at present.
Contract manufacturing allows enterprises to efficiently produce and sell their products in areas with strict regulatory laws and import restrictions. As a result, working with CMOs and CDMOs has gained a lot of popularity as an approach to improve distribution and growth.
| | |
| --- | --- |
| Cosmetic CDMO Market Size (2022) | US$ 21.2 Bn |
| Projected Market Value (2032) | US$ 37.9 Bn |
| Global Market Growth Rate (2022-2032) | 6.0% CAGR |
| Market Share of Top 5 Countries | 55% |
How Can the Market for Cosmetic CDMOs Grow?
"Importance of Lowering Production Costs"
In recent years, there has been a noticeable rise in consumer demand for natural/herbal beauty products, which has expanded the use of herbal ingredients in a wider range of cosmetic and personal care products.
Businesses are also working harder to transition away from synthetic chemicals and toward natural ingredients, largely in response to rising customer demand and in an effort to locate a sustainable raw material source. Manufacturers are under intense pressure to focus on mass-producing herbal cosmetics to keep up with consumer demand. Businesses are outsourcing their manufacturing processes to third-party CMOs to fulfil this ongoing demand, which also contributes to the industry's rapid CMO expansion in the cosmetics and personal care market.
CMOs also give businesses the ability to focus on their core strengths and increase production throughput while lowering production costs. These organizations have well-known vendor lists, storage lists, large manufacturing facilities, and distribution networks. Due to these benefits, there is an increasing demand for third-party production, particularly of herbal cosmetics, thus providing vast opportunities for growth in the market.
Demand for private label brands has increased due to changes in consumer preferences in the marketplace, which are also expected to provide CMOs with opportunities in the near future. The key reasons for the change are price, accessibility, selection, and reviews & ratings. Major drivers for the increase in demand for private-label brands are e-Commerce and social medicine.
Can Demand for Cosmetic CDMO Services Be Affected in Any Way?
"Threat of Intellectual Property Theft"
One key downside of contract manufacturing is the danger of intellectual property theft. The process entails transferring the patented designs of items to the CMO, which provides the manufacturer and other workers access to patented information. Since the manufacturer might utilize that information without a license, there is some risk involved. Additionally, this might result in the theft or leaking of intellectual property. Suppliers might exploit it to their advantage and potentially become competitors.
Additionally, when a service is outsourced, the company loses control of the process. There is a chance of losing vital production-related knowledge and skills when this control is turned over. This may put the product's quality and other crucial components of production at risk.
Also, a lack of effective communication is another reason why businesses hesitate to outsource their needs. During the production process, this could lead to several issues, including those with schedules, transition plans, internal communications, and capacity qualification, among others.
These variables may restrict the expansion of contract manufacturers on a global scale.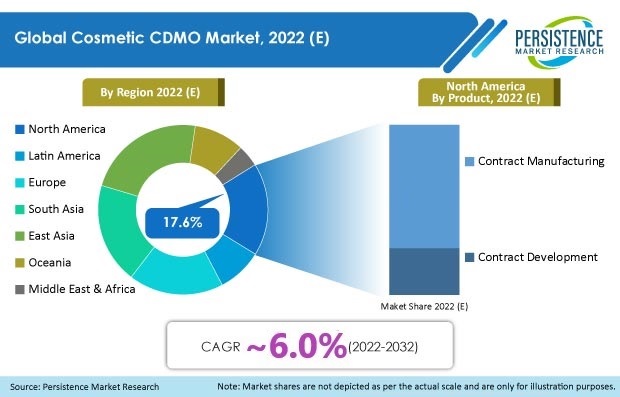 Country-wise Insights
Why is the U.S. Cosmetic CDMO Industry Booming?
"Collaboration among Companies and Established CDMOs"
The U.S. accounted for 80.6% market share of the North American market in 2021, growing at a CAGR of close to 6.0%, and a similar trend is expected over the expanding period. There is the presence of a large number of established CDMOs in the country. Moreover, growing collaborations between pharmaceutical and biopharmaceutical companies with contract manufacturing organizations are further accelerating the growth of the market in the country. Rising disposable income is another factor that is driving market growth in the U.S.
Will Italy Be a Lucrative Market for Cosmetic CDMO Service Providers?
"Italy - Hub for Contract Development & Manufacturing Organizations"
Italy held 21.4% share of the Europe cosmetic CDMO market in 2021. The largest manufacturer of CDMOs in Europe is Italy.
According to the Prometeia-Farmindustria 2020 report's data, Italy is the top country with contract development and manufacturing organizations in Europe, with a total turnover of 9 billion euros, of which, 2.07 billion euros come from Italian producers and 1.97 billion euros come from German producers. France comes in third with 1.72 billion euros.
How is China Emerging as a Prominent Market for Cosmetic CDMO Services?
"Tapping Global Markets and Enhancing Healthcare Sector"
China held the largest market share of 52.5% of the East Asia cosmetic CDMO market in 2021.
Primary factors driving the growth of the Chinese market include the country's recent rapid transformation of its healthcare sector, recent amendments to its Drug Administration Law, and Chinese pharmaceutical businesses' ambition to access global markets.
Category-wise Insights
Which Service is Driving Market Growth of Cosmetic CDMOs?
"High Demand for Development & Manufacturing of Products across Regions"
Contract manufacturing held 69.3% share of the total market in 2021. The fact that contract manufacturing boosts a producer's earnings is its biggest benefit. A business can focus on a specific set of responsibilities and discover how to optimize each one by outsourcing manufacturing to a contract manufacturer.
Additionally, by lowering demand uncertainty and enabling general manufacturers to concentrate on what they do best without having to worry about acquiring resources and components, contract manufacturing enables specialization and innovation.
Which Product Drives Most Revenue for Market Players?
"GMP-Compliant Production of Products Catering to Mass Demand"
Skin products held the largest market share of 39.9% in 2021.
Cosmetic CDMO facilities are an excellent option to mass-produce huge quantities of products in a safe and controlled environment. To achieve the best results, quality control and safety measures are strictly followed. This market is driven by the high demand for skin moisturizing and sanitizing products, which is in turn driven by the rising global awareness of skincare and aesthetics.
Competitive Landscape
To foster the innovative outcomes and development frameworks required for future success, key players concentrate on entering strategic agreements and becoming innovation partners to high-growth businesses. Market players are staying up to date with trends and are continuously searching for new and innovative active ingredients or product formulations.
For instance:
With the July 2019 acquisition of Jayjun Cosmetic's sheet mask manufacturing facility in Incheon by Kolmask, a division of Kolmar Korea Holdings, the company increased its capacity to manufacture sheet masks and gained access to Jayjun's distribution networks in China.
Cosmetic Solutions, LLC, in March 2022, purchased the organic personal care and cosmetics firm Private Label Select, situated in New Mexico. By acquiring Private Label Select, the company will be able to add organic and anhydrous products to its present line of products.
Cosmetic CDMO Industry Report Scope
Attribute

Details

Forecast Period

2022-2032

Historical Data Available for

2016-2021

Market Analysis

USD Million for Value

Key Countries Covered

U.S.
Canada
Brazil
Argentina
Mexico
Germany
France
U.K.
Italy
Spain
Russia
BENELUX
India
Thailand
Malaysia
Indonesia
China
Japan
South Korea
Australia
New Zealand
Turkey
GCC
Northern Africa
South Africa

Key Market Segments Covered

Service
Product
Form
Region

Key Companies Profiled

Swiss American CDMO
Pierre Fabre Group
Zymo Cosmetics
Fareva
Biofarma Srl C.F
Chemineau
C.O.C. Farmaceutici Srl
PARAGON NORDIC
Cosmetic Solutions
Kolmar
Lonza
Cho Chuang Industrial Co., Ltd.
Vive Cosmetics
Ori BioNature Sdn Bhd
Zoic Cosmetics
Samriddhi Life Sciences
Natrocare

Report Coverage

Market Forecast
Competition Intelligence
DROT Analysis
Market Dynamics and Challenges
Strategic Growth Initiatives

Customization & Pricing

Available upon Request
Key Segments Covered in Cosmetic CDMO Industry Research
By Service:
Contract Development

Formulation Development
Pilot Studies

Contract Manufacturing

Bulk Preparation & Scale Up
Safety Testing
Filling & Packaging

Closed Jars
Bottles
Tubes
Roll-Ons
Others
By Product:
Hair Products
Skin Products
Lip Products
Eye Products
Body Hygiene
Oral Hygiene
By Form:
Solid Form & Powder
Lotions
Creams
Others
By Region:
North America
Latin America
Europe
South Asia
East Asia
Oceania
Middle East & Africa