Cosmetic Peptide Synthesis Market Outlook (2022-2032)
Worldwide revenue from the global cosmetic peptide synthesis market was around US$ 182.1 Mn at the end of 2021, with the global market estimated to surge ahead at a value CAGR of 5.6% to reach US$ 331.3 Mn by the end of 2032.
Overall, cosmetic peptide synthesis accounted for approximately 12% revenue share of the global cosmetic bioactive ingredient market at the end of 2021
| Attribute | Key Insights |
| --- | --- |
| Cosmetic Peptide Synthesis Market Size (2022) | US$ 191.7 Mn |
| Projected Market Value (2032) | US$ 331.3 Mn |
| Global Market Growth Rate (2022-2032) | 5.6% CAGR |
| Market Share of Top 5 Countries | 75.0% |
Sales Analysis of Cosmetic Peptide Synthesis (2012 to 2021) Vs. Market Outlook (2022 to 2032)
The global market for cosmetic peptide synthesis recorded a historic CAGR of 4.2% in the last 10 years from 2012 to 2021.
Bioactive peptides have proven to be effective compounds for improving the physiological functions of the skin, such as increasing skin permeability, solubility, stability, and better interaction with cell receptors. The booming cosmetics market has uplifted the focus on synthetic cosmetics production, accelerating the demand for cosmetic peptide synthesis products.
The development of new products with a favorable impact on skincare and hair care is expected to influence market growth positively over the coming years.
Presently, cosmetics have become an essential feature of modern lifestyles. In addition, the growing focus on external beauty, along with self-care awareness, has become one of the major driving factors for the use of cosmetics in the global market.
At present, the adoption of cosmetic products is rising among men in their daily routines, along with women, which complements the global demand for cosmetics. This surging demand for cosmetics is expected to drive cosmetic peptide synthesis market growth as well.
Additionally, government initiatives and market players' emphasis on increasing awareness of skin and hair care among the general population has led to increased acceptance of cosmetic products, which consecutively upsurges the demand for cosmetic ingredients. Moreover, developments and synthesis in active ingredient manufacturing due to rising demand for cosmetics are also driving cosmetic peptide synthesis market expansion.
For instance, in the American Academy of Dermatology in 2021, several dedicated awareness campaigns are focused on skin and hair care. The month of May is recognized as an awareness month for skin cancer.
The global cosmetic peptide synthesis market is likely to expand at a CAGR of 5.6% and reach a global market size of US$ 331.3 Mn by 2032.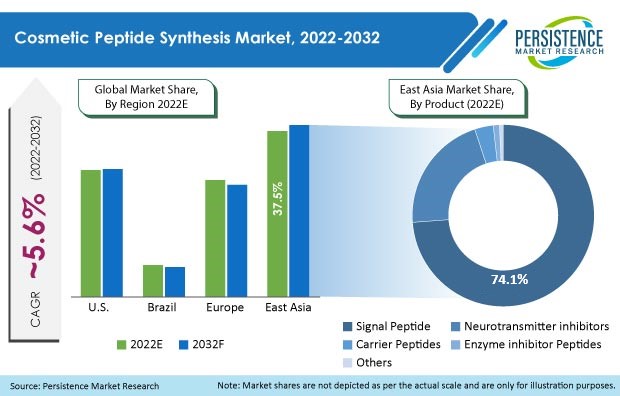 How Can Cosmetic Peptide Synthesis Manufacturers Progress in the Market?
"Focus on Consumer-centric Offerings"
Consumers are increasingly looking for effective skincare regime-based solutions with low toxicity and high efficacy to enjoy healthy skin care. Thus, to meet this demand for personal care products, key players are constantly researching and developing cosmetic solutions that will be highly accepted by consumers.
For instance, in January 2022, BASF released a new generation of biomimetic peptide Peptovitae, a series of four patented peptides. Addressing the wide range of skincare, the Peptovitae series aims to be a suitable product for all aged consumers. The series includes Peptovitae Matrix, Peptovitae Derma, Peptovitae Bright, and Peptovitae Clear.
With the selection of suitable peptides as active ingredients, consumers have a choice of products with proven efficacy. This is expected to boost the demand for cosmetic formulations, which, in turn, is expected to drive cosmetic peptide synthesis consumption over the coming years.
How is Market Expansion Being Adversely Affected?
"Chemical Instability Affecting Popularity of Synthetic Cosmetic Formulations"
Peptide stability in cosmetic formulations is one of the most challenging factors hampering cosmetic peptide synthesis market growth.
When peptides are synthetically modified with additional covalent bonds for better skin permeability or penetration, the occurrence of more susceptibility in enzymatic activities takes place, which can cause chemical reactions and instability in the formulation.
While many studies and reviews have stated that industries have started various methods to improve stability, chemical instability is still one of the restraining factors that are expected to hamper the adoption of cosmetic peptide formulations in the market.
Country-wise Insights
Why is the U.S. Cosmetic Peptide Synthesis Market Surging Ahead?
"Continuously Rising Beauty Spending in the U.S."
The U.S. accounted for more than 28% share in the global cosmetic peptide synthesis market in 2021, and a similar trend is expected over the forecast period as well.
The U.S. has a high adoption rate of premium cosmetic brands, coupled with escalating demand for synthetic as well as natural cosmetics. Around 61% of all beauty buyers followed cosmetics brands holding the top rank in beauty products spending.
According to a survey by Real Self in 2020, around 62% of Americans lean toward anti-aging products as a part of their daily skincare routine.
Furthermore, high spending on personal care, beauty, and cosmetics are some of the other factors expected to propel the demand for cosmetics, driving U.S. market growth over the coming years.
Will Germany Be a Lucrative Market for Cosmetic Peptide Synthesis Providers?
"High Cosmetics Sales in Germany Accelerating Market Growth"
Germany held around a 20.2% market share of the Europe cosmetic peptide synthesis market in 2021.
Germany is one of the largest cosmetics markets in the European region, followed by France and the U.K. In Germany, retail stores and choices for online sales are observed as the prime distribution channels in the beauty and personal care industry, owing to the wide selection of mass-market beauty brands.
According to The Cosmetic, Toiletry, and Perfumery Association, Germany is valued at US$ 14.6 billion in cosmetics among other European countries.
The outbreak of COVID-19 impacted the overall sales of cosmetic products in Germany. The pandemic influenced consumer spending and selection, which led to a slight decline in market growth for a few months.
How is China Evolving as a Prominent Market for Cosmetic Peptide Synthesis?
"Increasing Life Expectancy & Growing Demand for Anti-Aging Products in China"
China held the largest market share of 65.3% of the East Asia cosmetic peptide synthesis market in 2021.
However, South Korea has always been well known for its beauty trends and flourishing cosmetics market. Other Asian countries are also paving their way into the Asian cosmetics industry. China and Japan are gaining influence within the cosmetics world. China is certainly leading the way in Asia for cosmetics, with beauty brands ranking the second-highest in beauty spending.
Antiaging science has recently been driving the demand for anti-wrinkle products, which will drive cosmetic peptide synthesis market growth. The growth of the elderly population is proportional to the increase in the demand for antiaging products.
Although there are numerous technologies and plenty of research on anti-aging cosmetics, growing demand for personal care and beautification is burgeoning the demand for cosmetics.
According to China's seventh population census, 2020 data, around 40.08% of the population is aged between 30 and 54 years.
Rising age metrics have proportionally accelerated the need to produce advanced products for anti-aging and improving aesthetical appearance. These factors have cumulatively propelled cosmetic peptide synthesis industry growth within the country.
Should Cosmetic Peptide Synthesis Providers Target Brazil?
"Increasing Economic Growth & Personal Care Awareness in Brazil"
Brazil accounted for 7.4% of the global cosmetic peptide synthesis market share and is estimated to approach a valuation of around US$ 22.6 Mn by 2032.
Historically, the Brazilian beauty industry accelerated 2X to 3X faster than the national economy with the highest population of median-age Brazilians.
Brazil is the fourth-largest beauty market and the number one consumer of fragrances and skin care products in the world.
The beauty industry accounts for 1.8% of Brazil's GDP and 9.4% of the global market, according to the Brazilian Association for Personal Hygiene, Perfume and Cosmetics Industry.
This high revenue dispensing in the country has propelled the sales of cosmetic peptide synthesis owing to the large adoption volumes of skin care, hair care, and beauty & wellness products in the country.
Category-wise Insights
Which Product is Driving High Growth of the Cosmetic Peptide Synthesis Market?
"Signal Peptides Promising Ingredients in Cosmetic Peptide Synthesis"
The signal peptides segment accounted for around 73.7% share of the total market in 2021.
Signal peptides modulate the skin proteins, enhancing collagen production and decreasing the existing collagenase breakdown. These peptides have been mainly applied to the reconstruction of elastic layers of the skin, renewing the skin layer. Signal peptides are set to be a promising product in the overall cosmetics industry.
Which Cosmetic Peptide Synthesis End Product is Gain Popularity?
"Progressive Skincare Practices among General Population"
Skincare products have gained popularity accounting for the highest market share of around 83.3% in 2021.
Segment growth is likely to pose a unique position amongst the other variety of cosmetics. Growing concerns about physical appearance along with being more worried about skin disorders have driven the demand for skin products in the market. Furthermore, rising number of consumers opting for good looks and self-care has also led to steady market expansion.
COVID-19 Impact on Market
The COVID-19 pandemic had a short-term negative impact on the cosmetics industry, ultimately hampering the cosmetic peptide synthesis industry as well.
A study conducted by the Middle Tennessee State University on the impact of COVID-19 on the cosmetics industry in 2021, stated a significant decrease in the cosmetics market due to increasing consumers' high priority toward personal hygienic products.
An article published by the International Journal of Eating Disorders in October 2020 revealed that a study led by researchers from Swinburne's Centre for Mental Health (CMH) found that most people reported low expenditure on personal lifestyle choices, while individuals with high dysmorphic fears continued to feel conscious about their looks.
However, this was a short-term impact on the cosmetics market, as the industry is booming and back on track, projecting successful growth for the years ahead.
Competitive Landscape
To strengthen their product lines around the world, leading manufacturers are developing synthetic products. Similarly, several major companies providing cosmetic peptide synthesis are engaged in consolidation activities such as mergers and acquisitions.
Another significant approach noticed in the industry is the expansion of corporate presence and increasing product and service offerings by market players.
For instance:
Creative Peptides launched its unique peptide drug discovery services in March 2022 to help accelerate the development of peptide constituents.
In April 2021, Geltor added the newest ingredient – Elastapure - to its portfolio. It is a bioidentical active ingredient designed for topical skincare.
In September 2021, LipoTrue announced the opening of its new branch in Singapore, marking its presence in the Asia Pacific region.
Cosmetic Peptide Synthesis Industry Report Scope
Attribute
Details

Forecast Period

2022-2032

Historical Data Available for

2012-2021

Market Analysis

USD Million for Value

Key Countries Covered

U.S.
Brazil
U.K.
Germany
France
Italy
Spain
China
Japan
South Korea

Key Market Segments Covered

Product
End product
Application
End User
Region

Key Companies Profiled

Croda International Plc
Ashland
DSM [Koninklijke DSM NV]
Bachem
Genscript Biotech Corp
BASF SE
Geltor
Lubrizol Corporation
Symrise
Bio basic Inc.
Regeron Inc.
Merck KGa
RS Synthesis, LLC
CSBio Company Inc.
Creative Peptides
Spec Chem Industry Inc.
LipoTrue, SL
Fibroheal
Seiwa Kasei Co., Ltd.
Silab

Report Coverage

Market Forecast
Competition Intelligence
DROT Analysis
Market Dynamics and Challenges
Strategic Growth Initiatives

Customization & Pricing

Available upon Request
Key Segments Covered in Cosmetic Peptide Synthesis Industry Research
Cosmetic Peptide Synthesis Market by Product:
Signal Peptides
Neurotransmitter Inhibitors
Carrier Peptides
Enzyme Inhibitor Peptides
Others
Cosmetic Peptide Synthesis Market by End Product:
Skin Care

Creams and Moisturizers
Sunscreen Lotions
Serums

Hair Care
Cosmetic Peptide Synthesis Market by Application:
Hair/Eyelash/Eyebrow Care Series Peptides
Whitening Series Peptides
Anti-Aging Series Peptides
Skin Renewal Series Peptides
Anti-allergic & Anti-Inflammatory Series Peptides
Others
Cosmetic Peptide Synthesis Market by End User:
Cosmetic Manufacturers
Cosmetic Contract Manufacturers
Biopharmaceutical Industries (Personal Care)
Cosmetic Peptide Synthesis Market by Region:
U.S. Cosmetic Peptide Synthesis Market
Brazil Cosmetic Peptide Synthesis Market
Europe Cosmetic Peptide Synthesis Market
East Asia Cosmetic Peptide Synthesis Market