Cloud Gaming Market Outlook (2022-2032)
The global cloud gaming market reached a market value of US$ 721.9 Mn at the end of 2021 and is estimated to bloat to US$ 42.35 Bn by 2032, surging at a CAGR of 41.7% over the decade, provided the challenges it faces today are solved.
Cloud gaming currently represents around 38% share of the global online video games market.
| | |
| --- | --- |
| Cloud Gaming Market Size (2022) | US$ 1.02 Bn |
| Projected Market Value (2032) Value | US$ 42.35 Bn |
| CAGR (2022-2032) | 41.7% |
| Top 5 Vendors' Market Share | Around 45% |
Revenue Analysis of Cloud Gaming (2017-2021) Vs. Market Projections (2022-2032)
Cloud gaming provides certain benefits and access to video games irrespective of the user's device features, and no downloading or storage is required. This concept also allows certain video game vendors to shift from the physical distribution of video game copies to a software platform for downloading and playing completely.
Cloud gaming vendors offer users a video game library. For certain games, there will be a requirement for a game controller, irrespective of the device being used.
The advantages of cloud gaming are that users do not have to worry about download time, updating time, and the limitations of their devices. As a result, the global market for cloud gaming expanded at the rate of 33.7% from 2017 to 2021.
Developments in 5G technology as well as the popularity and migration toward cloud technology will accelerate the demand for cloud gaming rapidly over the decade. Certain companies that are offering cloud gaming services, or games-as-a-service, provide their services in the form of subscriptions, some specific for serious gamers, some for more casual gamers, and some that can be used by the whole family, inviting a wider demographic of people toward cloud gaming services.
Cloud gaming also consolidates the trend where companies are slowly shifting from the physical distribution to the digital distribution of games, and if the market grows positively, there may even come a time in the future when there will be cloud-exclusive video games.
Persistence Market Research identifies that the demand for cloud gaming will skyrocket at a CAGR of 41.7% from 2022 to 2032.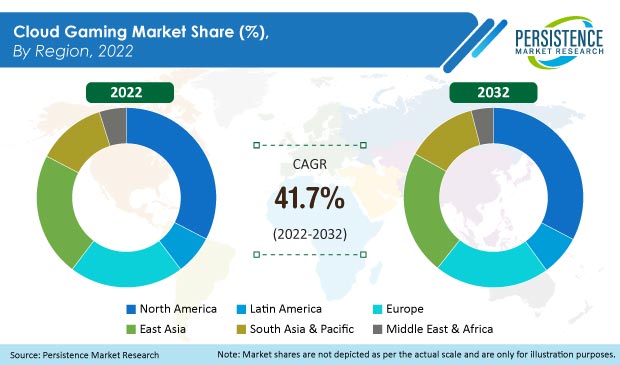 Why is the Cloud Gaming Space Witnessing Higher Demand from Causal Gamers?
Casual gamers are those that engage in video gaming for recreation, having fun with their friends, or simply killing time and entertaining themselves. With the availability of smartphones, laptops, and smart TVs, people who fall within this category now have wider accessibility to video games.
However, unlike competitive gamers or professional gamers, casual gamers are not likely to invest in gaming-specific hardware, such as gaming laptops that are far more expensive than non-gaming laptops.
As the quality of video games is improving, so are the hardware requirements for memory and technology. Cloud gaming bypasses this requirement, allowing casual gamers to enjoy the video games of their choice without any limitations.
Which Regional Cloud Gaming Market is Highly Lucrative?
The East Asian cloud gaming market is estimated to expand 35.3X during the forecast period of 2022 to 2032.
East Asia, which includes China, Japan, and South Korea, has a large video game industry. Japan is regarded as one of the key countries when it comes to video game development. This region also has a wider culture of competitive and professional gaming.
There is a wide availability of technology and various advancements in technology occur in this region. There is a good presence of cloud availability zones in this region, and these availability zones are owned by companies that are big players in the cloud gaming market.
Country-wise Insights
Why Does the U.S. Lead in the Adoption of Cloud Gaming?
The United States is a country where video games are enjoyed by people of a much wider age group and also have wider access to gaming consoles, head-mounted displays, PCs, and laptops.
Several large video game manufacturers and cloud gaming solution & service providers are present in the country. The cloud gaming market is new and therefore the cloud gaming operations of several companies such as Nvidia haven't penetrated regions outside North America and Europe as yet.
The presence of several data centers and servers as well as high-speed Internet makes it much easier for people in this country to access cloud gaming. As such, USA is expected to reach a market valuation of US$ 12.36 Bn by 2032.
Will South Korea Have a Promising Future in Cloud Gaming?
South Korea accounts for a large number of casual and professional gamers. The types of games popular in this country are MMORPGs (Massively Multiplayer Online Role-Playing Games) and MOBA (Multiplayer Online Battle Arena) games. The country also has a strong presence in eSports, encouraging more people to shift toward professional gaming.
Video game companies in the country are taking steps to introduce more cloud gaming services, and some companies have already started providing services after finding out ways to reduce latency rates. For these reasons, the South Korean cloud gaming market is estimated to surge ahead at a CAGR of 33.9% through 2032.
What is the Outlook for Cloud Gaming Companies in India?
The market for cloud gaming in India is estimated to expand rapidly at a CAGR of 36.2% during the forecast period, according to this report.
In India, the type of device that has been most widely accepted by people for gaming is the smartphone. Accessibility is key in this country, and cloud gaming carries accessibility as its principal quality.
However, the lack of sufficient data centers in India is a massive restraint since it slows down the streaming speed of video games. If data centers become more widely available and smartphone users' experiences improve, India has a bright future in the cloud gaming space.
Category-wise Insights
Will Professional Gamers Accept the Cloud Gaming Concept?
The acceptance level of gaming-as-a-service (GaaS) by professional gamers is the true test of the cloud gaming market and how much it can grow.
FPS (Frames per Second) latency and lags matter much more to professional and competitive gamers compared to casual gamers, and lags can influence the chances of victory and even the quality of the videos that they post on video streaming platforms.
These gamers are more affected by lags, downtimes, and pixelated graphics as compared to casual gamers. However, based on certain reviews and feedback given by those who have used cloud gaming services, the lags are not that bad, and with time and development, video games on the cloud can match the same level of experience as that of on-device gaming.
Professional and competitive gamers are usually engaged in video games that are FPS (First-Person Shooters) and MOBA games. This requirement needs to be identified by cloud gaming vendors and acted on accordingly.
Can the Huge Smartphone User Base Help Drive Demand for Cloud Gaming?
The market share of smartphones in the cloud gaming market is expected to bloat at a CAGR of 37.2 % during the forecast period.
The feature that separates smartphones from other devices is that they are more accessible to people and most widely used. One may not have any other device but is likely to at least have a smartphone.
This device can be easily carried around as we know it, and in countries where other devices are not widely used for gaming, smartphones are used. Certain games are designed specifically for smartphones, which also expands the market for cloud gaming on smartphones.
Competitive Landscape
The cloud gaming industry is a new development in the video game market and it can take time for this form of gaming to be widely accepted. Most companies that are currently investing in cloud gaming solutions are either long-time players in the video game industry, new companies that are dedicated specifically to this market, or companies that have established cloud services.
In September 2022, LG announced the implementation of cloud gaming services for its upcoming smart TVs. LG will be including the apps of Blacknut and Utomik Cloud on its smart TVs, which are cloud gaming service providers.
In September 2021, Microsoft announced that it will be expanding its Xbox cloud gaming operations to Brazil, Mexico, Australia, and Japan. There will be over 100 video games offered in these countries and the selections will be locally modified. With this development, Microsoft Xbox cloud gaming will now be available in 26 countries.
Cloud Gaming Industry Report Scope
Attribute

Details

Forecast Period

2022-2032

Historical Data Available for

2017-2021

Market Analysis

USD Million for Value

Key Regions Covered

North America
Latin America
Europe
East Asia
South Asia & Pacific
The Middle East & Africa

Key Countries Covered

U.S.
Canada
Germany
U.K.
France
Italy
Spain
Russia
China
Japan
South Korea
India
Malaysia
Indonesia
Singapore
Australia & New Zealand
GCC Countries
Turkey
Northern Africa
South Africa

Key Market Segments Covered

Device Type
Gamer Type
Region

Key Companies Profiled

Report Coverage

Market Forecasts
Company Share Analysis
Competition Intelligence
DROT Analysis
Market Dynamics and Challenges
Strategic Growth Initiatives

Customization & Pricing

Available upon Request
Cloud Gaming Industry Survey by Category
By Device Type:
Smartphones
Tablets
Gaming Consoles
PCs & Laptops
Smart TVs
Head-Mounted Displays
By Gamer Type:
Professional Gamers
Casual Gamers
By Region:
North America
Latin America
Europe
East Asia
South Asia & Pacific
Middle East and Africa (MEA)