Market Overview
As COVID-19 enters its second stage, the global automotive electrical products market is likely to experience a slowdown, with growth being pegged at a modest albeit steady rate until the latter half of 2021. On the other hand, burgeoning regulations on emission safety standards combined with technological disruptions such as e-mobility are driving expansion of the automotive electrical products market size.
In addition, enhanced vehicular safety is augmenting the usage of automotive electrical products. Lane assist systems and adaptive cruise control are becoming highly prevalent to avoid accidents and comprise nearly three-tenth of overall vehicular costs. Furthermore, adoption of infotainment systems for recreational purposes is also enhancing the growth prospects of the global automotive electrical products market.
Automotive Electrical Products Market Trends
Deepening Electric Vehicle Penetration Surging Demand: As of 2019, global electric vehicle (EV) sales surpassed 2 million units, representing a 6% increase from the previous year, according to the International Energy Agency. While the pandemic has temporarily stalled growth, the future for EVs looks promising on the back of growing environmental sustainability concerns.
Notable automobile companies such as General Motors, Volvo, and Volkswagen are introducing hybrid vehicles, which is likely to enhance the scope of the automotive electrical products market over the coming years. It is expected that, by 2030, a quarter of U.S automotive sales will be electric, while China and India will reach 40% each.
On the back of these aforementioned trends, sales of various electrical products, ranging from batteries, connectors, light equipment, alternators & starters, ignition system & parts, infotainment gadgets, and others are experiencing substantial upsurge.
Burgeoning Technological Advancements Aiding Market Growth: Over the years, numerous technological advancements have disrupted the global automotive industry. Governments across the world are scrambling to achieve complete automotive electrification, tied into their sustainable development initiatives. Vehicle manufacturers are overcoming obstacles such as high costs, limited battery life, and inadequate charging infrastructure to encourage uptake of EVs. All these factors bode well for the growth of the automotive electrical products market in the future.
Lordstown Motor Corps, a prominent American start-up company, has developed an all-electric pickup truck. Christened EnduranceTM, the vehicle comprises 4 hub electric motors suitable for four wheel drives, with a capacity to travel over 250 miles on a single charge.
ChargeX, a German startup, markets the Aqueduct charging solution, comprising 4 charging modules with a capacity of up to 22 kilowatts. It is highly flexible as it recognizes the charging requirements of each car, thus regulating charge input and speed accordingly.
High Growth Potential for Automotive Connectors: Amongst all automotive electrical products, connectors are expected to register a noteworthy CAGR over the coming years. A multi-billion dollar valuation has been predicted for this segment. Voluminous automotive production to cater to increasing consumer demand has been accelerating uptake in recent years. Numerous manufacturers have successfully penetrated the automotive electrical products market through their connector portfolios.
ODU Connectors, for instance, offers a wide range of automotive connectors and cable assemblies. The vendor provides connector solutions for air conditioner compressors and cable assembly for EVs.
In 2019, Panasonic Corporation announced the launch of full-scale mass production of the CF1 Board to the FPC Connector series, which eliminates the need for wire harnesses that were previously required for connecting LED headlamps to the main engine. It also markets the CW1 connector for application 125o C heat resistance.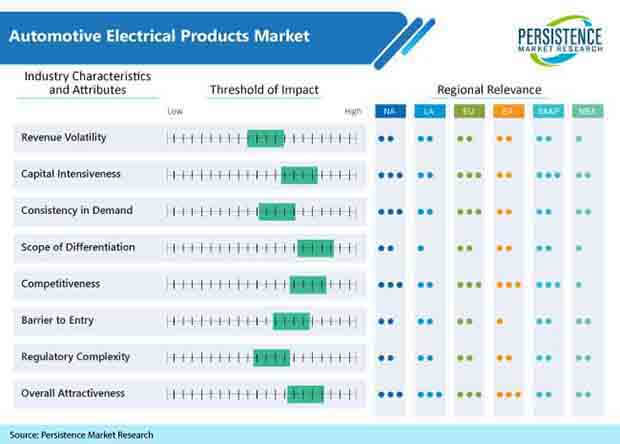 Regional Outlook of Automotive Electrical Products Market
North America is expected to pivot the global automotive electrical products market share, attributed to immense spawning of the EV industry. Over the years, numerous startups offering EV automotive electrical products and solutions have come into existence. According to the U.S. Department of Energy, sales of plug-in electric vehicles (PEVs) rose impressively between 2011 and 2018, reaching over 300,000 units. Sales have moderately declined amid the COVID-19 crisis, but are anticipated to remain on an upward trajectory, owing to reduced dependence on conventional fossil-fuel cars.
By 2021-end, it is anticipated that, more than 7 out of 10 people will own an EV. Consequently, companies such as Intvo, Udelv, and Lordstown Motors have significantly enhanced their presence across the North American market. Moreover, government regulations are encouraging EV uptake, spiking electrical products sales in this domain.
COVID-19 Impact on Automotive Electrical Products Market
As the world braces for the second wave of COVID-19, industries are taking steps to mitigate possible supply chain disruptions. In this respect, the automotive electrical products market is likely to survive the recessionary impacts of the pandemic, driven primarily by sustained sales of EVs. According to IEA, the number of electric cars is expected to reach nearly 10 million units. In 2019, EV sales constituted 3% of the global automotive market. This is likely to provide traction to the progress of the automotive electrical products market in the remainder of the pandemic's duration.
Furthermore, conventional automotive manufacturers are enforcing strict social distancing protocols on-site, thereby permitting resumption of manufacturing operations. Throughout 2020, the U.S automotive market is likely to slump by nearly a quarter, before rebounding in 2021.
China, the epicenter of the pandemic crisis, is also experiencing a significant recovery. Since July 2020, Chinese automotive sales rose by 15%, thus proving that the industry has remained largely resilient since the pandemic's onset. All these aforementioned trends point toward a positive outlook for the automotive electrical products market.
Automotive Electrical Products Market: Prominent Players
The global automotive electrical products market is interspersed with the presence of numerous vendors. Some prominent ones include Altera (Intel Corporation), BBB Industries Ltd., Broadcom Ltd., Continental AG, DENSO Corporation, Hella GmbH & Co. Kgaa, Hitachi Automotive Systems Ltd. and Infineon Technologies AG.
These aforementioned players rely on technological innovations, new product launches, collaborations, acquisitions, and expansion of existing production capacities in order to stay afloat in the market. Moreover, their primary emphasis is across emerging economies, attributed to rapidly flourishing automotive and associated industries in these regions.
Analysts' Viewpoint
Prominent manufacturers in the automotive electrical products market are likely to find lucrative growth opportunities across the electric vehicles segment, attributed to increasing environmental concerns, which is prompting governments to switch to cleaner alternatives.
Key Segments of Global Automotive Electrical Products Market
PMR's report on the global automotive electrical products market offers information divided into three segments - product, vehicle, and region.
Attribute
Details

Product

Light Equipment
Automotive Batteries
Automotive Connectors
Alternators & Starters
Ignition Systems & Parts
Others

Vehicle

Light Commercial Vehicles
Heavy Commercial Vehicles

Region

North America
Latin America
Europe
South Asia
East Asia
Oceania
Middle East Africa