Air Intake System Market Outlook (2022-2032)
Global air intake system market revenue totaled US$ 12.2 Bn in 2021. Demand for air intake systems is set to accelerate with the top 5 providers holding 47% market share. As such, the worldwide air intake system industry is predicted to reach a market valuation of US$ 17.76 Bn by 2032, expanding at a CAGR of 3.6% over the same period of time.
| Attribute | Key Insights |
| --- | --- |
| Air Intake System Market Size (2021A) | US$ 12.2 Bn |
| Estimated Market Size (2022E) | US$ 12.48 Bn |
| Projected Market Value (2032F) | US$ 17.76 Bn |
| Value CAGR (2022-2032) | 3.6% |
| Collective Value Share: Top 3 Countries (2021) | 47.1% |
Air intake system sales account for 3% share in the global automotive parts/components market at present.
Over the coming years, increasing air intake system usage in conventional and hybrid vehicles is likely to propel market growth, especially in East Asia, to new heights.
The East Asia air intake system market is growing due to rising government emission standards, increased vehicle production, and growth in the automotive sector, especially in China. As a result, East Asia is projected to hold 27% share in the global market for air intake systems.
Sales Analysis of Air Intake Systems from 2017 to 2021 Vs Market Projections for 2022 to 2032
From 2017 to 2021, the market for air intake systems expanded at 0.2% CAGR, and is anticipated to increase 2.4% in 2022. This significant increase in Y-o-Y growth in 2022 is due to increasing production and consumption of automobiles. Demand for cars soared after restrictions of the pandemic eased, as customers had returned to dealership floors as soon as pandemic-related restrictions had been relaxed around the globe.
The aftermarket has benefited from increased maintenance activities to reduce emissions. According to data from the United States Energy Information Administration, the United States and Canada are rated second and seventh in the world in terms of CO2 emissions, respectively.
The United States ranks first among large economies in terms of emissions per capita. Consumers are increasingly focusing on car maintenance to minimize global warming emissions from vehicles and to meet severe Corporate Average Fuel Efficiency (CAFE) rules.
In 2009, the European Commission established required emission reduction targets for new car manufacturing to lower the automotive sector's average carbon footprint by 35% by 2030. This is expected to boost air intake system demand in the aftermarket.
Consumption of air intake systems in the global market is anticipated to grow 1.3X from 2022 to 2032.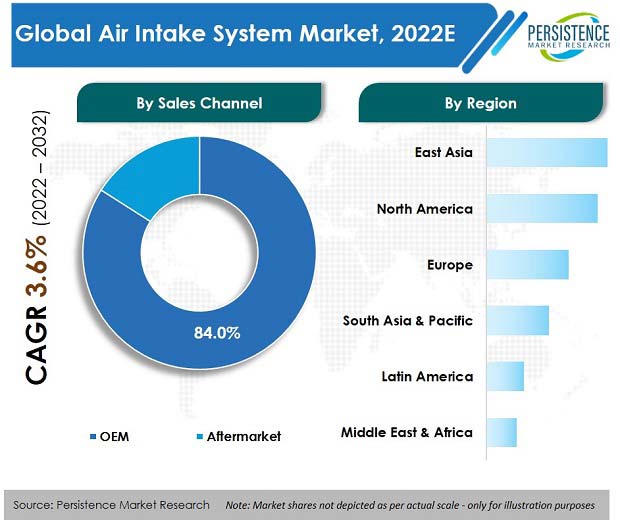 The image above presents the share of sales channels and regions in the air intake system market. The OEM sales channel has a larger share, whereas, air intake system usage is the most in East Asia, closely followed by Europe.
How Can Air Intake System Manufacturers Gain Traction in the Market?
"Advanced Air Intake Systems Specific to Vehicle Models – Case for Consideration"
Market participants can retain product differentiation and strengthen their roots in the global automotive air intake system market by launching sophisticated products that are unique to vehicle models, which offers various operational benefits while also complying with existing laws.
Temperature and combustion pressure rise as a result of engine downsizing is putting greater demand on automotive air filter systems. Advanced materials based on powder metallurgy are being incorporated in system parts to prevent the wear and tear of vehicle air intake systems, creating a significant opportunity for manufacturers seeking to drive sales and increase their market share.
What Hurdles Do Air Intake System Suppliers Need to Overcome?
"Global Shift toward Electric Vehicles to Downgrade Market Stance"
Growing preference for electric vehicles will hamper demand growth of air intake systems. Environmental issues are a huge concern for people all around the world. The movement toward the use of electric vehicles over traditional fuel-based vehicles has been noticed to reduce pollution.
Governments across the world are offering incentives and subsidies to encourage the use of electric vehicles. The global automotive air filter system market is projected to be hampered by the rise in demand for electric vehicles as these don't require air intake for the mixture of air and fuel for propulsion.
Country-wise Insights
Where Does the U.S. Stand in the Aftermarket for Air Intake Systems?
"Rising Vehicle Production Driving Air Intake System Usage"
The United States air intake system market is estimated to expand at 3% CAGR during the forecast period of 2022-2032. Majority of demand in the United States comes from light commercial vehicles, especially pick-up trucks.
According to OICA, in 2021, the United States produced 7.3 million light commercial vehicles, up from 6.7 million the previous year, representing a 10% increase year-over-year. In that year, new cars produced in the United States accounted for more than 39% of global light truck production, which bodes well for air intake system suppliers in the country.
What is the Outlook for Air Intake System Manufacturers in China?
"East Asia Market Dominated by China"
China is anticipated to hold more than 70% of the East Asia air intake system market share. The market in China has a bright future, with prospects in passenger cars, light commercial vehicles, and heavy trucks.
Rebound in vehicle production and usage, greater kilometers driven per vehicle, strict government and environmental laws, and increased demand from vehicle owners for preventive maintenance are major drivers of the growth for this market.
Development of multi-filtration systems and innovation of engine air systems in commercial vehicles are two emerging trends that have a direct impact on the dynamics of the market in China.
Why is Germany a Lucrative Market for Air Intake System Providers?
"High Demand for Light Commercial Vehicle Components"
Over the forecast period, the Germany air intake system market is projected to create an incremental opportunity of nearly US$ 300 Mn.
According to Eurostat, over 1,750 billion ton-kilometers of inland cargo transported inside the European Union is transported by road. This ratio can reach 90 percent or higher in several European countries.
As a result of the developing logistics industry and increased use of light commercial vehicles such as vans, demand for commercial vehicles in the country has been steadily increasing.
Rising preference for small vans and pick-up trucks over heavy-duty trucks and trains for logistics is the underlying cause driving the expansion of the light commercial vehicle market in Europe. As a result, during the forecast period, demand for lightweight vehicle components is expected to increase significantly, which is expected to drive the market for air intake systems.
Category-wise Insights
Which Sales Channel Has the Most Potential for Growth in the Air Intake System Market Space?
"OEM Sales of Air Intake Systems High"
The OEM channel is projected to create more than US$ 4 Bn in incremental opportunities by 2032. This is directly associated with increasing demand for automobiles around the world, which has led to their increased production.
In 2021, more than 80 Mn vehicles were produced as per OICA, which was a rise of 3% when compared to the year 2020.
Which Engine Type Accounts for High Market Share?
"Air Intake System Usage Surging in Gasoline Vehicles"
Petrol/gasoline engines are projected to account for more than 62% of the global air intake system market by the end of 2032.
Due to fewer sophisticated components, petrol cars are less expensive than diesel cars. Petrol engines are often quieter than diesel engines, and their maintenance costs are also lower. This has led to increased demand for petrol engines in the market, driving the need for related air intake systems.
Which Vehicle Type Drives Most Demand for Air Intake Systems?
"Demand Air Intake Systems Highest for Use in Passenger Cars"
As per analysis, passenger cars are estimated to hold around 50% market share in 2022. Light and heavy commercial vehicles are projected to witness a collective drop of 210 BPS by 2032 owing to lesser demand for air intake systems in these vehicles over the forecast period, as compared to passenger cars.
Since the pandemic, people's preferences have turned toward personal mobility. Those who formerly relied on public transportation have changed to personal transport, which appears to be safer and more convenient.
Impact of COVID-19 Crisis
The COVID-19 pandemic had a substantial impact on the world economy, and as a result, air intake system manufacturers' businesses and operations were negatively impacted. Air intake system demand saw a considerable drop during this period.
A global recession was precipitated by the persistent collapse in consumer demand, while countries went through various lockdown scenarios, resulting in widespread consumer confidence loss and significant drop in vehicle revenues and profitability.
Air intake system manufacturers were forced to reallocate resources to stay afloat, resulting in decreased R&D funding for advanced technological endeavors and other discretionary projects. Strategic decisions to quit unproductive markets and vehicle categories were quickened when production capacity was streamlined, leading to significant output cutbacks.
Competitive Landscape
Air intake system market growth is fueled by lightweight materials. Automobile makers are under constant pressure to reduce vehicle weight to increase fuel efficiency and performance. The air intake system industry for automobiles follows a similar trend.
Peugeot 208 and Peugeot 2008 SUVs, for example, were debuted in 2020, and both made substantial use of recyclable and natural materials. Their air intake systems were made out of recycled polyamide.
Volkswagen also uses glass fiber reinforced polypropylene (PP) air intake systems for three-cylinder gasoline engines and 1.6-liter four-cylinder engines.
Air Intake System Industry Report Scope
Attribute
Details

Forecast Period

2022-2032

Historical Data Available for

2017-2021

Market Analysis

Units for Volume
USD Million for Value

Key Regions Covered

North America
Latin America
Europe
East Asia
South Asia & Pacific
The Middle East & Africa

Key Countries Covered

U.S.
Canada
Mexico
Brazil
Germany
France
Italy
Spain
U.K.
Russia
China
Japan
South Korea
India
ASEAN
Australia & New Zealand
GCC
Turkey
South Africa
Northern Africa.

Key Market Segments Covered

Sales Channel
Engine Type
Vehicle Type
Region

Key Companies Profiled

Aisin Seiki
Keihin Corporation
Magneti Marelli
Novares
Mikuni Corporation
Rochling Group
K&N Engineering, Inc.
Advanced FLOW engineering
Mishimoto
STILLEN
MANN+HUMMEL
TOYOTA BOSHOKU CORPORATION

Report Coverage

Market Forecast
Brand Share Analysis
Competition Intelligence
DROT analysis
Market Dynamics and Challenges
Strategic Growth Initiatives

Customization & Pricing

Available upon Request
Key Segments Covered in Air Intake System Industry Analysis
Air Intake System Market by Sales Channel:
OEM
Aftermarket

Air Intake Systems
Air Filters
Mass Flow Sensors
Throttle Body
Air Intake System Market by Engine Type:
Petrol Engines
Diesel Engines
Air Intake System Market by Vehicle Type:
Passenger Cars
Light Commercial Vehicles
Heavy Commercial Vehicles
Air Intake System Market by Region:
North America Air Intake System Market
Latin America Air Intake System Market
Europe Air Intake System Market
East Asia Air Intake System Market
South Asia & Pacific Air Intake System Market
Middle East & Africa Air Intake System Market