Increasing geriatric population in developed countries and rising cases of malnutrition are fueling the global medical nutrition market
An increasing aging population is now recognized as a global issue of importance. Aging population is increasing in almost all the countries across the world. Furthermore, the geriatric population is more prone to age-related diseases such as nervous disorders, Parkinson's disease, diabetes, and organ system failure. Such patients suffer from restrictive food ingestion and require parenteral nutrition feeding to maintain their nutritional levels. Around two thirds of the general hospital beds are used by the geriatric population aged over 65 years, while people over 75 years have to stay for a longer period of time in hospitals.
The burden of geriatric population affects the nutrition balance and consequently the use of parenteral nutrition has been increased since the last few years. A rising use of home parenteral nutrition therapy by the geriatric population with chronic illnesses such as diabetes, cancer and AIDS is anticipated to boost the growth of the global medical nutrition market.
Increasing cases of malnutrition due to rapid spread of chronic diseases is expected to drive the global medical nutrition market. Chronic obstructive pulmonary disease (COPD) is the one of the major causes of disability. As per the World Health Organization (WHO), COPD is considered to be one of the top causes of death worldwide and the numbers are expected to be increasing by the day. COPD is expected to be responsible for the death of 3 Mn patients in 2015 globally. Malnutrition is considered to be one of the common problems in COPD patients who require nutritional support for survival.
The R&D pipeline of leading companies developing novel parenteral nutrition drugs is experiencing unprecedented growth with increasing investments. Companies operating in the global medical nutrition market strive to develop advanced or standard nutritional products that safely and sufficiently satisfy the nutrition requirements of patients in different clinical conditions. Several companies have successfully received regulatory approvals for novel and effective parenteral nutrition drugs in the past few years.
North America to remain dominant in the global parenteral medical nutrition market
The global parenterally administered medical nutrition market is anticipated to grow from over US$ 3,200 Mn in 2016 to more than US$ 6,000 Mn by 2025 end. This represents a CAGR of 7.2% in terms of value over the forecast period. The global parenterally administered medical nutrition market represents incremental opportunity of more than US$ 2,500 Mn between 2017 and 2025.
North America dominated global parenteral medical nutrition market in terms of revenue in 2016, and the market trend is projected to grow throughout the forecast period. North America segment is the most attractive regional market, with attractiveness index of 2.2 over the forecast period. Revenue from the North America market is anticipated to increase at a CAGR of 8.7% over 2017–2025, to reach a market valuation in excess of US$ 2,300 Mn by 2025.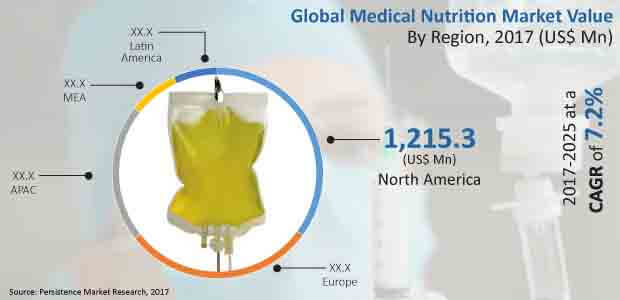 Side effects or complications related to parenteral nutrition products
Parenteral administration demands regular assessment and monitoring in order to avoid complications or side effects. Inappropriate usage of this therapy maximizes the potential risk of adverse events such as re-feeding syndrome, particulate contamination, catheter infections, and liver dysfunction to the patients undergoing the therapy.
Catheter-related bloodstream infection (CRBSI) is considered one of the most serious, costly, and frequent complications of parenteral nutrition among patients. According to the U.S. Centers for Disease Control and Prevention (CDC), thousands of deaths occur due to catheter-related bloodstream infections every year in the U.S.
In this regard, the U.S. government spends billions of dollars to prevent the spread of this infection every year. An article published by the American Society for Nutrition in 2014 also indicated that long-term parenteral nutrition therapy significantly increases the risk of liver disease and metabolic complications in patients.
A study published by University Health Network also suggested that metabolic bone diseases is a significant complication in patients receiving long-term home parenteral nutrition. Moreover, problems such as allergic reactions, shortness of breath, unexplained weight gain, muscle pain, weakness, and loss of appetite are more common among patients undergoing parenteral nutrition therapy. These complications/side effects are expected to restrain revenue growth of the global medical nutrition market.
Market Segmentation
By Nutrition Type

By Product Type

Amino Acid Solutions
Multiple Vitamins and Antioxidants
Lipid Emulsions
Trace Elements
2C Bags
3C Bags

By Distribution Channel

Hospital Pharmacies
Retail Pharmacies
Compounding Pharmacies
Others

By Region

North America
Latin America
Europe
Asia Pacific
Middle East & Africa
- Companies Covered in This Report -
Allergan
Baxter International Inc.
Braun Melsungen AG.
Fresenius Kabi AG
Pfizer, Inc.
Sanofi
Mead Johnson & Company, LLC
Sichuan Kelun Pharmaceutical Company Limited
Otsuka Pharmaceuticals Co., Ltd.
Grifols S.A.
Abbott Laboratories
Danone Nutricia
Demo S.A. Pharmaceutical Industry
Others.