One Colossus Acquires Another – Is Consolidation Looming in Home Theater Audio Systems Market?
---
Date : Sep 01, 2017 Author : Suyog Keluskar Category : Technology
Samsung Electronics agrees to purchase HARMAN International Industries for US$ 8 billion.
Neither Samsung Electronics nor HARMAN International Industries need any introduction as they are market-leaders in the consumer electronics industry, particularly in the home theater audio systems market. In November 2016, the companies announced that they had entered into an agreement which stipulates that Samsung Electronics will purchase Harman International Industries for a value of US$ 112 per share in cash, amounting to a value of nearly US$ 8 billion.
After all the necessary regulatory approvals, the deal will give Samsung Electronics an even larger presence in the home theater audio systems market. It should also bolster Samsung's position in connected technologies such as automotive electronics, a market expected to be worth almost US$ 100 billion a few years from now.
HARMAN is a force to be reckoned with in connected car technologies as well as the home theater audio systems market and the company says that 30 million vehicles already rely on its proprietary technology in areas such as telematics, connected security, and embedded infotainment. Almost 2/3rd of HARMAN's reported sales for the year 2016 were linked to the automobile industry.
HARMAN's experience integrating advanced in-vehicle technologies along with its long-standing relationships with the largest carmakers would create massive growth opportunities for the two entities by leveraging Samsung's expertise in semiconductors, displays, connected mobility, and widespread distribution network. The winning combination of Samsung's consumer electronics with HARMAN's audio capabilities will elevate the user experience and deliver enhanced customer benefits across Samsung's diverse portfolio of both consumer and professional systems.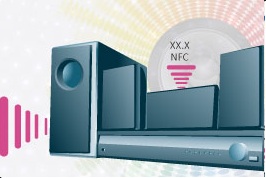 HARMAN perfectly complements Samsung Electronics with regards to the products, solutions, and technologies and it was only natural for the two companies to join hands as a natural extension of the automotive strategy pursued by Samsung. As a Tier 1 automotive supplier with the advantage of a strong brand, leading technology, a recognized best-in-class product portfolio, and deep customer relationships, HARMAN provides a strong base for Samsung to attack the home theater audio systems market.
HARMAN has a proven track record in this field because of its unmatched commitment to customers, innovation, and technological leadership. Smart technology is predicted to transform our lives in unimaginable ways and Samsung wishes to be at the forefront of this change. With HARMAN on their side, they are confident that they can deliver end-to-end customized solutions to OEM's across the connected ecosystem.
Significant customer benefits and substantial growth opportunities
Samsung Electronics anticipates numerous customer benefits and massive growth opportunities with the unique combo of HARMAN and their technology which will result in increased market penetration across strategic regions.
Automotive – By merging Samsung's experience and expertise in connectivity technologies such as 5G, displays, security solutions, and UI/UX with HARMAN's strengths in cyber security, telematics, OTA updates, and infotainment, HARMAN will be able to enhance its connected services and automotive businesses to spur greater sales and be ready as automakers make the seismic shift to next-gen connected cars
Audio - Harman Kardon, JBL, Infinity, and Mark Levinson are just some of the famous brands under HARMAN's umbrella in the home theater audio systems market. HARMAN also licenses Bang & Olufsen and Bowers & Wilkins to automobile companies. All these world-famous brands will bolster Samsung's mobile, VR, wearable, and displays competitiveness and deliver a truly differentiated audio-visual consumer experience
Professional – The combination is anticipated to expand the Samsung –HARMAN B2B platform with the ability to deliver large-scale, integrated audio-visual solutions at concert facilities, performance centers, and stadiums such as STAPLES Center and The John F. Kennedy Center for the Performing Arts
Connected Services – Samsung can access HARMAN's strong team of engineers and software designers who are burning the midnight oil to unlock the unlimited potential of the IoT market. The collaboration is poised to deliver the next-gen of cloud-based experiences and end-to-end services for the automobile market with a convergence of data, devices, and design
Operating Structure
After the deal is closed, HARMAN will function as a standalone Samsung Electronics subsidiary that will continue to be led by the current management team. Samsung has a long-term strategy in place to tackle the automotive electronics market and wishes to retain HARMAN' facilities, headquarters, and workforce, along with all of its consumer facing brands.
Samsung strongly believes that their combination will advance opportunities and increase career development opportunities for all of their associates. Samsung's Automotive Electronics Business Team will closely work together with HARMAN's management to realize the full potential of their agreement. The transaction, subject to closing conditions and regulatory approvals, is estimated to close in the middle of 2017.
---