Veterinary Arthroscopy Devices Market Outlook (2021-2031)
The global veterinary arthroscopy devices market is set to experience steady growth at 5.6% CAGR from 2021 to 2031, with a market value of around US$ 343.4 Mn as of 2021.
| Attribute | Key Insights |
| --- | --- |
| Veterinary Arthroscopy Devices Market Size (2021) | US$ 343.4 Mn |
| Projected Market Value (2031) | US$ 593.8 Mn |
| Global Market Growth Rate (2021-2031) | 5.6% CAGR |
| Market Share of Top 5 Countries | 49.8% |
Veterinary arthroscopy device sales accounted for nearly 6.5% share of the global arthroscopic devices market in 2020. As per Persistence Market Research's detailed analysis, in 2020, arthroscope and arthroscopic systems held a substantial share of over 43% in the global veterinary arthroscopy devices market.
Sales Analysis of Veterinary Arthroscopy Devices from 2016 to 2020 Vs Market Outlook for 2021 to 2031
Rising prevalence of degenerative joint diseases such as lameness, joint swelling, muscle atrophy, pericapsular fibrosis, and crepitation in dogs and cats are driving demand for veterinary arthroscopy devices across the globe. Increasing awareness about arthroscopic procedures among pet owners and veterinarians is surging the adoption of arthroscopy in companion animals.
Arthroscopy has several advantages over arthrotomy, and thus, has become the treatment of choice for joint diseases in companion animals, mainly due to their smaller size of joints.
Over the years, market consolidation activities such as mergers & acquisitions by leading arthroscopic device manufacturers have propelled market expansion.
For instance, in April 2021, Trice Medical acquired Tenex Health. This acquisition allowed the company to deliver an innovative, affordable, and portable diagnostic tool with excellent image quality to general and specialty veterinarians in both, small animal and equine practice.
Customized (patient-specific) arthroscopic devices have gained notable traction for their cost- and time-efficiency along with better surgical output, which will provide huge opportunities to key market players. Furthermore, development of smaller arthroscopes and refinement of instruments and techniques may facilitate the use of arthroscopy in small-breed dogs.
The veterinary arthroscopy devices market is expected to expand at a considerable growth rate over the next ten years at a CAGR of 5.6%.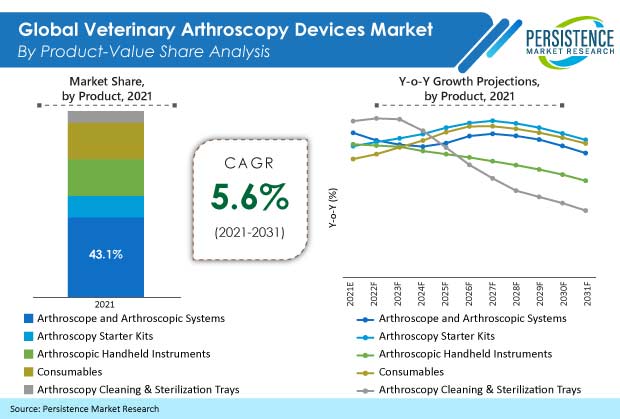 What are the Key Opportunities for Manufacturers of Veterinary Arthroscopy Devices?
"Market Players Focussing on Launching Technologically-advanced Veterinary Arthroscopy Products"
At present, minimally-invasive techniques are attaining widespread acceptance among specialists owing to several advantages of such procedures in comparison to open surgeries. Minimally-invasive arthroscopic techniques reduce hospitalization costs and lessen complications related to open repair. In veterinary science, arthroscopy has gained traction over the last few decades and can be understood as the 'gold standard' when it comes to joint evaluation and treatment.
Growing inclination and recognition for minimally-invasive and cost-effective surgeries using arthroscopic devices is expected to generate vast opportunities for veterinary arthroscopic device producers. Arthroscopic techniques have become a typical diagnostic and therapeutic preference for canine joint disorders in recent years, which constructs vast opportunities for key players in the veterinary arthroscopy devices landscape.
Arthroscopic surgery in companion animals is the most prominent development in veterinary orthopaedics ever since the institution of diagnostic needle arthroscopy. This is a novel and forthcoming tool in veterinary science. It compromises a minimally-invasive tool that can deliver the capacity for present dynamic conception of the animal's structure, permitting a different tool for diagnosis and procedure of veterinary professional decision-making, and can possibly lessen the time from wound to analysis, surgical or nonsurgical cure, and recovery.
In the same way, improvements in arthroscope technology with micro-electronics have given rise to the advancements in needle arthroscopes for arthroscopy procedures in small animals. Though treatment preferences are growing, conclusive diagnosis of minor to moderate stifle pathology has been limited for a long time, owing to factors such as inadequacy of conventional diagnostic arthroscopy, even though it permits for both, diagnosis and therapy, but calls for general anaesthesia, longer recovery time, and substantial cost.
Like conventional arthroscopy, standing needle arthroscopy has established itself as a safe and dependable process devoid of the risks and costs related to general anaesthesia. This method is a supplementary diagnostic procedure that can be adopted when conventional diagnostic procedures such as radiology and ultrasound have not grasped conclusive diagnosis.
Thus, growing need for more efficient and cost-effective diagnostic arthroscopy is creating opportunities for key players to develop new technologically-advanced veterinary arthroscopy products.
What Can Restrain Demand for Veterinary Arthroscopy Equipment?
"Strong Pricing Pressure & Product Recalls Can Hurt Market Progress"
The pet population in the U.S. is rising; however, access to veterinary care remains to be a cause of concern. The factor of affordability of veterinary health and safety has been a key challenge for both, owners and veterinary professionals.
Due to the opposition by several key players for inadequate economic and other public means, there is strong pressure for validation, transference, decentralization, and privatization of animal health services in many countries.
Furthermore, manufacturers are aiming to develop innovative designs in order to set apart their implants, leading them to capitalize on the scanning abilities and developments in the production of orthopaedic devices, which raises their operating costs.
Conversely, there is strong pricing pressure in the market. This considerably contracts their profit margins. Rise in arthroscopic device product recalls or retrieving of all defective arthroscopic products from the market is one of the major restraints for market expansion.
There has also been a dearth of resources in the veterinary practice as well as considerable upsurge in demand for veterinary services, evidently since the advocated adoption boom of pandemic pets across the globe.
Presently, the deficiency of trained veterinary professionals and diagnostic setups, particularly in emerging countries, is one of the key factors restraining veterinary arthroscopy device usage.
Country-wise Insights
Why is the U.S. the Largest Market for Veterinary Arthroscopy Devices?
"Huge Pet Population and Key Manufacturers in the U.S."
The U.S. dominates the North American regional market with a share of 89.7%, and is projected to continue experiencing high growth throughout the forecast period.
Increasing emphasis on domesticated animals' health and rising capacity of owners to meet the expense of improved healthcare alternatives for their pets will certainly drive market growth in the future years. Furthermore, growing cases of trauma surgeries and soft tissue injuries will increase product demand in the country.
Overall, rising adoption of pets together with growing number of key veterinary arthroscopy device manufacturers operating in the U.S. will promote industry growth.
Will Germany Remain a Lucrative Market for Veterinary Arthroscopy Device Suppliers in Europe?
"Large Livestock Populace and Increasing Zoonotic Diseases Driving Demand"
Germany is set to exhibit a CAGR of 5.6% in the Europe veterinary arthroscopy devices market over the forecast period.
Increasing number of veterinary hospitals and clinics has amplified demand for veterinary specialists, thus, boosting market growth. Moreover, growing livestock populace, innovative surgical tools, and expanding demand for experienced personnel are anticipated to drive this industry through the forecast years. Also, increasing incidence of zoonotic diseases in animals will further amplify business growth.
How Can Market Players Benefit from the Emerging China Veterinary Arthroscopy Devices Market?
"Rapidly Rising Pet Care Industry in China"
China holds 32.4% share in the East Asia market in 2021, and is projected to increase at a CAGR rate of 6% over the forecast period.
The space for professional pet care in the country is flourishing, and along with this, demand for machinery and medical equipment is subsequently rising. This offers numerous prospects for manufacturers of veterinary arthroscopy systems.
Category-wise Insights
Which Product is Most-demanded across the World?
"Highest Demand for Arthroscope and Arthroscopic Systems"
Arthroscope and arthroscopic systems project lucrative growth at a CAGR of 5.7%, with a market share of over 43% in 2021.
This is owing to rising number of pets, especially dogs suffering from joint pain, joint instability, chronic lameness, swelling, etc., as well as growing concerns of pet owners regarding their companion animals.
Will Veterinary Arthroscopy System Manufacturers Gain More Profits from a Particular Procedure?
Diagnostic procedures hold a revenue share of more than 80% in 2021, and are projected to increase at a CAGR of 5.5% over the decade.
Diagnostic procedures allow for a minimally-invasive method for veterinary surgeons who can visualize the joint or area of concern on a monitor of the diagnostic device and determine if any anomalies are present.
Impact of COVID-19
The outbreak of coronavirus had a mixed impact on veterinary arthroscopy device consumption. Veterinary practices were moderately affected due to the pandemic owing to practitioners shifting toward virtual modes with both, manufacturers as well as pet owners.
COVID-19 led to an overall decrease in the number of veterinary arthroscopic surgeries due to cancellations of elective surgeries at various veterinary care facilities.
Medical facilities stopped or severely restricted sales representative access due to COVID-19 precautions. The pandemic dented product innovation and technical advances, leading to the loss of customers.
The market is now back on track and expected to progress at its normal pace, as the world has returned to a new normal.
Competitive Landscape
Introduction of new technologies, upgrading existing products, and strategic alliances for the sale and promotion of products are key differential strategies followed by manufacturers of veterinary arthroscopy devices. Companies are also entering into mergers and acquisitions with other medical device manufacturers to expand their product portfolio and market presence across the globe.
In July 2020, Trice Medical entered into a partnership with Dr. Sherman Canapp and Dr. Debra Canapp at Canapp Sports Medicine LLC, and released the first veterinary portable tablet, which combined a disposable needle arthroscope and high-quality ultrasound.
In May 2021, Stryker Corporation completed the acquisition of OrthoSensor, Inc.
Veterinary Arthroscopy Devices Market Report Scope
Attribute
Details

Forecast Period

2021-2031

Historical Data Available for

2016-2020

Market Analysis

US$ Mn for Value

Key Regions Covered

North America
Latin America
Europe
South Asia
East Asia
Oceania
The Middle East & Africa

Key Countries Covered

U.S.
Canada
Brazil
Mexico
Argentina
Germany
U.K.
France
Italy
Spain
Russia
China
Japan
South Korea
India
Thailand
Indonesia
Malaysia
Australia
New Zealand
GCC Countries
Turkey
Northern Africa
South Africa

Key Market Segments Covered

Product
Animal
Procedure
End User
Region

Key Companies Profiled

Arthrex, Inc.
Karl Storz SE & Co. KG
Biovision Veterinary Endoscopy, LLC.
Eickemeyer
vetOvation
KYON Veterinary Surgical Products
Trice Medical
GerVetUSA
Dr. Fritz Endoscopes
Depuy Synthes
Integra LifeSciences Corporation
IMEX Veterinary, Inc.
ConMed Linvatec
Novetech Surgery

Pricing

Available upon Request
Key Segments Covered in Veterinary Arthroscopy Devices Industry Research
Veterinary Arthroscopy Devices Market by Product:
Arthroscope and Arthroscopic Systems

Arthroscopes
Arthroscopy Sheaths
Arthroscopy Fluid Management Systems
Arthroscopy Visualization Systems
Arthroscopic Shaver Systems
Arthroscopy Radiofrequency Devices & Wands

Arthroscopy Starter Kits

Canine Arthroscopy Sets
Veterinary Arthroscopy sets

Arthroscopic Handheld Instruments

Arthroscopy Punches
Biopsy Forceps
Grasper Forceps
Arthroscopic Scissors
Suture Cutters & Knot Pushers
Suture Passing Wires & Suture Retrievers
Chondro Picks
Trocars and Cannula Sets
Meniscectomy Instrument Sets

Consumables

Arthroscopy Suture Anchors Implants
Disposable Arthroscopy Needles
Disposable Shavers

Arthroscopy Cleaning & Sterilization Trays
Veterinary Arthroscopy Devices Market by Animal:
Large Animals
Small Animals
Veterinary Arthroscopy Devices Market by Procedure:
Diagnostic Procedures
Therapeutic Procedures
Veterinary Arthroscopy Devices Market by End User:
Veterinary Hospitals
Specialty Veterinary Centers
Veterinary Clinics
Veterinary Arthroscopy Devices Market by Region:
North America Veterinary Arthroscopy Devices Market
Latin America Veterinary Arthroscopy Devices Market
Europe Veterinary Arthroscopy Devices Market
South Asia Veterinary Arthroscopy Devices Market
East Asia Veterinary Arthroscopy Devices Market
Oceania Veterinary Arthroscopy Devices Market
Middle East and Africa (MEA) Veterinary Arthroscopy Devices Market