U.S. and Canada Industrial Racking System Market Outlook (2022-2032)
Newly-released data on the U.S. and Canada industrial racking system market reveals that product sales are expected to reach US$ 3.15 Bn in 2022, registering a Y-o-Y growth of approximately 7%. The market for industrial racking systems in the region is projected to exhibit a CAGR of 6% over the 2022 to 2032 period on a volume basis.
Industrial racking systems, commonly known as warehouse or pallet racking, are a type of material handling system designed for the mass storage of goods and products. They involve the use of simple modular construction and are designed with freestanding steel construction that provides great variability for both small and large storage spaces. These systems are constructed in such a manner that they use the storage space effectively, increase the capacity of warehouse storage areas, and contribute to the transparent arrangement of materials and goods.
In any Industry, a warehouse or storage space is considered the backbone of inventory management, whether they use the method of LIFO or FIFO. Industrial racks have undergone a series of innovations in the past few years. These have mainly been to cater to the ever-growing needs of the FMCG (Fast Moving Consumer Goods) industry, logistics sector, and inventory management businesses.
| | |
| --- | --- |
| U.S. & Canada Industrial Racking System Market Size (2021A) | US$ 2.97 Bn |
| Estimated Market Value (2022E) | US$ 3.15 Bn |
| Forecasted Market Value (2032F) | US$ 6.23 Bn |
| Value CAGR (2022-2032) | 7% |
Historical (2017-2021) Vs. Forecast (2022-2032) Market Outlook
According to the study, over the historical period 2017-2021, the U.S. and Canada market for industrial racking systems witnessed year-over-year growth of 5.7%. Surge in trade volume exports, increased focus on e-Commerce, growing supportive policies by regional governments, and increased need for modern warehouse spaces in the logistics industry are the cited reasons for the strong growth outlook for the market.
This latest survey by Persistence Market Research anticipates the market to progress at a CAGR of 7% between 2022 and 2032. Increasing development of multi-story warehouse facilities, growing adoption of automation with a strong need for reduction of complexity among warehouses, and rising need for improvements in efficiency due to surging warehousing rents and non-availability of labor are augmenting the sales of industrial racking systems.
Warehousing rent and labor costs have been consistently increasing in the last few years, forcing companies to utilize their storage and warehousing spaces more efficiently, which is giving impetus to the growth of industrial racking system manufacturers.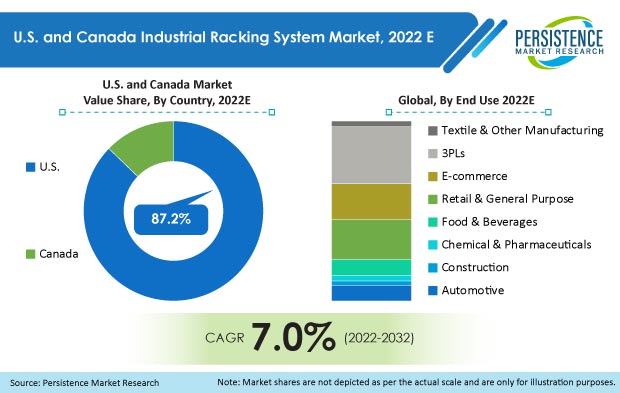 Growing Trend of Modern Warehousing
Retail, food, engineering goods, chemical, electronics & telecom, pharmaceuticals, and automobiles are some of the prominent industrial consumers of warehousing across North America. Currently, modern warehousing, in many parts of the world, is at a nascent stage but is growing at a rapid pace. Growth in GDP, changing demographics, and improved purchasing power parity are creating higher demand for warehouse spaces, and subsequently creating a lucrative environment for the manufacturers of industrial racking systems.
Demand for high-end services and infrastructure, driven by maturity in end-user industries (such as food & beverages, automotive, engineering goods, pharmaceuticals, and textiles) is creating new storage space requirements. This has, in turn, prompted the growth of more organized warehouses with better value-added services and facilities. Importantly, rising exports and imports among various economic belts are supporting the market growth of industrial racking systems.
Third-Party Logistics (3PLs) Industry Augmenting Sales of Industrial Racking Systems
Logistics is one of the most important sectors in any country since it deals with the management of the flow of goods from the place of their production to where they are consumed or used. The industry also sees the integration of material handling, warehousing, packaging, transportation, inventory management, supply chain management, procurement, and shipping security aspects of goods and products.
North America accounts for nearly 27% of the global logistics market and is expected to grow at around 2%-3% over the coming years. The United States is estimated to be one of the region's key logistics markets with a highly integrated supply chain network that connects manufacturers and consumers via multiple modes of transportation, including air and express delivery services, maritime transport, freight rail, and truck transport.
The growing Third-Party Logistics (3PLs) industry, owing to the rising demand for foreign goods imported from North American countries in emerging economies, is one of the major forces driving the demand growth for industrial racking systems in the region.
Country-wise Analysis
Why the U.S. is a Key Market for Industrial Racking System Suppliers?
The U.S. is a prominent manufacturer and user of industrial racking systems in the North American region owing to the significant growth in GDP, rapid development of the e-commerce sector, growing 3PLs market, and increasing international trade. The country is estimated to account for 85%-87% share of industrial racking system usage and offer incremental dollar opportunity of US$ 2.7 Bn during the forecasted period.
With a significant increase in online retail, the shortage of modern warehouse spaces will lead to high competition for spaces among e-Commerce companies in the U.S. Due to the dearth of modern warehouse spaces and the rise of the e-Commerce sector in the U.S., there lies a huge opportunity to develop new warehouses and rebuild the old ones to ensure that they meet the modern requirements of the industry. Thus, the growing need for modern warehouses and increasing investments in the development of new warehouses will augment the sales of industrial racking systems in the country during the forecast period.
Category-wise Insights
Which End Use is Expected to Remain a Key Market Segment?
Based on end use, 3PLs remains a prominent segment in the market for industrial racking systems, followed by the retail and general purpose segment. High segment growth is primarily attributable to the growing 3PLs market and the increasing need for efficient and technologically advanced racking systems to reduce complexity in these industries. The segment accounts for a share of around 30% to 32% and is expected to grow at a CAGR of 8.2% in terms of value.
Furthermore, the e-Commerce segment is expected to expand at a CAGR of 7.6% during the forecast period. Shifting consumer preference toward online shopping due to increasing mobile penetration, convenient online /mobile payment methods, and increasing product offerings through various online platforms by established organizations and large enterprises has led to the rapid development of the e-Commerce industry, thereby driving the need for industrial racking equipment in the region.
Competitive Landscape
Prominent market participants are focusing on the expansion of their production capacity to cater to the growing demand from end users. Further, to increase their market leadership position, they are entering into long-term supply agreements to increase their consumer base. Several manufacturers are focusing on designing and developing products for the right needs of emerging markets as well as serving a large demographic base
Some of the key developments are:
In March 2021, Jungheinrich expanded Kracht's logistics center, which created space for 2,600 more pallet storage locations.
In Feb 2021, Daifuku Co., Ltd. and Germany-based AFT Industries AG entered into a business partnership to leverage the material handling expertise of both companies in the automotive sector.
In Aug 2020, Kardex acquired shares in technology start-up Rocket Solution, which is expected to provide new avenues for Kardex, especially for the implementation of its IoT strategy.
In July 2020, SSI Schaefer, the world's leading provider of modular warehousing and logistics solutions, along with ORCA, announced the opening of the first world-class cold chain storage system in the United States.
Similarly, other key developments related to companies manufacturing industrial racking systems have been tracked by the team at Persistence Market Research, which are available in the full report.
U.S. & Canada Industrial Racking System Industry Report Scope
Attribute

Details

Forecast Period

2022-2032

Historical Data Available for

2017-2021

Market Analysis

US$ Mn for Value

Key Countries Covered

Key Market Segments Covered

Design
Carrying Capacity
End Use
Country

Key Companies Profiled

Kardex AG
Stow International (Averys SA)
Jungheinrich AG
Mecalux, S.A.
Ridg-U-Rak Inc.
Daifuku Co., Ltd.
SSI Schaefer
McLennan & Company (Foothills Systems)
Nucor Warehouse Systems
Cornix SA
Gonvarri Material Handling
ARPAC
AK Material Handling Systems
North American Steel Equipment Inc.
EMRACK International
PROMAN, s.r.o.
Nedcon B.V.
Steel King Industries, Inc.
Frazier Industrial

Pricing

Available upon Request
Key Segments of U.S. & Canada Industrial Racking System Industry Research
By Grade:
Racking

Selective Racking
Cantilever Racking
Push Back Racking
Narrow & Wide Aisle Racking
Drive-in-Racking
Pallet Flow Racking
Carton Flow Racking
Mobile Racking

Shelving

Boltless Shelving
Open & Closed Shelving
Single & Multi-Tier Shelving
Drawers & Cabinets
Mobile, Pigeon hole, Mezzanine Shelving
By Carrying Capacity:
Light Duty
Medium Duty
Heavy Duty
By End Use:
Automotive
Construction
Chemicals & Pharmaceuticals
Food & Beverages
Retail & General Purpose
e-Commerce
3PLs
Textile & Other Manufacturing