Rice Milk Market: About the Report
Rice milk is very similar in taste, flavor, and texture to cow's milk. It is considered one of the best plant-based alternatives to dairy milk. The report talk about how players in this space are targeting lactose-intolerant, soy-intolerant, and nut-intolerant consumers for increased sales and profits. The world is also witnessing rising number of people adopting the vegan trend, which is further catalyzing market growth. Europe, East Asia, and South Asia would be lucrative markets for players in this space.
Benefits of Rice Milk
Though rice milk provides fewer proteins when compared to dairy milk, it contains fewer calories and fats too. Naturally, rice milk offers various health benefits and other nutritional ingredients, which is further driving the expansion of the global rice milk market size.
There are plenty of heart-healthy nutrients in rice milk. Unsaturated fats present in rice milk help reduce cholesterol in the blood. Vitamin B6 also helps maintain heart health. Rice milk is power-packed with lots of antioxidants, which helps in the prevention of all types of infections and many other diseases. On the back of these factors, the global rice milk market is expected to witness substantial growth at a CAGR of around 9% over the forecast period of 2020-2030.
Global Rice Milk Market Trends
Growing Inclination toward Vegan Products Aiding Growth: In established markets such as North America and Europe, the vegan population is increasing. Vegan consumers avoid any food made or extracted from animals. Hence, they depend only on plant-based products for their nutritional supplements. Veganism is trending in most emerging markets as well. Hence, demand for plant-based products and plant-based milk is increasing. This rapidly increasing vegan population is expected to drive demand for rice protein across the globe, thereby aiding the growth of the rice milk market.
Vitasoy International Holdings Limited offers rice milk that is gluten-free, dairy-free, and cholesterol-free. It is a suitable product for the vegan community, as it is produced from non-GMO grains, and is naturally sweetened with no added sugar.
Organic and Non-GMO Trend Benefitting Rice Milk Market: Organic and non-GMO food products are rapidly gaining traction across the world, owing to the health benefits associated with them. Hence, food manufacturers are also adding organic and non-GMO products to their portfolios. This trend has positively impacted demand for organic rice milk, and manufacturers in the rice milk market space are frequently launching organic rice milk offerings to meet rising customer demand.
Nutra Organics Pty Ltd offers organic rice milk powder. This rice milk powder is made from non-GMO, organic whole grain brown rice, and does not involve any chemical processes.
Rising Demand for Lactose-free Products Boosting Demand: With increasing population, demand for milk is rising across the world, as it is considered a highly nutritious and healthy beverage. However, there has also been a substantial rise in the lactose-intolerant population in recent years. These consumers are seeking milk and milk products that are lactose-free. Rice milk is naturally lactose-free, and contains similar levels of calcium, vitamins, and fats, and fewer carbohydrates and calories. This increasing demand for lactose-free products is expected to boost the growth of the rice milk market over the years to come.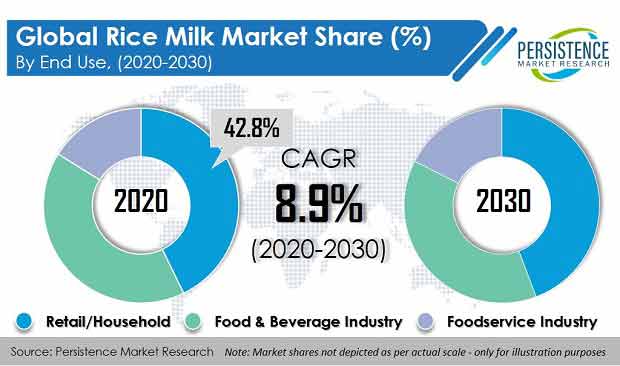 Regional Outlook of Rice Milk Market
Europe and East Asia together account for more than 60% of the global rice milk market share, and are the largest consumers of rice milk across the globe. Europe is identified as the largest consumer of rice milk in the global market. Increasing trend of veganism and rapidly rising vegan population are directly impacting the growth of the global rice milk market.
South Asia is anticipated to experience exponential growth in the global rice milk market over the forecast period of 2020-2030. High growth of this regional market makes it the next target market for key players in the global rice milk market. 'Being Vegan' is also gaining traction in South Asia, which is further expected to boost the growth of the rice milk market in the region.
COVID-19 Impact on Rice Milk Market
The global economy is experiencing negative impacts due to the spread of COVID-19. Majority of trade channels have been affected due to strict regulations imposed by governments along with various lockdowns forced across nations. However, the food & beverage industry has witnessed a rise in demand for nutritional food products with longer shelf lives during this pandemic. As such, impact of COVID-19 on the global rice milk market is expected to be moderate, owing to its application in various nutritional beverages and products.
Analysts' Viewpoint
The global rice market is anticipated to witness substantial growth over the forecast period of 2020-2030. The ongoing trend of veganism is thriving in the European region, which makes it the largest consumer of rice milk. Growing interest of consumers in plant-based food is forcing manufacturers in the rice milk market to innovate and launch new products in this space. South Asia is projected to witness the highest growth in the global rice milk market over the forecast period.
- Companies Covered in This Report -
Stremicks Heritage FoodsTM, LLC
Essona Organics, Inc
Nutra Organics
Danone
The Hain Celestial Group, Inc
Campbell Soup Company
Nature's Choice
PANOS brands
Vitasoy Australia Products Pty Ltd
Pureharvest Pty ltd
freedom foods group Ltd
OKF Corporation
The Italian Way
RITA FOOD and DRINK CO.,LTD
Fine Japan Co. Ltd.
Nutriops S.L
BSCM Foods Co., Ltd.
RISO SCOTTI S.p.A.
Dinavedic
Axiom foods inc